Bear Grillz' Rude Service returns with the fifth volume of Full Stack just in time to steal hearts ahead of Valentine's Day this year.
---
Bear Grillz continues to cement his legacy in the scene through his label, Rude Service Records, which plays host to his own releases and others from the scene who are rising through the ranks. This has been seen prominently on the Full Stack compilation series, which brings listeners hidden gems of the next generation of heavy-hitters. Now, the fifth volume of the series has arrived on a silver platter just in time for Valentine's Day.
The fifth volume of Full Stack features 12 relentless yet heartfelt tracks from artists such as MADGRRL, BLVCKSMITH, Blaqout, Flatland Funk, CHACKK, Ghost in Real Life, MADHATTER!, BAD PROXY, and more. Whether you want some dubstep and trap or a touch of hard dance, there's sure to be something for everyone.
Check out Full Stack Vol. 5 on Spotify or your favorite streaming platform and continue reading for some of the tracks that stood out the most.
Stream Rude Service Records – Full Stack Vol. 5 on Spotify:
---
Full Stack Vol. 5 brings out all the heartfelt emotions you never knew you had inside.
All of the artists found within this volume of Full Stack put their hearts into these tracks, but some truly captivated minds as well. The compilation kicks off with a MADGRRL and Dino Shadix's collaboration, "Raving Raptor." This hard dance-centered track builds up with a fast kick as the playful vocals and upbeat tempo uplifts anyone who listens and gets their energy levels higher.
Flatland Funk's "What You Know About" follows soon after with alluring vocals to capture souls. The song's intro leads to an unforgiving dubstep drop that leaves no more room for self-doubt and offers larger-than-life sounds. DENNETT and Half Dead's "Beelzebub" brings a uniqueness like no other track found on Full Stack. The combination of synths, drum kicks, and alarm rings make for a truly intriguing track that makes you wonder where it will take you next.
Ghost in Real Life also comes out to play with "Bloodhound." The production on this track is just irresistible, starting off with a few piano keys that make for just the right amount of mystery before the tempo rises to elevate heart rates. Sythen's "Without You" pulls on heartstrings with a more melodic approach. The laser sounds and vocals add a dabble of longing we didn't know we had, and before listeners know it, they'll be bobbing along to the bass kick as they sway to the lyrics.
Another gem arrives in the form of MADHATTER!'s "From The Start," which features vocals from Eileen Jaime. This one brings a theme of self-realization with lyrics coming to a conclusion of seeing one's true love for the first time. The track's synths and warped sounds give that theme a physical experience while transforming as it progresses.
The final track on Full Stack, "Redemption," sees BAD PROXY team up with ELYS!AN and MJ/XO. The beautiful vocals start us off with a sense of longing and healing with lyrics such as "I'm coming home" and "I'm in a constant state of healing," making you feel loved amidst all the bad in the world. The warped sounds in the track create a momentary sense of anxiety, just to bring you back down to the loving embrace of MJ/XO's voice surrounding you.
Full Stack Vol. 5 brings love-fueled sounds to the ears of all who listen, and anyone who presses play is sure to find a track that tugs on their heartstrings. Check it out, and let us know what your favorite track is in the comments.
---
Rude Service – Full Stack Vol. 5 – Tracklist:
MADGRRL x Dino Shadix – Raving Raptor
PURGE x KartyPartyy – Rock Like This
BLVCKSMITH & The Living Proof – Back With A Vengeance
Blaqout – Rude Awakening
Flatland Funk – What You Know About –
DENNETT & Half Dead – Beelzebub –
CHACKK – Destruction
Ghost In Real Life – Bloodhound
Prismatic – Refresh
Sythen – Without You
MADHATTER! (feat. Eileen Jaime) – From The Start
BAD PROXY x Elys!an – Redemption
AWON x Mary Sweet – What It's Like
RENN – By My Side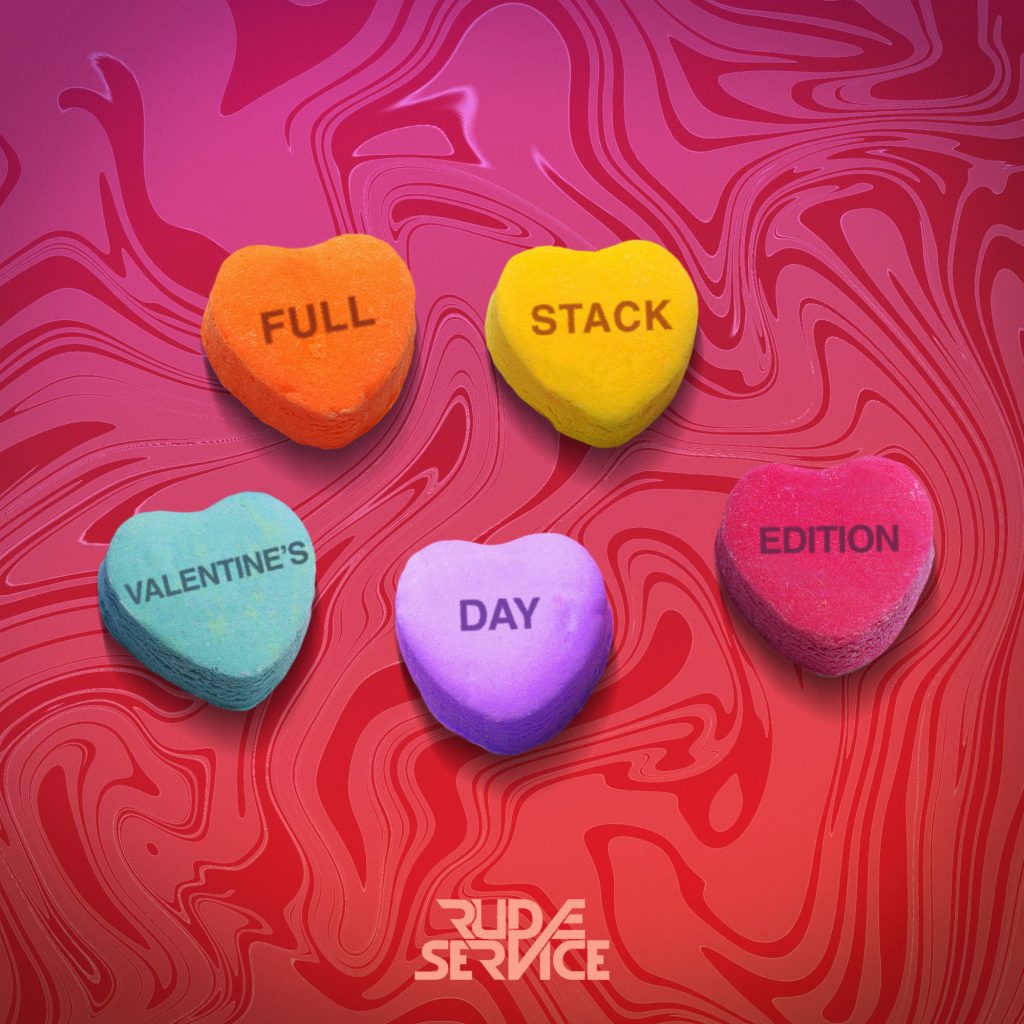 ---
Follow Rude Service on Social Media:
Website | Twitter | Instagram | SoundCloud