Factory 93 is bringing Sasha and John Digweed, along with Patrice Bäumel, Qrion, and Manti to Los Angeles this coming May.
---
Factory 93 continues to trek into the solid territory of house and techno. Heavy hitters around the land have descended into both the indoor and outdoor spaces taking fans through a sonic de jure. Back in 2020, one of the many canceled shows featured the legends of Sasha & John Digweed. Now, in 2022, position both talents to take fans on a sonic journey unlike any other as they're set to return to Los Angeles on May 7.
For the newly initiated, Sasha & John Digweed are perhaps some of the biggest old school legends in modern dance music history. The two DJs achieved success as a duo before breaking into solo artists, heralding a number of accolades that established an early legacy as the scene grew. Sasha was an influential force on producers like BT and James Zabiela – both of whom pioneered new production styles that grew into the scene's sound of today. John focused on early successful raves and provided a platform for releases under the label Bedrock Records. Today, both tend to blend their styles towards techno and deeper progressive vibes – but expect the unexpected at this Factory 93 show.
Joining them is an equally solid lineup of tastemakers. First, there is the German artist Patrice Bäumel. His style today centers on eccentric, yet evolving, soundscapes and what he claims as a role for himself: to serve the audience, not to glorify himself. Playing opposite is the rising star Qrion. After her debut album, I Hope It Lasts Forever, dropped last year, the territory and reach of her blend of styles is only rising to new heights. Rounding out the lineup is the fifth and final artist, MANTi, a Los Angeles resident takes fans on rides that derive from deep, minimal, and atmospheric sounds.
Tickets for this upcoming Factory 93 showcase featuring Sasha and John Digweed go on sale Thursday, February 3 at 12pm PT. Head over to Front Gate to make your purchase!
---
Factory 93 Presents: Sasha & John Digweed – Lineup: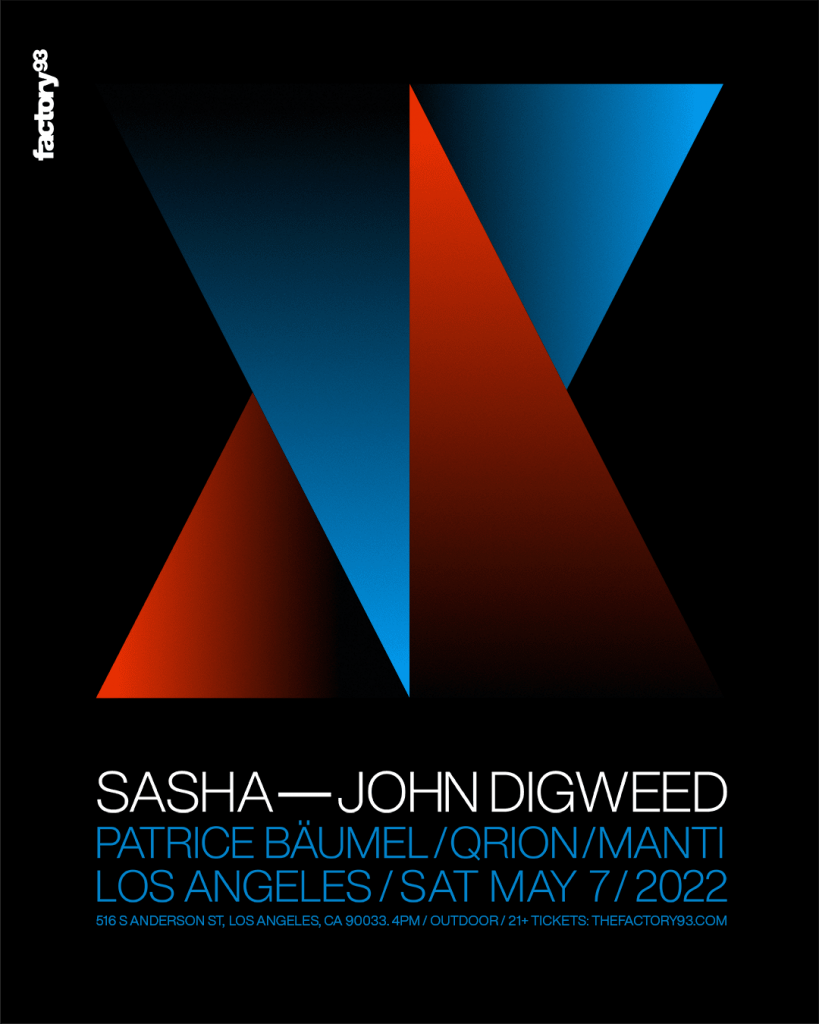 ---
Factory 93 Presents: Sasha & John Digweed – Lineup By Artist:
Sasha & John Digweed
Patrice Bäumel
Qrion
Manti
---
Follow Factory 93 on Social Media:
Website | Facebook | Twitter | Instagram | SoundCloud | YouTube | Twitch