Dig into the beats from Erik Lucas, Santiablo, Entel, Oncila, Vora, and more as Grum delivers the latest volume of Deep State's Reactor series.
---
Grum's Deep State imprint has become a one-stop-shop to quench all of your progressive, melodic house & techno desires, supplied by the most exciting rising stars in the industry. With the roster growing at an exponential speed, it was only appropriate that the Reactor series would manifest to show off their supreme musical gifts. October 2020 brought us the very first volume and today we turn the page to the next chapter with Reactor Vol. 2!
Throughout the past month, Deep State and Grum have been welcoming us into the world of Reactor Vol. 2 with three tantalizing drops – Erik Lucas' "Aim At Heaven," Sebastien Silva's "Intrinsic," and Grum's remix of Estiva's "Alone." These tunes had listeners anticipating the full package and now we get to sink our ears into all 13 glorious tracks! While most of the artists on the album are making their Deep State debut, Entel gets the honor to call "Everlast" his sophomore offering after dropping his self-titled EP on the imprint early last year. In addition, Grum slides in a brand new track by the name of "Candy Crusher," sweetening the experience for his faithful fans.
With such an exciting start to the 2022 release schedule, it's time to drop everything and celebrate. So, in honor of the release, Deep State is hitting the road and tonight all inhibitions will be released to the wind at Soundcheck DC. Additionally, on February 18, Grum and friends will keep the party pumping in LA, where they will light the dance floor on fire at Exchange. With the sounds of Reactor Vol. 2 primed and ready to blast through the club speakers, you better be there or be square!
Enough with the jibber-jabber, it's time to dig into the beats! Grab your copy of Reactor Vol. 2 on your favorite music platform, stream the album below, and continue on for our take on all the tracks!
Deep State – Reactor Vol. 2 (Mixed By Grum) on Spotify:
---
As the first track dances its way through the room and into my heart, I realize that my spirit is in for a blissful awakening.
Abrupt Gear kicks the journey into gear with "Orange Garden," a tune that rests easily on the ears. As an artist who's received support from the biggest names in the game, you can expect to be swept off your feet and I can happily say that I'm feeling extra relaxed as the heavenly melodics enter my brain. There are no epic twists and turns on this one, it's just purely peaceful and full of light.
Erik Lucas answers back with "Aim At Heaven," which is a supreme mood lifter! The choppy, echoed lyrics give it a bit of a tipsy vibe, making you desperate to hear it played at your favorite watering hole. It's easy to imagine yourself bopping around the club without a care in the world as the bright melody sends me into fun and flirty dance mode.
Suddenly, the temperature gets a little bit hotter when Askari UK's offering flies through the speakers. He's a trained DJ/producer who got his start while attending London's esteemed SubBass Academy and with that education in tow, he's taken a keen liking to the deep house, progressive, and melodic techno side of life. So, it's without question that "The Federation" would stand out as a highlight on Reactor Vol. 2 with its deep synth blasts, atmospheric soundwaves, and a wild build that heightens the intrigue tenfold.
Now that you're bopping and weaving with your hands raised high to the sky, Med-D jumps in to pump up the fierce meter before Santiablo dials it back.
"Cluj Pump" by Med-D takes hold of brainwaves with edgy tones and a quick drive that acts as a perfect lead-in to the peak hour. This tune will absolutely have the club dripping in sweat as the ultra-subtle build teases the body and the bassline chugs along like a locomotive. There's a soft breakdown that flips things upside down for a brief second before dropping listeners straight into the abyss.
Now is the perfect time for Undersound's Sebastien Silva to slide on in and lift us out of the trenches, and he does so with his previously released "Intrinsic." Turn your speakers up to maximum volume because this one SLAPS! Between the steamy vocal and the otherworldly synth stylings, I'm smitten and ready to fall back and let the intensity work its way into the depths of my soul. Just when you think it can't get any better, the halfway mark brings on spectacular soundwaves, ultimately making way for a drop that will have you seeing stars.
New York City's own Santiablo has a major hill to climb after that one but with a title like "Zen," you know he's coming correct. The mood he delivers begins to shift us back towards calm and collected, with Grum choosing this point in the compilation to give us a little breather. "Zen" offers up a light in the dark and gets the serotonin flowing with a faithful high hat and loads of bubbly top-end notes.
After officially hitting zen mode, Oncila has the perfect offering to keep you in a hypnotized state. "Moira" begins with weighted energy, tricking the brain into submission before the sweet floaty melody takes over and floats me into the clouds. It's a beautifully balanced piece, one that I would love to experience on the big festival speakers as the trance-fueled progression washes over the crowd, elevating the senses for six sublime minutes.
Slowly the energy begins to swell as LEOLEO takes us for a romp into "The Wild."
It's hard to not love a track that makes you feel as if you can take on the world and LEOLEO's "The Wild" is the one that does just that. This is a gorgeous melodic track meant for outdoor introspection, whether that be walking along the ocean as the sun comes up, staring at the stars at night, or forging your own path through the forest on a warm spring day. You'll step out of this whimsical journey with a reinvigorated lease on life after hearing this tune.
Once you're back to feeling right with the world again VORA arrives. He makes his mark on Reactor Vol. 2 with "Heritage," a tune that will spark your brain to attention while your body grooves to the smoldering subterranean soundwaves. The tribal build dumps us into a brilliant fantasy land full of techy kicks with a pulsing drive that will push you to move like never before.
Paul Thomas is next up to the plate and after his remix of Grum's "Runaway," off of Heartbeats that dropped back in 2010, it's beyond exciting to see what he's come up with for his remix of Juan Sapia's "Balloon." Just as expected, he thrills every ounce of my being as the ethereal melody makes me feel at home. The breakdown offers up a playful moment of innocence that pulls on your heartstrings before the melodic elements go berserk into the drop.
Heading into the final three tracks you find yourself not wanting the journey to end!
Staying on the ethereal trajectory, Entel's "Everlast" certainly puts the pep in your step with its mature low-end synths and a dazzling melody that shoots you through space and time like you're riding atop a comet! The energy boils and bubbles until it overflows like lava, dropping you into a hellish domain where the debaucherous ravers come to play.
It was clear that Grum wanted to close Reactor Vol. 2 with a bang – and that arrives with his tune "Candy Crusher." This one will have listeners questioning their sanity while feeling like they're being abducted by aliens with the intricate blips and bleeps. The way he takes the sound atmosphere on the latter half and creates soft dissonance throughout the progression makes me believe that he, in fact, might truly be an alien.
For his final bow, Grum comes strapped with his remix of Estiva's "Alone." The original was filled with unrelenting organic beauty, so it's no shock that Grum would be quick to scoop it up. Between the strong rhythmic thud, the majestic sweeping melody, and vocals that strive to remind us all that we are loved, I can't think of a more pleasing track to take your breath away.
The future of Deep State is brighter than ever with Reactor Vol. 2 now written in the history books.
Deep State's selection of beatmakers is top-notch and each time a new Reactor emerges the supreme talent that has flooded the imprint is even more apparent. Whether you're looking for a package of tunes to get your pulse pumping or want to surround yourself with music that feeds your emotional side, look no further than this compilation.
---
Deep State – Reactor Vol. 2 (Mixed By Grum) – Tracklist:
Abrupt Gear – Orange Garden
Erik Lucas – Aim At Heaven
Askari UK – The Federation
Med-D – Cluj Pump
Sebastien Silva – Intrinsic
Santiablo – Zen
Oncila – Moira
LEOLEO – The Wild
VORA – Heritage
Juan Sapia – Balloon (Paul Thomas Remix)
Entel – Everlast
Grum – Candy Crusher
Estiva – Alone (Grum Remix)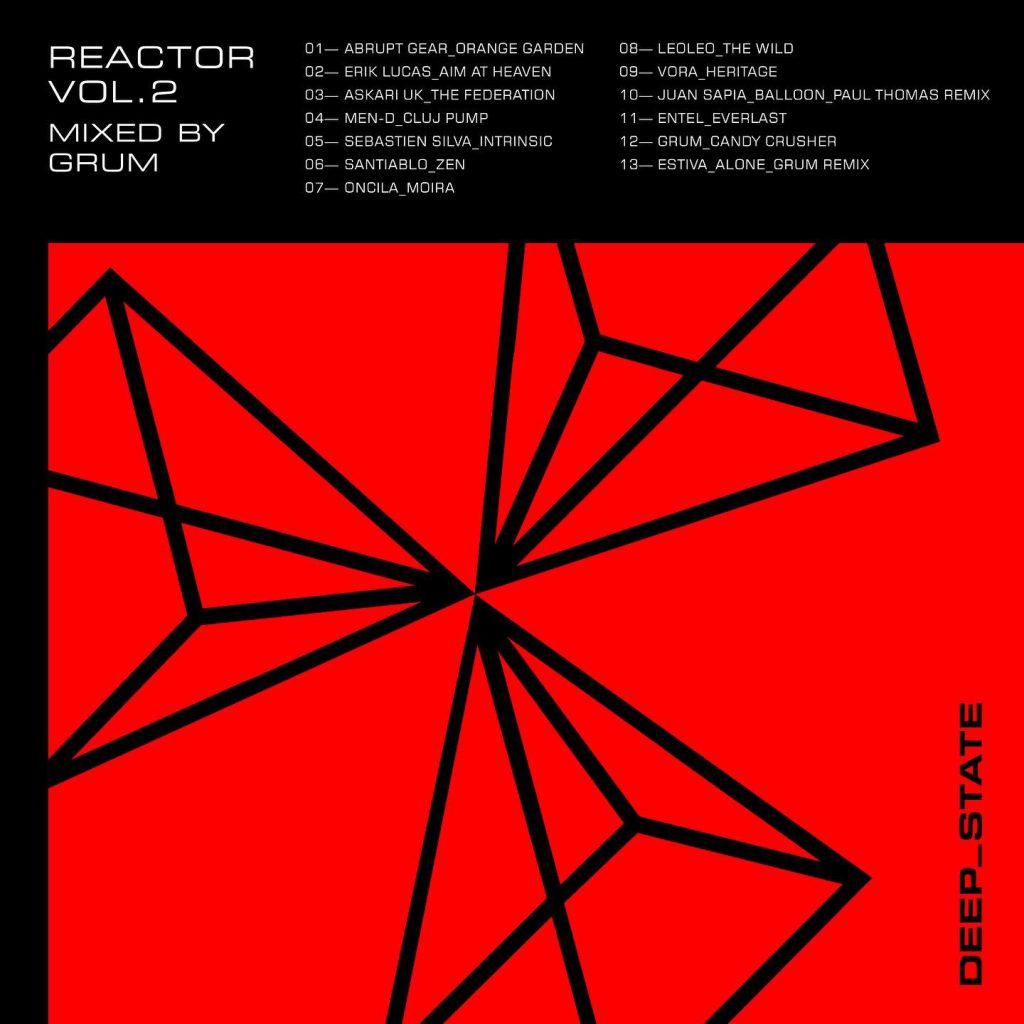 ---
Follow Deep State Recordings on Social Media:
Website | Facebook | Instagram | SoundCloud | Mixcloud | YouTube | Twitch