Grum has curated fantastic artists to grace the Deep State roster and now he's compiled the first volume of Reactor to showcase them even further!
---
Since first launching his Deep State imprint, Grum has continually delivered some of the freshest sounds in the realm of progressive and melodic house & techno. Giving a home to artists rising through the ranks such as Dylhen and KANE, each passing release on the label has been better than the last. Now, Grum has released the first volume of the latest addition to Deep State, a compilation series dubbed Reactor.
Arriving with 13 fresh tracks in tow, if there's one word to describe Reactor Vol. 1 it would be impressive. Featured on the debut edition are a number of artists who have previously graced the label like KANE and Local Dialect, but also a flurry who are newcomers to the Deep State family as well.
Notable names that stick out immediately on the tracklist include the likes of OMAIR with his new tune "Zugzwang" and John Dahlback with "Take Me." Both of those artists really put their production skills on full display with a driving bassline and trance tones on "Zugzwang" that is sure to be a shuffler's dream along with stunning vocals and a hypnotic beat on "Take Me" that makes it stand out.
Of course, that's just the tip of the iceberg of amazing soundscapes to explore on the compilation, and it gets even better when you begin to explore its depth. Arturia's "Together" is another standout on the compilation and a perfect opening tune with its sweeping synths that will captivate any listener. Midge blew us away with "Transcend" that's filled with retro-infused goodness we can only imagine would fit perfectly in a club on The Grid in TRON, while Sokkary takes everyone back to days of raves gone-by in a darkened warehouse on "The Cave."
And the head honcho himself has graced Reactor with two highly sought-after tunes as well, "Blackhole" and "The Pledge." Both tracks put Grum's abilities in creating immersive tunes that grip your soul front and center as the melodies found within will be running through the minds of anyone who tunes in for some time to come. If you haven't been paying attention to Deep State yet, there's no better time than now as the label continues to make major moves in the scene and shine a spotlight on future stars.
Listen to Reactor Vol. 1 on Spotify or your preferred platform and let us know which track you loved the most. And to make the celebration even greater, Insomniac TV will be hosting the official launch party for the compilation on Sunday, October 18 at 9pm PT!
Stream Deep State – Reactor Vol. 1 on Spotify:
---
Deep State – Reactor Vol. 1 – Tracklist:
Arturia – Together
Pete K – Kenopsia
Matt Gouck – Tyren
Midge – Transcend
John Dahlback – Take Me
Local Dialect – NYX
Grum – Blackhole
Dysnomia – You Were The One
Grum – The Pledge
Sokkary – The Cave
OMAIR – Zugzwang
Galatea – Overlook
KANE – No Silence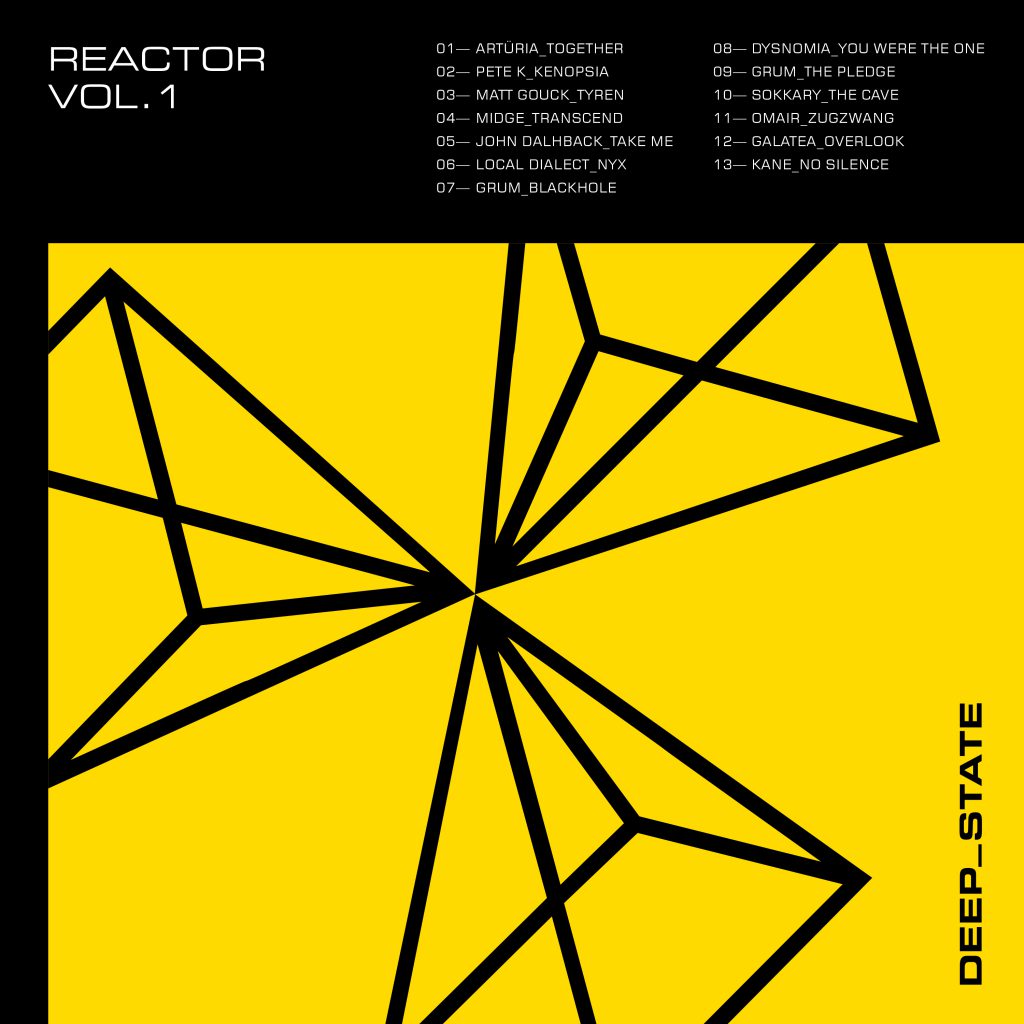 ---
Follow Deep State Recordings on Social Media:
Website | Facebook | Instagram | SoundCloud | Mixcloud | YouTube | Twitch