VEIL puts her curation expertise on display with Street Ritual's HORIZONS compilation featuring artists across the bass spectrum.
---
VEIL is a woman of many talents and if her name isn't one you know yet, it's time to change that. On top of making her own incredible music, she's also the label boss at Street Ritual, which is home to bass music and its array of sub-genres. The imprint has held releases for artists like Saltus, OMNIST, Dalek One, MYTHM, and many more. Now, Street Ritual and VEIL are back with their latest release, HORIZONS, a massive collection of sounds from producers spanning different genres within the realm of bass music.
HORIZONS is a proper snapshot of some of today's most talented producers and up and comers alike. Whether it's more 140 BPM leaning tunes, half-time, or smooth bass bangers, this compilation puts a variety of bass music genres on display. Artists featured on the compilation include 5AM, Digital Vagabond, Duffrey, XotiX, Dalfin and DWELM, Thought Process, Verum, along with a collaboration between VEIL and Dela Moon, to name a few.
Some of the standouts include Dalek One, who comes in swinging with his unique, hard-hitting soundscapes on "The Outcome" and Duffrey with his fast-paced track "Flitz." Meanwhile, 5AM brings sultry bass vibrations on "Proximal" while Thought Process brings the half-time sounds with "Bounce," an aptly titled track filled with bouncy goodness. The aforementioned collab between VEIL and Dela Moon, "NYX," is sure to hypnotize listeners – and if you wanted to get dragged to the darkest pits of hell then put on Verum's "Tear Through Insides," the final tune on the compilation.
Listen to HORIZONS now on your preferred music platform and let us know which tracks were your favorite in the comments!
Stream Street Ritual – HORIZONS on Spotify:
---
Street Ritual – HORIZONS – Tracklist:
Digital Vagabond – The Mood
Dalek One – The Outcome
5AM – Proximal
Duffrey – Flitz
XotiX – Burn It Up
Jordnmoody X Ujuu – TRANSMUTE
Dalfin & DWELM – 50 Shades Of Grime
VEIL & Dela Moon – NYX
Thought Process – Bounce
Verum – Tear Through Insides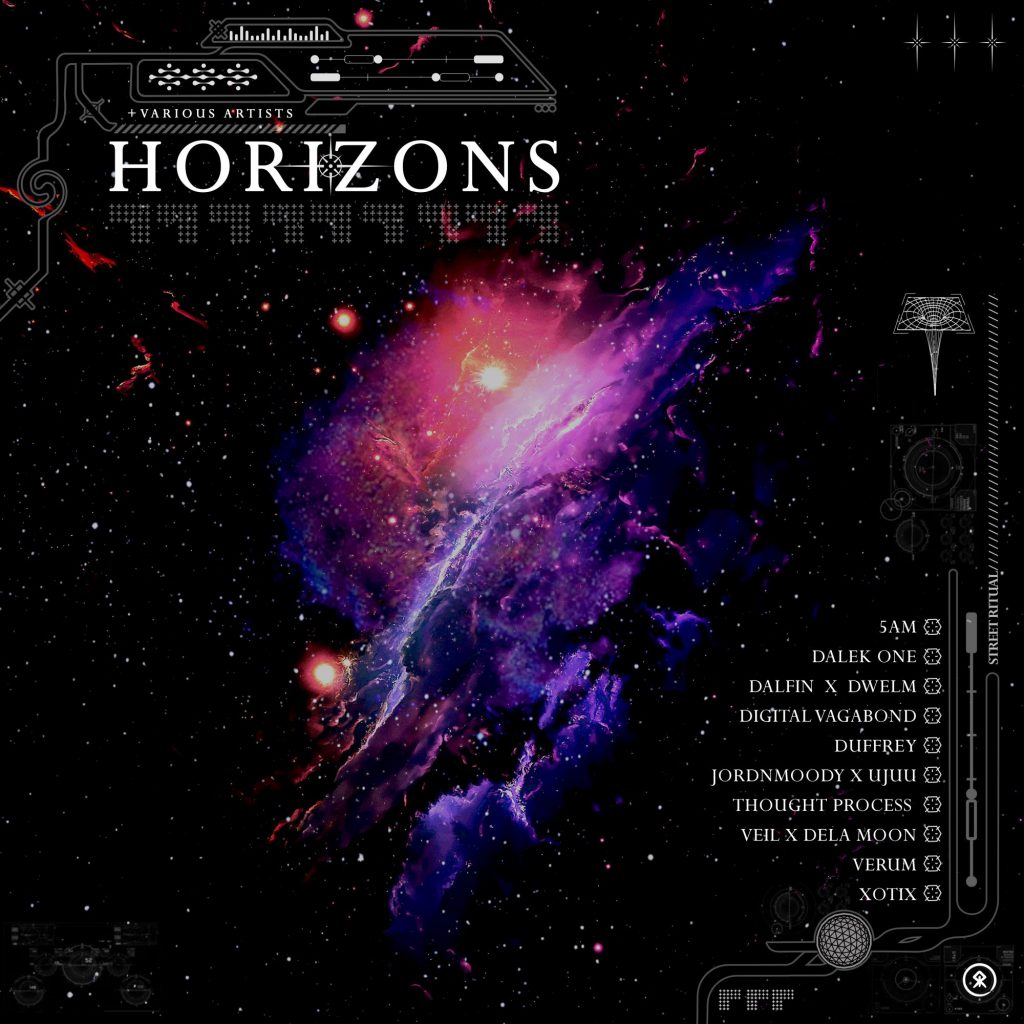 ---
Connect with Street Ritual on Social Media:
Facebook | Twitter | Instagram | SoundCloud | YouTube | Twitch