After releasing countless songs over the past few years, fans can finally look forward to the next album from Adventure Club, LOVE//CHAOS.
---
Few bass duos know how to captivate their fans quite like Adventure Club. With over a decade in the scene under their belt and a plethora of tunes that tug at your heartstrings and demolish them with monstrous drops, they continue to show how they've concocted their recipe for success.
Even during the pandemic, fresh releases from Adventure Club flowed in left and right. Tracks like "Rebellious" with Yuna and "High Like This" with Squired and Dia Frampton arrived in 2020, and they added even more to that in 2021 with "You'll Never Be Alone" with Kaivon and "Never Surrender" with Codeko and Sarah de Warren. Now, fans waiting patiently for a new album from the duo since the release of 2016's Red // Blue can celebrate as details for LOVE // CHAOS have finally been revealed.
Officially due out on February 11 via Ultra Music, LOVE // CHAOS will continue the theme of duality with the duo stating that they "purposely tried to teleport back to 2012" on some of their songs. With that in mind, fans should expect to get a sense of nostalgia and old-school Adventure Club vibes on this album. Their signature sound can be heard on the four previously mentioned tunes, and others such as "Back To You" with Sara Diamond and the recently released "Away From Myself" with ALRT. Further, the tracklist reveals ten new songs with artists like Blanke, Outwild, SHARPS, and Lucii as well.
With an album tour and possibly a throwback tour teased as well, the countdown is on for LOVE // CHAOS. Stay tuned for its full release on February 11, and let us know if you're excited for new music from Adventure Club in the comments!
---
Adventure Club – LOVE // CHAOS – Tracklist:
Never Surrender (with Codeko & Sarah de Warren)
High Like This (with Squired & Dia Frampton)
Drive (with BEAUZ & Tilian)
King of Nothing (with Fancy Monster & SOUNDR)
Lonely (with SHARPS)
Here
Never Enough (with Modern Machines)
Come Clean (with Prince Fox & Justin Jesso)
Colorblind (with Nurko & Dayseeker)
Already Know (with Said The Sky & Caly Bevier)
All In (with GSPR & Boy Apocalypse)
Rebellious (with Yuna)
Infinity (with Boss Mode & Kindred)
Still Awake (with Blanke & Becca Kreuger)
Safe With Me (with Soar & Luma)
One More Try (with Outwild & Kotomi)
Stuck (with Cabuizee & GION)
You'll Never Be Alone (with Kaivon)
Move It (with Birthdayy Partyy)
Next Life (with Crankdat & Krewella)
Anywhere (with ARMNHMR & HALIENE)
Stronger (with Lucii)
Broken Love (with Cammie Robinson)
Back to You (with Sara Diamond)
Away from Myself (with ALRT)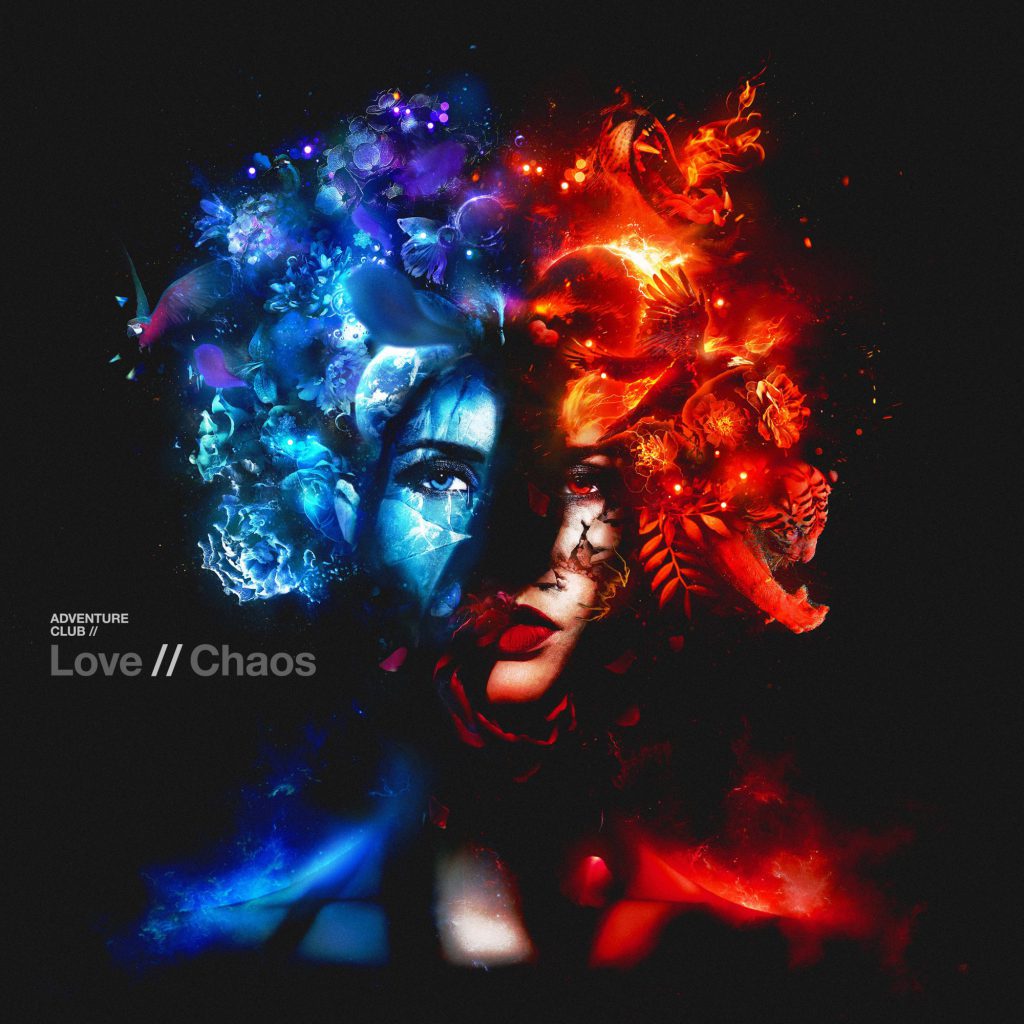 ---
Follow Adventure Club on Social Media:
Website | Facebook | Twitter | Instagram | SoundCloud | YouTube | Twitch