We sat down with Abelation in his home studio to learn about his beginnings as a producer, creative process, Into the Abyss and more!
---
Anyone who's had their finger on the pulse of up-and-coming bass music artists should be familiar with the name Abelation (real name Reese Downs). For those just learning about him, he's a rising Los Angeles-based darling of the bass music zeitgeist. Having begun his career at the young age of fourteen with a highly acclaimed debut EP, the now only nineteen-year-old producer is continuing his trajectory to the top.
Over the years, he has honed his craft meticulously, exploring his artistic voice as a musician, and it has no doubt paid off. Gracing huge festival lineups this year like Okeechobee, and boasting big support roles including upcoming shows with tastemaker Yheti, not even COVID could slow his momentum. He has complemented his touring push with a slate of releases – in addition to his standout Outburst EP, he has new tracks ready including a big single in November.
And just when you think this wiz kid couldn't possibly have more musical feasts to deliver, he keeps knocking them out of the park. One of those feasts is his highly anticipated Into the Abyss mix series with its newest drop happening on October 27. This installment, which will be the third volume in the series, is an annual October tradition and is a platform for Abelation to express the emotions and journeys he experienced that year.
As he gears up for another big year, we can't wait to continue watching this inspiring artist develop and mature both his sound and the depth of his themes. So join him on his journey by checking out Into The Abyss Vol. 2 below and continue on for our conversation!
Listen to Abelation's Into the Abyss Vol. 2 mix on Soundcloud:
---
Hi Reese, thanks for taking the time to sit down with us today.
It's a pleasure.
I've followed your career closely over the last few years, and I know that the prodigy label is often applied to you since you landed on the scene at 14 with your debut EP and have continued to catapult to the top of the bass music. How does it feel when you hear yourself described as such?
Honestly, it's a very surreal feeling because I just made music for myself and started just as my past time.
Speaking of your early beginnings – how did you get into production?
I got into production from one of my older brothers, Grayson. He played a lot of music around me when I was growing up, and that kind of influenced me to get into electronic music. And then this iPad app called Launchpad – it's like this beat grid launching app that inspired me to DJ and put loops together. Then from there, l found out about Ableton, and then from Ableton, I started just making music.
So when you got into this with your brother, were your peers getting into it too? Or were you kind of forging your own path with that one?
A lot of my peers didn't really listen to my music early on or even understand it. Even my other two older brothers outside of Grayson just weren't as invested in what I was doing with my music. My brother Gracie, one above me, is like an older sibling and musical role model.
All that's really awesome. I feel like early mentorship like that is really powerful, especially with electronic music, since it's very technical and can be a little daunting for a lot of people to take on.
You're really known for your technical skills, and obviously, a lot of people know that Ableton is a big tool for producers. But even you've already mentioned that there's a plethora of other options –  an iPad was your entryway! So we're sitting here in your studio surrounded by so many fun toys. What's your favorite piece of gear to play with in here?
Oh, I just got this modular rig, and it's just been so much fun to just start creating ideas, because it's something physical and more concrete. You can actually turn knobs and stuff. 
It's a totally different approach to starting ideas and making music in general. Because when you're in the DAW, it can be much more nitpicky, you know? You have a keyboard and a mouse as your sole tools. So, the modular rig can just be more fun.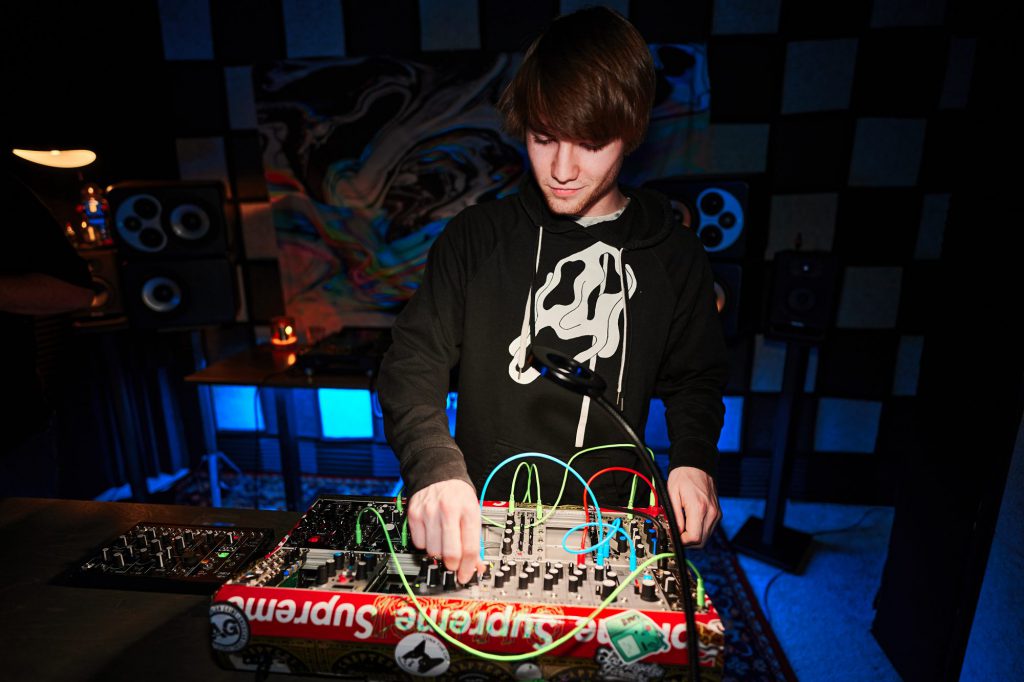 I actually feel like that's a common thing you're hearing from bass music producers, especially today, where they're really wanting to get more hands-on. When you started your sound design journey, did you begin with hardware or software?
I began in the software zone experimenting with different effects and kind of just being a kid and exploring on my own. From there, I found my own sound.
What was the hardest part about developing your sound? I know you've described yourself as a "lovechild of cathartic expression and malevolence." Can you tell us about the experiences in your life that led to this as your sonic calling card?
A lot of my music is definitely emotionally based. It kind of gave me a way to express a lot of feelings I didn't really know what to do with. That helped me translate emotions and put them into music that represented those same feelings – like an artist who likes to paint on his own canvas.
Makes a lot of sense – emotion absolutely fuels art, as well as musical influences. What are your biggest musical influences?
Some of my biggest influences are SHADES, Mr. Carmack, Svdden Death, Cashmere Cat, and Peekaboo.
I love that! And, what's interesting is a lot of them are people I'm sure you've already collaborated or played with? How has it felt going from looking up to these guys as role models and now developing into a peer?
It's been weird and awesome – it's great to be able to talk to them and tell them how much I like them. It's also made me realize that all people are people. We like to put DJs on this huge pedestal, but when in doubt we're all just human beings. It's just cool.
I think something that's really great about our community is that you see a musical representation of a lot of these friendships when you become close, and you influence each other and your sounds. I know a lot of your fans have been able to even track that through your very awesome Into The Abyss series. Can you tell us a little more about that series for people who might be new to it?
Yeah, it's a mix series I like to do every year around October. It's just a way for me to showcase some of the unreleased music I've been working on throughout the year. Some of the music you'll expect to hear will be like a live set, and there will also be music from my friends including their dubplates, which I want to showcase as well.
What is it about playing dubplates that particularly excites you here?
It adds newness. It's something the audience has never heard before. Dubplate culture is awesome because anyone can play some song that can be found on Spotify. But, if it's an unreleased song no one has heard from the artist, and you play it live, it really makes the set more exciting and fun, and a lot fresher.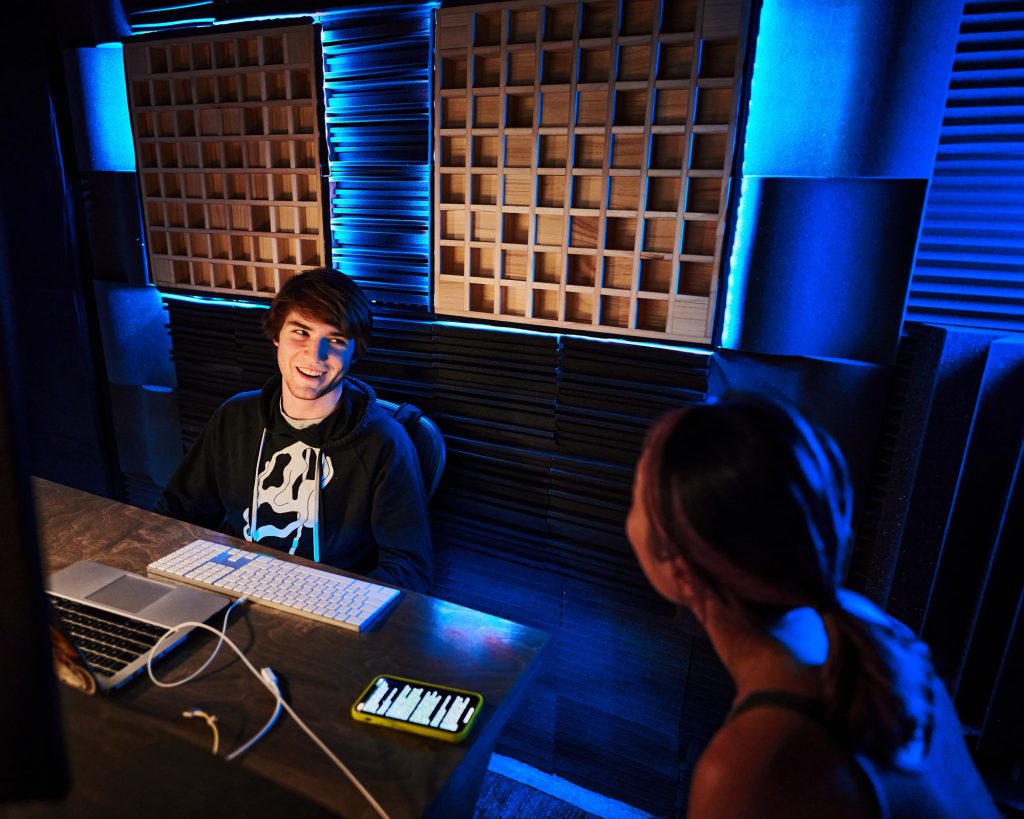 So far, you've dropped two volumes of Into the Abyss mixes, and we've got Vol. 3 coming out next week. How will this newest installation differ from the previous?
Recently, I've been making more songs with melodic elements. So I'll probably include some of those in there as well as the other unreleased songs made throughout this year.
I'm so excited to hear it! When does it come out again and where can fans find it?
It comes out on October 27, and it will be a Soundcloud exclusive!
Other than your new music, it's been so great seeing all of your show announcements popping up, including your big show in LA with soundXperiment on November 26 at Catch One, and exciting festivals like Okeechobee and Lunar Tide. How has it been getting back to touring since COVID?
It's been weird, but it's been really refreshing and good. I feel like I've definitely gotten better since after the pandemic. I have more confidence and a better vision of what I want for my sets and what I want to bring to people. It's just nice and awesome that I feel like I have more control over my ability to get people to have fun.
Can you tell us a little more about how you navigated your artistry during COVID? How did it affect your approach to your development as an artist – whether on the creative or branding side?
It was definitely also weird. At first, everyone scrambled and started doing live streams. That was pretty sick, but after a while it just kind of died down. I mean, it's still cool, but I don't know. It was kind of like a weird transfer between playing live sets in front of people and then having it all digital. I'm glad things are getting relatively back to normal, at least on the touring and live show side.
What else can fans expect to see from you moving forward?
There's always new music, of course, including an upcoming single I'll be dropping in November. I also have a really cool Halloween show coming up on October 31 with Yheti at the Photo City Music Hall in New York, in addition to the November 26 show at Catch One in LA with soundXperiment – I mentioned earlier that will also be with Yheti.
We love to hear it. Well, thank you so much again, Reese, it was a pleasure to get behind the scenes with you and share space with you in your home studio.
My pleasure Jenn, thank you for being here.
---
Follow Abelation on Social Media:
Facebook | Twitter | Instagram | SoundCloud