We caught up with Party Favor at Beyond Wonderland at The Gorge to chat about exploring new musical directions, SIDEPIECE, and more!
---
Party Favor has been a darling of the dance music scene with his high-energy, chart-topping tracks, including his stand-out 2016 debut EP Party & Destroy, that landed him on huge festival stages like Coachella and EDC Las Vegas. It's hard for fans to imagine where this effervescent superstar could go next, but luckily, it's not for him. In fact, Party Favor is no stranger to innovation and during the lockdown, he emerged as an important pillar of community strength by curating his very own Isolation Livestream festival on top of executing a full album release.
Needless to say, Party Favor is an artist that doesn't need to be pushed outside of the box because that's already where he permanently operates. His evolving, innovative mindset is also reflected in his newest musical explorations. Over the years he's branched out significantly from his roots in making trap beats with the latest ventures blossoming into a distinct house lean.
Party Favor has seen even more success as of late by teaming up with Nitti Gritti to launch a new alias – SIDEPIECE. This project represents the two artists' homage to the proper foundations of house music and their music has already taken the scene by storm and landed them a Grammy nomination for the hit track "On My Mind." Additionally, Party Favor has teamed up with rising producer and singer-songwriter Elohim on their latest track "Losing My Mind." Preserving that nose-crinkling angst and sound design that is the calling card of bass music, while he takes us traversing on a gritty four-four landscape laden with Elohim's rebellious vocals.
Earlier this month, Party Favor headed to Beyond Wonderland at The Gorge to take the stage during the debut edition of the festival, and we had the chance to chat with him after his set. So watch the video for "Losing My Mind" below and read on for a look behind the curtains with this artist as he dives into his recent work and more!
Check out the official music video for "Losing My Mind" on YouTube:
---
Hi Dylan – thank you so much for being here!
Yes, so happy to be here.
You're touring your SIDEPIECE project heavily right now
Yes
And I know your performance tonight at Beyond Wonderland at The Gorge is just one of many stops on your current run – what's that been like, especially after the past year and a half?
It's been crazy. We've been taking a lot of shows and it's kind of been ramping up. You know, it feels surreal because for probably before the pandemic hit, there was probably 6 years straight when I was non-stop touring in some capacity. I didn't say no, would travel all over, and I burned myself out mentally, physically. And I can't speak to Ricky on the Sidepiece side but for Party Favor that really happened, it basically forced me to take a look back, take a step back, slow down and focus on my music and everything else
You killed it tonight during your set, by the way – what was the inspiration behind your track selection and progression? I noticed you guys really seem to be riding the wave of that booty bouncing vibe – you had that awesome Say My Name remix – but there was also a distinct groovy vibe to the set and production, was that on purpose for tonight or is that where you're going with the brand in general?
Not necessarily – each festival has been its own festival and experience and different thing. When we started the project in the Spring of 2019, we didn't start touring until literally the start of this year. So we had all this stuff like a big record come out and didn't get to tour any of it. These past six months have really been our first time exploring the world and being out here. Each set like tonight, we had a plan but also wanted to vibe with the crowd and take a journey out there. Sometimes it's more groovy, sometimes darker, but it's always proper house.
A lot of people who do duos or trios with other artists do not perform together when they tour and we'll often see just one member performing on behalf of the act – is that something you guys ever considered?
Oh no, we always started this project because we wanted to work together. We have our own separate projects that are both solo, so with this, we wanted to do something together and create an undeniable project together. When you see us though we don't want it to be one of those things where it's everywhere 24/7, we want it to be something where you want to come experience a Sidepiece party. We want to put on the best possible show for the viewer.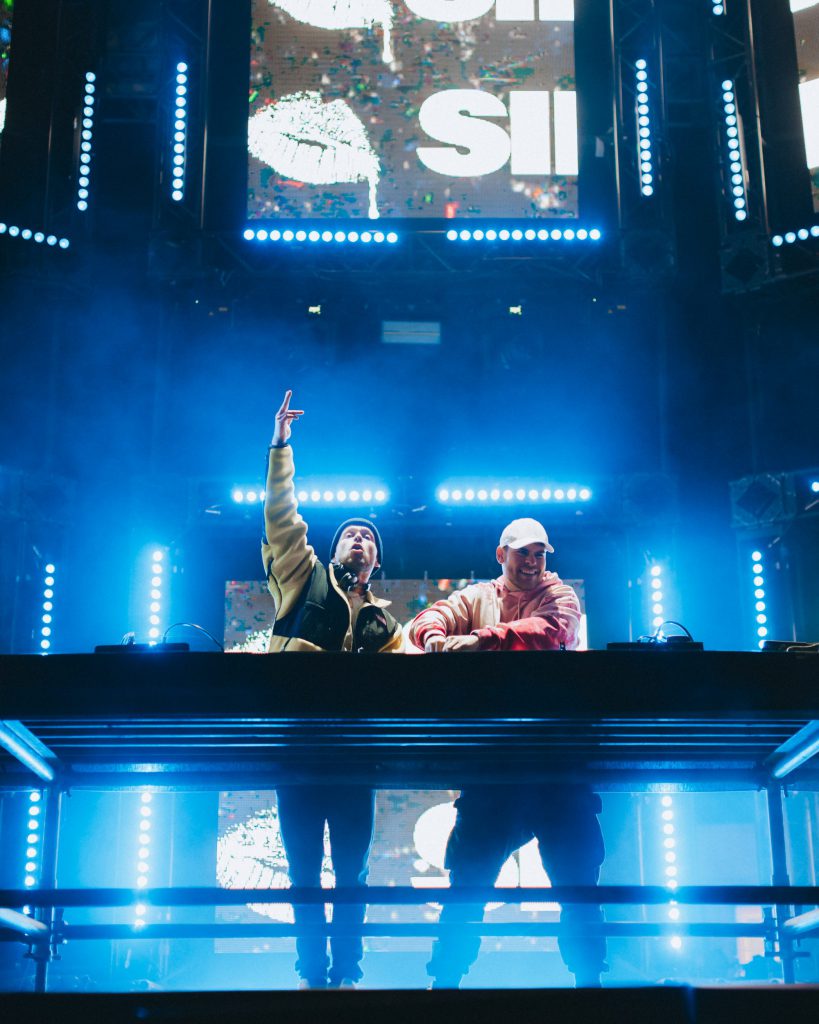 Why did you guys decide to do SIDEPIECE as a project together rather than two solo projects that create collaborations together? I noticed your most recent Party Favor release "Losing My Mind" with Elohim on Ultra Music is also pretty housey.
With the house that I'm making with Party Favor going forward, I want it to have the undeniable Party Favor flavor – like, what is my take on house. Whereas the stuff with Sidepiece, we wanted to make something that was more proper and honored house music that we love, but kind of put our own spin on it os we're not straying we're not going to make bass music as Sidepiece, it's strictly going to be a house project and its been really fun for us because it's a different outlet, it's a different way to be creative.
Obviously, we see you very visible right now with the SIDEPIECE project – what have you been tinkering on with Party Favor and how has that affected your thinking and strategies with that?
You know it's been great. They can coexist because SIDEPIECE is really a fun thing we connect on, and it's allowed me as Party Favor to step back and not worry as much about oh what could I make in my world that's popular, and go back to how I started Party Favor, which was being, just letting the music come out, just flow, and not worrying about any outside sources and go back to loving music.
Is there anything about the new stuff we'll see from you, the 2021/2022 Party Favor that might surprise your fans? Whether it's changing in sound or brand?
Yes – everything. The whole brand. If you check out the socials, the whole brand is changing and evolving. And the sounds that I'm going for and the music that I'm doing is a lot darker and heavier – using a lot of analogue synths and stuff. And a lot of the collabs I'm choosing like my latest with Elohim "Losing My Mind." I think you'll l see there's a much higher level of production and it's definitely different but I think it still sounds like me.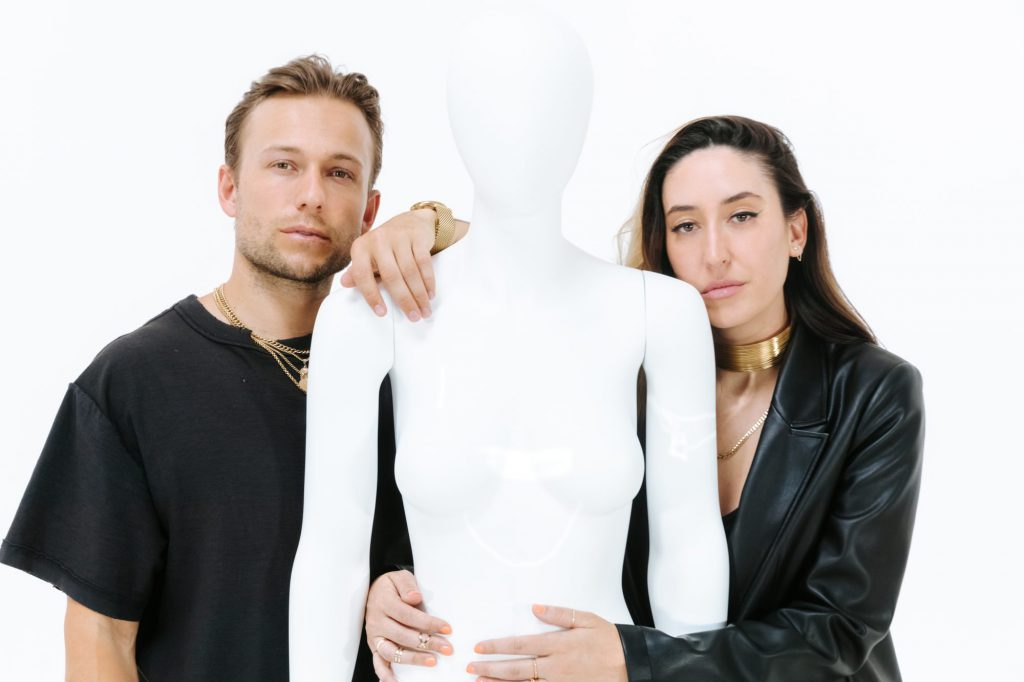 So if you had to put a name to it or paint a picture with words – what setting are you producing for?
For me, it's a proper room where you pay a hard ticket fee and where I can immerse you completely in the production. Not a full-size festival but not the smallest club. I want to create a show around it – mostly my album music mixed with edits and whatever. And some stuff from years past but a lot of it is going to be the new music going forward.
That sounds like it's going to be amazing! Going off of that, I know that you actually have another huge talent that not many of your fans know about – which is your visuals skills!
Yeah!
And I know you've been tinkering with a lot of visualizer tools and programs – can we expect to see more of that from you coming up?
Yes – for my upcoming album everything has a visual to it and everything is being accompanied by a visual that's coming from a place where I made the song, like the emotion or feeling I had when I was making it. When it's all together it's going to paint a picture it's going to be really cool, and when people see it all together it's going to make a lot of sense.
When can we expect to see all that fun stuff from you?
All that fun stuff? Well, the album will be coming out next year, and pretty much every month or month and a half leading up, there will be a new single dropped! It's still evolving but I can't wait for you guys to hear it, it's unlike everything I've ever done, so check me out anywhere!
Absolutely, and I always like to leave with something fun – what is a guilty pleasure you listen to that would surprise your fans?
A guilty pleasure – oooh, I love '80s like pop ballads.
Ballads!
Well, not ballads, [Laughs] but like '80s pop music that's super cheesy. I love it –  I just absolutely love it.
I love that and I know our readers will too. Well, thank you so much for being here, that was great!
Yes – you too. That was great!
---
Follow Party Favor on Social Media:
Website | Facebook | Twitter | Instagram | SoundCloud | YouTube | Twitch