Nocturnal Wonderland is one of the most storied events that Insomniac produces each year, so dive into its history and find out where it all began.
---
Nocturnal Wonderland, also formerly known as Nocturnal Festival, is one of Insomniac Event's most cherished festivals. Since first being held back in 1995, ravers from all over have flocked to Southern California to catch some beats and escape everyday norms to experience something truly magical.
Although last year saw the renowned festival face a postponement due to the pandemic, facing adversity isn't something new to Pasquale Rotella and the Insomniac crew over its run that is closing in on three decades. Instead, they focused on satiating headliners with a Virtual Rave-A-Thon while continuing to plan the grand celebration of Nocturnal Wonderland's return this year.
This weekend Nocturnal Wonderland will once again welcome headliners through the gates of Glen Helen Regional Park, which was a welcome surprise after 2019 was originally planned as the final edition at the venue. Check out the lineup for the 2021 edition and read on to find out a little more about the origins of how this festival came to be.
Nocturnal Wonderland was born in Los Angeles.
The first Nocturnal Wonderland was held in Downtown Los Angeles on February 11, 1995, making it not only the oldest Insomniac festival but also the longest-running electronic music festival in North America. Though the production was nothing like it currently is today, Insomniac still delivered to their high standards of event quality with headliners such as Joel "Mojo" Semchuck, Semchuck, Jason "DJ Trance" Blakemore, Lester "Fester" Flores, and Jason Bentley.
Los Angeles was a short-lived home for Nocturnal, with the event being held only one more time in the city at The Shrine in 1996 before it eventually moved to a new location in Southern California. Its movement set the tone for what would come for the festival until years later as it moved around to different venues in Southern California and even expanded for an edition in Texas (2012).
1997 was a bumpy road toward Nocturnal's venue change
After having lost a secured venue for Nocturnal Wonderland days before the start of the show, Insomniac Founder Pasquale Rotella reached an agreement with a Native American tribe to host the event on their land. Trouble erupted when only some of the tribe members got a hold of the money and others did not.
Furious with being left out of the deal, the local tribe members set up a barbed-wire fence and guarded the gate entrance with guns in an effort to keep the 20,000 expected attendees out. Their efforts ultimately failed with ravers forcing the front gate open with a car, which then gave everyone a path to rush the fenced gate. Rain or shine (or a barbed-wire fence blocking the gate), the show went on until early morning the next day. Though this conflict could foreshadow a negative future for the festival, the future only got greener and safer.
The NOS Events Center becomes an important stepping stone for Nocturnal Wonderland.
NOS Events Center to the rescue! Nocturnal Wonderland made its first appearance at the venue in 1998, where it attracted a crowd of more than 7,000 ravers. This was a huge stepping stone for Pasquale and Insomniac considering that raves were mainly underground events during the '90s era. The festival bounced around a couple of venues the years after its debut appearance at the NOS, even calling the Empire Polo Grounds in Indio home in 2000, which has since become the home for Coachella.
When other venues throughout Southern California said no, the NOS Events Center would say yes. This continues to be true, even to this day as countless events from Insomniac have made it their home each year. It wasn't until 2003 when the event center became the permanent home of Nocturnal Wonderland for the next eight years.
In 2011, Nocturnal reached a major stepping stone, becoming a two-day event for the first time ever in its history. With the expanded offering of days and the festival gaining more credibility, the easier it was for Insomniac to bring in bigger artists as well. Alesso, Avicii, Nicky Romero, Gabriel & Dresden, Gareth Emery, Sebastian Ingrosso, and W&W, to name a few, began to find their way to the festival, especially during the big-room era.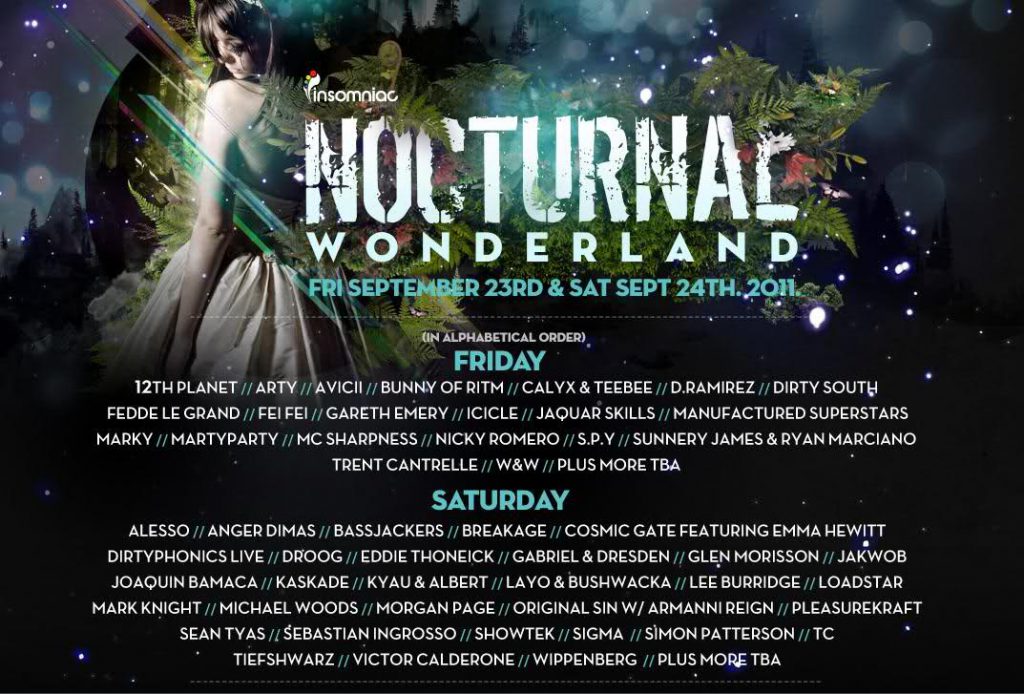 Glen Helen becomes the new home for the dance music festival after holding two editions of the festival in different states.
After hosting a single year in Texas and having run its course at the NOS Events Center, Nocturnal Wonderland made Glen Helen Regional Park its new home in 2013. Glen Helen gave the festival a whole new open-air experience. The bigger footprint allowed for the production to grow tremendously into an experience full of pyro, fireworks, and of course camping.
The addition of camping made it the first Wonderland event to offer on-site accommodations for ravers flocking to the event, and effectively made the party even bigger and better. Celebrating its 20th anniversary in 2015, Nocturnal Wonderland took things to the next level and became a full-on, three-day festival with camping. They also brought in big names including the likes of Armin van Buuren, Alesso, Adam Beyer, Afrojack, Kaskade, Yellow Claw, and Galantis to celebrate the occasion along with rave legends like Andy C, Z-Trip, Donald Glaude, and more.
Since that edition, Nocturnal Wonderland has shifted both its size and theme. The once vast venue that hosted five stages was downsized to become a more intimate experience and the days were cut from three back down to two. The original Alison Wonderland-esque theme has also shifted to celebrate the creatures of the night with more vibrant, neon colors, immersive stages, and interactive art installations.
One thing that didn't change was the tastemaking abilities that Insomniac brought to the festival, as bass and house music dominated the lineups in 2017, 2018, and 2019. This has included artists ranging from Claptone and MK to Excision and ILLENIUM, while stage takeovers from Deadbeats, Gud Vibrations, and Space Yacht have featured a plethora of rising artists and heavy-hitters alike.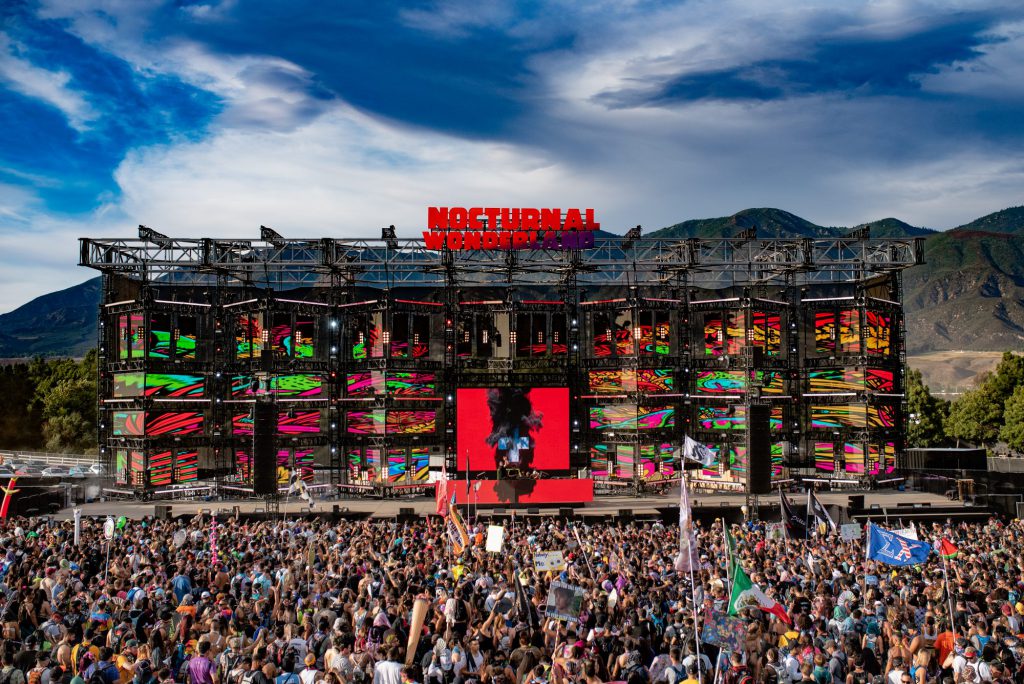 Is this the last year Nocturnal will call Glen Helen home?
Since 2016, Nocturnal Wonderland has ended its festivities at midnight in an effort to minimize noise complaints in the area, while offering a silent disco for those who are camping. Even with extra precautionary efforts, there have been noise complaints from residents in the area, prompting the county to release city ordinances limiting high attendance events at the venue and putting the future at risk.
Both Escape Halloween and Beyond Wonderland SoCal have both already departed Glen Helen, and Pasquale Rotella spoke about finding a new home for Nocturnal back in 2019 when it was supposed to be the final edition as well. Ultimately, an agreement was reached with the county to hold the event at Glen Helen for another year, and now everyone can get at least one more epic showcase of electronic beats at the venue they've come to adore.
Want to dive deeper into the history of Nocturnal Wonderland? Check out Insomniac's Dancing In The Dark documentary from 2015 that was released as part of its 20-year celebration and take a trip back in time.
---
Connect with Nocturnal Wonderland on Social Media: