Insomniac's Nocturnal Wonderland has gone through many changes over the years, but would this edition foster a connection for someone who felt disengaged from the festival?
---
One of the longest-running music festivals in North America and one of the most beloved events hosted by Insomniac, Nocturnal Wonderland has provided countless memories to those who have attended over the past 23 years. Hosted everywhere from the NOS Event Center to the Empire Polo Grounds over the course of its existence, since 2013 the festival has made its home at the Glen Helen Regional Park.
While my first foray into the rave scene and the world of electronic music came in 2008, it wasn't until 2012 that I got my first taste of this renowned festival. I remember it fondly because it was the second time I had ever seen Above & Beyond and their Group Therapy set was just… something else. This started a run for me where I attended in 2013 with my newly formed rave family and made a return trip in 2014 that was highlighted by some epic sets from the likes of Mat Zo and some great moments with friends.
While I had a blast in both 2013 and 2014, the yearly trip to Nocturnal Wonderland promptly ended in 2015 with Insomniac moving the festival to Labor Day Weekend, conflicting with Burning Man. My sights had been set on attending the Burn for some time and there was no way I was missing out on that experience, so I made peace with my decision.
Having missed out on much of the existence of Nocturnal Wonderland already, being unable to experience the era of expansion and celebration of their 20th Anniversary was just a little bit bittersweet for me. Since I never really held the deep emotional connection with Nocturnal that I felt with other parties thrown by Pasquale like Escape and Electric Daisy Carnival, it was easy to shrug off. Of course, I wanted to be there… but I also wanted to move on to something new.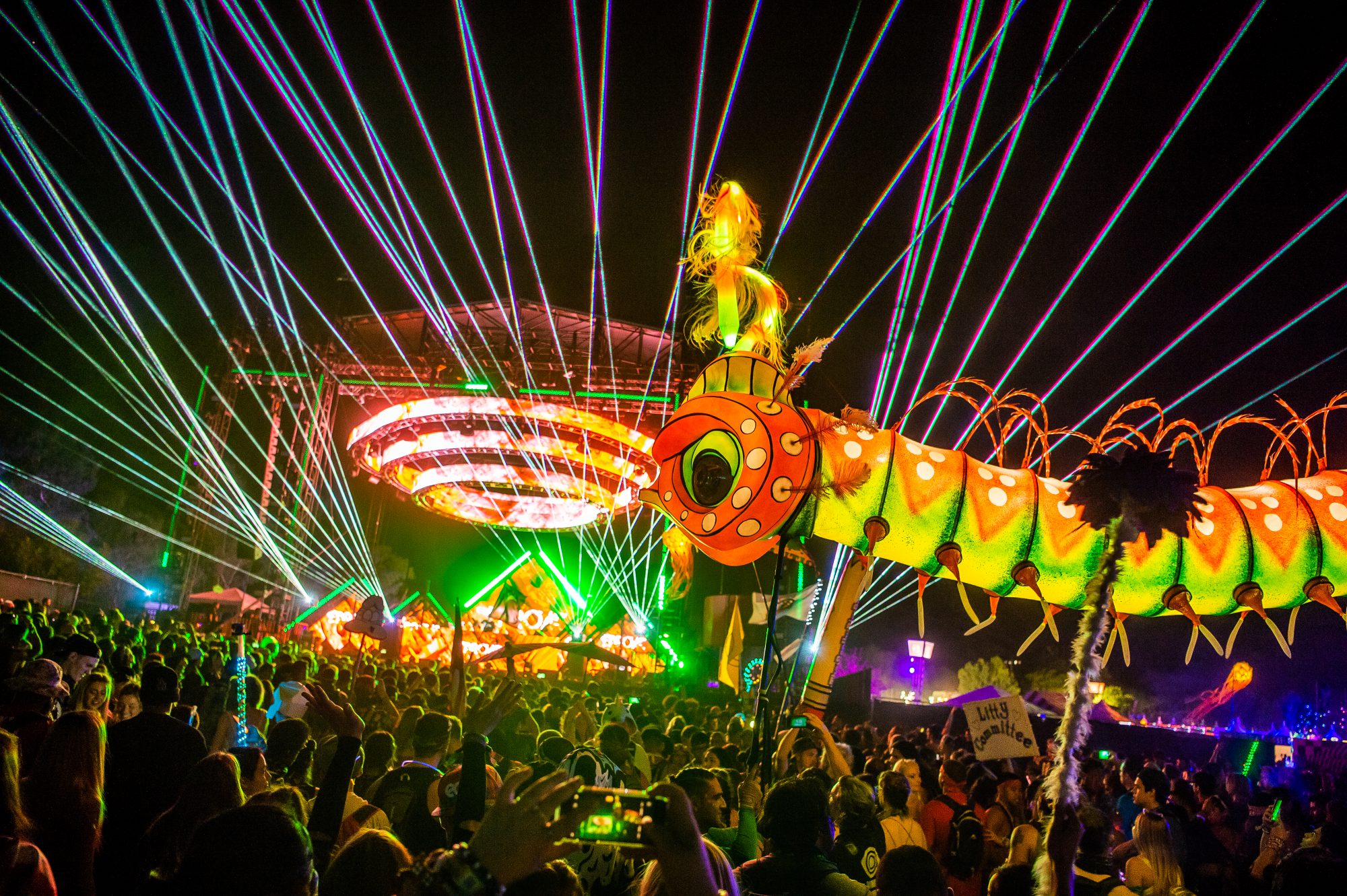 It wasn't until some changes happened in the festival scene last year that Nocturnal beckoned me back.
That year really marked the contraction of the scene causing many other festivals to shutter for good, but Nocturnal clearly had no intentions of being like the others who fell. Instead, it seemed as though Insomniac went to the drawing board and made some major changes to accommodate the shift. Shaving off a day, lightening up the lineup, and moving the festival dates were the most pronounced changes. It was clear that Insomniac was intent on providing a more intimate experience with a smaller crowd and festival footprint.
Instead of attending in 2017, I wanted to see what would happen and how this restructuring would affect the festival. As the news came through about how intimate and memorable Nocturnal Wonderland was for many who I spoke with, though, I figured I'd give it a go. So, when the opportunity to attend this year's edition of Nocturnal arose, I jumped at the chance to return for the first time in quite a while.
This more intimate version of Nocturnal was one that I was excited to experience. On top of that, I opted to camp for the first time ever with the intent that it would give me a new take on a festival that I had felt disconnected from in the past and see if it could engage me in a new way. It did. Sort of, at least.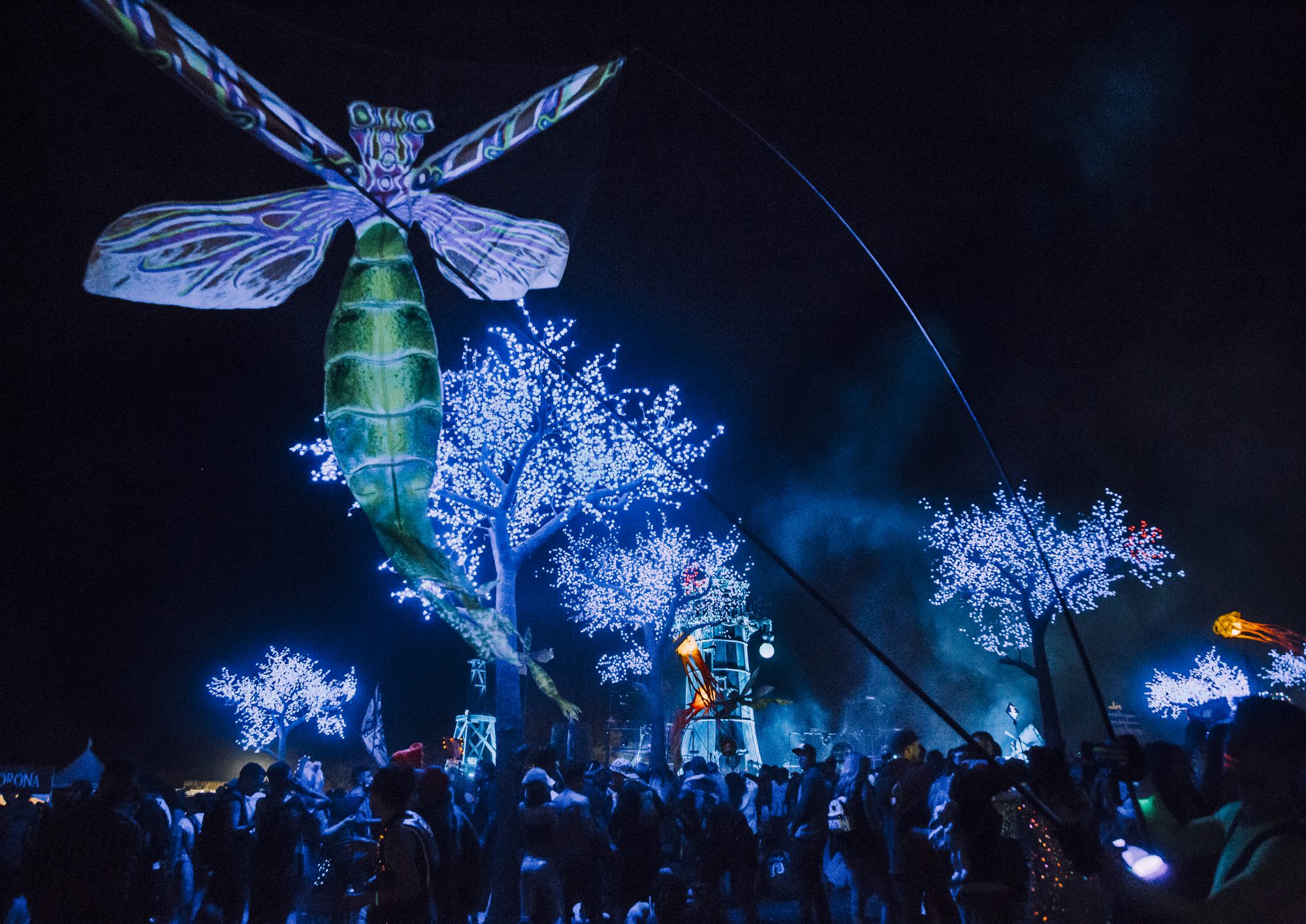 One of the main reasons that I love attending events hosted by Insomniac is the immersion that I feel when walking through the gates into the festival grounds.
If you've ever gotten those butterflies walking through the passageways that lead to the grandstands at EDC Las Vegas, you know exactly what I'm talking about. After entering Escape: Psycho Circus and coming face to face with a literal carnival of crazies – same thing. That's the type of immersion I'm talking about: that escape from reality, a departure from regular life, that feeling you're in, well… wonderland.
Yet with all the production elements, performers, and art this year, I felt that Nocturnal Wonderland missed the mark in terms of immersing me in their world.
There were definitely some things that stuck out that I did enjoy. For instance, the stage design at the Sunken Garden was absolutely unreal and the chill "Nocturnal Wonderland" area that was filled with mushroom trees and cool art pieces was a hidden gem. Overall, though, something felt missing or perhaps even underwhelming.
This is where I feel as though Nocturnal is going through a bit of an identity crisis, and the shift in theme has been a fairly confusing one. I don't really know why this festival has gone so far astray from the whole Alice in Wonderland-based fantasy world, but it puzzles me. I get that things change and time moves on, but it was such a strong, longstanding theme that has been tossed away, seemingly for no reason.
Beyond Wonderland and Escape both have retained their "Wonderland" theming, so why has this one gone off the deep end and deviated from something that has been connected to the festival since its literal inception? In a more tragic sense for me, it was replaced by something that truly didn't resonate with me beyond a surface level.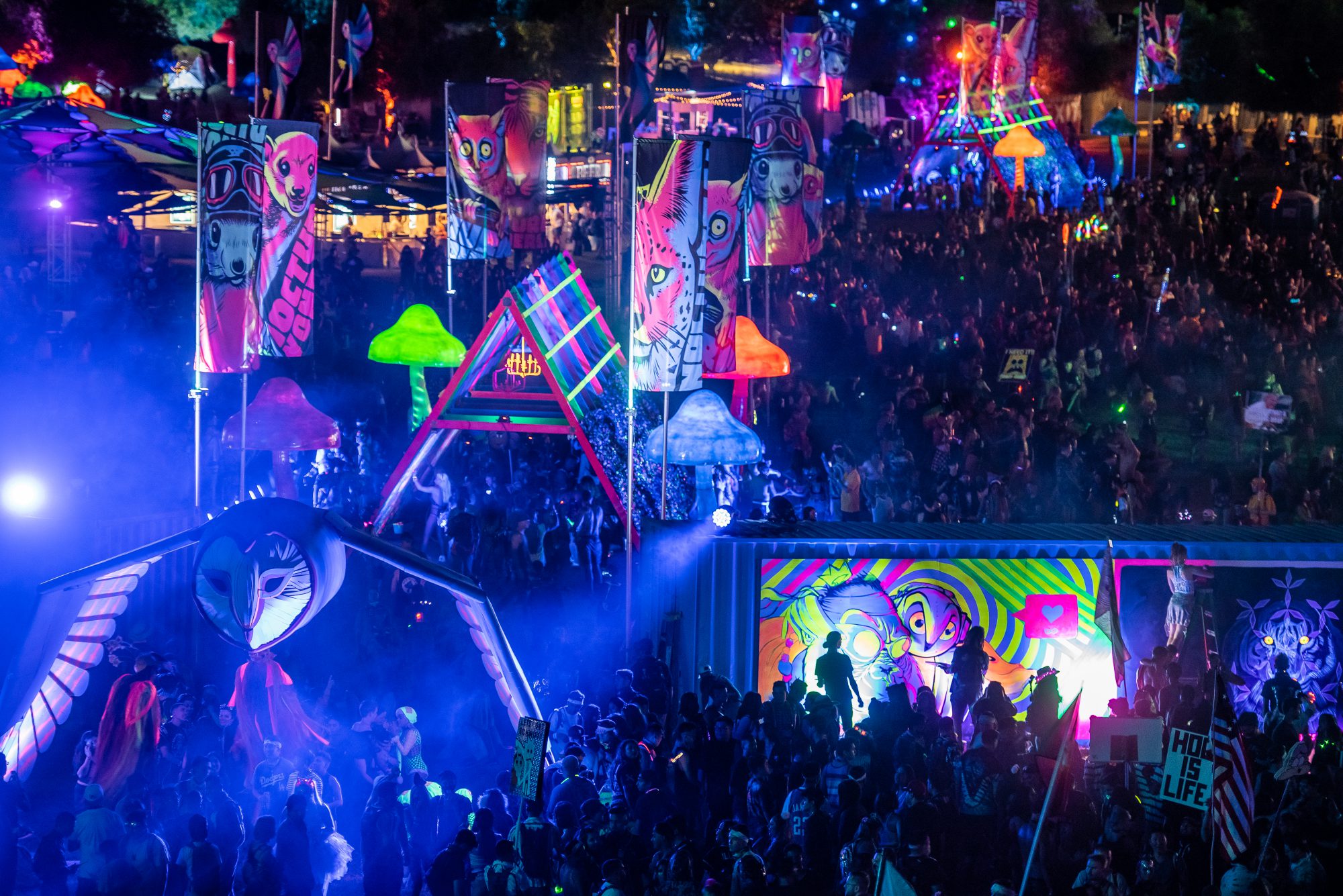 Although the soundtrack lacked diversity, it was jam-packed with both rising stars and established artists in the scene.
I'm chalking this one up to the festival downsizing from six stages at its peak capacity to four, but I feel like there could have been a bit more representation outside of house, techno, and bass. There was a missed opportunity to bring in some trance, hardstyle, or even more live acts to the stage that might have fit the vibe of the festival more.
I will say that the Sunken Garden lineup was one of the best with regard to curation, and it proved that you don't necessarily need the biggest names to create an awesome vibe. And I have to give some major props to the underground and OG guys who played at the Boombox Art Car, because they really held it down.
The other two stages were a bit up and down for me. I know that partially it is because I'm just not a huge basshead, but I wasn't blown away by much of anything. This isn't even an issue that Nocturnal can fix; it's a problem with the state of the scene right now. I had a hard time getting into sets because sometimes they lacked flow and other times because they lacked personality, but in the end, this reminded me why diversity is crucial: you need something to break up the monotony.
There were a few artists whose sets stuck out to me over the weekend that I'd like to highlight.
BlackGummy's set at the Wolves' Den on Saturday was honestly one of my top experiences at the festival as it filled my soul with dark, industrial beats. If you get a chance to catch this rising star on mau5trap, you really need to, because from start to finish I was completely in awe.
Nora En Pure brought some absolutely unreal vibes with her performance, and I was lucky enough to make my way to the front of the crowd, allowing me to see her smiling brightly behind the decks while singing the lyrics to her tunes. Her song selection, production style, and mixing ability has infected me on a different level than most other artists in the scene.
Skream played a set that brought the crowd some serious energy full of relentless techno beats. Having followed him for years, he always brings everything to the table and surprises me each time I've had the pleasure of catching him spin. This set was no different as he masterfully took us all on a journey that had everyone who was in attendance going absolutely mad.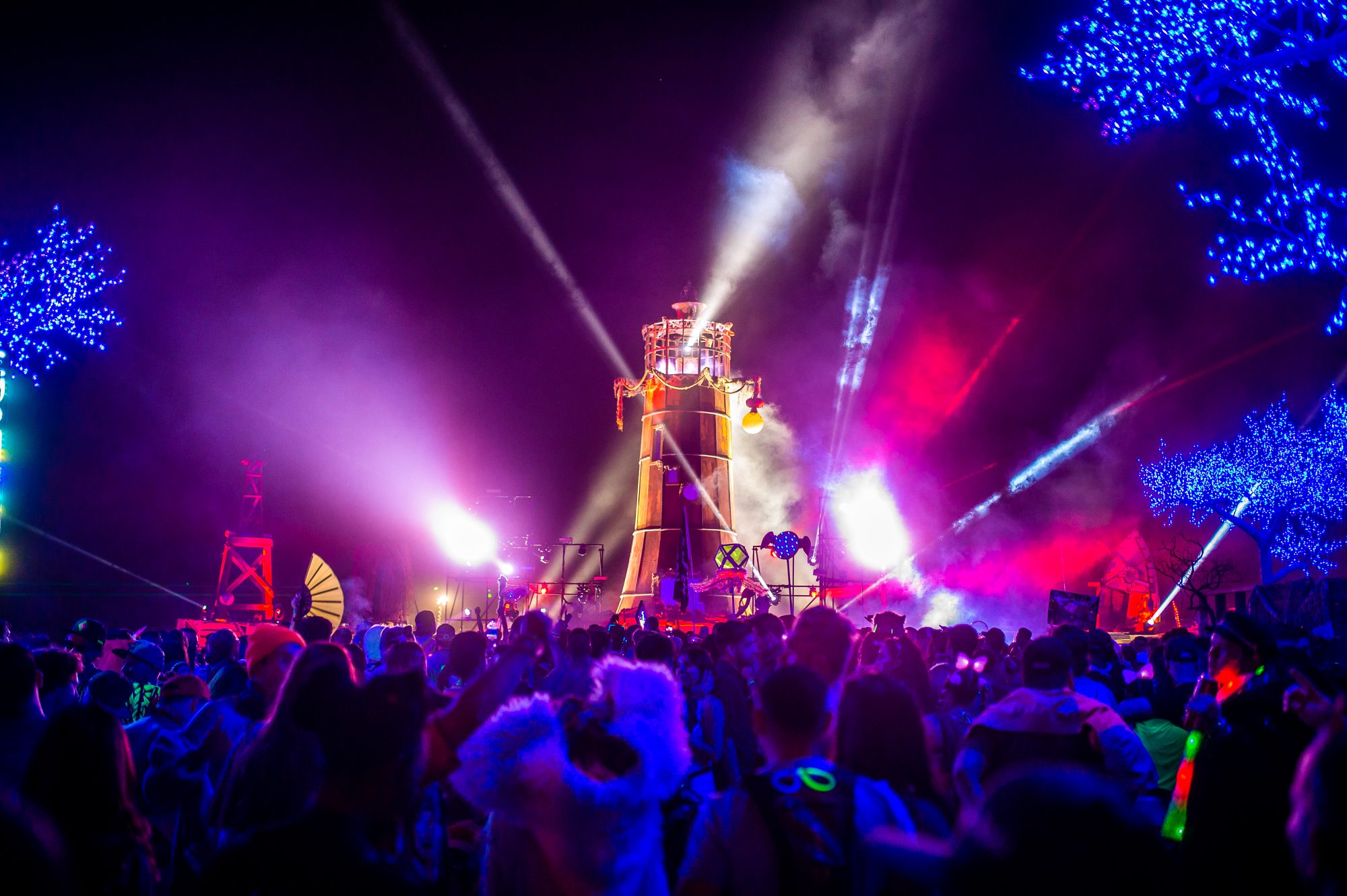 Nocturnal Wonderland wasn't a bust for me though, because the camping experience had me feeling connected.
I enjoyed the camping experience at Nocturnal this year, and it surpassed my expectations. I wasn't expecting the best camping spot in the world placement-wise due to our late arrival, yet even though we were in one of the furthest lots, the amenities were all close by.
I've always loved camping at festivals, and to me, the first night is always one of the most memorable. There's a sense of connectivity that forms between all the campers as they make new friends and reconnect with old ones as they explore the campgrounds or dance at the pre-party stage. It's hard to replicate. Thursday night, I grabbed some beers and headed to the Boombox Art Car to get down and hyped for the weekend, and had an absolute blast.
While the music at the pre-party was something I found myself enjoying, it wasn't the main focus of why I was there. Instead of getting enveloped by the heavy bass of Riot Ten or the bass house sounds coming from Habstrakt, I found myself chatting with friends who I hadn't seen in quite a while, making some new ones, and finally getting tired and ready for bed.
I want to give credit to Insomniac because there were quite a few things that surprised me and left me impressed.
Having plenty of shade in the Camp Center was a great start, along with the misting fans that were blowing that sweet, cold air into the faces of anyone who felt overheated. I loved the addition of a Ground Control Oasis for those who may have needed a safe space away from the activity.
Some hiccups did occur, though, but I think those are things that could easily be fixed in future editions. Problems that I encountered included insanely long food lines that took about an hour, limited directions to or defined areas regarding where the campground activities were, and having the showers run out of water during peak hours on Saturday. There was also a missed opportunity to have a daytime stage exclusive for campers, but maybe that was what the open decks that ended up getting canceled were meant for.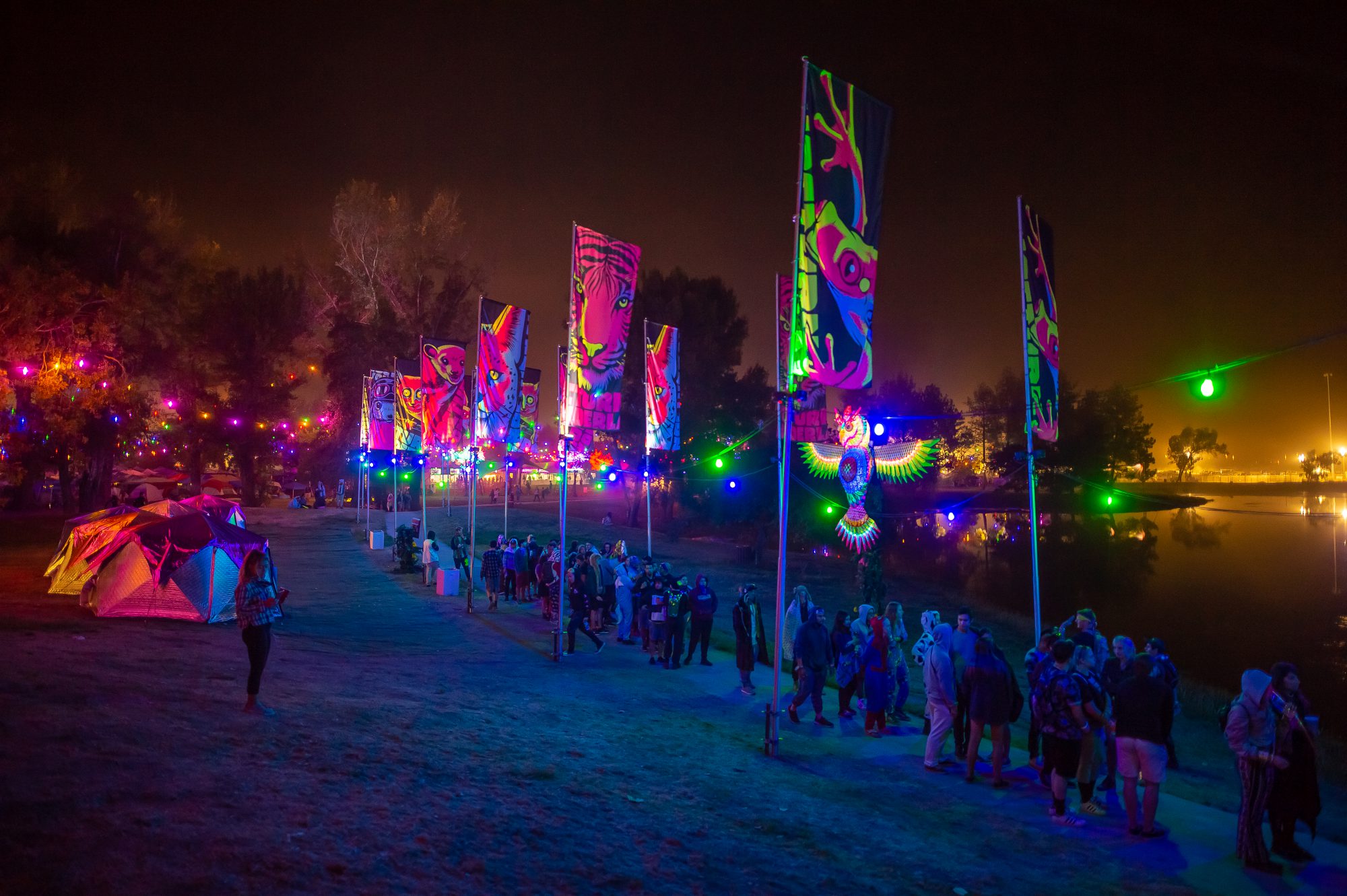 Once the sun went down the Nocturnal Wonderland campgrounds came to life, with overhanging strings of lights, production elements, and art all becoming… well, electrified.
I've always felt that Insomniac Events have truly thrived at night, and it was cool to see their fresh take on camping, which was leaps and bounds better than Beyond Wonderland SoCal in 2016. The art seemed to come alive at night with different lighting elements, adding a different dimension to the stunning pieces.
This feeling was continued each night upon our return from the festival grounds, where the Silent Disco was bumping with sets from a diverse range of artists all placed in a unique setting. I wish they had expanded it to include a few different channels to groove to, but overall it was a great way to unwind from the festival before hitting the sack.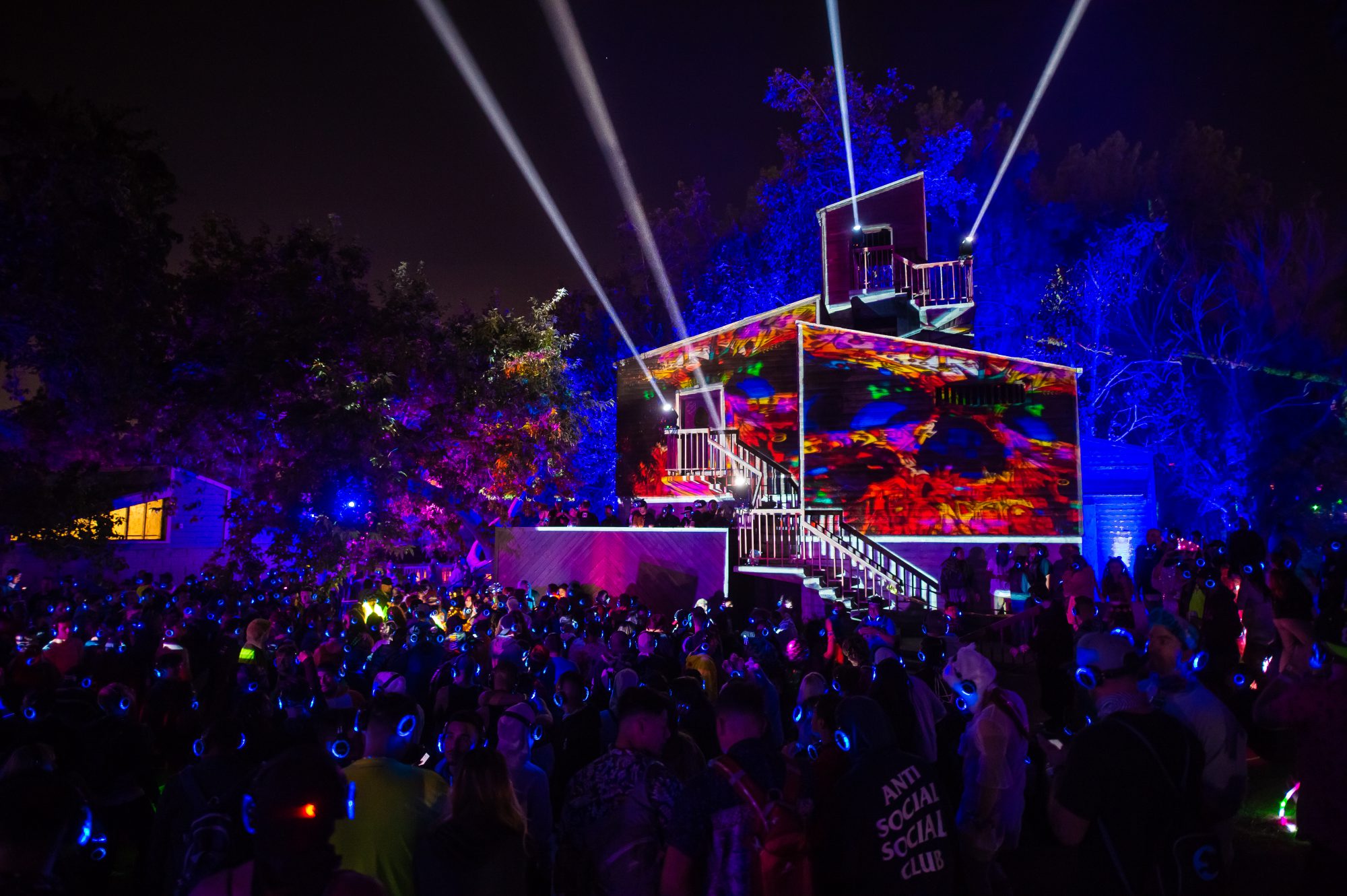 While there may be some improvements that could be made in the future, I did enjoy my return to Nocturnal Wonderland this year.
As I reflect on the weekend, I'm flooded with moments with friends new and old as we caught epic sets or explored the festival grounds. I also really enjoyed my first camping experience at Nocturnal Wonderland, as well, and would opt for that over a hotel any day.
With that in mind, I'm hopeful that Insomniac can make some changes to problems that myself and many other attendees faced for a smoother experience in future editions. Things like only having one water refill station or outrageous food lines are things that can be corrected fairly easily.
Although I may not have found the connection that I was looking for this time around, it also doesn't mean that you won't find your home at Nocturnal if you attend. If you love intimate vibes and stunning production, I highly recommend you check this festival out if you get a chance.
---
Connect with Nocturnal Wonderland on Social Media: