Nocturnal Wonderland was everything I ever hoped for and more with amazing sets, jaw-dropping stage production, and unmatched vibes!
---
My first time at Insomniac's longest running festival, Nocturnal Wonderland, could not have been better! The gorgeous Glen Helen Regional Park provided some beautiful views throughout the day, and when night hit, Nocturnal came alive with art, performers, and lasers galore. The more intimate lineup curated by Insomniac also allowed me to discover new artists and brought in a special crowd filled with ravers who were there for the community and experience, not just for huge names.
Don't get me wrong, we still had some dope artists headlining Nocturnal Wonderland. Friday night Illenium closed out the Wolves' Den with his incredible Awake 2.0 show, while Flux Pavilion absolutely destroyed the Labyrinth and Nora En Pure brought some impeccable vibes to the Sunken Garden. Saturday brought a hosted stage by the Gud Vibrations crew, awesome sets from BlackGummy and Audien, as well as some top-notch house music from MK.
Nocturnal Wonderland's campgrounds were definitely the most beautiful I've ever stayed at, with colorful lanterns and lights strung above campsites and a stunning mountainous backdrop.
We arrived late Thursday night after the security line died down, which made for a swift entry into the campgrounds once we got through will call. Our camping spot was a bit smaller than the 12X30 promised on the site making it a little hard to fit out Shiftpod, but we squeezed in with our neighbors just fine. After meeting up with some friends we headed over to the Camp Pre-Party, where Riot Ten was already laying down some filthy bass from the Boombox Art Car.
The entire campgrounds screamed the words to "Rail Breaker" as Riot Ten wrapped up his set in the most lit fashion. Next up was Habstrakt, the headliner of the Camp Pre-Party. We stayed for a couple songs but unfortunately, exhaustion hit hard, so we decided to get a good night's sleep before the festivities the next two days.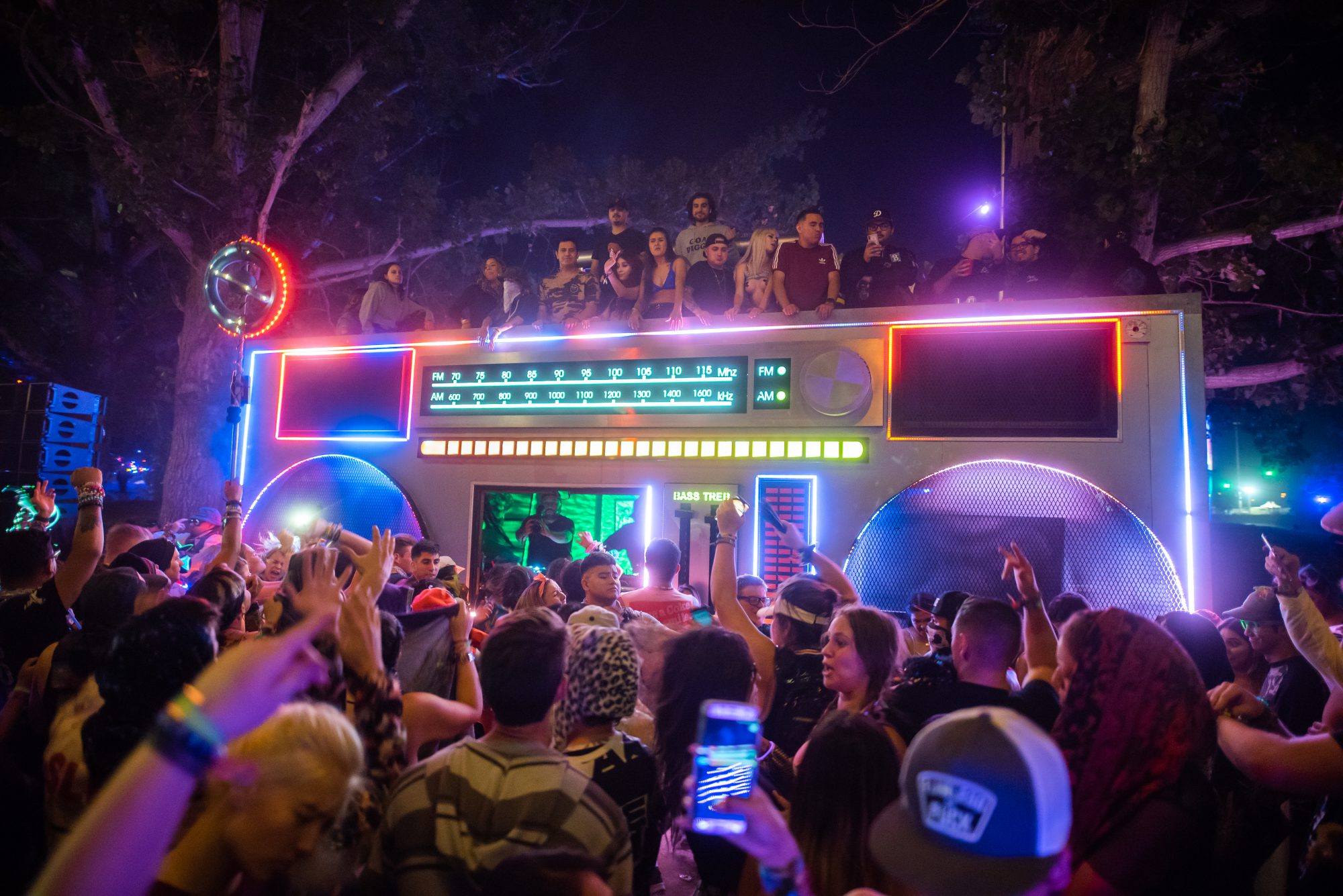 Friday we woke to a mildly hot morning and made our way over to the camp center, where all the food and vendors were placed.
Thankfully, there were some huge shade structures and picnic tables, along with charging stations and misters to keep everyone cool and happy. There were a decent amount of food options, with everything from pizza and grilled cheese to acai bowls and smoothies. Lines definitely got long at the beginning of the day, probably hitting longest lengths around noon – we waited over an hour to get food at the grilled cheese truck midday on Saturday.
We spent the day hanging with new friends, checking out the camp activities like Kandi making and large-scale beer pong. There weren't a ton of camp activities apart from yoga and arts & crafts, so we mostly hung around camp and rested until it was time to head into the festival.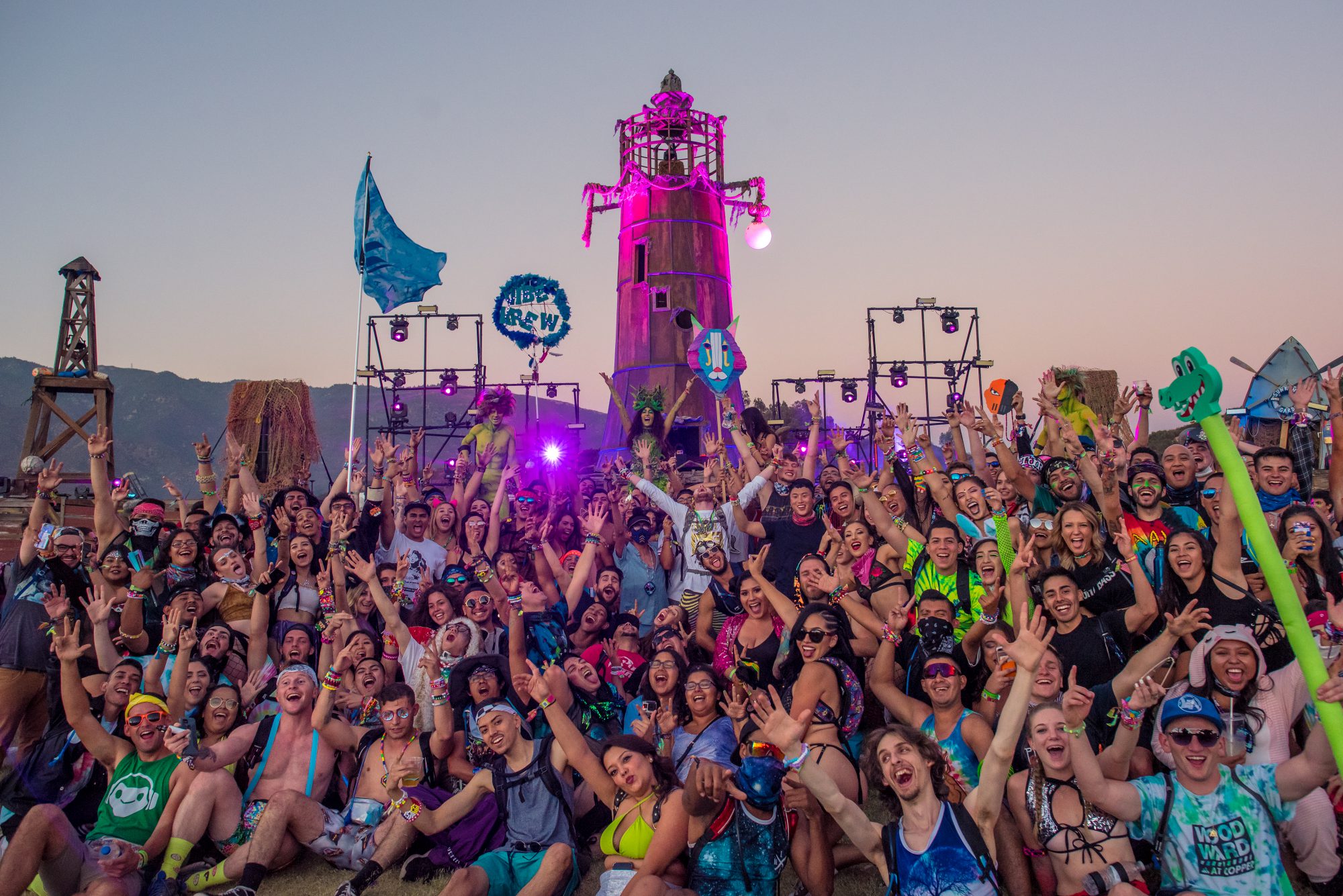 When I walked into Nocturnal for the first time, I was a bit dismayed to see that only a portion of the giant venue was used.
On Friday we entered the festival grounds around 6:30 PM. Getting inside was extremely swift, with dozens of lanes moving very quickly and efficiently. The GA and camp entrances were separated which added to the easy entry, with the camper entrance on the far side of the Wolves' Den stage and the GA entrance right out front of the Labyrinth stage.
After a few hours inside, though, I grew to love and appreciate the size and layout of Nocturnal. You could easily travel from stage to stage, minus some bottlenecking between the Wolves' Den and Labyrinth and a hill up to the Sunken Garden. This short distance between stages made it a piece of cake to hop between sets and check out tons of different artists.
Apart from the three main stages, the Boombox Art Car was also always spinning some dope beats from some of the OG artists in the scene. Surrounded by giant neon mushrooms in a grassy field, the Boombox provided a nice oasis to chill on the grass or get up and dance to some fire tunes.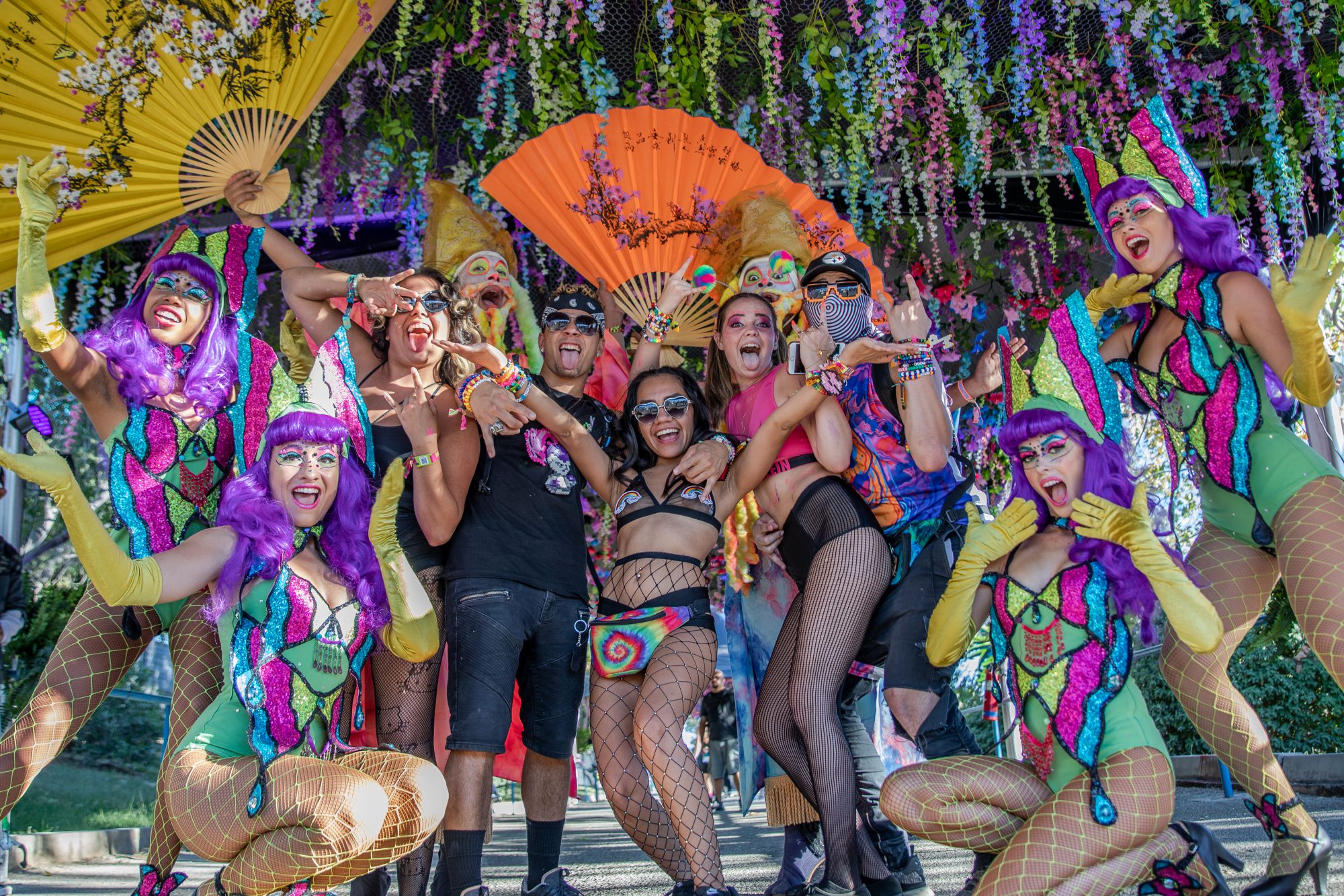 In true Insomniac fashion, the festival was filled with performers dressed up in wonderful eccentric outfits, frolicking around and interacting with Headliners.
The performers paired with all of the art installations and impeccable stage production came together to make Nocturnal a truly special place, a place where one could discover themselves and feel a sense of wonder and happiness!
We kicked off the night with some dope sets from Dirt Monkey, Tisoki, and Eprom, and then made our way over to the Boombox Art Car to catch a dope MC battle over some fire DnB. I really enjoyed Tisoki's set; he played one of the most impressive bass sets I heard all weekend, keeping the energy up and kept a good balance of bangers like "Throwin Elbows" and his own enticing original tracks.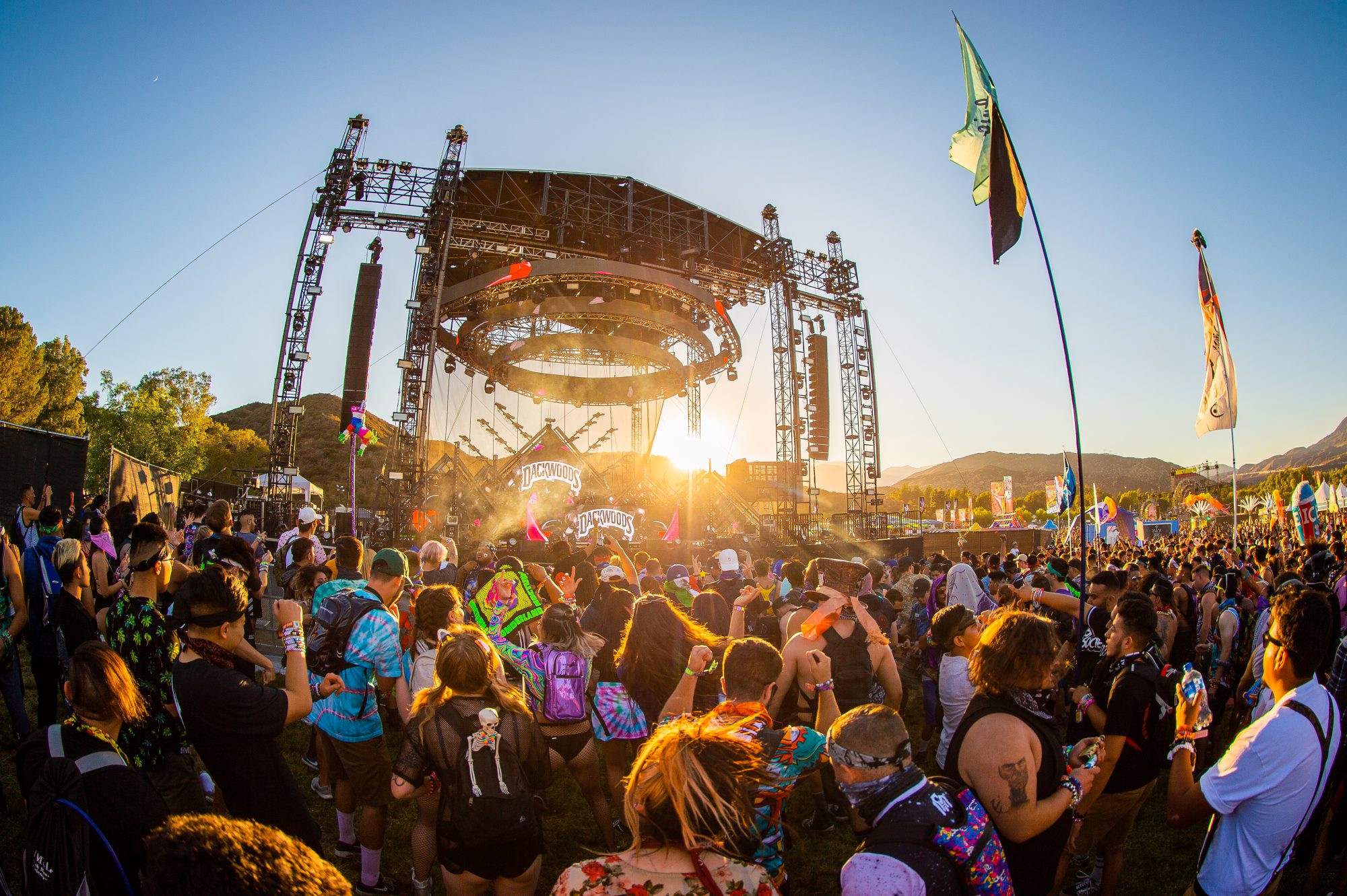 After some good times at the Boombox, we caught some dope DnB from Netsky, then made our way back to the Wolves Den for Jai Wolf and Illenium.
I'm a huge fan of Jai Wolf, but I feel as though his sets haven't evolved much in the past year or two. Granted, he's only put out one new track this year, but I hope that he begins to bring in some new elements to his sets and continues to craft his sound because he truly is a talented artist and one of the real ones.
Illenium closed out the Wolves Den in the most epic fashion possible!
I can't even count how many times I've seen him at this point, and I am not slowing down any time soon. Illenium opened the set burning us to the ground with his earth-shattering collab, "Stupid Love," with Excision, dropping it three times and it just kept getting better and better.
He took us on a journey of emotion and hard-hitting dubstep playing all his hits from his most recent Awake album as well as his singles like "Rush Over Me" and "Take You Down." Regardless of his recent popularity, I'll always be there for Illenium – he gives me all I want in a set, going hard then getting right in your feels. His productions truly are top-notch and paired with his visuals, makes for an unbelievable experience.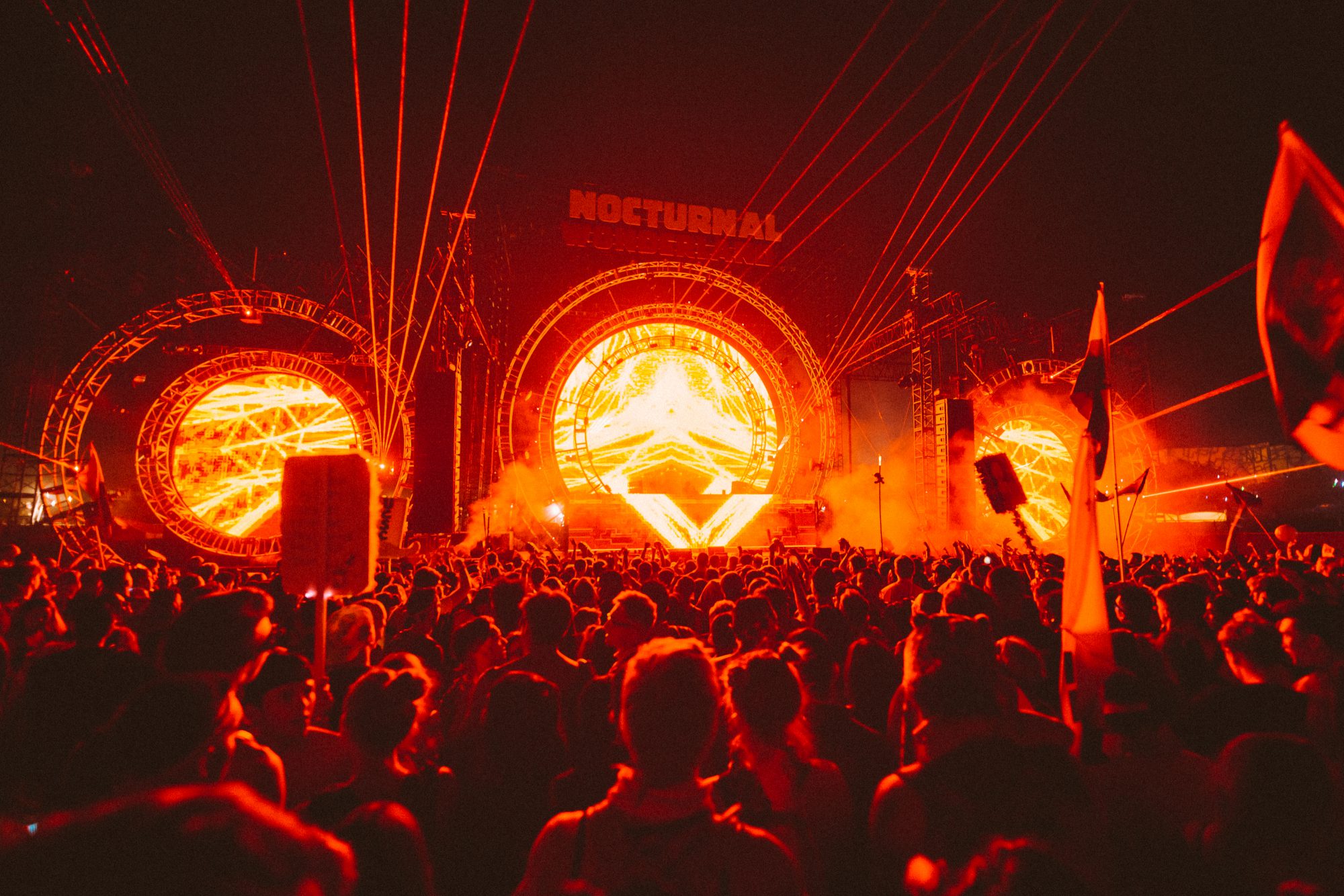 As much as I was loving Illenium, I couldn't stop thinking about the fact that the absolute legend, Flux Pavilion, was playing over at the Labyrinth at the same time.
We decided to leave half an hour early to see the end of Flux, and I couldn't have been happier with our decision. Flux was spinning some of the most interesting, captivating dubstep tunes I'd ever heard, and his mixing was beyond phenomenal. He said goodbye as he dropped the jam "International Anthem," lasers bouncing and visuals going wild as the crowd raged to the intoxicating track.
After, we headed back to the campgrounds to check out the Silent Disco, where we got a chance to see Bijou and DustyCloud play some dope house sets at this awesome abandoned house near the lake in the campgrounds.
The second day brought just as much fun and excitement, along with some seriously heavy sets at the Gud Vibrations hosted Labyrinth stage.
NGHTMRE and SLANDER protegés Wavedash kicked off the night with a high-energy dubstep set filled with their hits like "Bang" and "Move Back" and even brought in some jubilant vibes with some Swedish house and big room for a few minutes.
As Wavedash came to a close, we wandered over to the Wolves' Den to catch one of our most highly anticipated sets of the weekend, BlackGummy. He was everything I imagined and more, bringing in some deep and dark techno vibes along with some beautiful melodic progressions that truly blew me away.
I couldn't believe how expertly he melded the elements of his sound. The set was smooth and captivating, bringing you in inch by inch. His visuals were insanely cool too, centered around a 3D black gummy bear and futuristic technology. After that set, I'm a BlackGummy fan for life!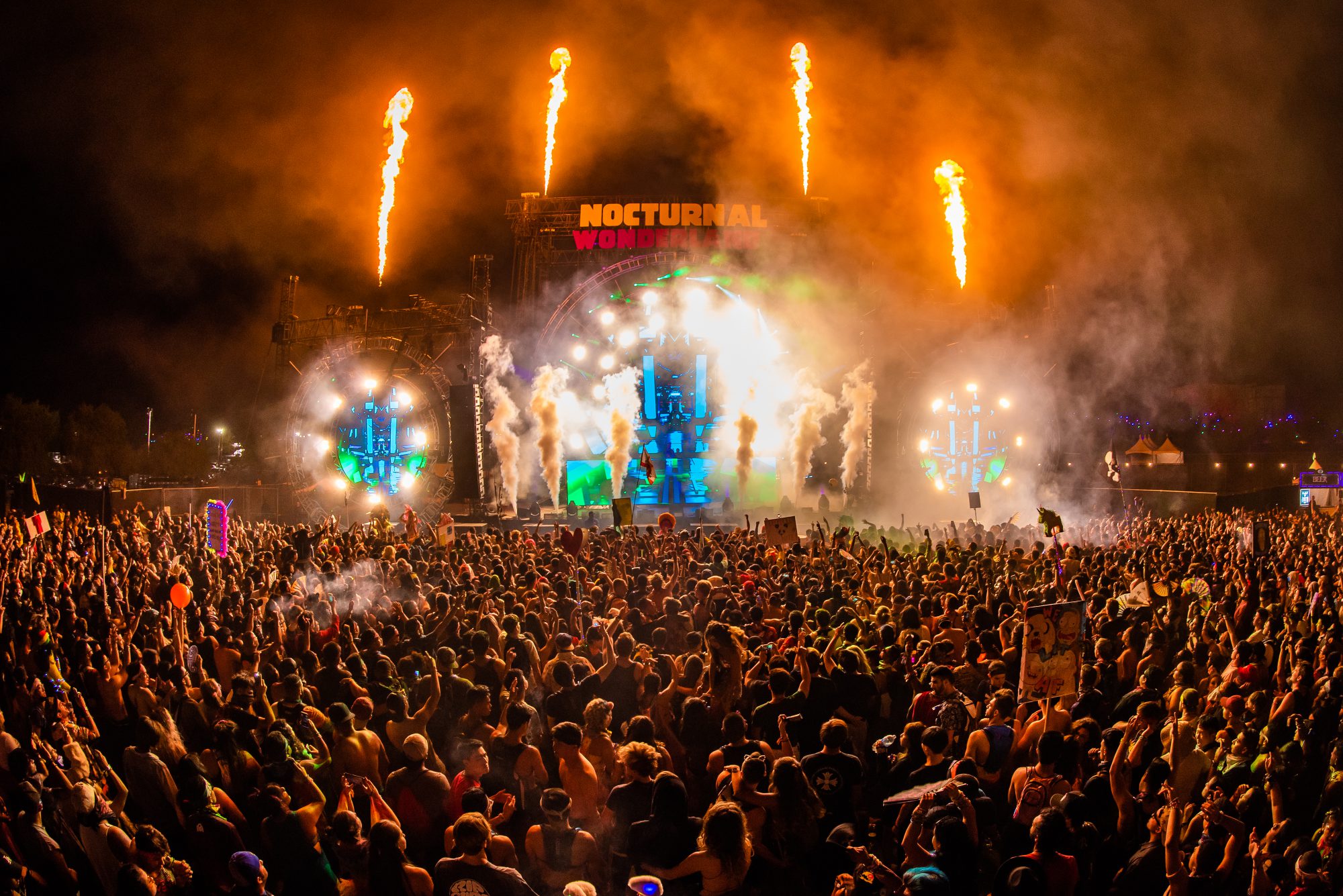 We parked at the Wolves' Den for the next few hours, shuffling to some Night Bass with AC Slater then getting a welcome dose of electro house blended with bass from Audien.
I have to say Audien was one of my most memorable sets all weekend; it's so rare to hear all the old progressive and big room hits played out nowadays. From Calvin Harris to Porter Robinson to his very own jams, Audien kept the vibes flowing throughout the entire set. Some of my friends might have gone unwillingly, but within minutes they were all jumping up and down with smiles plastered all over their faces!
As much as I love bass and house music, the feel-good stuff is the reason I started raving, and it was so much fun to go back to those roots with Audien. His new track "Higher" out a few weeks ago on Anjunabeats proves that he's keeping that euphoric sound around for good, and I couldn't be happier about it.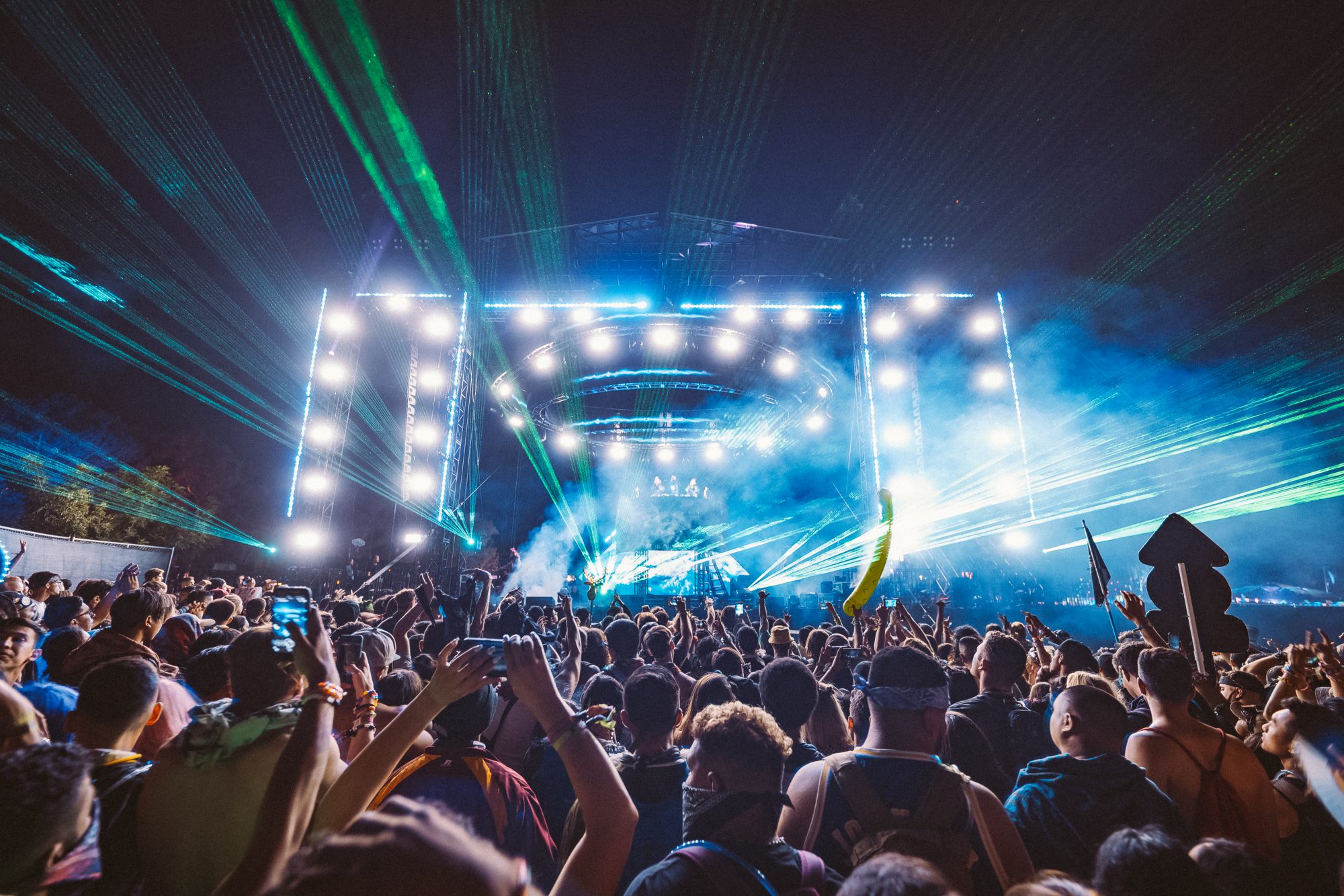 After we got in some good vibes with Audien, it was time to break our necks at the Kill The Noise and Gud Vibrations sets.
The Labyrinth stage was getting more and more packed by the minute – clearly, there were lots of bassheads at Nocturnal this year! Kill The Noise utterly murdered it, his original productions like "Mine" and "FUK UR MGMNT" always unmatched. Not to mention, his remix of Zomboy's "Like A Bitch" absolutely went off, fusing captivating rock influences and bass music.
My personal highlight of the set was when he dropped his new collab with Snails and Sullivan King, "Shake The Ground." The whole crowd turned into animals, stomping like gorillas as the track built and going absolutely wild when it finally dropped into that filthy dubstep drop.
Closing out the night was NGHTMRE and SLANDER's Gud Vibrations with a hefty 2.5-hour slot.
There was a 15-20 minute intermission before the set started, during which I went to get a beer and returned to find the crowd insanely packed – I could barely move an inch without squeezing through people. It was a bit of a mess finding my friends – the sheer number of people was too large for that stage. Clearly, there were a lot of other NGHTMRE and SLANDER fans at Gud Vibrations.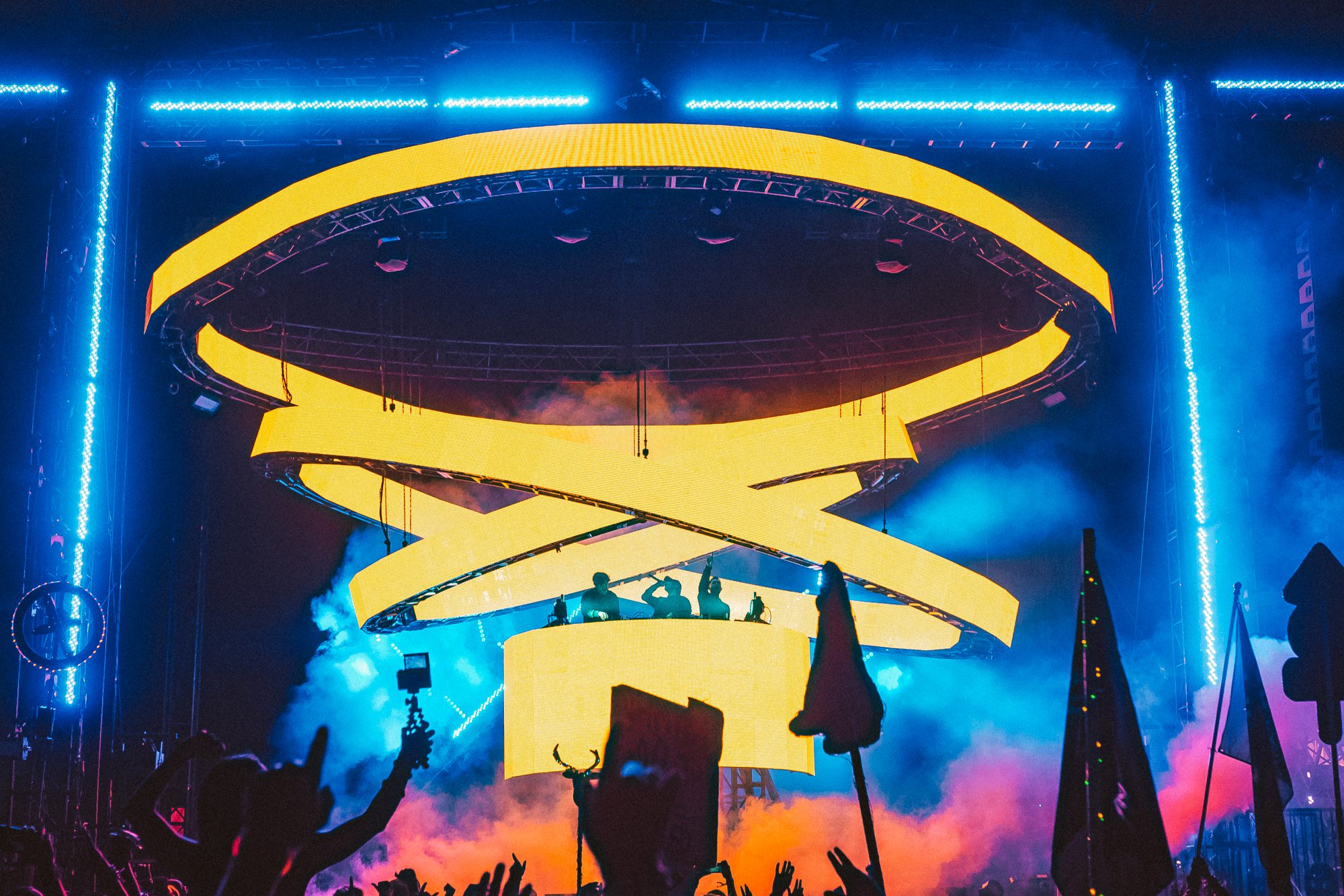 When the Gud Vibrations crew jumped on stage, the curtain dropped to reveal the full Atom stage!
They were raised up on a higher platform than previous artists, and the top circular part of the stage began moving up, down, and around. We stayed in the crowd for about 45 minutes of the set, but unfortunately, it was just too packed in our spot to enjoy the music.
We posted up on the hill overlooking the Labyrinth and watched from a distance, much more enjoyable! I have to give NGHTMRE and SLANDER props, they really do change up their sets a ton and bring in new and exciting bass music each time I see them. Plus, filling up a full 2.5-hour set is no easy feat. As usual, we got some feels with SLANDER's heaven trap tracks like "Love Again" and "Super Human," giving us a little break before going right back in with the hard-hitting bass music.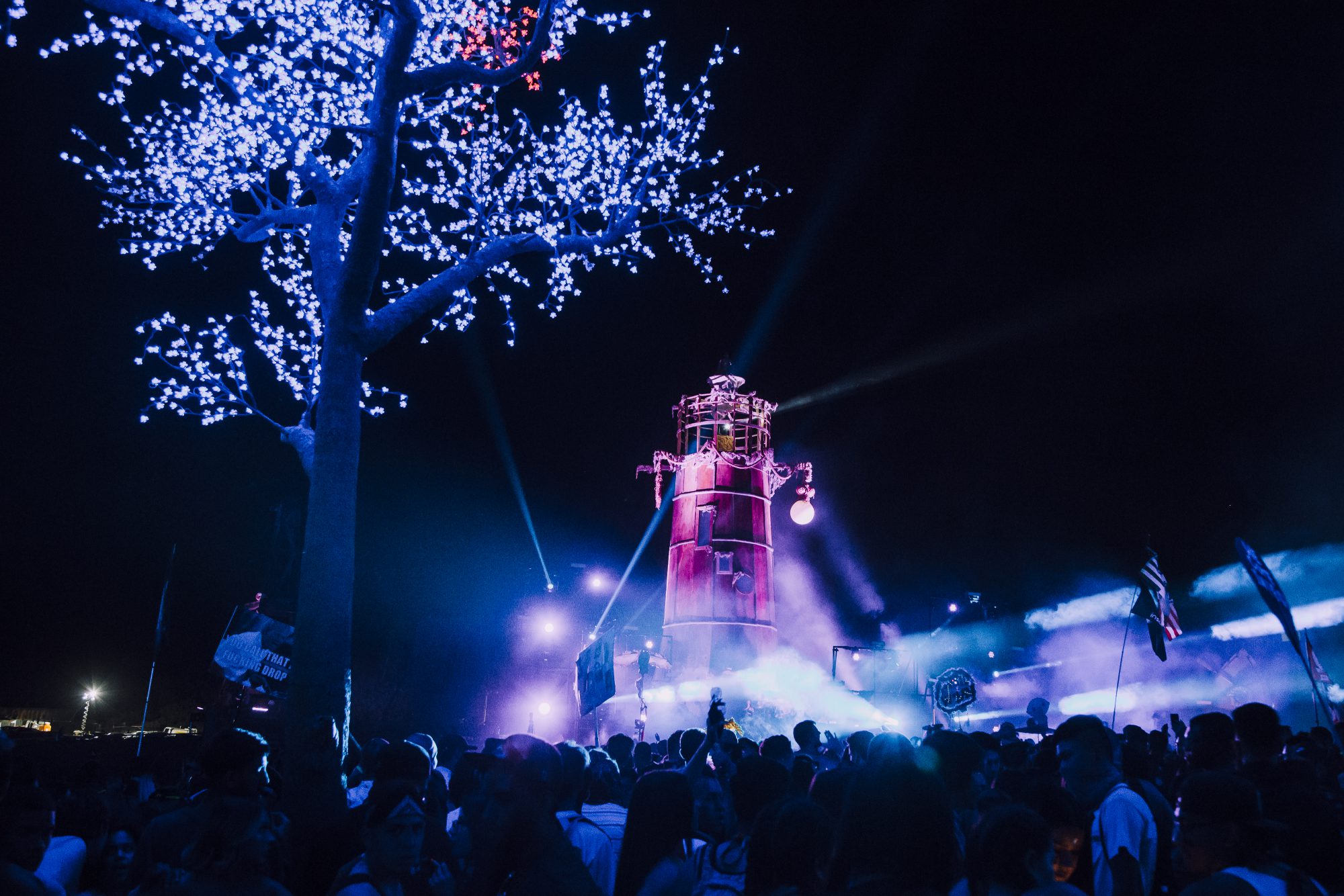 Considering all the bass sets we raged to all weekend and the long set time of Gud Vibrations, we decided we should end the night with some good old MK at the Sunken Garden.
MK never disappoints, bringing all the vibes with some groovy deep house and his hits like "17" and his remix of Tove Lo's "Disco Tits." It was the perfect way to close out an unforgettable weekend at Nocturnal Wonderland.
Of course, the party didn't stop there for campers, as the Silent Disco at the campgrounds kept it going until the wee morning hours.
We got on some warmer clothes, grabbed some food and headed over to get our disco on. Wavedash was playing when we got there, joined by Derek from SLANDER. The Silent Disco was packed both nights, often with lines to get in that thankfully moved pretty quickly. Nobody wanted the festival to end!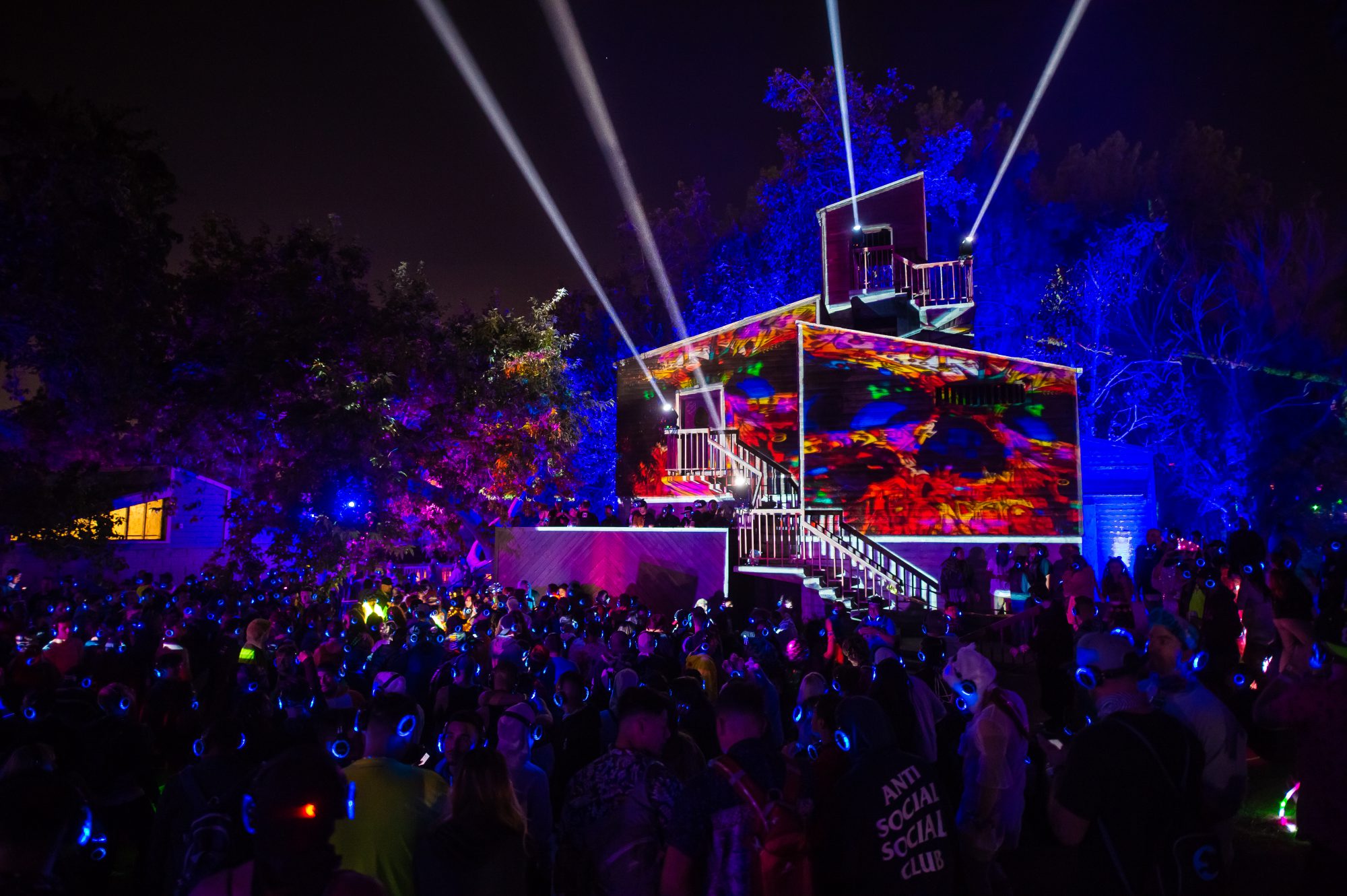 I can say with confidence that my first Nocturnal Wonderland was a raging success! 
The only changes I hope for next year is that Insomniac adds more activities for camp. Back in May, Camp EDC had a ton of fun things to keep you busy during the day, so possibly integrating some of those activities for next year's edition. Also, the camp food vendors had some long lines and often ran out of food, so managing those better or adding more vendors would make the camp experience more enjoyable.
After attending EDCLV for many years, it was awesome to experience a smaller Insomniac festival and camp amongst some amazing fellow ravers!
I met so many new friends and made so many unforgettable memories in Wonderland; it reminded me why I have so much love for this scene and this incredible music. I was truly impressed by so many sets including BlackGummy, Kill The Noise, Wavedash, and Audien, and Illenium, and feel so lucky to have experienced so much quality music at Nocturnal Wonderland. Until next year!
---
Connect with Nocturnal Wonderland on Social Media: