My return to Nocturnal Wonderland was better than I could have ever imagined!
---
It has been 4 years since I attended an Insomniac event that wasn't EDC Las Vegas. The last time I attended Nocturnal Wonderland was in 2013, when it was only one day and didn't include a camping experience. Looking back on it, Nocturnal was my second ever Insomniac produced-event, the first being White Wonderland, so I was excited to make my return. Looking back at 2013, I remembered being blown away by the music, production, people, and vibe and it was these same reasons that attracted me back to the festival.
The only real difference for me between past editions of Nocturnal Wonderland and this one was that this year I went solo.
I love going to shows by myself and I highly recommend everyone attends a concert or festival solo at some point. Especially if you are really into the lineup! The concept may seem foreign or uncomfortable at first, but the experience you have can be just as fulfilling as going in a large group of friends. One of the best perks of going to a show solo is that you are on your own schedule. I was able to wake up and leave for the event when I wanted and when I got there I was free to roam the grounds at my leisure.
The festival grounds this year were small, making it very easy and quick to travel between the 4 stages and other attractions. You could pretty much see everything the festival had to offer within an hour, but it was the music, art, food, or merch that would keep you glued to a spot for longer. I took a peek at all the art and different booths on my walks between stages and saw some really neat stuff!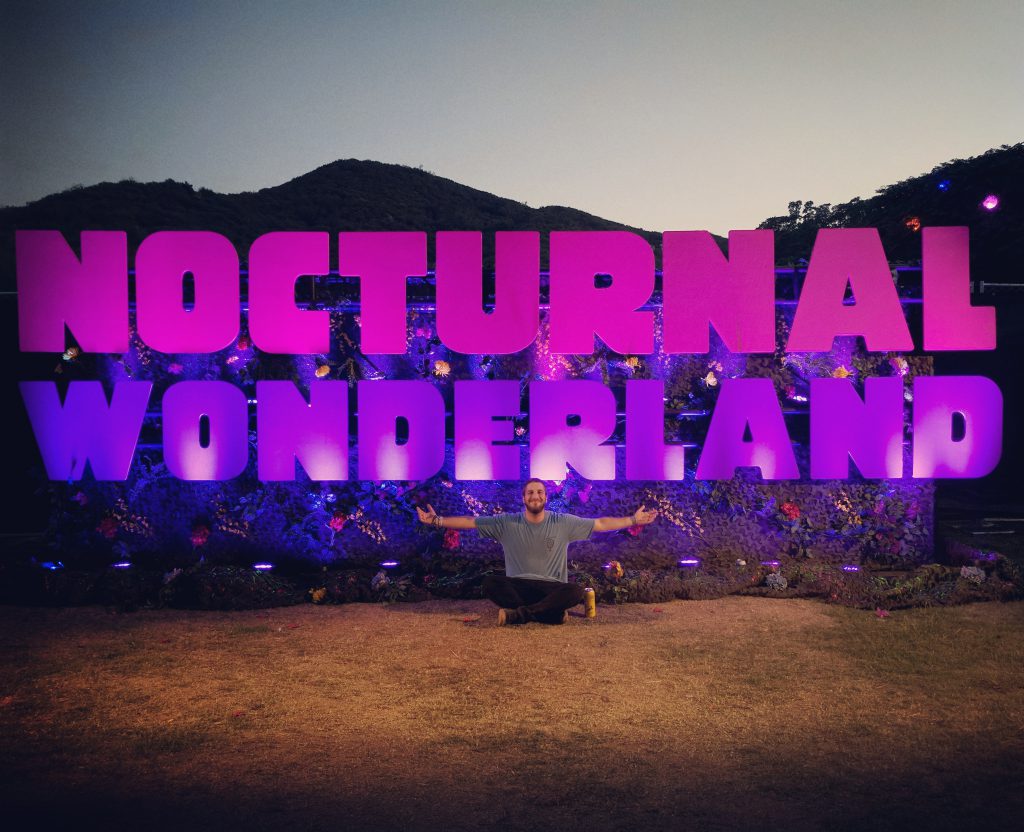 The live art was amazing because I was able to catch it early in its creation and then again after completion.
There was also a merch booth with tons of intricate perlers and other PLUR merchandise for purchase. The festival merch was also really cool and bright and I even bought one of the bandanas that featured all the neon Nocturnal animals on it.
I have to say it was well worth the $15 considering it was that or a tall boy. I'm glad I invested in the bandana because a tall boy wouldn't last me longer than 10 minutes and I'm already putting the sick bandana to use at other festivals.
One thing I wish I did do though was eat at the event. Why? Because I smelled some tasty food like ramen, grilled cheese, burritos, and falafel fries while exploring the venue. I talked to a lot of people eating, subtly trying to snag a bite for research purposes, but only got a taste of the falafel fries which were delicious!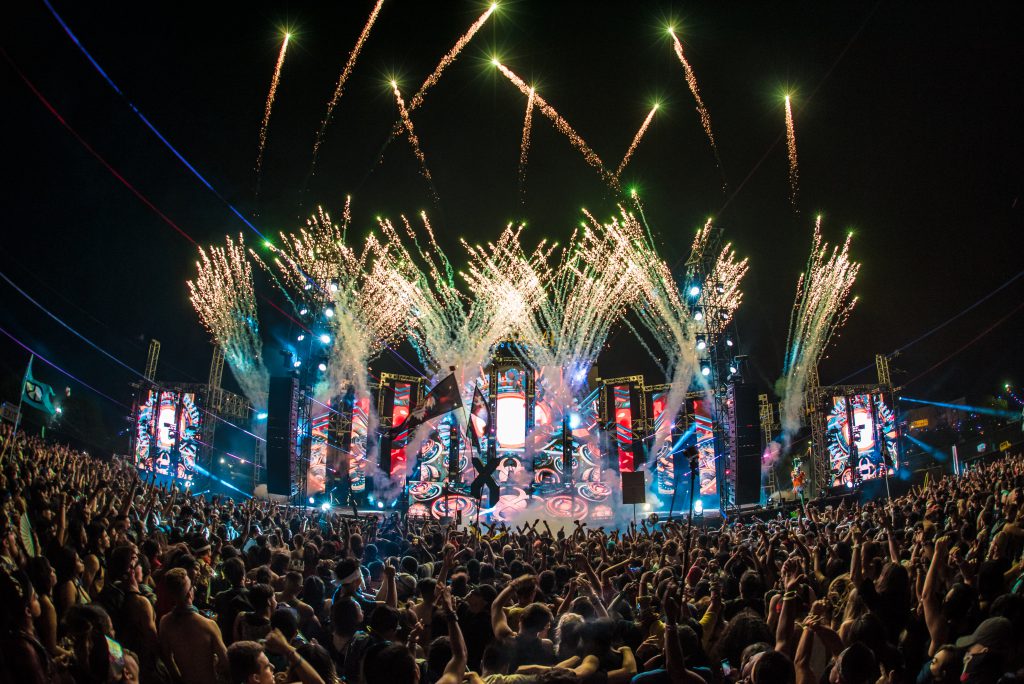 The music will always be the main reason I attend an event and Nocturnal's lineup definitely sparked my interest!
It had a variety of different acts from heavy bass sets to live performances and everything in between. Okay, maybe there wasn't any trance, but there was enough diversity on the lineup to appeal to a variety of electronic music tastes. My favorite sets of the weekend were definitely the live sets.
Ookay debuted his first live performance where he sang, drummed, played keytar, and mixed the whole set. I was really impressed because I have seen Ookay's DJ Sets in the past, but the live aspect completely transformed the whole experience and for his first live set ever, he 100% killed it.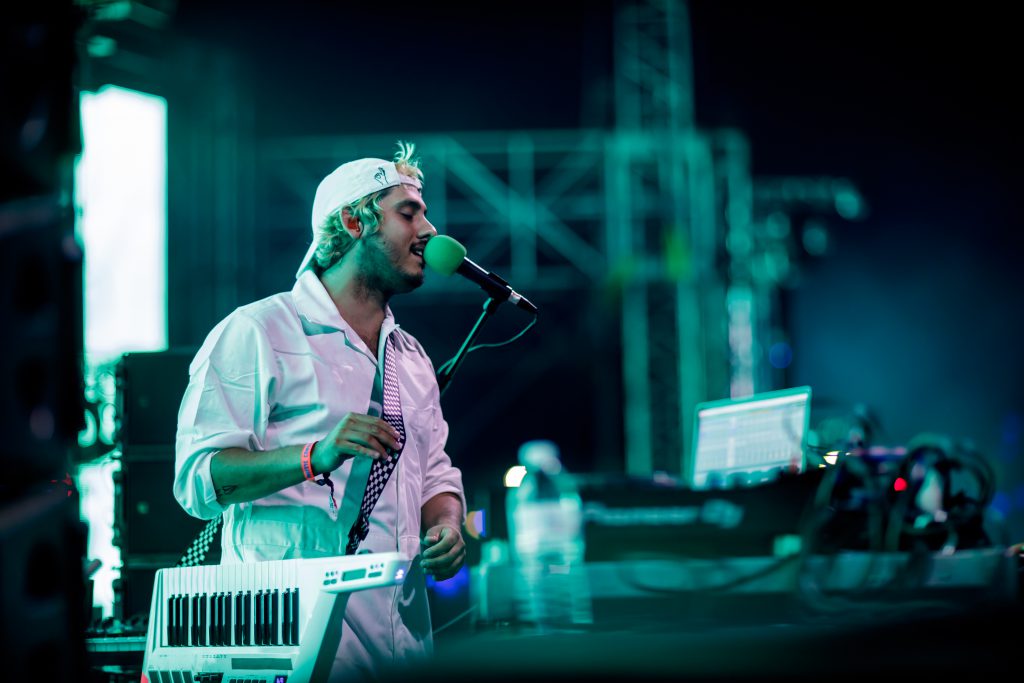 My favorite live set of the weekend was hands down, Haywyre.
I knew his set was going to be one of my favorites, but I couldn't have prepared for the set he threw down. He opened with songs from his Two Fold Part II EP and slayed the piano live. He had a camera placed in front of his piano so you could see him jamming. In the projected visuals of him playing you could barely see his fingers because they were moving so fast.
One of my other favorite live sets of the weekend was Autograf. It had been about a year since I last saw Autograf so it was awesome to see them perform their newer releases "Sleepless in NYC" and "Simple".
Besides the live sets, my favorite DJ performance was Just A Gent.
The Australian DJ/producer played the Temple Noctem on Sunday and it was another set I was really looking forward to. His performance was nothing short of spectacular. There was an abundance of energy throughout the whole set as he artfully mixed his own tracks with banger after banger.
Halfway through the set, he dropped his remixes of Illenium's "Fortress" and ZHU's "Superfriends" before ending with his insane rework of Rage Against The Machine's "Killing In The Name Of". If you haven't heard any of these tracks you have to give them a listen because they are sick!
There wasn't a set during the weekend I didn't have fun at, but I was a little disappointed at Dillon Francis' set.
When it comes to bigger artists that are constantly touring and playing shows, sometimes you get sets that are similar at every show. Dillon tried to switch things up by bringing DJ Snake out for a "b2b" but DJ Snake didn't really do anything besides jump around and twist a few knobs. I feel like he was there more for aesthetics than actually adding substance to the set.
There were also some technical difficulties no more than 5 minutes into Dillon's set which kind of killed the vibe. Music-wise, the set never got much better, but the people were relentless and continued to show Dillon lots of love. Another reason that made the weekend so memorable.
Sometimes raves get a bad rap because the media will typically highlight the negatives, but the people and vibe are truly what make the scene special.
Over the two days, I met new friends during every set I saw and everyone was welcoming and respectful. I mean everyone! The attendees, the staff, the police. The good vibes were flowing and you could tell everyone was there for the right reasons. One person I met, in particular, stood out the most to me. His name was Rob Pitt and he was part of the company, Drift, that built and put up the orb installations at the Sunken Garden.
It was right before Just A Gent started we were standing in the same area so I said hi and introduced myself. We were talking about music and life before he mentioned he was part of the crew that created the orbs. He explained they recently got contracted by Insomniac to do some installations and you could see how stoked he was. It was a really cool moment because I love seeing people succeed at things that make them happy. It inspired me to continue pursuing my dreams because hard work pays off! Rob was proof.
All in all, my return to Nocturnal Wonderland was better than I could have ever imagined.
Between the music, people, and vibes it was nearly impossible to have a bad experience. Insomniac hosts so many events like Nocturnal I highly recommend going to one. Whether it's by yourself or with a group of friends you deserve to have fun experiences full of good music, good people, and loads of dancing!
---
Connect with Nocturnal Wonderland on Social Media: