Nocturnal Wonderland gave Glen Helen a proper send-off by hosting sets that kept us dancing, extensive festival decor, and a great experience for all.
---
Earlier this month, thousands made the trip down to Nocturnal Wonderland for its final edition at Glen Helen Regional Park which also marked the 24th edition of the festival. Considering how much the music festival scene has grown and developed since 1995, you'll soon realize how big of an accomplishment this festival truly is!
Overall, the feel of the festival was very grounding with a mix of attendees from a variety of backgrounds coming together to dance to the same beats while creating timeless memories. For many local attendees, the only venue in the area that Insomniac hosts festivals at is the NOS Events Center, making the grassy hills of Glen Helen is a breath of fresh air. Well, before the dust kicks up of course.
Related: Return to the magic of Nocturnal Wonderland 2019 with these live sets we've compiled!
After a year of traveling around the country to attend different festivals, I was thrilled to return to Nocturnal Wonderland. The festival had always held a special place to me and during the drive to the venue on the first day, I began to remember tiny details about last year. Following the uphill walk to the venue and clearing the security lines, I was finally home.
The first straightaway to the open stage area served almost a vortex into another world just because of how decked out it was. First impressions are important, and Nocturnal did a considerable job of welcoming headliners into the festival. From the initial pathway and my first view of the grounds, I knew we were in for a special weekend.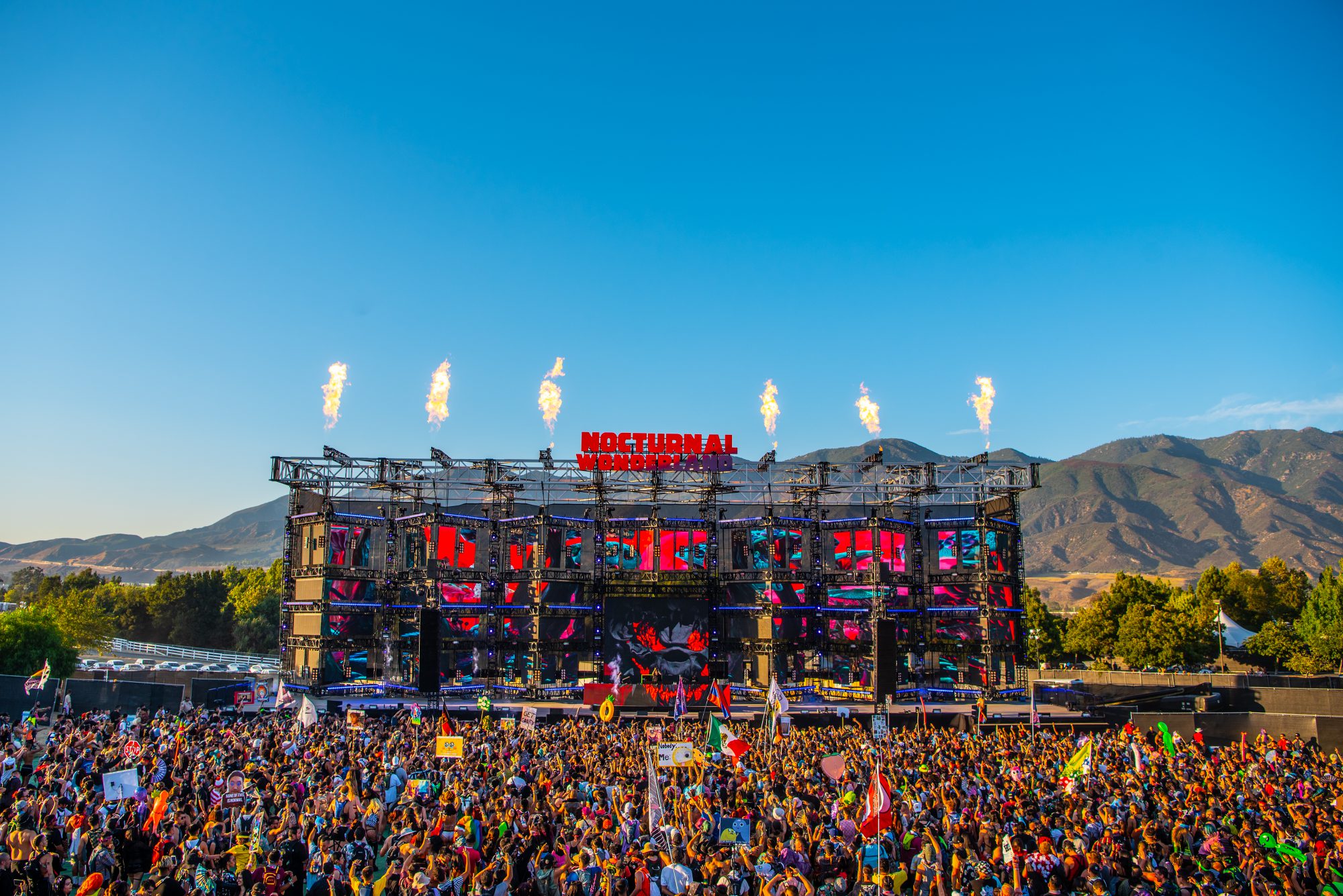 This year, the layout of the festival grounds was more spread out to allow for an increased amount of space.
Starting at the south point of the grounds was the LED-laden main stage, Wolves' Den. The stage consisted of chevron pillars of screens that looked to be about four or five stories high. The stage was massive, thus could comfortably accommodate the thousands who came down to see acts perform.
Tucked in a corner across from Wolves" Den stood the Parliament Art Car. The small spot comprised of extending branches and low black light that radiated throughout the crowd. Parliament Art Car was one of my favorite spot because there was lots of room to dance and hear new artists I haven't seen before.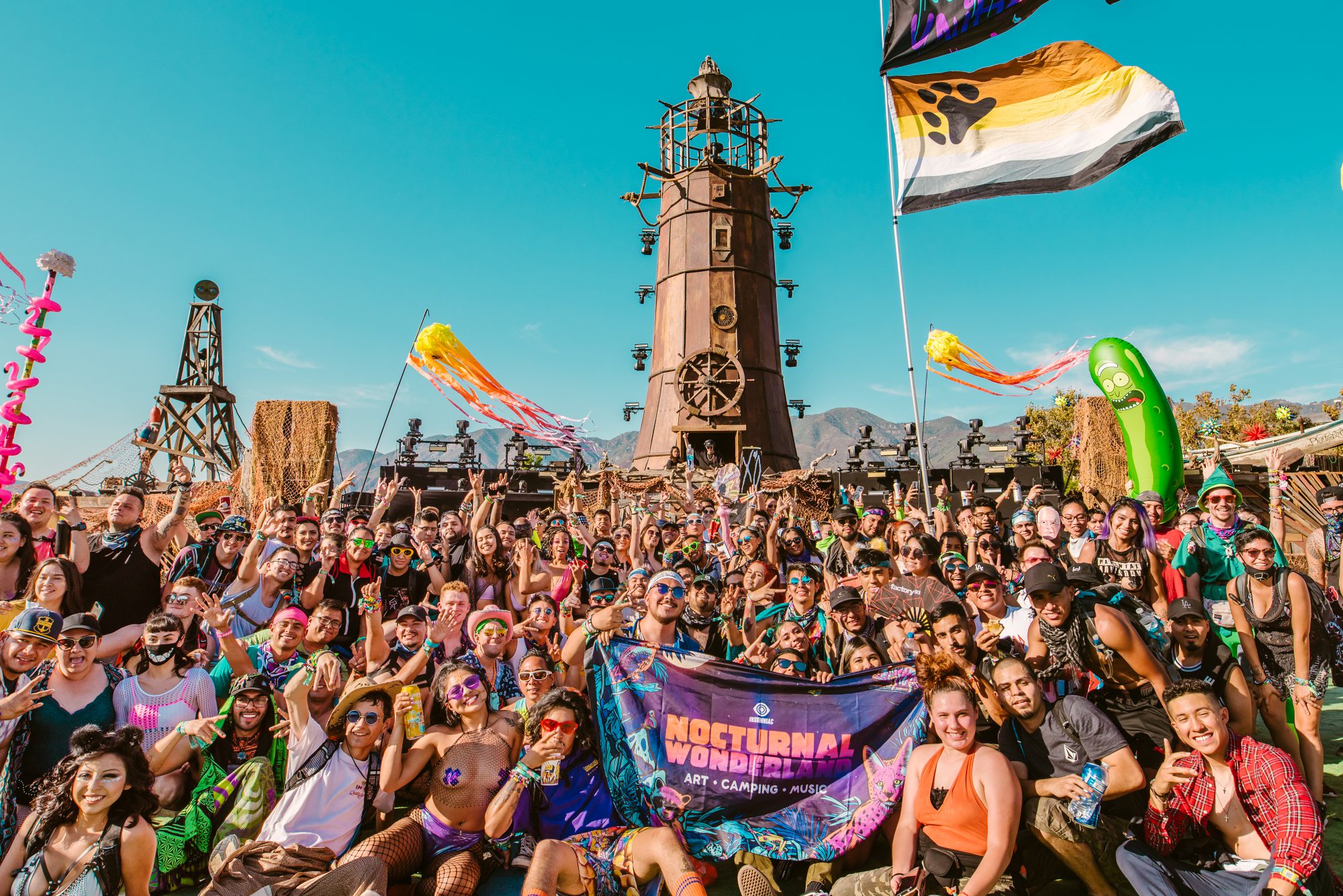 The Sunken Garden stage stood at the center of the festival, which hosted a bevy of house acts during the weekend.
To me, Sunken Garden won out as best-designed stage for this fest, no contest. It consisted of a brown rusted light tower standing tall above an also rusted shipwreck, surrounded by a couple of buoys. Where steampunk met nautical, the fusion of decor that spoke the most to the theme of Nocturnal Wonderland.
I love LED-heavy stages because they allow the artists more opportunity to sync their music with visuals. But, I lend more appreciation to stages like Sunken Garden because it celebrates aesthetic stagecraft. This kind of work takes a lot of thought and creativity on the part of the festival organizer.
Moving up the hill and at the northernmost tip of the festival laid the Labyrinth stage.
Labyrinth was angled to face uphill, creating an amphitheater effect which helped with the stage's visibility. Like Wolves' Den this stage was also adorned with LED screens and included vertical beams on each side of the stage and five screens in center stage. The best part about Labyrinth was the view of the mountains in the background, especially at sunset with the pink clouds in the sky.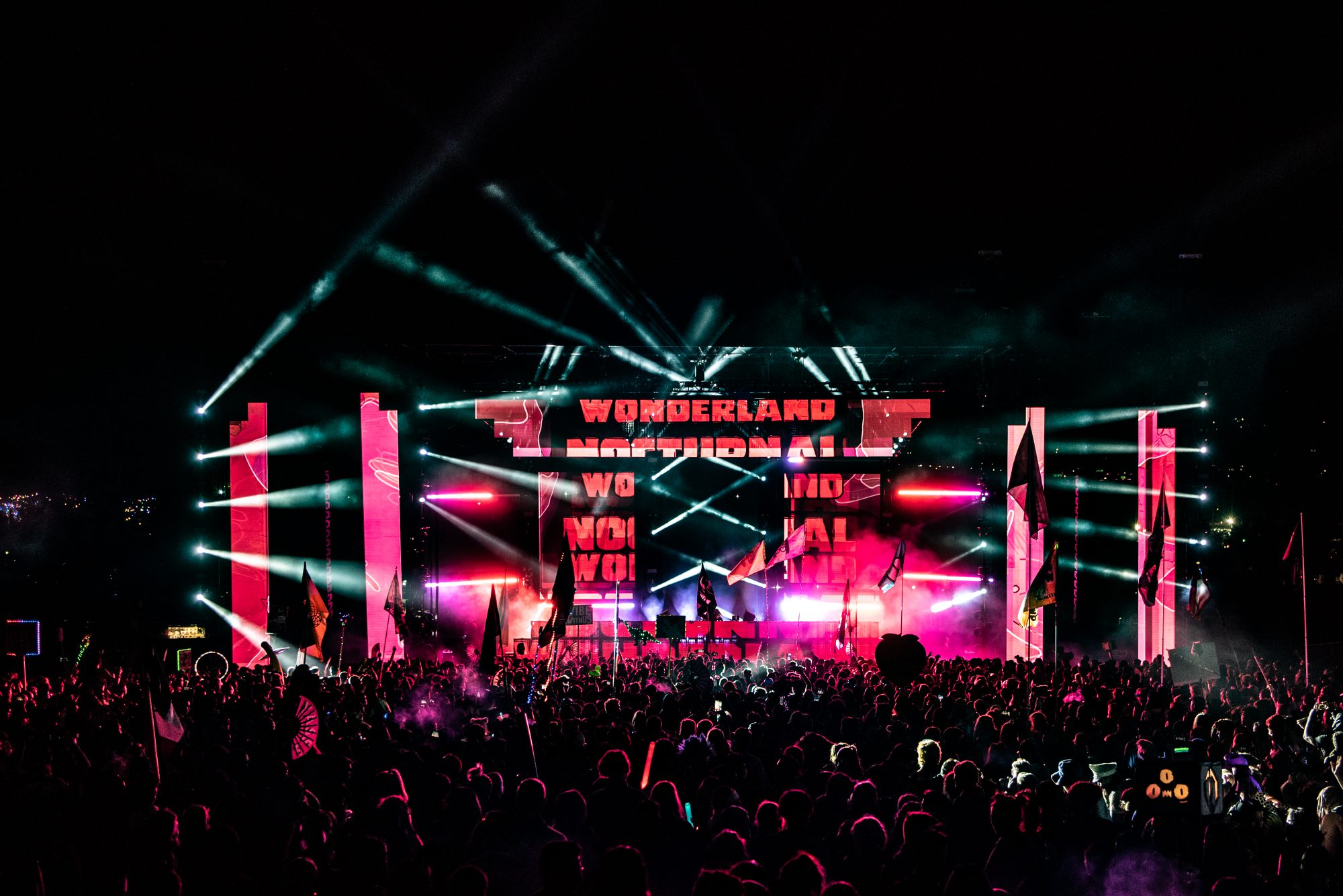 Beyond the stages, the art installations and small decorations scattered throughout the grounds made the festival experience more immersive.
Just past the North entrance was a walk through the blacklight forest. The first straightaway before hitting the stages, it was decked out with paper lanterns, strips of flowers, black lights, and misters. At night, the misters and black lights created a purple hazy fog, which was equally eerie and awesome.
Up at Labyrinth, a massive owl statue stood tall, with custom light trees surrounding it. Visuals projected onto the owl's eyes to help the exhibit come alive for photos. Right past Sunken Garden was a colossal, neon gold and purple bear installation with an outstretched paw for photos. The wooden fur on the bear was intricate, and the whole piece was beautifully thought out and attention-grabbing.
Other pieces seen were a chalk wall to write why you're happy, a live graffiti exhibit, and enormous light-up mushrooms. Trees right outside the venue had quasi-Christmas ornaments hanging which illuminated the skyline at night to add to the ambiance as well.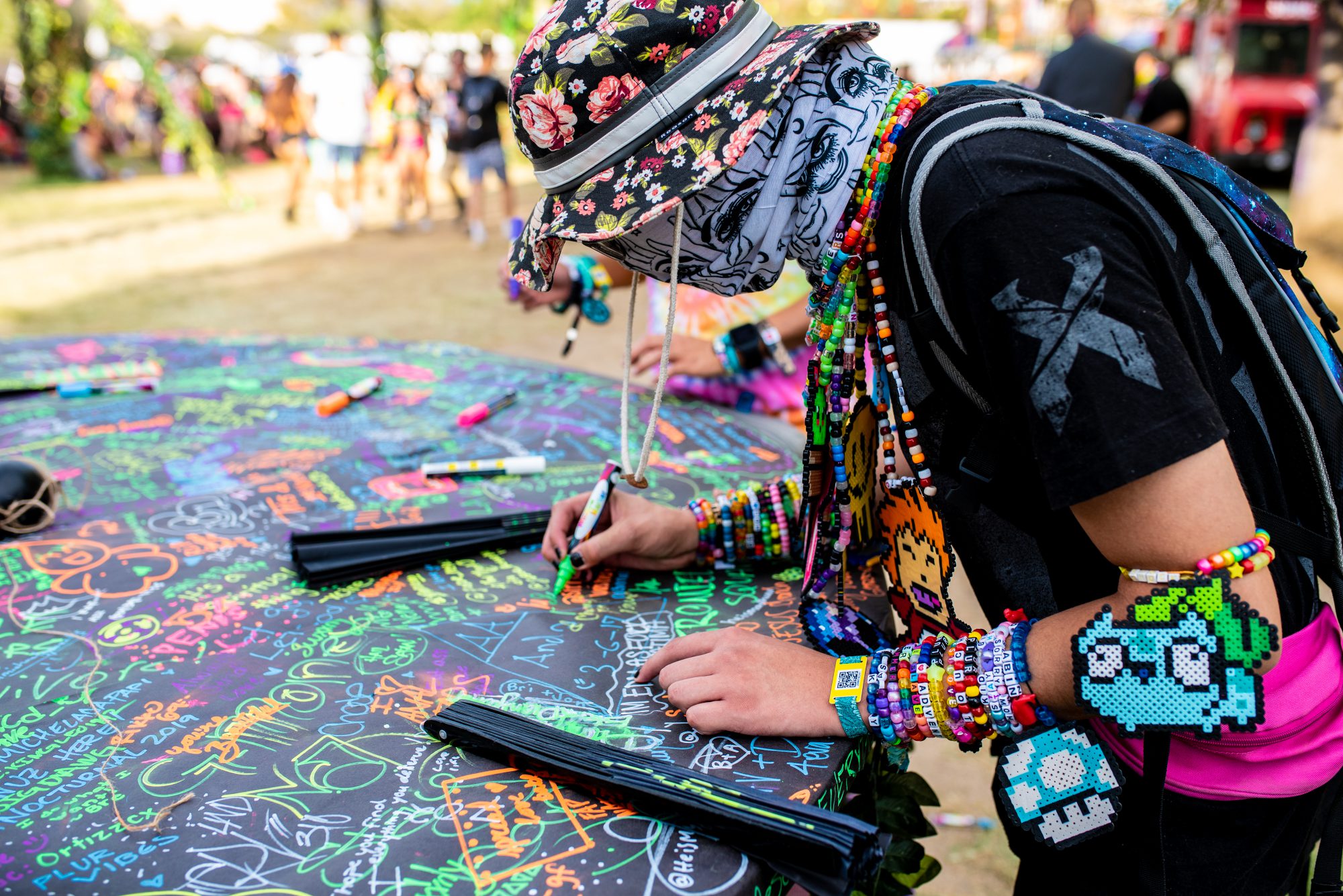 Although I didn't camp, I know the amenities improved but the lack of grid spacing for tent camping led to space shortages.
Camping for Nocturnal Wonderland allowed attendees to keep the party going for extra hours and an extra night. People could hit up a silent disco, cool down at a waterpark, or relax near the lake and meet new friends. Those staying on-site could also partake in yoga or arts and crafts if that was more their pace.
Camp Nocturnal is yet another improved aspect of the festival experience that represents how far the festival has come, and their intentions were positive with an admirable follow-through. Speaking with other attendees, the only major issue that seemed to be present was some disorganization with entry and a lack of space, which created some issues for campers looking to set up shop. Those who camped insisted that the experience itself was fantastic, though, and that spacing was only a problem if you checked in late.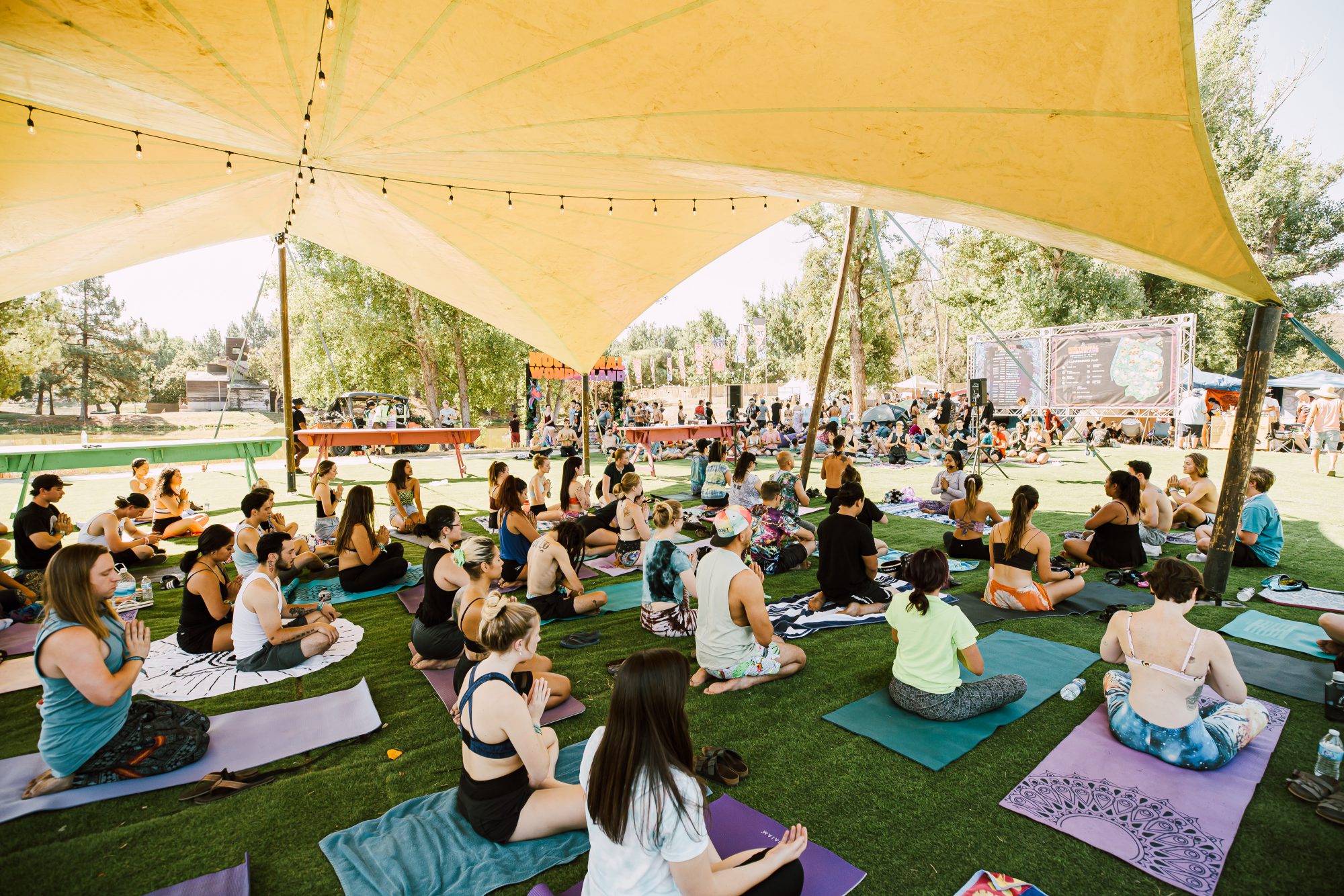 Many artists on the lineup for the first day went all out for this year's edition, dropping plenty of unreleased tracks and spinning diverse sets.
I started my day off catching Drezo at Wolves' Den. I love Drezo's dark tracks because they're bass-heavy but paced perfectly for the house lover inside of me. The next act I caught up at Labyrinth was Eprom, who threw out some experimental bass that hit solid. Eprom's set was diverse in sound, and speed, keeping everyone engaged and moving.
Down at Wolves' Den during the same slot, K?D drew a mammoth crowd for his set and threw in a lot of new unreleased works into the mix. These included updated versions of his remixes of Porter Robinson's "Sad Machine" and Daft Punk's "Doin It Right".
Back up at Labyrinth, I was finally able to catch a Subtronics' set as well as so many others who made their way up the hill. Subtronics can mix, chop, set up faux drops, and grind up the stage with his originals, bootlegs, and edits in a flawless manner, and his set was easily the best bass set of that day for me.
To end the night, I trekked back to Wolves' Den to catch Alan Walker and then close out with JAUZ.
Since first breaking out onto the scene, Alan Walker has created his own electro-pop and electro-house sound through his catalog of instant classics like "Faded" and "All Falls Down". incorporation of hardstyle, including Da Tweekaz' insane remix of "On My Way," was quite possibly the biggest surprise of the weekend. The crowd was not expecting it but everyone roared for the hardstyle track selection.
The final act of the night, JAUZ, played out some drum & bass and bass house galore and took some time to thank the crowd and reflect on his musical journey. Jauz considered this closing slot at Nocturnal as his homecoming and rightfully played out his classics like "Feel The Volume" and "Gassed Up" to end the night right.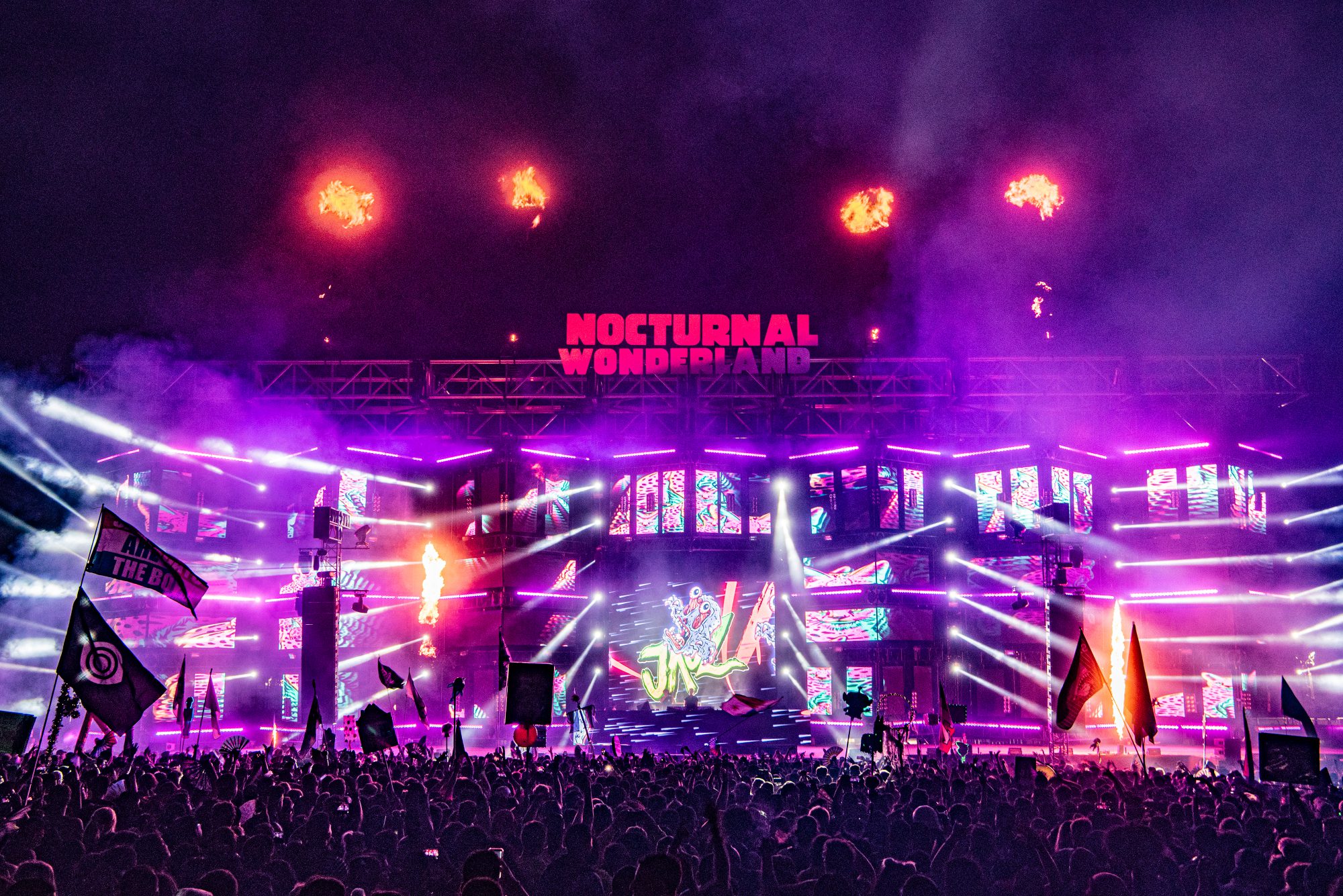 The second day completed the send off for Glen Helen, with acts going all out with high energy performances.
Musically, the first day set an extremely high bar so I was excited to see what was in store on day two. For me, the day began with a house take over at Wolves' Den with Kyle Walker, Dr. Fresch, and Chris Lorenzo performing one after another. Chris Lorenzo was another early act that attracted a tremendous crowd, which went a little extra crazy for Lorenzo when he dropped his Anti Up hit tracks. Following Lorenzo, SAYMYNAME took over the mainstage and changed up the vibe with his fierce hard style and dubstep style.
At the same time, up at Labyrinth, Peekaboo sifted through his exemplar bass style for a memorable set.
What I love about Peekaboo's sound is that it's a taste of everything from bass music. It's part riddim, it's part space bass, it's dubstep with his own flavor! Soon after, I saw Black Tiger Sex Machine take over Nocturnal Wonderland. During their extended intro, I took a second to survey my surroundings and I saw thousands on thousands pour in to catch BTSM. It took about thirty seconds of their set for me to realize why: they are musically, and visually stunning!
I heard traces and influences of so many artists present in BTSM's original tracks I lost track. They've mastered their craft and their live set, and they kept the filthy drops coming for a perfect set of bass. They were undoubtedly the best act of the second day.
I actually ended my night doing something I don't normally do: I made my way back to Parliament Art to catch LTJ Bukem spin some DnB.
For the last hour, I caught the start of DJ Snake, who opened who set with a ton of bass tracks before diving into his original hits. Soon after, though, I was drawn to the Parliament Art Car to get a taste of what they were offering up. The scene felt vintage and I was able to hear a genre that normally doesn't get too much exposure as LTJ Bukem spun a sick DnB set for me to feast my ears on.
I wrapped up the final minutes before midnight up at Labyrinth one last time to see the end of Zomboy. Massive drops, heavy classics, and war zones in the crowd, Zomboy stuck to his guns and delivered a terrific dubstep to close out Nocturnal's reign in Glen Helen.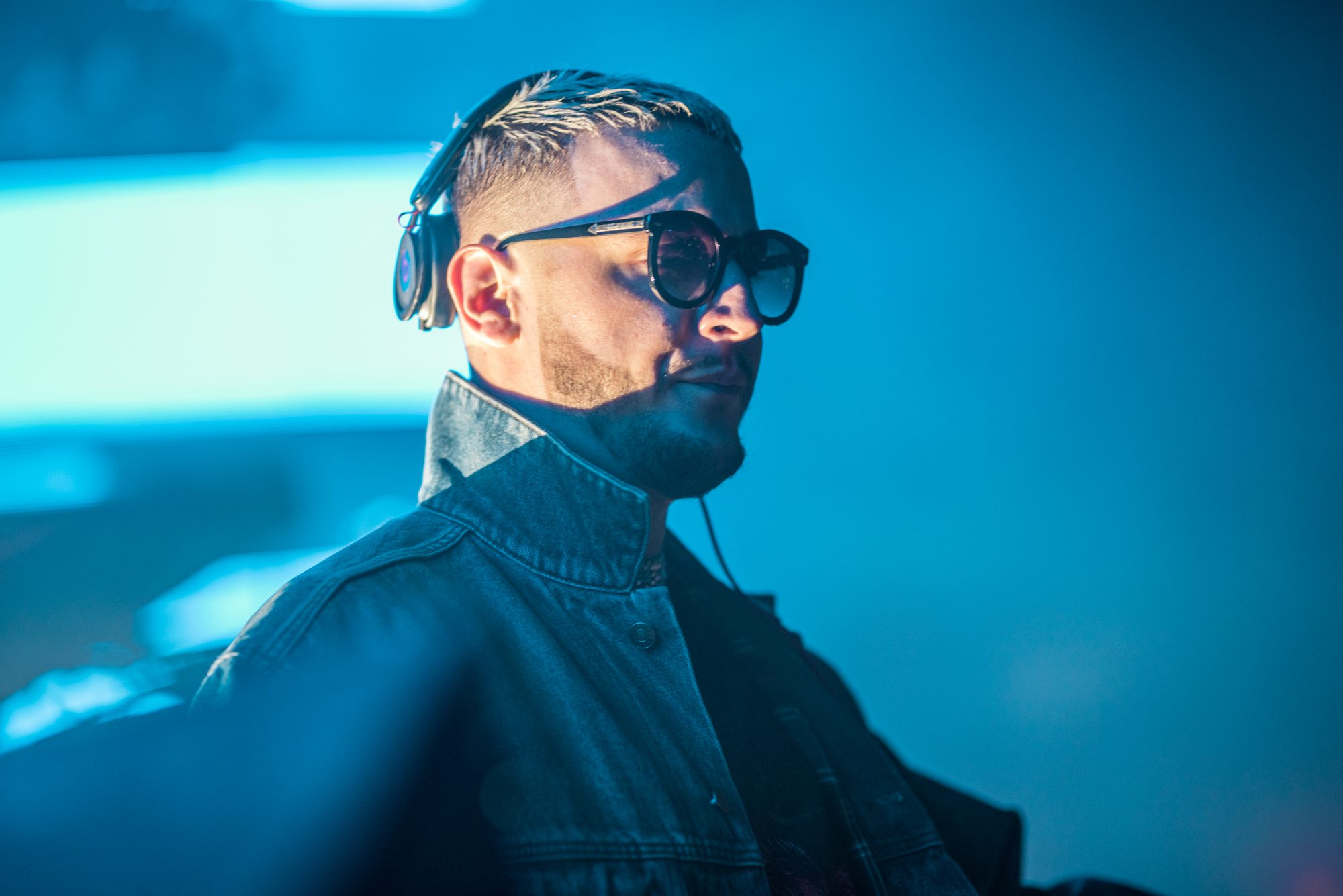 Nocturnal Wonderland has been a raver's paradise for the past couple decades and 2019 kept that torch lit.
All things considered, this edition was outright success. I'm sure campers would have  loved to see more organization for camp space allotment considering the price paid. I would hope most headliners wouldn't let that distract from the fact they witnessed a next level rave complete with immersive decor, a killer lineup, and a scenic venue.
Personally, I wish the actual festival itself did a little more to celebrate the history of Nocturnal, similar to how EDC Las Vegas has their memory lane to reflect on past editions. Regardless, the name alone holds a lot of weight, and this year's experience continued to build Nocturnal's great legacy. 
It's a bummer Nocturnal Wonderland is relocating, it'll be challenging to recreate the mood that this year established.
I understand there are some logistic hiccups with the venue and that the new spot could help minimize them, but Glen Helen was a fantastic home for this event. Even if Nocturnal Wonderland took the time to create immaculate stages and amazing decorations, the absolute greatest aspect of the venue was turning the corner from the walkway and overlooking the festival grounds and all its majestic qualities.
The view from atop the hill gave me this moment where I could just take it all in and feel at home. That indescribable feeling is comparable to when you walk down the steps at the Las Vegas Motor Speedway for EDC and something hard to find elsewhere. I know that I speak for many others when I say that I'll miss Glen Helen as the home for Nocturnal Wonderland.
---
Connect with Nocturnal Wonderland on Social Media: