MYTHM just announced the Technique North American Tour, kicking off this October with stops in Florida, Colorado, California, and more.
---
There's no doubt about it, MYTHM is one of the biggest artists of the underground right now. In a short amount of time, he's quickly made a name for himself while solidifying a signature sound that's gained him recognition across the scene. He's been hard at work in the studio, releasing countless projects over the course of the year – and on top of that, he recently got his visas accepted so his appearance in the US was only a matter of time. Now, that time has finally come and MYTHM is hitting the road on his debut, North American tour – Technique.
This is such a huge milestone in MYTHM's career, and fans all over can finally hear his massive tunes live. Many of his fans have only been able to catch live streams from him, and now that's about to change. Technique kicks off on October 15 in Orlando and continues on through a multitude of cities including Los Angeles at Catch One for Halloween, Oakland at Wormhole, Denver at The Black Box, and many more.
Tickets are on sale for a handful of these events (such as Wormhole and SoundXPeriment) so make sure to snag them while they last. All of these stops will surely sell out fast – so head on over to MYTHM's Facebook to keep up to date on ticket sales, as well as the rest of the lineup reveal.
---
MYTHM – Technique North American Tour 2021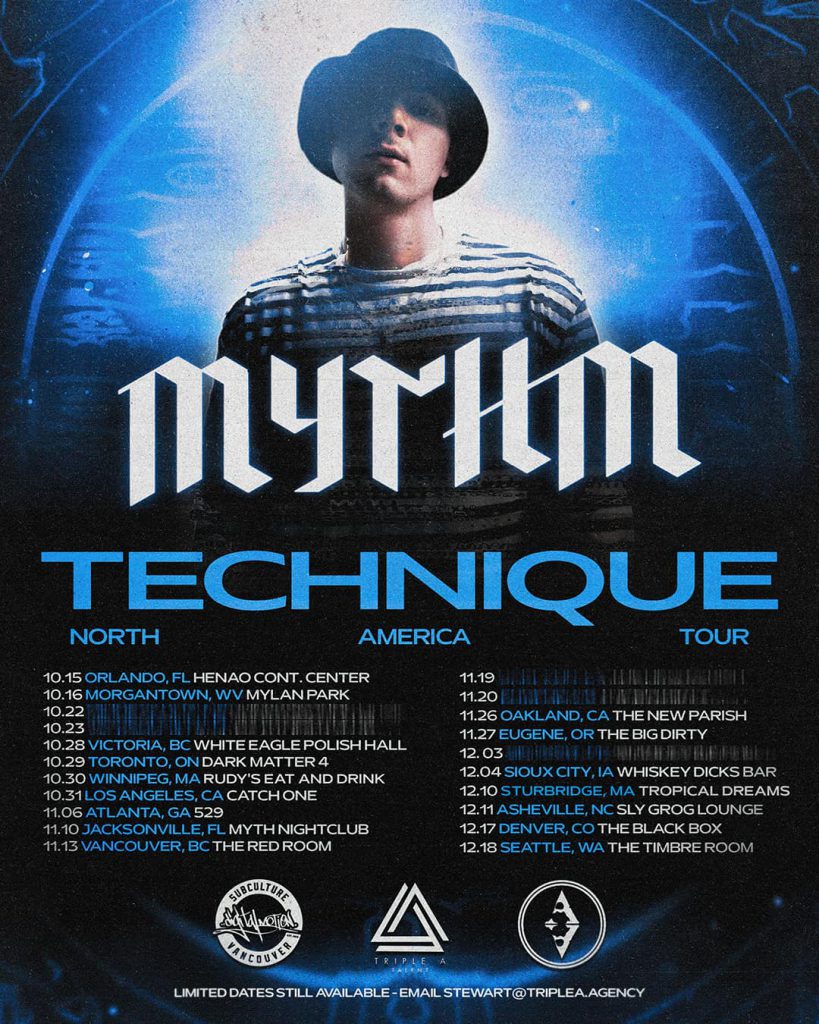 ---
MYTHM – Technique North American Tour 2021
10/15 – Henao Cont. Center – Orlando, FL
10/16 – Mylan Park – Morgantown, WV
10/22 – TBA – TBA
10/23 – TBA – TBA
10/28 – White Eagle Polish Hall – Victoria, BC
10/29 – Dark Matter 4 – Torontao, ON
10/30 – Rudy's Eat and Drink – Winnipeg, MA
10/31 – Catch One – Los Angeles, CA
11/06 – 520 – Atlanta, GA
11/10 – Myth Nightclub – Jacksonville, FL
11/13 The Red Room – Vancouver, BC
11/19 – TBA – TBA
11/20 – TBA – TBA
11/26 – The New Parish – Oakland, CA
11/27 – The Big Dirty – Eugene, OR
12/03 – TBA – TBA
12/04 – Whiskey Dicks Bar – Sioux, City, IA
12/10 – Tropical Dreams – Sturbridge, MA
12/11 – Sly Grog Lounge – Asheville, NC
12/17 – The Black Box – Denver, CO
12/18 – The Timbre Room – Seattle, WA
---
Connect with MYTHM on Social Media:
Facebook | Twitter | Instagram | SoundCloud