Tisoki opened up about life in the UK and the process that led up to his debut album 01953 – which just dropped on Monstercat.
---
If there were ever an artist known for bringing versatility and raw emotion into their work, it's definitely Tisoki. He's worked hard to become a household name in the bass music scene – and fans have seen a wide range, from the incorporation of UK influences to his own creative style. Over the years, Tisoki has achieved some noteworthy releases, such as his Razor Blades and Everybody Dies EPs on Dim Mak and Never Say Die, and now he's blessed fans with his debut album, 01953, on Monstercat.
01953 is an ode to Tisoki's hometown of Wymondham in the UK, as its name reflects the postal code of the town. With a recent move to Los Angeles and the pandemic, he put his emotions and experiences into music – effectively opening a new door and allowing fans to get to know his more personal side.
Throughout the ten-track album, Tisoki incorporates his influences and melds styles ranging from raw UK grime, garage, dubstep, trap, and experimental bass to create quite a complete package. The album begins with an intro, titled simply "2020," hinting at the events of the strenuous year. Meanwhile, "Comedown" takes a different direction altogether with a harder trap beat and vocals reminiscent of UK grime.
The lead single "Sensitive" features Charity Vance on vocals and gives us a look into Tisoki's own self-reflection. Other tracks like "All Night," "Glass," and "Made 4 This" also stand out before the album draws to a close with the last track "Find Urself." This one is a personal favorite as Tisoki's beat is paired with melancholic vocals that speak of, well… finding yourself.
This album truly is the heart-to-heart we needed to get an inside look at the mind of Tisoki, and we jumped at the opportunity to chat with him about the release to dive deeper into his mind. Stream his EP on your preferred platform and read on for the conversation.
Stream Tisoki – 01953 on Spotify:
---
Hi Tisoki, thank you for taking the time to chat with us, and congrats on the release of your newest album 01953! Can you share a bit about your creative flow and production process when creating these tracks? What helps you get in the zone but remain personal?
Thanks for having me! I wanted to approach these records a little differently than usual. The majority of the songs were started from the chords or more so a "feeling". I think not overwhelming myself with having to make the loudest most outrageous sound design definitely opened my eyes to other parts of the process this time around.
We recently covered your beautiful and emotional track, "SENSITIVE," ahead of the release of the album. What emotions and experiences went into that track and how do you think it fits in with the rest of the album?
Well originally, Charity, who's featured on the track, brought me the top line and I instantly resonated with the lyrics. We've all been there… super vulnerable and feeling a little sensitive in some situations. From that, I really just gained a ton of inspiration for making a song that felt almost like you were floating through the air – the synths are super light as are the drums and I think that pairs perfectly with the nature of the vocal.
"FIND URSELF" is a personal favorite track off the album. Can you share a bit about how that track came to fruition? What does the song mean to you?
Again, I really just resonated with the vocal. This time around it was just a sample from Splice. I wanted to make a song that rounded off the album perfectly and had enough weight in the low end but felt quite natural and effortless. Buzzwords galore! [Laughs]
It's easy to see the influences of UK garage and trap throughout the tunes, especially on "COMEDOWN." What was it like to incorporate the genres you grew up with and bring in collaborators for those genres?
It was really just a breath of fresh air. I've been so immersed in US culture for the better part of five years now so to take a step back and remember my roots and where I came from was one of the most important things about this project.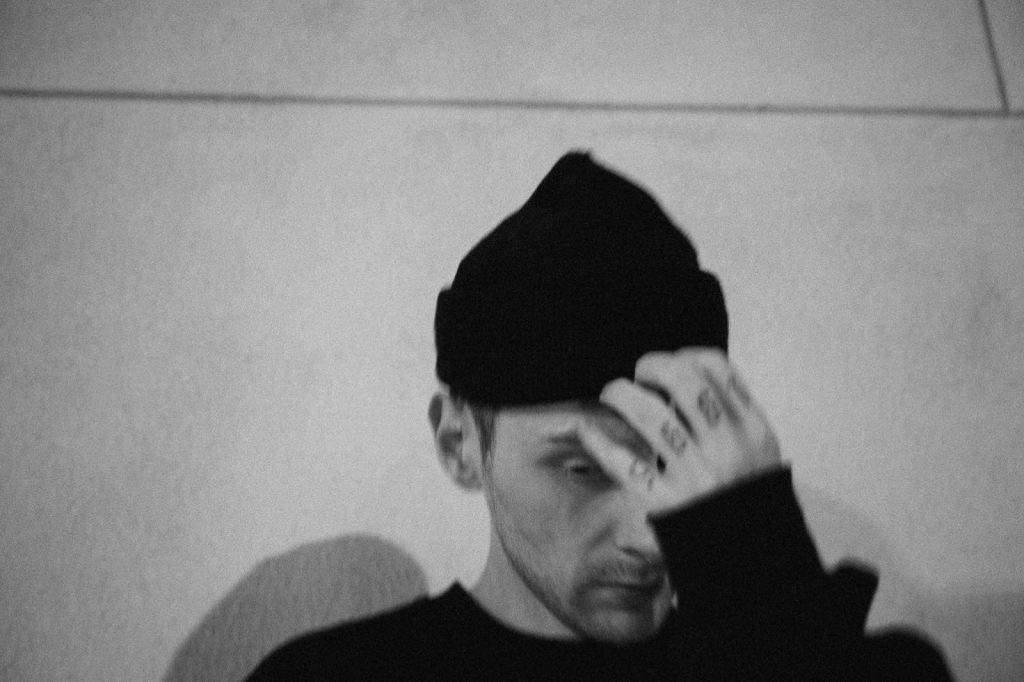 You were involved in the underground scene in the UK at a younger age but have since moved to SoCal. Would you mind sharing what the scene was like and how it compares to the one out here? Are there any similarities or stark differences?
In the UK, the underground music scene is a lot more rugged, less bottle service, and more dirty Adidas shoes. I definitely had a small amount of culture shock when I first started playing shows here but you know, over time you come to realise that people are at the events mainly for one thing and that's the music. I think that's the beauty of it. Anywhere in the world, I play a show, I feel comfortable knowing that everyone is there for the same thing.
More recently, you've leaned toward opening up and pouring your emotions and experiences into your music. Can you share a bit about how the pandemic affected you on a personal and professional level? How did you keep your creativity flowing?
On a personal level, it drove me insane, I haven't really had any time away from being a "touring DJ" since I started, so with no schedule, I kind of self-imploded. Throughout the pandemic though, I feel like I got a good grasp of it but I'm still definitely feeling the restlessness effects to this day. Professionally, well, not much really changed, I just kept doing me, and having this album to commit to was something to get out of bed for. 
Now that the pandemic shutdowns are coming to an end, what are some of your goals in terms of touring or collaborations for the future?
In terms of touring, I'd really just love to pick up where I left off. I'm not going to try and do anything too crazy, a steady lineup of shows is enough to motivate me to do better. Collaborations-wise, I want to continue working with other talented artists whether that be vocalists or producers, or songwriters, it's amazing that a form of art can bring people from all over the world together.
Finally, as a new SoCal resident, where has been your favorite place to grab a bite to eat so far?
There's a spot near where I used to live in La Jolla called Calientes. It's some of the best Mexican food and it's pretty much under a freeway. Great vibes.
---
Follow Tisoki on Social Media:
Facebook | Twitter | Instagram | SoundCloud | YouTube