UK producer Tisoki combines slinky house beats, trap-infused future bass, and massive dubstep in five-track EP, Everybody Dies. 
---
After premiering "Push It" here on EDM Identity last week, we've been keeping our eye out for more sneak releases of new Tisoki. Now, our wishes have been granted with Everybody Dies, an electrifying five-track collection featuring Tisoki's diverse array of sound.
Tisoki is one of those names you might think you haven't heard of, but you definitely have. This Edinburg native has been dominating the bass scene with releases under Never Say Die, OWSLA, Buygore, and many more. There are few heavy bass sets I've witnessed that haven't rinsed at least one Tisoki tune, and for good reason. Rising above generic dubstep bangers and catchy bass house, Tisoki is an inspiring beacon of hope in what has lately been a saturated genre.
Everybody Dies shows just how many tricks Tisoki has up his sleeve. Featuring punchy bass wallops, thick basslines, and grimey static rips of bass house, this EP has it all. Stream or download Everybody Dies on your favorite platform today and read on for a full review!
Listen to Tisoki – Everybody Dies on Spotify:
---
Everybody Dies starts off heavy with "Push It", comprised of pops of guttural bass snarls and robotic lasers.
"Push It" strikes a beautiful balance as the EP's opening track as it lingers between headbanging dubstep and more dancey vibes. Each popcorn crackle of bass is broken by delectable slivers of silence, emphasizing just how much horsepower this tune is packing."Push It" is a great start to Everybody Dies, but if you think you know what to expect from the remaining four tracks, you have no idea.
My favorite tune on the EP comes in at #2 on the tracklist: "Guess Who" featuring Never Say Die labelmate Tank Parade features Tisoki's upbeat dubstep feel and Tank Parade's grit. It's one of those tracks where you listen to it and you can't help but smile in between full bass face.
Tisoki breaks out the bass house vibes with "All Like That".
One thing I really commend Tisoki on is the ordering of tracks in Everybody Dies. We started off with a bang with "Push It", toned it down just a smidge for "Guess Who", and then kick off in a whole new direction with "All Like That". While still packing the thick bass energy from the first two tracks, "All Like That" gets your booty shaking with low-down house beats and sensual breakdowns that'll undoubtedly get hips rocking and feet shuffling.
If you thought the dubstep portion of this EP was over, think again: "Simulation" brings the heat with some neck-snapping wubs.
After getting down to "All Like That", "Simulation" switches things back to the heavy stuff. With massive tides of relentless bass and robotic trills, "Simulation" showcases Tisoki's truly unique approach to dubstep and his attention to sound design. It's the last taste of bass before Everybody Dies wraps up with "Gave You Love" featuring joegarratt, a sentimental tune featuring pop-infused future bass with a hint of some lighthearted trap.
What's your favorite track on Everybody Dies? Leave us a comment!
---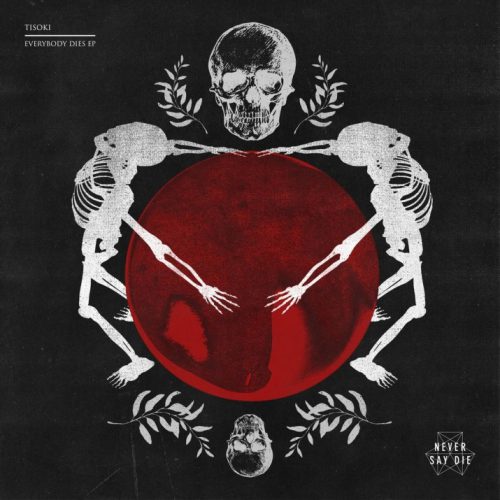 Tisoki – Everybody Dies EP Tracklist:
Push It
Guess Who
All Like That
Simulation
Gave You Love
---
Connect with Tisoki on Social Media:
Facebook | Twitter | Instagram | SoundCloud