Hayden James teams up with fellow Aussies Crooked Colours to create a fresh and funky bop after announcing a North American tour.
---
Hayden James has proven to be a powerhouse in the dance music scene since his first release "Permission to Love" in 2013. Since then, he has honed his craft and collaborated with a multitude of artists to create a repertoire that spans across the boundaries of dance music to include indie and pop-infused sounds. He does this again with his latest track, "Rather Be With You," featuring the vocalist from Australian indie-electronic team Crooked Colours, Phil Slabber.
The single flawlessly combines Slabber's gruff voice with James' club sound and creates the perfect summer tune. "Rather Be With You" has a melody that forces you to move and an energetic beat that will keep you moving. Slabber's voice calls out "I'd rather be with you" as the dark synths push the chorus forward and the beat chugs on.
Along with "Rather Be With You," Hayden James announced a handful of North American tour dates kicking off in September including two shows in Los Angeles on September 11 — opening for Duke Dumont at Shrine and then performing his own headlining show at Sound Nightclub. Fans can also catch Hayden James in San Francisco, Denver, New York City, Atlantic City, and Chicago.
Crooked Colours will also be performing across the United States this year; you can see them at Red Rocks with Big Wild and Bob Moses, Brooklyn Mirage, Outside Lands, and more. Not only that, but the trio is also preparing to release their third studio album later this year.
Make sure to check out Hayden James' new track with Crooked Colours, "Rather Be With You," on your favorite streaming platform and snag tickets to one of James' North American tour stops at his website. You can also grab tickets for any of Crooked Colour's upcoming shows via their website as well.
Stream Hayden James – Rather Be With You (feat. Crooked Colours) on Spotify:
---
Hayden James – North American 2021 Tour Dates: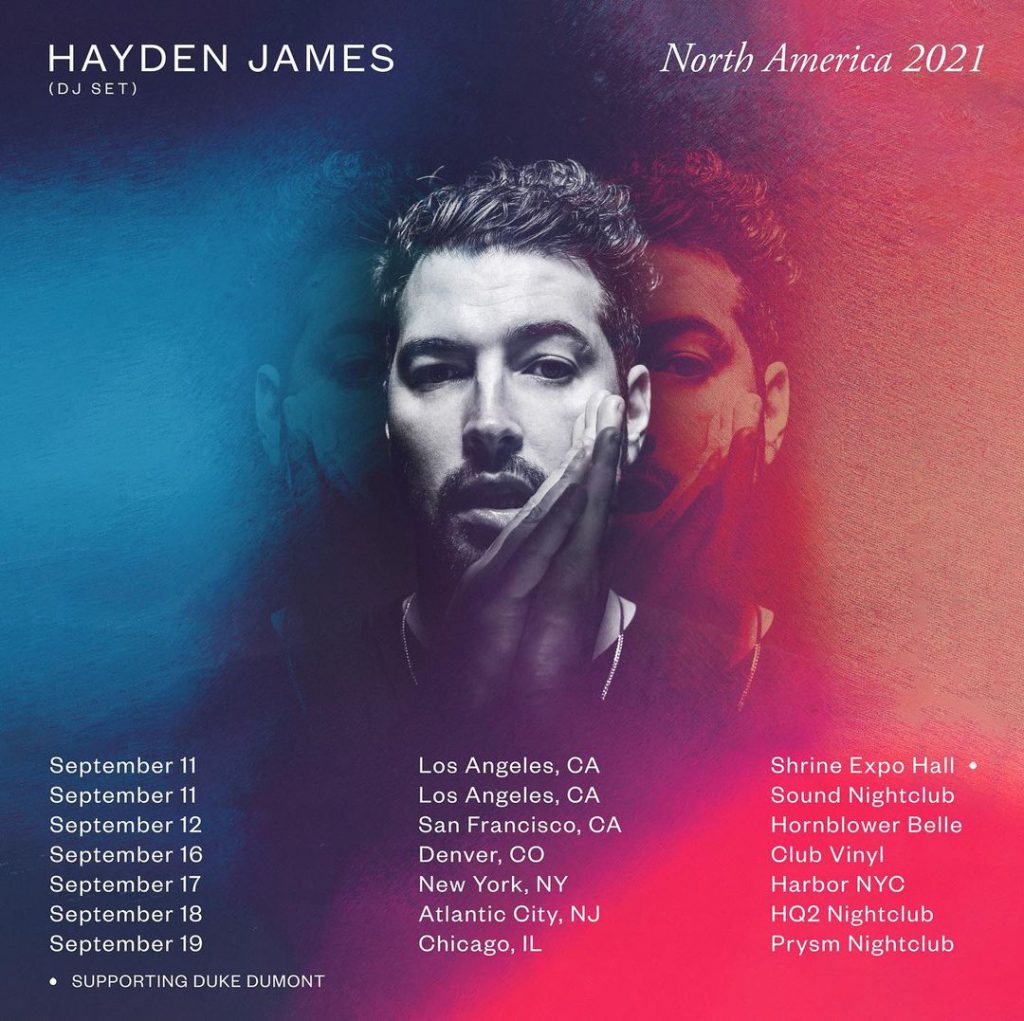 ---
Hayden James North American Tour Dates & Venues:
Sat Sept 11 – Los Angeles, CA – Shrine w/ Duke Dumont 
Sat Sept 11 – Los Angeles, CA – Sound Nightclub
Sun Sept 12 – San Francisco, CA – Hornblower Belle 
Thu Sept 16 – Denver, CO – Club Vinyl 
Fri Sept 17 – New York, NY – Harbor NYC
Sat Sept 18 – Atlantic City, NJ – HQ2 Nightclub
Sun Sept 19 – Chicago, IL – Prysm Nightclub
---
Connect with Hayden James on Social Media:
Website | Facebook | Twitter | Instagram | SoundCloud
Connect with Crooked Colours on Social Media:
Website | Facebook | Twitter | Instagram | SoundCloud | YouTube