Need a go-to playlist that'll amp up your groove level to the max? Look no further than our official Summer Camp Music Festival 2021 playlist.
---
As the heat of August approaches, so do the plethora of festivals approaching with lineups that are just as hot. One of the most anticipated events to grace this month is Summer Camp Music Festival, taking place at Three Sisters Park in Chillicothe, Illinois. With over 100+ artists scheduled, a handful of unique vendors, and tons of workshops, attendees are in for a fully-stacked weekend with no room for boredom and every chance to let their inner 'kid at camp' out to play. Being one of the first camping festivals to announce their return for 2021, Summer Camp is projected to make a huge statement as a big welcome back for all festival-goers alike.
Taking place August 20-22, the SCamp lineup features an extremely wide range of music genres, from bluegrass to deep dub. Notable headliners to take over the electronic stages this year include GRiZ, Subtronics, Rezz, STS9, and the much-anticipated return of Tipper. Many featured acts also include a wide selection of live jam-bands and instrumentalists such as Umphrey's McGee, Papadosio, and Twiddle. Among the star-studded headliner roster, there are over a hundred diverse musicians of multiple genres playing all weekend long for attendees to discover and enjoy.
But if you're stoked for SCamp, but have no idea where to start in what artist you wanna see – we've got you covered with a curated playlist that features the grooviest acts gracing the stages this year. Whether you want to get grimy with Detox Unit or get into your feels with Emancipator, any listener is sure to find their personal pocket of heaven in our SCamp 2021 Playlist.
So warm up your groovy dance moves and discover some psychedelic wonderlands once you click play. Let us know which artist you're most excited to see in the comments, and see you at Summer Camp Music Festival 2021!
Stream the Summer Camp Music Festival 2021 Playlist on Spotify:
---
Summer Camp Music Festival 2021 Lineup: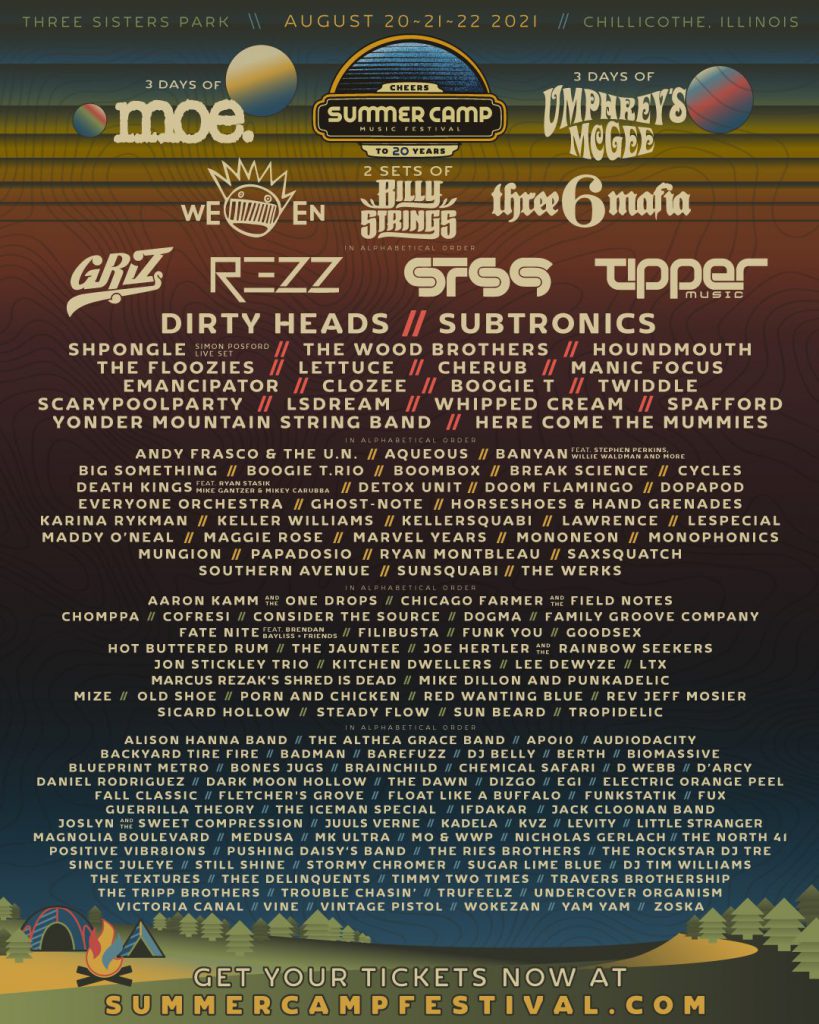 ---
Follow Summer Camp Music Festival on Social Media: