We sat down with Crooked Colours at Life is Beautiful to talk more about their newest album Langata, their creative process, and more. 
---
Australian trio Crooked Colours have had quite a busy year. Releasing their sophomore album Langata back in May to much praise, they spent all summer and early fall on tour while also making stops at festivals like Bonnaroo, Electric Forest, and CRSSD. Their single "Flow" off their debut album has also gone gold as well and they have continued to amass fans with their unique style of dance music.
When they were announced on the lineup for Life Is Beautiful, Crooked Colours quickly became my number one set to see at the festival. I wasn't going to miss their performance after falling deeper in love with their sound and when the opportunity arose to sit down with them for a quality chat I couldn't pass that up either.
Related: Want to know how Life Is Beautiful went down? Check out our review of the festivities!
Take a listen to Langata on Spotify below, download or stream it on your preferred platform, and read on for the full interview where we discuss their latest album, creative process, and plenty more!
Stream Crooked Colours – Langata on Spotify:
---
Welcome to Life is Beautiful! Have you been able to wander around Las Vegas or the festival yet?
Liam: We had a walk around last night and it was just gorgeous so we're really excited to get into it tonight.
It's been a big year for you guys touring Langata and playing festivals like Electric Forest, Life is Beautiful, and CRSSD. How has it been getting bigger bookings and playing larger fests?
Liam: I think with these types of festivals we had no idea what the reaction was going to be. Our first dip in the pond was Bonnaroo and that was fucking incredible. Way bigger crowd than we could've hoped for and then it's just kind of being consistent along the festy run.
Leon: It's been eye-opening really coming over here and doing festivals compared to Australia. The festivals are great there, but here they're like 1,000x times the scale. It's been so cool to get onto these festivals and play our music to people who have never heard us before.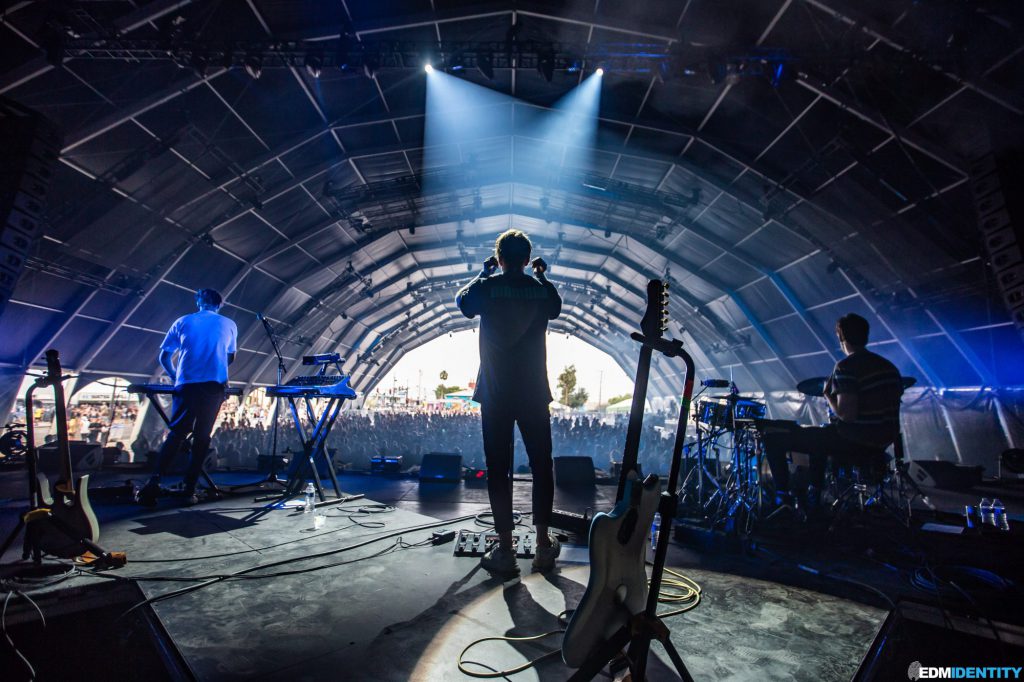 Your first album Vera is one of my personal favorites. A debut album is a daunting task for anyone. What were some of the challenges you faced producing it?
Phil: I think for us because we kind of figured out everything that we were doing ourselves along the way and that gave us the self-confidence to put something out we believed was going to be good enough. The last thing you want to do is look back a year after your debut and go 'oof that was shit'. So I think it just took us a while to get that first record out because it took us a long time to get to the point where we were like 'yea this is what we feel proud enough to put out'.
Leon: And I think it's aged well for us too, really. A lot of our older music that we first started making I hate, but I look back at Vera and. I don't mind the songs still. So if you don't mind them after playing them for so long that's a pretty good sign.
Between Vera and Langata your sound has evolved. What was the biggest creative difference between producing these two albums?
Phil: I think it was just touring that first record and seeing how well the songs off that record translated really well live. We were just like 'let's just keep making music like this' because it's obviously fun to play. And if we got to keep touring for the next 10 years we want to play stuff that's fun to do live. I think the dancier tracks and heavier hitting tracks on Vera really determined were Langata was going to go.
You've mentioned Langata came together as sort of an "aha!" moment. Do you remember a specific time where everything kind of started to come together?
Phil: Yea, I think there was this main unifying vein in all the demos that once we had them all together we realized 'ahh right this is what we've subconsciously been doing in the tracks'. But it's hard to see that until it's all kind of together. Then when you step in the studio to start mixing the tracks you get a more definite 'okay we want this theme to keep going'.
Liam: A lot of times if you have a group of five or six demos they're all really different you think 'okay, what are we really trying to do here'. Then the more you chip away they kind of become a cohesive group
Leon: You start using some of the same samples from different songs and that starts tying it all together.
Did you have a vision for the album before making it?
Leon: We just wanted to make more dancier music. So I think that was something that was always in the back of our minds when writing songs.
You have one featured vocalist on each album, Ladyhawke on "Never Dance Alone" and Ivan Ooze on "I Hope You Get It". Are you particular about who you collaborate with?
Liam: We've had a few vocalists in a few draft copies of songs, but it's just been those two who eventually made the cut. So I guess slightly particular.
Phil: I think with both of those tracks they were completely different from something that we would normally do. That's kind of what got us excited about them. Like, we didn't set out to have a rapper on our indie-dance album. So it was so left-field, but we wanted to have something really interesting for people to discover on the record. And Ladyhawke, I think we were just stoked because we were fans from when we were younger. So it was kind of cool to have an idol from the past jump on something.
Liam: Yea, when we first started making music she was kind of like that top tier, queen, making indie electronic music. So it was nice to work with someone we idolized starting out.
The Langata Tour has been pretty extensive and has nearly sold out. How has it been selling out venues across the world?
Leon: It's been good to see the progression. Especially over here in America. It's great doing sold-out shows in Australia, but we've been over here a couple of times now and it's good to finally see us making some headway. You kind of do a couple of tours and you think 'ah shit, is it worth coming over here to do all these shows', but now we're starting to sell it out.
Liam: And it feels like it. People actually like our music out here.
Phil: The great thing about America is when people go to a show and like it, they will go to the next one and the next one.
Liam: They're so passionate.
Phil: Yea, so it's been really cool to see that transition.
What has been one of the recent shows you remember the most energy?
Liam: Denver the other night was really good.
Phil: Yea, a few nights ago Denver was sick. That Bonnaroo show was a bit of an eye-opening one.
Liam: New York was sick. Australia. This whole tour has really been amazing. It's still new to us so it's fun.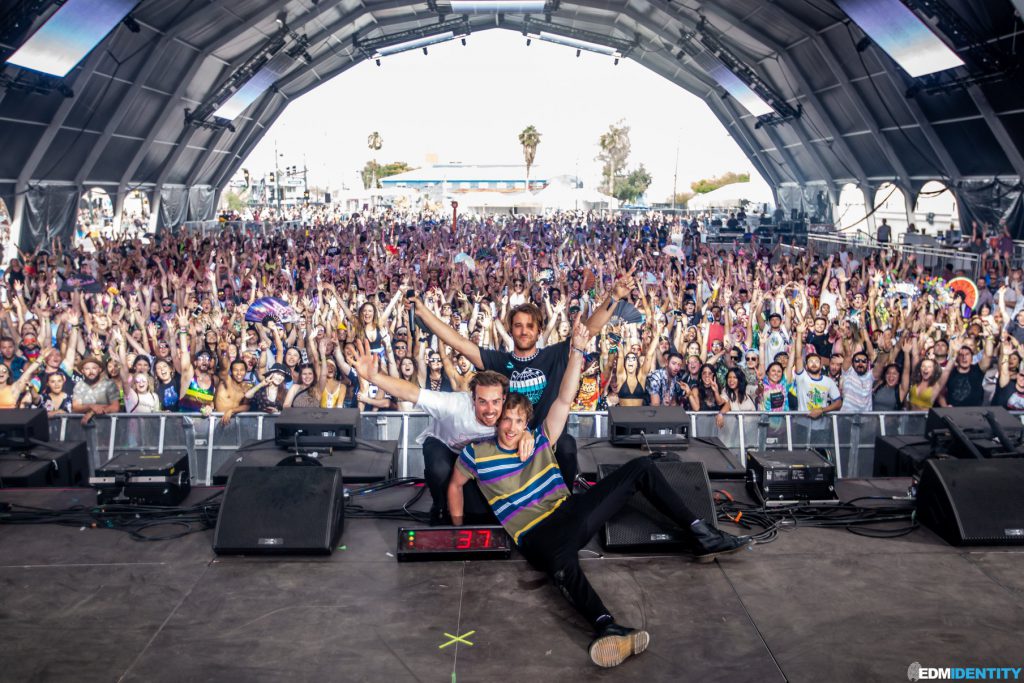 Who are some artists you are currently listening to out of Australia?
Liam: There's a younger kid that's kind of making waves right now, Running Touch. He's doing some pretty cool stuff.
Phil: Also, the Set Mo boys are doing some really cool shit.
Liam: Mansionair
What can fans expect from Crooked Colours in the future?
Leon: We're just going to keep writing music. We're going back to Australia and doing a few festivals there then we're back here in March.
Finally, what is one thing you have to have in your rider?
All: Probably, just one bottle of Jameson.
---
Follow Crooked Colours on Social Media:
Website | Facebook | Twitter | Instagram | SoundCloud | YouTube