Hayden James sat down with us to chat about the inspiration behind his latest track, his Waves of Gold compilation, and life during the pandemic.
---
From the release of his debut album in 2019 to his fiery collaborations with artists from Icona Pop to NAATIONS, Australia's Hayden James has been heating up the scene over the past few years. He's also kept fans captivated throughout quarantine with releases and streams, particularly his Waves of Gold mix compilation featuring the likes of Bob Moses, Sultan + Shepard, and more, along with some fantastic Backyard Streams as well.
Prior to quarantine, Hayden was tearing up venues around the world, from HARD's Holy Ship! Wrecked, to CRSSD in San Diego, and he's proven that not even a pandemic can slow him down with his electric remix of UK producer Martin Badder's "Passion Never Dies." The remix features vocalist Knytro and was released via Gorgon City's esteemed label REALM, which is only further proof of his impressive influence within the electronic music sphere.
We got the chance to (virtually) catch up with Hayden James about the inspiration behind the remix, as well as his production process, what TV he's binged during quarantine, and more. Make sure to listen to "Passion Never Dies" on Spotify below and read on for what Hayden had to say!
Stream Hayden James – "Passion Never Dies" on Spotify:
---
Hey Hayden, thanks for chatting with us today! Let's kick things off by talking about your latest release – a remix of Martin Badder's "Passion Never Dies"! How did this remix come about?
Hey guys, no problem. I'm a big fan of the Label and have been following Martin for some time. This tune has such a vibe to it. I couldn't get over that spoken word vocal and knew I wanted to try something with it. It's definitely a different style of a remix from me. I loved having no real boundaries with this remix.
When remixing a track for an artist, what does your production process look like? Does this process differ for you compared to writing original music?
It's different for every remix. I usually will just use the vocal stem of a song and build my own version from scratch. In that sense, it's much like making an original track but I feel that remixes also exist for a purpose… for me, this one was about bringing an entirely different energy to the original. Production/writing-wise I basically will find a couple of key vocal loops I like the sound of and build from there with my outboard gear. I've used the Prophet 06 for most of the synths in the remix.
You also released the Waves Of Gold compilation earlier this summer, how did you go about selecting the tracks to include to fit the overall vibe?
It was a long process actually. I wanted to include a whole bunch of artists that haven't really toured here in Australia, artists coming up, something fresh. I'm super happy with the mix of artists I picked. It took a few months to land on the tracks but it's definitely one you can leave playing at any time
Of course, the compilation featured "Waves of Gold," your summery single that dropped last month. Tell us a bit about what it was like working with Azteck and Paije on that track and how it came about.
The guys sent me the vocal demo at the end of 2019 and as soon as I heard it I hit them up and said I need to work with you on this. To me, it's infectious straight away and transports me to a warmer place on the beach… drinking cocktails. Unfortunately, I've never met the guys in person due to the craziness going on but hoping one day we can get in the studio together!! Love to write another with the guys.
Earlier this year, you also released the feel-good banger "Right Time," featuring Icona Pop. Was the production on this tune similar to the approach on "Waves of Gold"?
Yeah working with the Icona Pop girls was so fun. Amazing energy in the studio. These are both very different tracks but feel there are certain elements, even just summer vibes that connect these two songs together. I've been using the lack of touring to experiment with a couple of different sounds/ideas. It's been pretty therapeutic working on lots of different styles of music.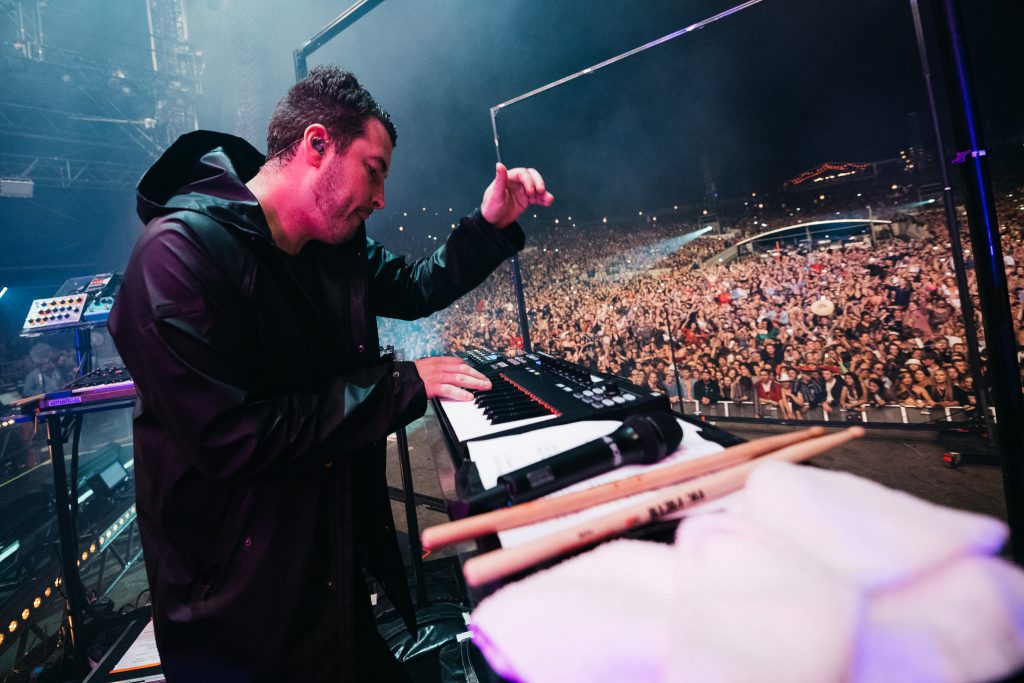 Now, let's talk a little about the elephant in the socially distanced room – the pandemic and subsequent quarantine. How have you been able to find a way to stay creative during this time?
Honestly, I realllly miss playing shows and touring. I've never been home for this long in 10 years and it kinda sucks. I look at it this way… there are lots more people out there who are having a much harder time so just deal with it, Hayden. I'm also taking the time to just submerge myself in the studio, writing and experimenting everyday. I'm feeling really good here at the moment. It's all flowing.
We loved watching your Backyard streams back in the beginning of quarantine. What has your experience been like going from playing shows to a live crowd to one that's behind a screen somewhere around the world?
Thanks so much. It was a beautiful distraction from our doom for a while there. The live streams are their own thing… I can't really compare a show to live streams in my head. Such a different feel but it was fun knowing I was reaching people out there and sending them some positive vibes.
Many festivals have been holding virtual editions or livestream series to keep the scene dancing. Can you tell us a little about your Splendor in the Grass set that was broadcast on Triple J's Live At The Wireless?
Yeah, I have been loving watching some of my fav artists stream their 2018/9 shows. It's the closest thing we have to the real thing right now so it helps! Splendour was probably my favourite show I've ever played for a couple of reasons.. not only is it the festival I grew up going to each year but I got to play on the main stage (something I NEVER thought I would do). It was also the kick-off to my world tour for my debut album.. a very special moment.
What are some goals you have for the remainder of the year? Are there more exciting releases or updates that you'd like to share with your fans?
The main thing my amazing team and I are doing is keeping as busy as possible. I'm writing a lot.. so much so that I think album no. 2 is taking shape! I've got another remix and an original to release before the end of the year too. Lots on!
Finally, with so much time on our hands and not much to do, we're in desperate need of some recommendations. What are you doing in your free time to let loose? Any shows we should binge?
I got you! I actually just started rewatching 'Breaking Bad'. You can't go wrong.
---
Connect with Hayden James on Social Media:
Website | Facebook | Twitter | Instagram | SoundCloud