Trance legend and VII label boss John Askew delivers two breathtaking soundscapes on the highly anticipated, Dusk Till Dawn!
---
When you hear the names John Askew, Simon Patterson, Avalon, Will Atkinson, Sean Tyas, Alex Di Stefano, and Orkidea, immediately your mind is drawn to the phenomenal trance imprint known simply as VII. Nothing but trance gold is what fans have come to expect out of the crew and these guys are no strangers to putting in the hard work, laying out multiple double-disc behemoths that have kept our bodies rocking throughout the years. Yesterday, the veil was lifted on their latest various artist compilation, Dusk Till Dawn, and in the driver's seat is the ridiculously talented John Askew.
Whether you're a fan of old or new, this 36 track journey has it all. You'll find that some of the artists featured on VII's sister label Deep In Thought have made the cut, like EverLight, Story of Oz, and Gary Go. In addition, you have icons twisting the musical atmospheres of fellow icons like Paul Denton taking on Sean Tyas' "Black & White" and John Askew placing his stamp on Paul van Dyk's "Crush." In fact, there's a whopping 10 Askew reworks and 2 never-before-heard studio creations, along with 11 exclusives from the participating producers. From BT, Nu NRG, and Greg Downey, to Nifra, Union Jack, and Ronski Speed, there's so much to fall in love with.
For its technical and emotional design, John Askew has decided to focus on the full spectrum of his sound. What does that mean? I want you to think about the arrival of dusk. When the sun makes way for the moon you can expect Askew to go unapologetically hard and techy, urging revelers to give in to the chaos. Now, think about the after-hours or the moment the stars in the sky fade away. It is in these moments that John loves to bring out the endorphin-sparking melodies that lift you to a higher state of being; A full circle experience that will change you from the inside out.
With 18 tracks on each disc, that gives our ears quite a lot to soak in. So, stick with me below and enjoy the tunes! But, just one more thing. It's time to plan a trip to Birmingham, UK because on Friday, July 16, in honor of Dusk Till Dawn, John's going to serve up the beats for 10 straight hours. Prepare for your world to be flipped upside down! It takes place at The Mill and tickets are on sale now.
Preorder your copy of Dusk Till Dawn on your favorite music platform, stream the album below, and continue on for my take!
Stream John Askew – Dusk Till Dawn on Spotify:
---
Dusk… As the sun dips below the horizon, John Askew calls forth the creatures of the night to come and kidnap the dance floor. These are the tracks that stole my body, mind, and soul.
John Askew – Tooth Decay On A Tuesday
Not only does this John Askew original have a catchy title but the soundscape that pours out from the speakers as soon as you hit play is going to spark you straight to life. As expected, this track is fast and ferocious but also quirky and filled with counterculture character. It's all in the narrative; As sirens blare in the assumed cityscape, we hear a man describing what he wants to do after leaving the after-party. From the sounds of it, he just wants to keep on living the fast life, and don't we all? I think that's why I'm so drawn to this track. It's to the point, ultra-cool, and super silly.
EverLight featuring Emma Chatt – Obelisk
"Obelisk" was released on sub-label Deep In Thought just this past March and since then it's been at the forefront of my mind. I always love a great vocal and Emma Chatt burns the house down with her whispered inflection. The lyrics are arousing and intense while the driving tempo will light your feet on fire. And that's really all you need. Those two elements keep me engaged from beginning to end and the consistency allows me to get completely lost in the guttural underground force. All we need is some heavy strobe action and poof, allow the out-of-body experience to commence.
Tasso – Attrition
"Attrition" is one of the brand new tracks to come off of the album and it's an absolute heater. Stretch your legs and pound some water before digging into this tune or you're going to regret it! What I love most are the chopped-up vibrating synth blasts that pulse straight through the brain. This is one of the shorter tracks of the lot but great things really do come in small packages. I would love to hear this get a spin as an unexpected transitional tune, punching fans square in the face with unwavering gusto.
Alex Di Stefano – Above The Sky
As a huge fan of Alex Di Stefano's older work like "Black Panther" and "Kidnap Your Soul," I was excited to check out some of his new stuff. "Above The Sky" has been floating around the airwaves for a few months now and it's everything I want from this tech house legend and then some. Dubbed a mighty fine mix of techno, trance, and love, "Above The Sky" slaps our feet to attention while cloaking us with an ethereal hug. There's so much raw power in this one and I can't help but lose my cool when the sparkling top-end brings forth layers of melodic uplift.
Allan McLuhan – Acid Theory (John Askew Rework)
Alright, it's time to show some love to the art of the rework and one of my favorites is coming in hot! The original was unleashed back in 2020 and I was hooked by the creepy sci-fi vocal and the dominating explosions of sound that made way for the psychedelic melody. John Askew shows respect to the original by keeping the hardcore elements intact while shifting the layout and adding some extra pizzaz by softening up some of the melody. It makes for a beautiful balance in intensity which I find incredibly sexy.
Will Atkinson – Pipe Dreams
This is a track that came to us back in 2020 as well and I'm thrilled to see "Pipe Dreams" make it onto this compilation. I hope you packed your spacesuit because what Will has in store for us will send you straight to the moon. There's an incredible amount of cosmic energy on this one and if you're not careful, the welcoming sound structures might lead you straight into a wormhole. When you come out the other side you'll be locked in a trance, floating aloof as the brisk rhythm pushes you to the end of the universe.
Dawn… As the world around us begins to stir, we bathe in the warm melodics and feel our spirit lift with the dawing of a new day. These are the tracks that made me lift my hands to the heavens.
Calvin O'Commor – Oceania (John Askew Rework)
Once again I'm enthralled by John Askew's attention to detail as he breathes new life into future trance superstar Calvin O'Commor's "Oceania." The original version glows with a soft simmer as we focus on the simple synth stabs and a grand rise that opens up the heart. In true form, John Askew hardens the atmosphere just a smidge while he respects all of the heavenly attributes. This makes for a 2.0 experience that must be felt in front of the big speakers on the festival circuit. I imagine standing there with my eyes closed, feeling the music transcend space and time.
No-So – Feels Like Heaven
Since I'm already in trance heaven I may as well stay here and No-So makes that happen. If there was ever a tune to alter my conscious state, this would definitely be the one. It's beautifully hypnotizing and as the song of the angel eases my weary soul I feel incredibly complete. The bright piano stabs add to the lovely atmosphere and I find myself falling deeper in love with the genre that has always felt like home. It's hard to find the right words to do it justice but if you've spent any time digging into trance, you know exactly what I'm talking about.
John Askew & Gary Go – Smile
I've been excited about my next pick from the moment I saw Gary Go's name! Do I even have to say, "Cinema"? As one of my favorite Benny Benassi tracks from the golden era of electro, I expect Gary Go to knock my socks off with his John Askew collaboration. I'm happy to report that "Smile" put a giant one on my face. It begins with a happy bassline drive before Gary pops in, voice belting with confidence. Everything about this track makes me want to run straight for the mainstage of a massive, hand in hand with my husband, goosebumps standing at salute, watching the fireworks light up the sky.
Story of Oz – Somersault
Another Deep In Thought offering, "Somersault" flipped and tossed me straight up into a hell storm. I'm obsessed with how the bassline pulls back for a fleeting moment of respite, allowing for a quick narrative about how fast life passes us by. We're then met with a steep climb into the eye where the synths hold us tight within an unforgiving musical hurricane of jaw-dropping magnitude. I have to catch my breath after that abrasive hit to the body.
John Askew – Through The Looking Glass (Faders & Wilder Remix)
Staying in line with the intensity of "Somersault", the Faders & Wilder remix of "Through The Looking Glass" rages through the speakers. If you're a fan of psytrance then this is the track for you. I personally love the tripped-out whimsy on this one, highlighting scientific theory as the high octave notes pierce through my ears. The playful vibrations open me up to explore a dimension unlocked by my mind's eye, a land where PLUR still stands as the mantra of the people.
Will Atkinson – The Last Rave On Earth
While I hope and pray that I don't ever have to experience our community's final curtain call, Will Atkinson paints us a picture of what that might look like. In apocalyptic fashion, the track gets quickly cut off with a blast of white noise that morphs and fades out. When we gain our composure we hear a sweet melody suspending among a baron landscape. But, rising from the ashes the rave is reborn and the call of the beat is too much to ignore. If ever there was a breathtaking moment, well, here it is my friends. A mic drop moment that you're going to have to hear to believe.
There you have it folks, an experience that I honestly never want to come down from.
VII is a label that I'll continue to chase as the years pass by because the talent is simply unmatched. Whether you're searching for tunes that make your head spin clear off your shoulders or you're in the market for something powerfully uplifting, John Askew and the rest of the crew has got your back. From dusk till dawn, let's keep on spreading the love for trance! Now, excuse me while I hit repeat and allow the rest of the world to fade away once more.
---
John Askew – Dusk Till Dawn – Tracklist:
Disc 1. Dusk
Union Jack – Cactus (John Askew Rework)
Will Atkinson – Awake (John Askew Rework)
John Askew – Tooth Decay On Tuesday
EverLight featuring Emma Chatt – Obelisk
Zach Zlov – Ergo
EverLight – Renegade Bass
Tasso – Attrition
Alex Di Stefano – Above The Sky
Sean Tyas – Black & White (Paul Denton Remix)
John Askew – Torture Chamber (EverLight's Light Speed Mix)
Tommy Mulligan – The Wasp
Allan McLuhan – Acid Theory (John Askew Rework)
John Askew – Niceto
Fonzerelli – Moonlight Party (Greg Downey Remix)
Faraway Project – Savannah (John Askew Rework)
John Askew – Keep Pushing
Will Atkinson – Pipe Dreams
BT & Christian Burns – Save Me 
Disc 2. Dawn
Beatman & Ludmilla – The Fall
Milla Lehto – Blade Runner (John Askew Rework)
Steve Brian & Ronski Speed – Viper (Maywave Remix – John Askew Rework)
Nu NRG – Universe (John Askew Rework)
Calvin O'Commor – Oceania (John Askew Rework)
John Askew – Squelch
John Askew – Picture of Dorian (Ray Reverse Remix)
Nifra & Mia Koo – Forever Forever (Beatsole Remix – John Askew Rework)
No-So – Feels Like Heaven
Paul van Dyk – Crush (John Askew Rework)
John Askew & Gary Go – Smile
John Askew – Fade To Black (UDM Remix)
Story of Oz – Somersault
John Askew – Through The Looking Glass (Faders & Wilder Remix)
Sean Tyas & Shelby Merry – Someday (Story of Oz Remix)
UDM – Always Shining
Igor Dorin – Energy (John Askew Rework)
Will Atkinson – The Last Rave On Earth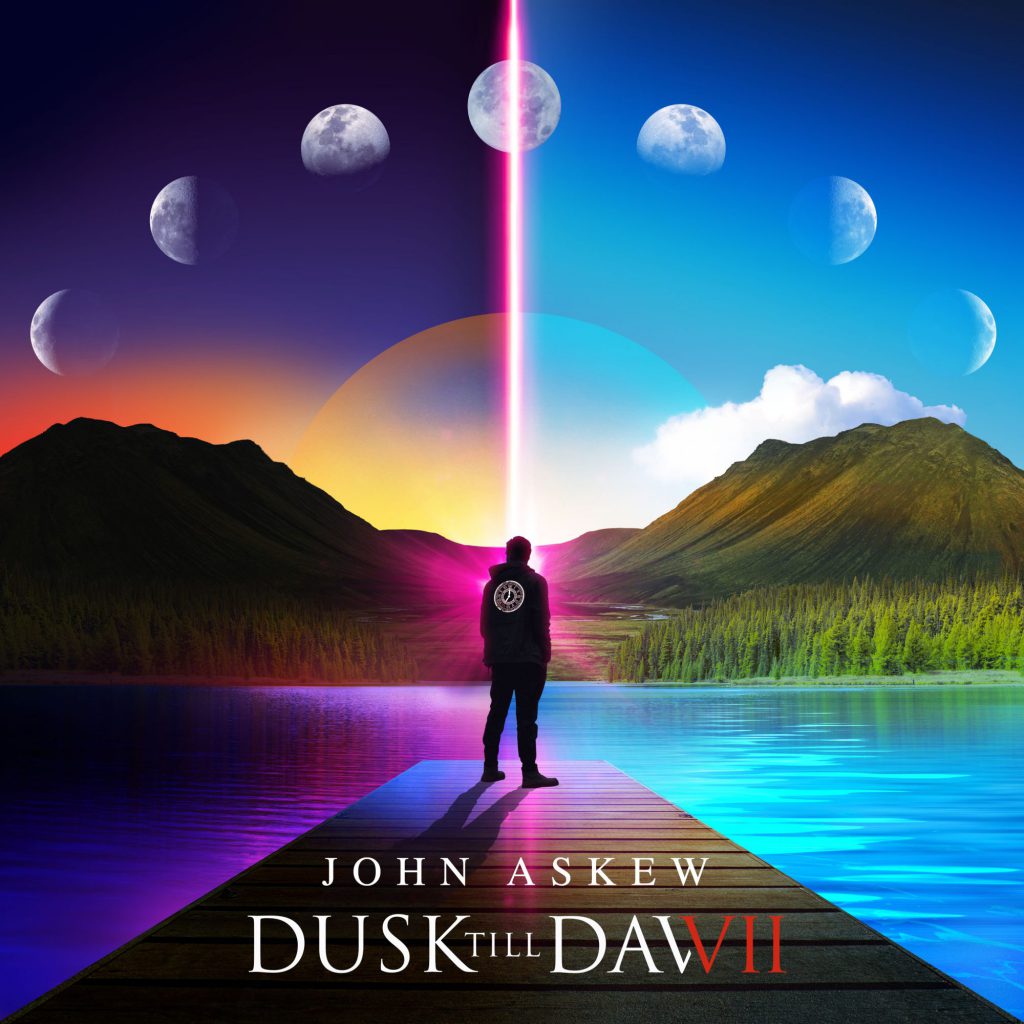 ---
Follow John Askew on Social Media:
Facebook | Twitter | Instagram | SoundCloud | YouTube