Underground bass fans will be overjoyed to know that The Untz Festival will take place this year. Dive into the lineup with this playlist!
---
After a year of no shows, it's exciting to see all the festival lineups dropping again in 2021. While some spring and summer festivals have pushed dates back to the fall, there are a handful of them planning to make their return soon – and one of those is The Untz Festival. A favorite for any fan of the underground bass scene, this festival has become renowned for bringing some of the most stacked lineups to Northern California.
This year, The Untz Festival will move from its previous home in Mariposa to Browns Valley for its return on June 4-6. That won't be the only change in store, as because of the ongoing pandemic, they'll be putting a number of precautions in place to make sure that every attendee can party safely. Those looking to attend will need to provide proof of vaccination or a negative PCR test 72 hours prior to being let into the festival grounds. They will also be capping attendance at 20%, with temperature checks and a mask policy in place as well.
The Untz always shows nothing but love to the underground, and this year's lineup truly reflects that. Takeovers this year will be from crews like Lost Dogz, LoFreq Records, Wormhole, Spicy Bois, Above and Below, and Deep, Dark and Dangerous. As for the artists, names like Angelic Root, CharlestheFirst (and a very special hawk. set), Big City, VEIL, Vibe Emissions, Murkury, Khiva, Ravenscoon, and Jalaya alone should satiate cravings. There will also be a sunrise set from Ternion Sound and two Supertask sets over the course of the weekend.
While this year will be different than previous editions, there's no doubt that The Untz will make sure everyone has the greatest (and safest) experience they can. Although car camping is sold out, tickets and vehicle passes are still available. Head over to their website to make your purchase and listen to the playlist below to get a taste of what's in store!
---
Stream The Untz Festival 2021 Playlist on Spotify
---
The Untz Festival 2021 Lineup: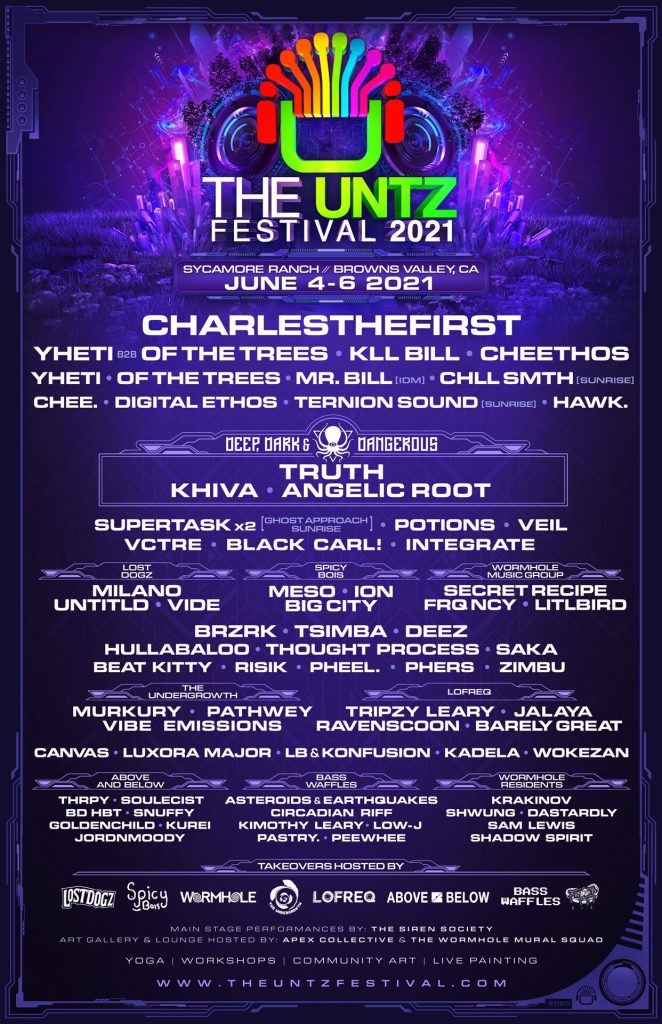 ---
Follow The Untz on Social Media:
Website | Facebook | Twitter | Instagram | SoundCloud