The Disruption EP from INFEKT is another impressive display of creative dubstep tunes from one of the genre's best producers.
---
When it comes to the best music in today's riddim and heavy dubstep scene, INFEKT is easily one of the most exciting artists. He's been an essential part of the Disciple Round Table crew since the label was first founded and the Disruption EP is another amazing release on the widely recognized imprint.
Packed with six unique tracks that push the boundaries of dubstep, Disruption is a can't-miss release for all bass music fans. Coming off an amazing performance at Disciple's Minecraft Block Party, Infekt's new EP is sure to please quarantined bassheads everywhere.
Listen to the Disruption EP by INFEKT below, stream and purchase it on all platforms, and keep reading for more information on each track!
Stream INFEKT – Disruption on Spotify:
---
INFEKT often interacts with his fans on social media, and he's been tweeting out the theme of each track in anticipation of the release date.
The first song, "Disruption" is an appropriately titled tune for the disruption happening in all of our lives right now. The song quickly sets the tone with a big buildup and a huge, riddim influenced drop. "Zone Battle" is another one of the heaviest riddim tracks on the EP. While those tracks showcase a more classic INFEKT sound, "Into Pieces" brings a deep dubstep vibe and "Tendo" combines multiple genres and influences.
INFEKT mentioned that "Leech Beam" is one of his favorites on Disruption and the absolutely brutal sound of this one is exactly what I want to hear on Disciple Round Table. All of the tunes bring an extremely creative sound to the table, such as "Hibernation," which tells a story about humanity's fight against destructive machines.
Disruption features heavy dubstep at its very best and should not be missed by all fans of the genre.
Not only is INFEKT an incredible artist, but he passionately supports upcoming artists as well. For example, his Patreon includes tiers where he provides production lessons and offers feedback to subscribers' tracks. Disruption is an amazing display of bass music production from one of the genre's most valuable talents.
---
Tracklist:
Disruption
Leech Beam
Zone Battle
Hibernation
Tendo
Into Pieces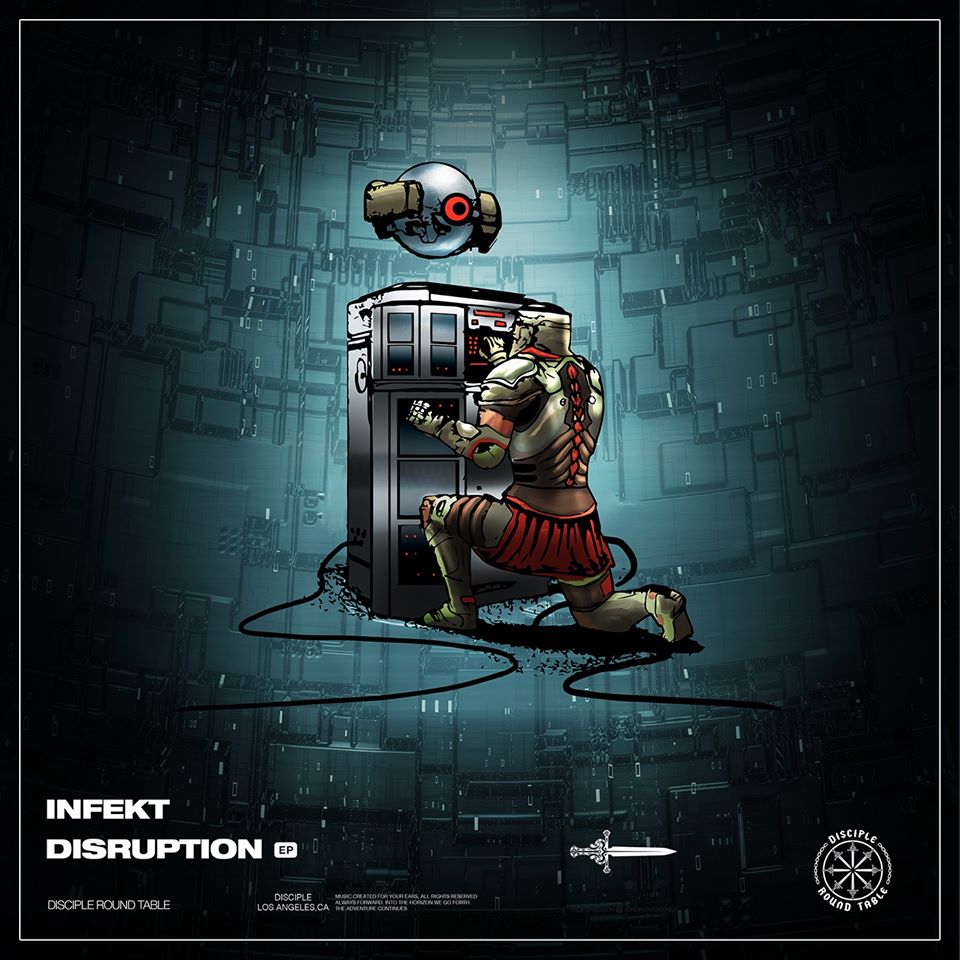 ---
Connect with INFEKT on Social Media:
Facebook | Twitter | Instagram | SoundCloud | YouTube