Baauer, Whethan, Apashe, Moore Kismet, Snakehips, and more will be playing the inaugural Lake Brownies & Lemonade this August!
---
Last year as festivals and shows were canceled around the world, Brownies & Lemonade looked to keep the spirits high for everyone in the scene. Dealing with a loss of their own shows, they quickly made moves to the livestream space with stunners including Digital Mirage and Secret Sky to the delight of many. But something else caught the eye of their fans, the announcement of Lake Brownies & Lemonade, a new weekend-long event at Lake Havasu.
As the initial details surfaced such as the dates (August 27-29) and packages for attendees, the hype for this forthcoming event began to grow. While the lineup hadn't surfaced yet, Brownies & Lemonade's track record has proven their tastemaking abilities and led fans to flock to purchase passes. Now, they've proven themselves in full with today's announcement of the lineup that is stacked with artists like Apashe, Baauer, Chet Porter, and Moore Kismet, among others.
Joining those artists are a flurry of legends and rising stars alike with trap master YehMe2, genre-defying artist Wuki, and bass behemoth EPROM on the bill as well. And you simply won't want to miss out on performances from Whethan, Pluko, Snakehips, and Blanke as well as the Brownies & Lemonade crew takes over the Nautical Beachfront Resort and its private beach and remote party island. Of course, there will be activities for attendees to experience beyond the music as well with plenty more planned to make this weekend one that will immerse them even further.
Tickets and hotel packages for Lake Brownies & Lemonade are on sale now via Pollen. Don't forget that this event also has a COVID-19 Money Back Guarantee – more details on that can be found on that by heading to their website.
Lake Brownies & Lemonade 2021 – Lineup: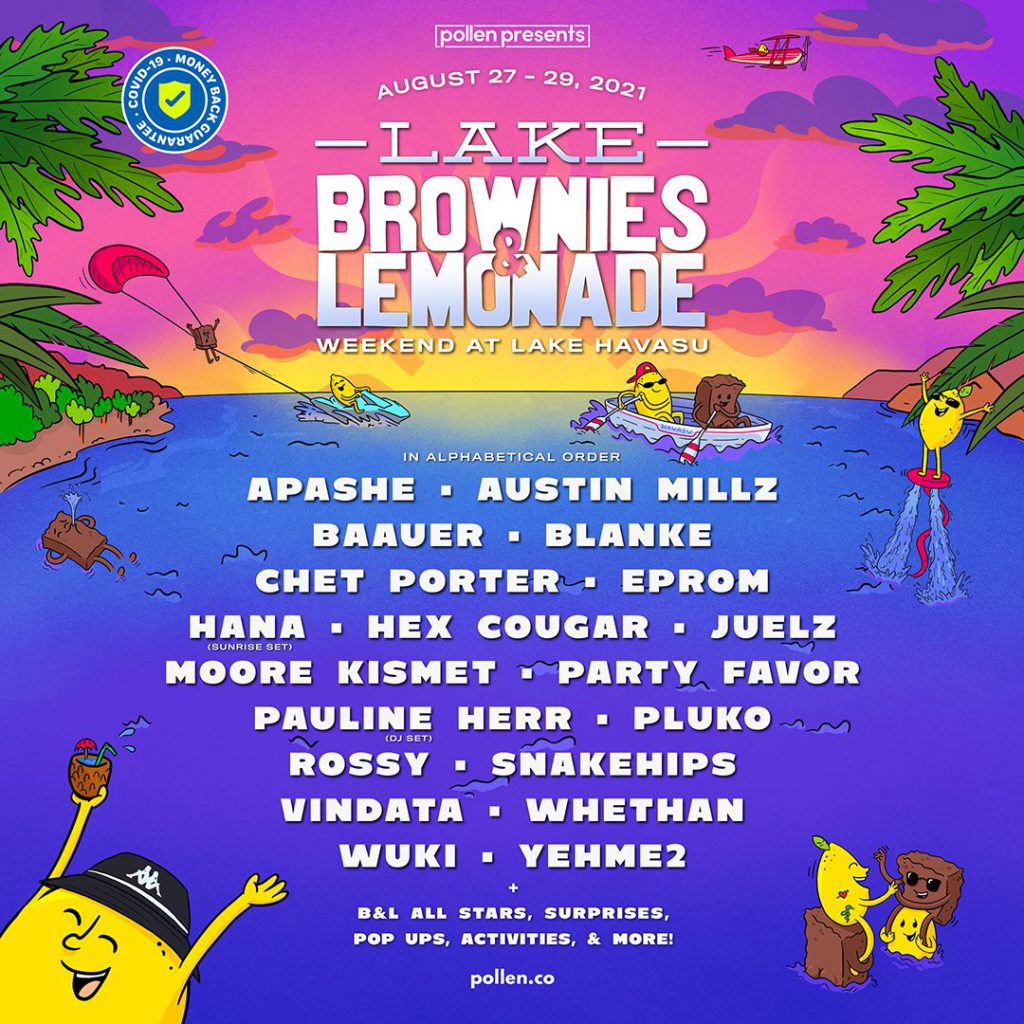 ---
Lake Brownies & Lemonade 2021 – Lineup By Artist:
Apashe
Austin Millz
Baauer
Blanke
B&L All Stars 
Chet Porter
Eprom
Hana
Hex Cougar
Juelz
Moore Kismet
Party Favor
Pauline Herr
Pluko
Rossy
Snakehips
Vindata
Whethan
Wuki
Yehme2
---
Connect with Brownies & Lemonade on Social Media:
Website | Facebook | Twitter | Instagram | SoundCloud