Fresh off the release of "Hold Me" we sat down with Itona to discuss his new project, where his inspiration stems from, and more.
---
While many fans know the name ENiGMA Dubz for the low-end, gritty tunes that have surfaced over the past few years, some might just be discovering his side project Itona. This new alias from James Vine flips the script of his renowned sound to evoke more mellow tones that are lightweight and brimming with emotion that will tug at the heartstrings of listeners. This project couldn't have come at a better time either after the roller coaster ride of the past year and increased desire for heartfelt sounds to get us all through rough patches.
In Japanese, "ito" means love, and "na" means summer – and with references to escapism layered in this combination of words is the perfect fit for the project and the emotions he brings with the soundscapes under the moniker. Itona managed to find inspiration amongst the chaos of the pandemic and delivered a number of releases including the Reverie and Ascending EPs. Each consists of a handful of originals as well as a remix from an emerging artist that Itona has under his radar.
Now, Itona has emerged in 2021 with even more sounds for listeners to feast on and a fresh EP on the horizon. Due out on May 14, two of the singles off the You EP, "You Are So" and the latest "Hold Me," have surfaced to give everyone a taste of what's in store. They represent the relationships within our lives and the feelings from the special connections we all make in life, which will surely resonate with anyone who has been impacted over the past year.
There is a light on the horizon and Itona's music is leading the way. If you're looking for melodies that will soothe your soul, anything from his discography will do the trick. Looking to get a glimpse into his creative mind, we jumped at the opportunity to sit down with him and discuss this new project, so stream "Hold Me" on your preferred music platform and read on for our chat.
Check out Itona – Hold Me on YouTube:
---
Hi James, thank you SO MUCH for chatting with us. You have been putting out some incredible music as ENiGMA Dubz but we're going to dive into your side project Itona today.  So let's start from the beginning. What inspired you to start this side project that's such a big departure from ENiGMA Dubz, and for those who may not know yet, what does Itona mean? 
Hey, awesome to speak to you. In terms of starting the Itona project, in short – COVID-19! The first full UK lockdown in 2020, which lasted around 7 weeks, was a very strange and challenging time. The prospect of losing work and elements of my music income was a serious concern. Also, not fully knowing the severity of COVID was also a worry for my wife and I, in particular for our two kids – like it was for so many people, in and outside the music industry. 
However, alongside these concerns, I was able to spend more time with two things I love, my family and my own personal musical projects. Itona has been something I've wanted to do for a while, and that extra time during lockdown finally allowed me to pursue it. This project has allowed me to make music that brings me good vibes and an escape – and I hope for others too. Itona means ito – love, na – summer in Japanese – which works really well given how the project came about. It also references that element of escapism, too.  
When you're making music as Itona, is there a specific mindset that you put yourself into? How does the process differ from when you're producing heavier beats? 
Yeah, I'd say my head is in a different place. It's not too far away from the mindset I get into when writing the more vibey side of ENiGMA Dubz music, like my recent Coming Down EP – but obviously a million miles away from the darker, nastier side of my dubstep music that's all about low-end pressure. 
With the Itona project I really want it to be all about good vibes, sometimes slightly melancholic too, but never dark or eerie, hopefully music you really want to chill with but at times motivational etc.  
I have a few personal playlists growing with music I find in various chill, lo-fi, and experimental electronic music areas on Spotify. The whole lockdown situation kind of got my mind in gear for this side of the music I love too, as it's perfect for chilling to and just escaping for a while, in comparison to the more sound system-driven stuff I do. Artists I love on this vibe include ford., Laxcity, Two Lanes, Catching Flies, and of course the man, Bonobo. 
So far you have released two EPs under Itona, which were both incredible by the way, and now have a third one up your sleeves. Is there anything you would like your fans to know about what to expect off of it? What feelings are you hoping to convey with it? 
Thank you! I'm so glad you're feeling the first two EPs. I can reveal the third is 'You', out May 14.  In my opinion, it's the strongest Itona release to date and covers a lot of the areas I want to touch on with this alias. Whether it's chill-out hip hop, lo-fi style percussion, chilled/vibey house, or just straight-up experimental downtempo electronic music, this EP has got a track to suit.  
The overall theme is around a relationship, whether it's with a loved one, a friend, a place or something else, it's about connections and the feeling you get when you feel connected with someone or something.  
Something I noticed was that your previous EPs all feature three tracks and a remix? Is there a specific intention behind that? How do you select the artists who provide the additional remix? 
Yeah, I've found that this is a great way to not only get this project off the ground but also to connect with and showcase other artists I'm finding on this journey too. Having three tracks released as a set of singles is working very well and allows each track to have its own space before eventually coming together as the final EP. In terms of artist selection for the remixes, it's mainly down to who I'm vibing with and who has excited me after discovering new music – but all up-and-coming talent.  
It's also made me think how amazing the global electronic music community is. Late June, who did a stunning remix of "(Baby) Just Let Me Know" on Reverie, is from New Zealand. Rosehip, who reworked "You & I" on Ascending, is from my home in the UK. And the PALLADIAN guys, whose remix will be revealed soon – both live in Barcelona. We're all connecting through a shared love of music.  
The artwork that you provide with your releases fits perfect with the soundscapes that you've created. Where do you draw influence from on that side of the project? 
The great thing about this new project is that I can start crafting the vibe I'm hoping to portray from the get-go, so the artwork and imagery is really important to me as part of the whole experience. The soft pastel colours with a dreamy and chilled-out aesthetic immediately makes you relaxed. 
Ultimately I'd love to start working with some cool artists and animators – and with this new EP, we've worked alongside a talented artist called 'Bon-Psy' who's turned the track covers into super cool moving images for various social platforms – as you can see with the YouTube animation of "Hold Me" and "You Are So." 
Your releases as Itona have all landed on your imprint, Morii Records. Do you have plans on expanding this label in the future to include more lo-fi/downtempo artists or do you want to keep it for your own creative work? 
Morii is a label my manager Tom and I set up last year and at the moment we're keeping all the releases in house as I've got so many projects on the go and scheduled for release. We've got enough material for Morii already locked in for the near future… some of which is insanely exciting. 2022 is looking hot! 
That being said, we most definitely want Morii to evolve and become an entity in its own right. So when we reach the point where we have the time and space to introduce artists onto the label – that will be so exciting.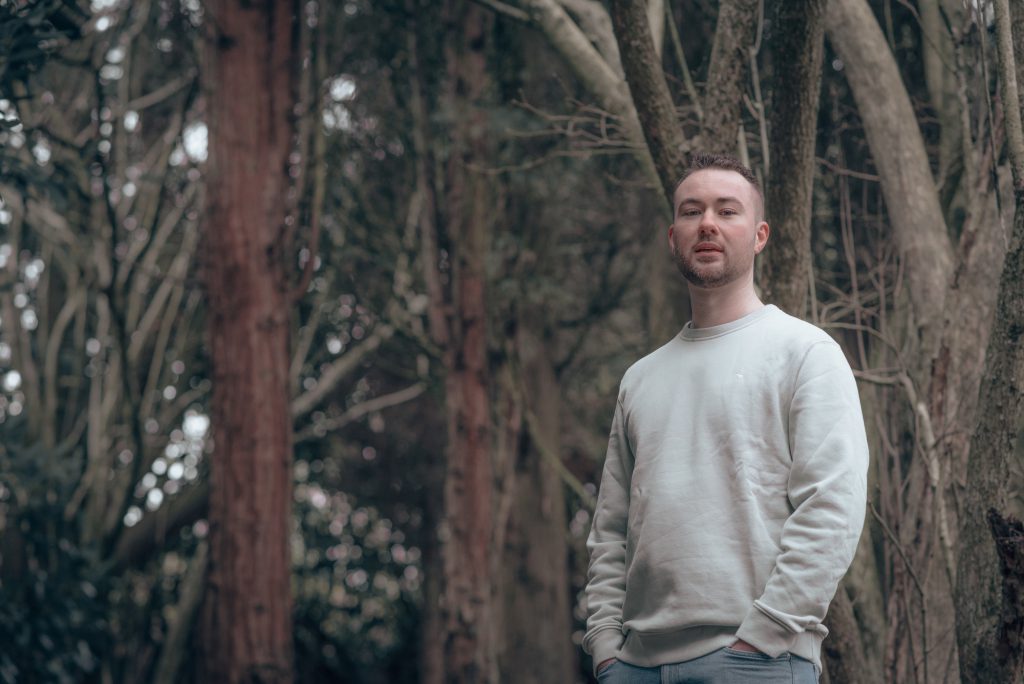 ​If you had the chance to play an Itona set anywhere in the universe, where would it be and why? 
Really cool question. I think a great spot for an Itona set would be at an artsy festival, maybe early hours and outside in a forest with a sick light set up, etc. Some sort of hidden escape where it's purely about the vibe and enjoying some time out. There's an amazing festival in the UK called Lost Village that is right on that vibe – they've had artists like Four Tet, Floating Points, and Bonobo all play DJ sets.   
When you aren't making music as Itona and ENiGMA Dubz, what do you like to do in your free time to refresh your creative juices? 
To completely escape, it's definitely traveling with my family. My wife's mission is to show the kids as many amazing places and people in the world as possible. It's something we did a fair bit together before having children and having kids hasn't stopped the travel bug, only COVID has so far, but it won't be long before we can get back out there on another adventure. These trips are the perfect time for my head to refresh as there are so many influences and inspirations whilst traveling. 
Besides that, my day-to-day escape in between my own music projects and production work for other artists are my coffee machine and podcasts. I try to jump in and out of podcasts as much as possible as they are a great way of keeping my mind active and refreshed – love the Joe Rogan Science series and Lex Fridman.  
Finally, even though there is seemingly a light at the end of the tunnel for the pandemic we still have quite a ways to go. If you could share an uplifting message for those who might be feeling down about the current state of the world, what would it be? 
I think I'd say how important it is to embrace music during tough times. It's such an amazing safe space to relax, unwind and escape. This pandemic has totally turned us upside down and whilst I'm hugely grateful for my work, my family, my home, and my friends through it all – music has been and always will be my therapy through whatever life throws at me.  
Again, thank you so much for taking the time to talk with me more. I cannot wait to finally catch a set from you as Itona and ENiGMA Dubz in the states. 
Thanks once again for your time and another great interview, love you guys.
---
Follow Itona on Social Media:
Facebook | Twitter | Instagram | SoundCloud | YouTube