Box Of Cats is back with Box Of Trax Vol. 5 and this installment will have you shaking, popping, and dropping low on the dancefloor!
---
We're in the middle of the deep winter months and if you're hibernating like most of us then there's little doubt you could use a little pick me up. So, shake the cobwebs out of your hair, kick off your slippers and robe, do some stretching to warm up those weary muscles, and put your game face on because it's time once again to let the Box Of Cats crew serve up some house!
Box Of Trax Vol. 5 has arrived with five fresh bangers from an exciting talent pool that has your pleasure at the forefront of their musical mission. Gettoblaster and Devon James put their collaboration game to the test and get our booties poppin'. LEFTI and N2N come back together for another jam, and after hearing "Juice" last year we couldn't be more pleased to see this reunion.
Of course, a party isn't a party without a little help from Case Of The Mondays who describe their sound as "Deep in tone and ghetto by nature." Even Lozz and Broken Bass are present and accounted for, bringing along a couple of tunes that will melt the icicles straight off of your heart. This package is full of life so take it for a spin and let the music do its work.
Listen to Box Of Trax Vol. 5 on Spotify or your preferred platform, and continue on for my take on the tunes!
Stream Box Of Cats – Box Of Trax Vol 5 on Spotify:
---
The Box Of Cats crew has started our engines, so it's time to get rowdy!
We're off to a phenomenal start with Gettoblaster and Devon James and the outlandish attitude of "My Body." The sound of popping bubbles keeps the mood light as the creepy vocal makes this offering perfect for some late-night debauchery. This track is meant to pull out your freaky side so embrace the energy and allow your body to follow the lead.
LEFTI and N2N shoot us through the moon with the funky fresh throwback character of "Be The Thing." This track has feel-good vibes written all over it as we're reminded to "keep on keepin' on," a message we can all use every once in a while and these boys deliver the uplift with unyielding class and style.
It's time to bust out your "Tambourine" and join Case Of The Mondays as we release all inhibitions and let loose. The lyrics sit perfectly in the tech house pocket and it is easy to get lost in the hypnotizing effect. The gentle bassline rolls beautifully through the ear and the crisp kick has me locked in and ready to shake what my momma gave me.
Of course, we can't enjoy a house package without visiting the cosmos at some point and Lozz knows it! So, he's crafted a little tune called "Space Voodoo" to quench all of our ethereal desires. Floating through the twinkling vacuum of space, Lozz sets the mind at ease with vibrant melodic accents, intriguing whispers, and a good-natured bassline to tie it all together.
Last but certainly not least, we land on Broken Bass' "Holla." I have come to the conclusion that Broken Bass is definitely someone to add to my watch list. This track is fierce! The initial edgy vocal clip leads into another vocal expression, but this time it's extra hot and spicy. Add to that some quick scratching and otherworldly tones and we have the making of a dance floor fire starter!
---
Box Of Cats – Box Of Trax Vol. 5 – Tracklist:
Gettoblaster & Devon James – My Body
LEFTI & N2N – Be The Thing
Case Of The Mondays – Tambourine
Lozz – Space Voodoo
Broken Bass – Holla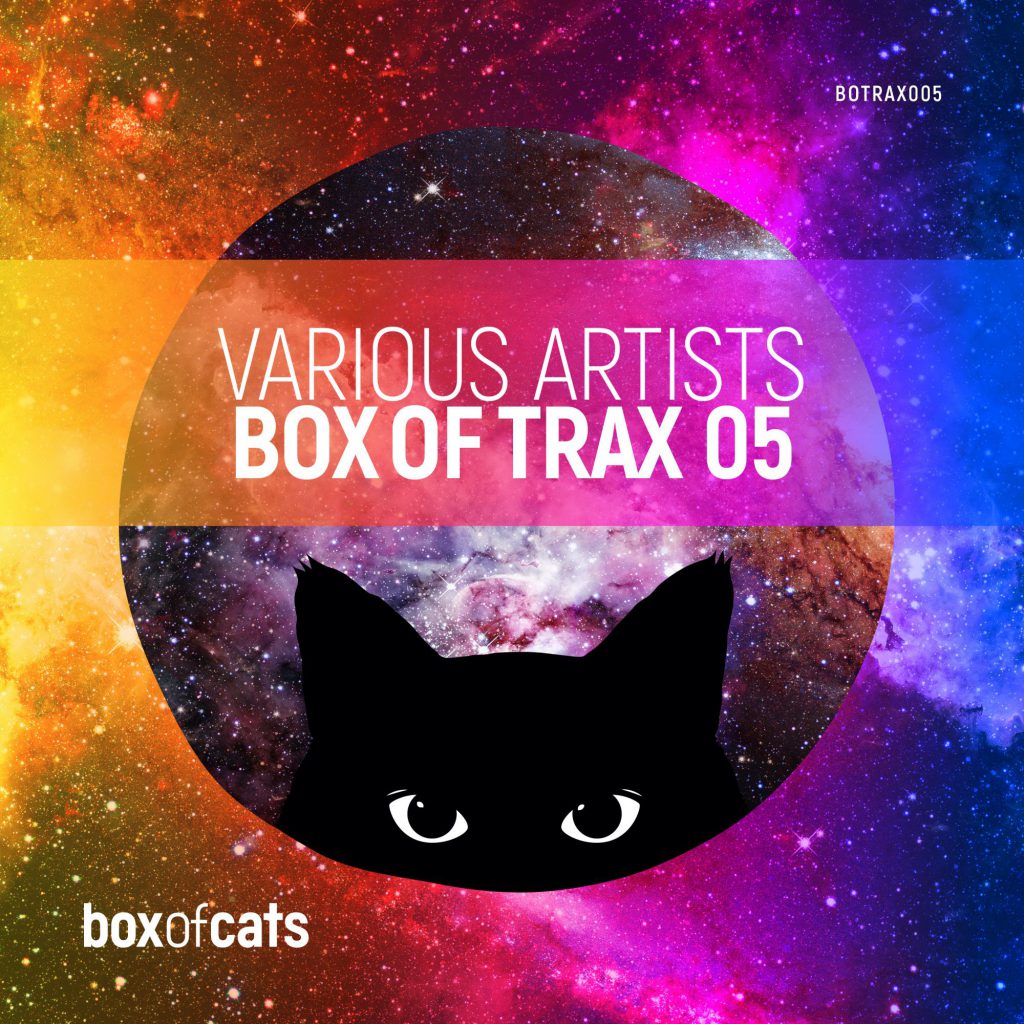 ---
Follow Box Of Cats on Social Media:
Website | Facebook | Twitter | Instagram | SoundCloud