Black Coffee returns to the spotlight with Subconsciously, featuring tracks that see him team up with Pharrell, David Guetta, Diplo, and more!
---
Over the past decade, internationally-renowned DJ and producer Black Coffee has graced speakers and stages near and far with his mesmerizing beats. During this time, he's collaborated with some of music's most prominent names, including the likes of Pharrell Willams and Drake, while offering up dynamic, wide-ranging productions. Now, fans can rejoice as he unveils his latest full-length album, Subconsciously.
Black Coffee has developed a recognizable and easily danceable sound throughout his career yet remains uniquely sensual and one of a kind. Within Subconsciously, we find ourselves sonically immersed in a vibe comparable to the slightly-drunken bliss in the pre-dawn hours of the morning. The album itself, bathed in a hazy scarlet light maintaining a palpable level of sex appeal throughout. 
Subconsciously is available now on all streaming platforms, so take a listen below and read on for a deeper dive into the latest album from Black Coffee.
Stream Black Coffee- Subconsciously on Spotify:
---
Subconsciously opens with the melancholic ballad "Lost," featuring DJ Angelo and vocal work from Jinadu ripe with emotion.
Black Coffee lays down a loungy, yet inspired kick drum setting a softened pace for the rest of the album with "Lost." Even though we might be feeling that emotion in full due to the uncertain state of the world, this track eases those feelings and welcomes listeners with open arms.
"You Need Me" with Maxine Ashley and Sun-El Musician arrives next and follows suit into an utterly sophisticated laid back beat that simultaneously demands movement. Guided by harmonic piano riffs and a highly successful "less is more" production approach while placing Maxine Ashley's vocals front and center, Black Coffee lets the track speak for itself with masterful restraint. 
Dance music mainstay Sabrina Claudio graces the album's condensed title track "SBCNCSLY" with her silky smooth dose of vocal affection.
Black Coffee's arpeggiated synth work and perfectly placed basslines define the backing beat of "SBCNCSLY," delivering a slight uptick in tempo while maintaining the sensual vibe riddled with desire. Then, Subconsciously comes alive around its midsection as "Time" features hip hop icon Cassie. It offers a fresh look at the artist of "Me and U" fame before diving into "LaLaLa" with Usher, another callback from that era that adds some spice to the album.
"Flava" follows next and delivers a beat that booms with dominant horns, yet the vocals from Una Rams and Tellaman felt misguided and led to me taking an express lane to the skip button. Fortunately for Black Coffee, he pulled in some reinforcements soon after as Pharrell Willams arrives with Jozzy on "10 Missed Calls." This tune puts Black Coffee back in his element and with exceptional vocal work from Jozzy it's a collaboration that's a refreshingly brilliant spin on radio-ready dance music in 2021.
Before the final two songs on the album, Black Coffee teams up with Celeste on the anthemic track "Ready For You" and Msaki on "Wish You Were Here." These two tunes help set a more chilled-out vibe that would fit perfectly as the soundtrack while laying in the green grass at Coachella.
Subconsciously crescendos in its final throws with "Drive" and "Never Gonna Forget," both of which are divine in their own right.
To close out the album, though, Black Coffee puts his absolute mastery of house collaborations front and center. "Drive," which was released back in 2018, stands as a definitive moment in his career. The single skyrocketed him into the limelight with this masterpiece calling upon David Guetta and Delilah Montagu to place their golden touch for an added bonus. It was great to see this one find a home on Subconsciously. 
The curtain falls with "Never Gonna Forget" which sees Black Coffee team up with Diplo and the ever-stunning Elderbrook. Black Coffee and Diplo's studio skills come together in harmony as Elderbrook's transcendent vocals perfectly complement the polished production and lift the track to a glimmering standout from the album.
Black Coffee continues to assert his dominance on the scene and Subconsciously further proves his skills as a producer.
Balancing star-studded collaborations with top-tier grooves that do not rely on a club or festival setting's safety to declare its quality. Subconsciously comes to fruition as a refined body of work highlighting his production abilities. Although a small handful of emotional flatlines can be found within it, this album from Black Coffee is impressive, to say the least.
---
Black Coffee – Subconsciously – Tracklist:
Lost (Ft. DJ Angelo & Jinadu)
You Need Me (Ft. Maxine Ashley)
SBCNCSLY (Ft. Sabrina Claudio)
I'm Fallin (Ft. Ry X)
Time (Ft. Cassie)
Lalala (Ft. Usher)
Flava (Ft. Una Rams & Tellaman)
10 Missed Calls (Ft. Pharrell Williams & Jozzy)
Ready For You (Ft. Celeste)
Wish You Were Here (Ft. Msaki)
Drive (Ft. David Guetta & Delilah Montagu)
Never Gona Forget (Ft. Diplo & Elderbrook)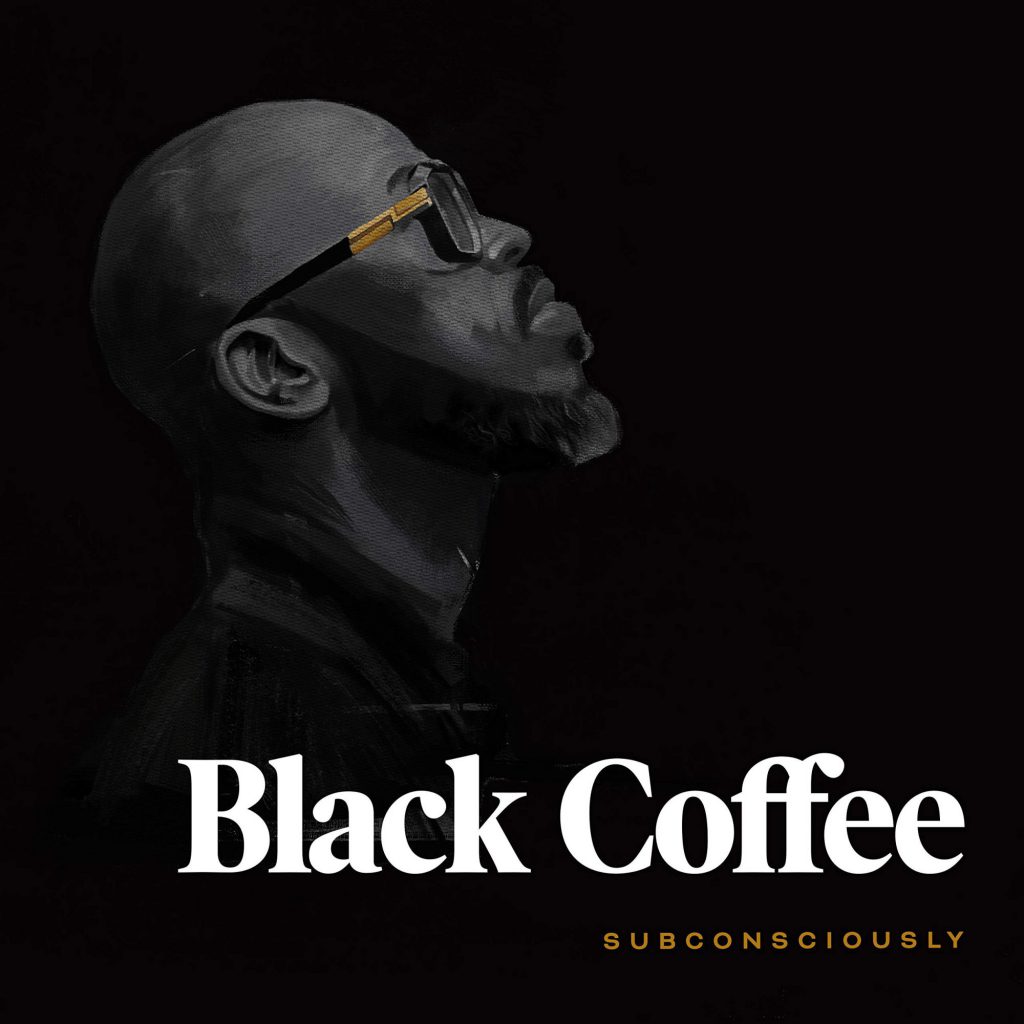 ---
Follow Black Coffee on Social Media:
Facebook | Twitter | Instagram | SoundCloud