Tastebuds will tingle when listening to the sounds on the spicy, yet sweet, Mind Overload EP from Secret Recipe.
---
Secret Recipe is an artist with an exquisite pallet for bass and you can hear that in the music that he makes as he cooks up some of the spiciest tunes that feel like they are rolling your body out like a pile of dough. Beyond producing his own music, he is one of the masterminds behind the beloved event company and label Wormhole, which has become renowned for pushing forward-thinkings sounds.
Last year Secret Recipe released tons of music like "How You Do That," "Bug Out," "Mistakes," and "Squiggles" with Meso. He also kept that Wormhole vibe alive by throwing Wormhole Wednesday streams, just like the regular events back in the days that seem so long ago. But now he's roared into 2021 with a fresh EP that he's cooked up, Mind Overload.
Mind Overload is a saucy, four-track EP that will have you feel like a noodle getting cooked on the stove. Fans have been craving some new music from Secret Recipe and after listening to the whole EP we're sure that it will put them in a state of pure elation. So if you haven't checked it out yet, do yourself a favor and bless those ears.
Throw on Secret Recipe's Mind Overload to add a little extra spiciness to your next adventure in the kitchen. Listen to the EP on your preferred music platform now and read on for my take on these four fresh tunes!
Stream Secret Recipe – Mind Overload EP on Spotify:
---
Mind Overload is exactly what you'll need to spice up your week as Secret Recipes shows off his mastery in the studio.
Mind Overload kicks off with "Don't You Know," a track packed with distorted synths, deep kicks, and sounds that will make you feel like you are playing instruments in the air. This was the perfect track to ease listeners in the EP and get them prepped for what is yet to come.
"Pendulate" with Zimbu and Asteroids arrives next and begins with slow, beautiful sounds that will make you feel so at peace. But once that buildup comes your energy is going to quickly change because it drops into a mean, stank-face-inducing ride. Then the EP's title track "Mind Overload" gets added into the mix and, well, the name speaks for itself. It is a collection of sweet and crunchy bass sounds. Listening to it was like having my brain kneaded like dough from all the bass-filled noises.
Last but not least is "Hopeless Machine," a personal favorite from the EP. It has that unmistakable, nitty-gritty bass that makes you feel like you rubbed a balloon on your arm and all the hairs stand up. I instantly imagined myself being back at a Wormhole show, dancing my the speakers with my friends to a Secret Recipe set. But until shows are back this EP will tide me over!
---
Secret Recipe – Mind Overload EP – Tracklist:
Don't You Know
Pendulate w/ Zimbu and Asteroids
Mind Overload
Hopeless Machine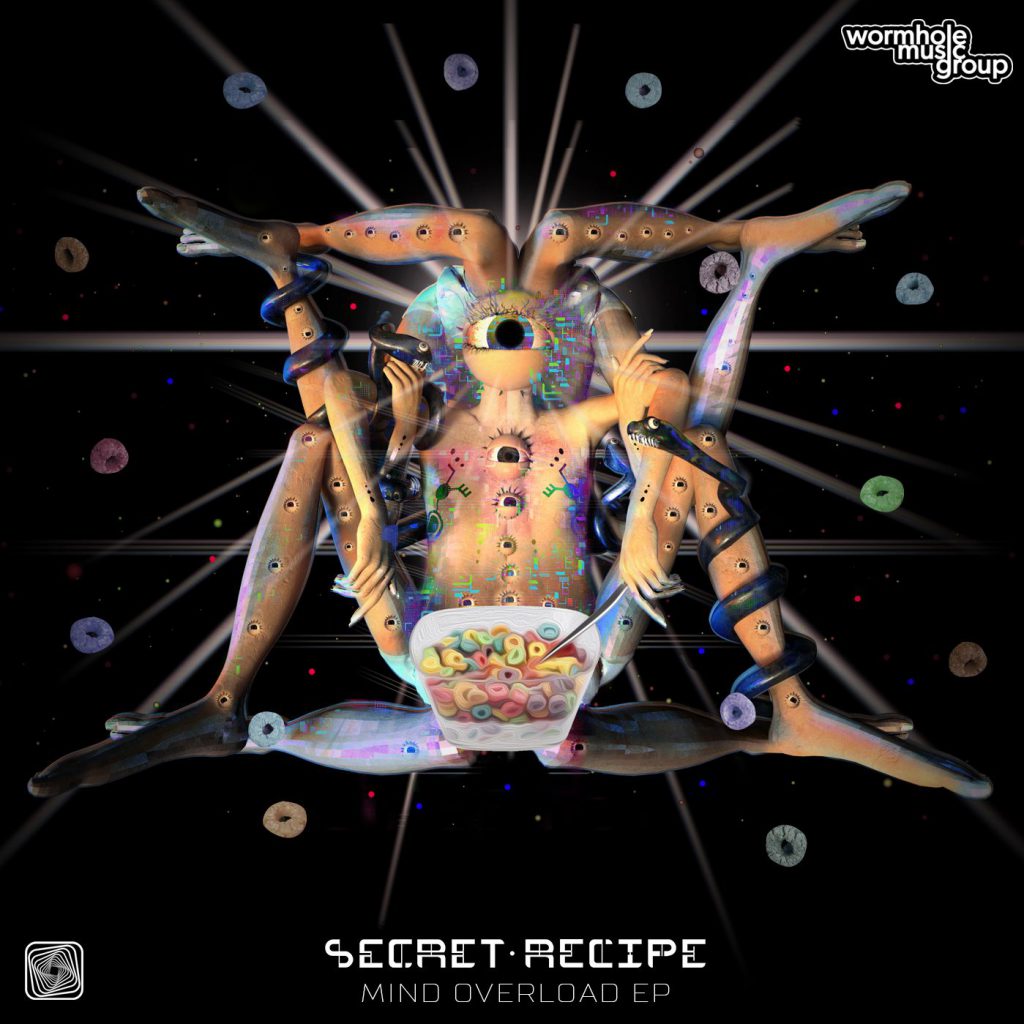 ---
Follow Secret Recipe on Social Media:
Facebook | Twitter | Instagram | SoundCloud | Twitch