LP Giobbi swung by to give some extra insight into FEMME HOUSE, her clothing brand GIOBBI, and her growth as an artist.
---
It's a tall order to push dance music culture forward and to stand for something. But even as challenges seem to stack up, LP Giobbi has met them with tenacity. While she has her hand in a number of projects beyond her work as an artist, her recent energy and efforts have gone into building a more inclusive scene with her non-profit, FEMME HOUSE.
The goal of FEMME HOUSE is to create and foster more equitable opportunities for women and non-binary people in the technical areas of music. Their vision is to create future producers, mixers, and engineers of the industry by offering educational workshops, building a community, and propagating visual representation. They go the extra mile as well with professional development resources such as networking, mentorship, and more.
Even in the face of the pandemic, FEMME HOUSE continued to play a big role in furthering its mission. Workshops went virtual and their weekly Friday raids on Twitch have been filled with plenty of talented artists throughout its run so far. Make sure to follow them on social media to stay up-to-date on their latest announcements, and donate directly to support the curriculum, students, and partners.
Looking to dive deeper into FEMME HOUSE and everything else the LP Giobbi has been up to lately, we had the chance to chat with her and jumped at the opportunity. Listen to the This Is Femme House mix on SoundCloud and read on for the full conversation!
Listen to LP Giobbi's This is Femme House Mix on SoundCloud:
---
Thanks so much for taking the time to chat with us today LP Giobbi. In 2019 you co-founded FEMME HOUSE, an educational platform to address the lack of representation and equity in the scene for women and non-binary people. Can you share the story of how this non-profit came to be?
LP Giobbi: Yea absolutely, where do we even begin. I studied jazz piano performance at UC Berkeley and then graduated and was like "now what am I going to do?". I eventually moved down to Los Angeles to join an all-female electronic band. I was doing a bunch of sound design and synthesis stuff for the band. We were constantly in the studio with producers. They were all dudes. We had great experiences, but I remember sitting in the studio one day and reading an article about Grimes and how she produced her own records.
I had this massive light bulb moment. Like, my mind was blown because here I was constantly in the studio, and never once did I think I could be that role of the producer. I think it was a very subconscious thing. I was raised by hippies who always said "you can do anything" and I just never even thought of that role because I didn't see myself in that role. So, it was an a-ha moment of "Woah what else do I subconsciously think I can't do?" That was a pretty wild moment.
So then I became hell-bent on learning how to produce because I wanted to be for someone else what Grimes was to me. I spent the next few years trapped in a garage teaching myself. I started in Pro Tools and eventually migrated to Ableton. It didn't at all in any way, shape, or form, come naturally to me. I didn't have a natural ability towards it, but I think that my stubborn feminism kept me going.
The first course I took in Ableton was me and 229 guys. For me, it pumped me up like "I'm gonna do this" but I know that isn't the case for everybody. Most people learn better when they are feeling less stressed, anxious, and in a safe space. So, as soon as I could, had the bandwidth, and the people around me, we launched FEMME HOUSE in 2019. We really launched at Moogfest. I was playing the festival and it really felt like the right place because it's a tech-heavy, nerdier, gear focused festival.
There were only a handful of women playing at the festival so we brought them all together and did a panel. I taught a masterclass on this AI technology in Ableton that helps you make music. Then from there, we launched all our free workshops and online courses, and now on Saturday, February 6, we are launching FEMME HOUSE Radio on Diplo's Revolution on Sirius XM which I'm really pumped about.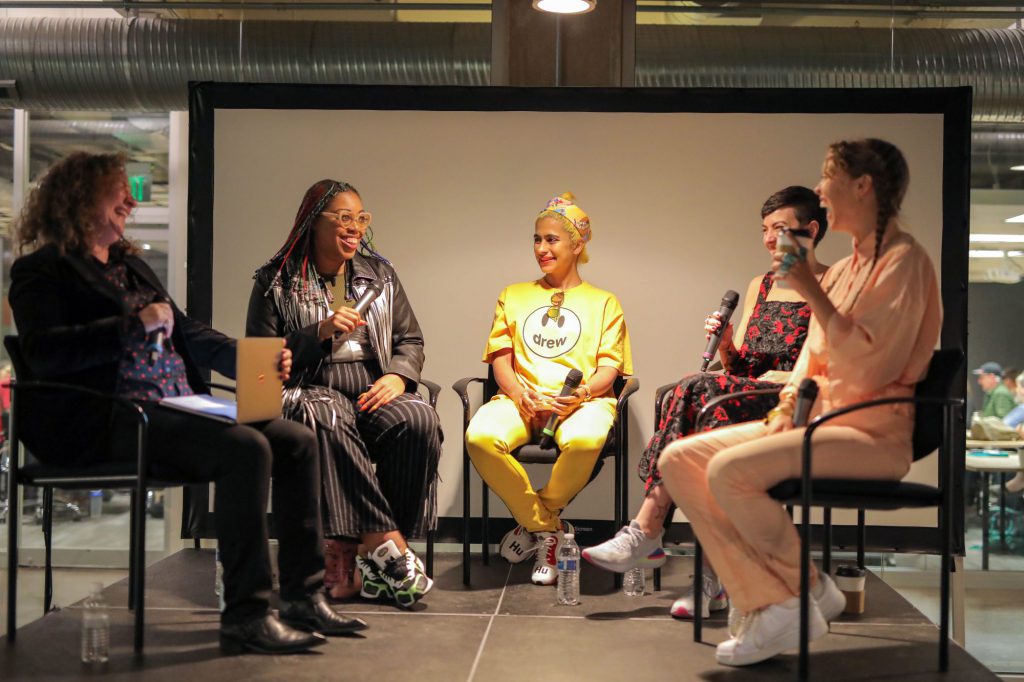 Speaking of the FEMME HOUSE radio show on Diplo's Revolution on Sirius XM, what details can you divulge and when should we tune in?
Yea, actually, right before this I finished my first interview with Anabel Englund who is going to be the first guest. We chatted for about an hour and she is awesome. She's doing so many great things in her career, she's got a Billboard #1. That was my first time being on the other side of the interview and that was a trip. It made me feel really nervous, but luckily I'm doing it once a week so I will get better. It's every Saturday night at 9PM ET on Diplo's Revolution on Sirius XM.
The format is I'll either be making the mix and shouting out artists I love or I interview other women in dance music and they'll make a mix. We'll put a little five-minute clip of the interview over that mix and the full interview, which will also have a video component, will live on the THIS IS FEMME HOUSE Twitch Channel.
Since the launch of FEMME HOUSE there have been a number of free workshops and different courses that have become available. How did your approach change due to the pandemic? Do you feel it expanded your mission beyond Los Angeles?
Yes, absolutely. There have been a lot of blessings and silver linings. I was touring and playing a show in Berlin and a woman came up to the merch booth after and asked if I was going to do any FEMME HOUSE workshops while I was there. Unfortunately, I was only in the city for a few hours, but that was kind of the beginning of really wanting to take things online. We were working on online courses before the pandemic, but once it hit we moved our free workshops online.
That was a blessing because more people could attend from all over. Also, the workshops are sort of intros to the more in-depth online courses so it allows people to get their feet wet and see if it's something they really want to dive into. I feel really blessed to be able to grow the community online. Also, with the pandemic, I started streaming on Twitch which is something I never thought I would be doing, but that kind of helped us start FEMME HOUSE Fridays.
We use Twitch's raid system and raid to a full lineup of awesome female artists and DJs. Elena actually runs the FEMME HOUSE Twitch and she is always in the chat making funny and witty remarks.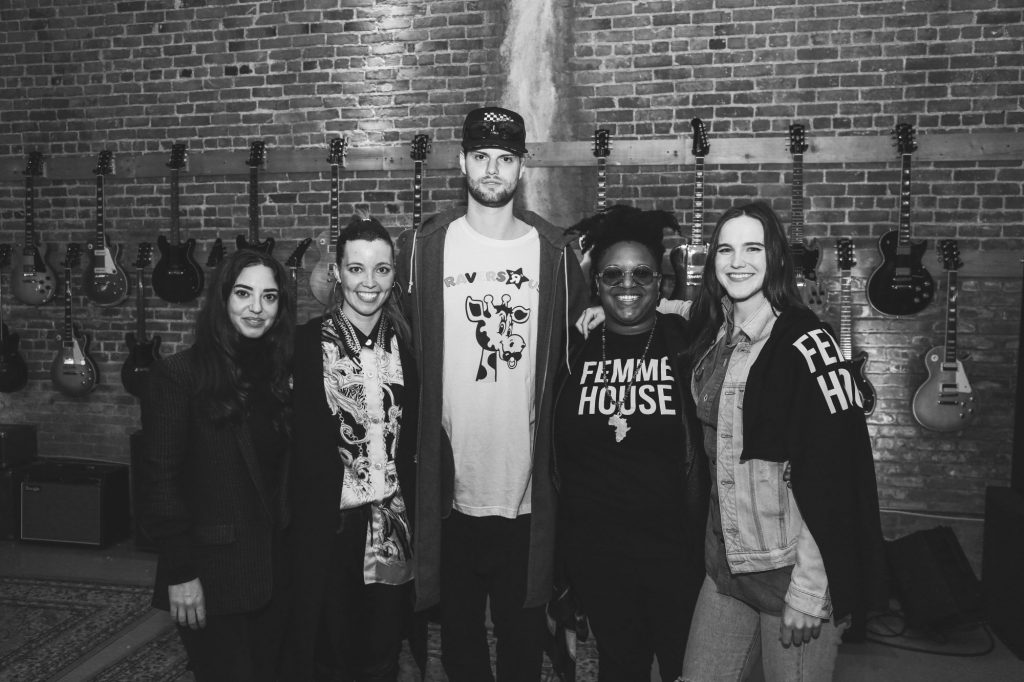 Speaking of the explosion of live streaming and FEMME HOUSE Fridays, what has been your favorite live stream to play, and which one has been your favorite to catch so far?
I actually just did a Beatport stream that was really fun. I got a DM afterward from Hayden James saying he tuned in and was into it. And, Diplo and Will Clarke! So, I was like, "okay this stream must've been working somehow." They're like 3 of my favorite producers. So, that one was really fun.
As far as FEMME HOUSE streams, I was truly blown away by LUVU. They reached out to me to see if they could be part of FEMME HOUSE Fridays so I checked out their page and it looked really cool. I do a residency on Blond:ish's ABRACADRBA and after one of my sets was LUVU so I was able to check them out. Then they hit me up to be part of FEMME HOUSE Fridays.
So the day I released "Move Your Body" on Insomniac, they performed as part of that FEMME HOUSE Friday raid and they remade the song live. I reposted it on Instagram and Insomniac saw it and was asking who it was because they were interested in booking them for future events. Like, yes! That's what it's all about!
There has been immense support for FEMME HOUSE from brands like Desert Hearts to companies like Moog and Ableton. While those big brands surely help, what can regular members of the scene do to help create and foster a better dance culture in the future?
That is a great question, I have never been asked that before so well done. I think supporting however you can. Bookers look to see what the artist is worth in the market, how many tickets they sold in the past, and that's kind of how they get a slot at festivals. Everything all kind of builds on each other so whenever you can buy a ticket to a female artist's show that's super important.
Streaming their music is also super important. Getting those streaming numbers up helps a lot because that's what the industry uses as a metric of success. Tuning into their Twitch channels whenever they are streaming. Buying any of their songs whether it's on Beatport, Bandcamp, or iTunes. Whatever the platform is.
FEMME HOUSE is also a non-profit 501(c)(3) and runs completely off donations to pay for our full-time educator Mini Bear who is amazing and runs all the curriculum. We're also launching a scholarship program for women of color to set them up with all the gear they need to produce as well as all the courses. Some of the partners in that are Ableton, Guitar Center, Native Instruments, Roland, and Moog. So any donation goes right back into these artists and supporting them to make sure they have all the tools needed to do their thing.
You have your hand in a number of projects. From your clothing line and FEMME HOUSE to producing and playing music. How do you stay organized and motivated, especially when there has been so much uncertainty?
It's been crazy. I'm also the North American Music Director for W Hotels and I run all their bookings and playlists. They have a record label I also help support and there are a bunch of recording studios on property. It's a big balancing game. A lot of sleep deprivation. You know, we will make it out of this pandemic, it will end. So what keeps me going is I want to be the best artist I can be and have these organizations running and ready to go once the pandemic ends. Getting ready for all that and seeing a little light at the end of the tunnel keeps me going.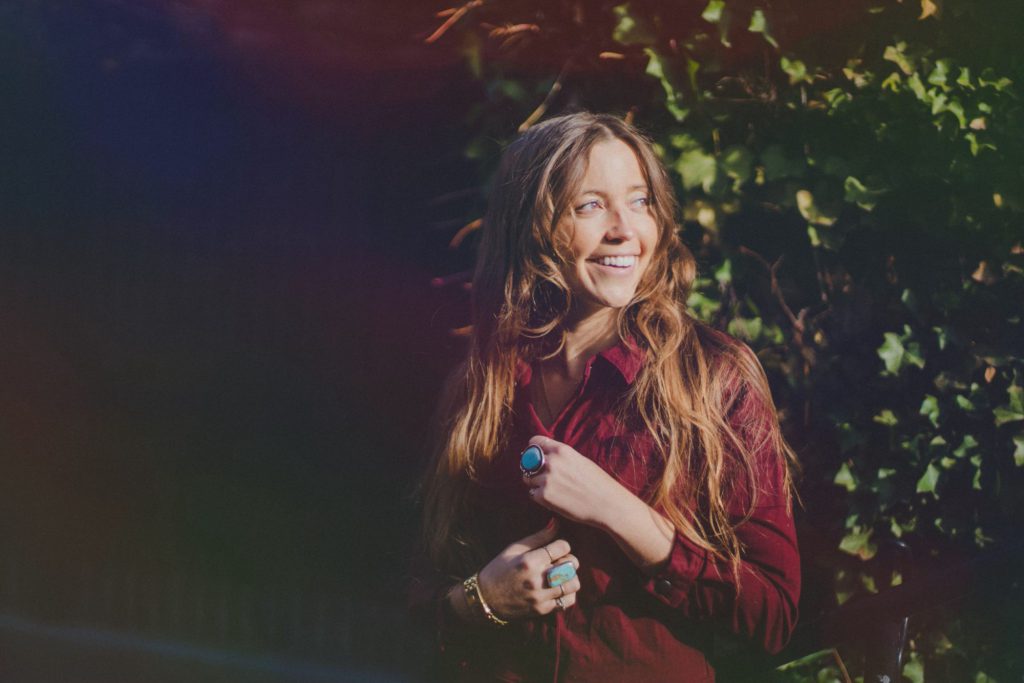 Your clothing line, GIOBBI, is clothing with a purpose. Where do you draw your creative inspiration from in the fashion world?
I haven't been able to focus as much energy on that recently, but I think a lot of being an artist is about staying connected to your inner child and the things that make you happy. I read a book called The Artist's Way. I've actually read it a thousand times. It's my favorite book ever. As soon as I finish I start it again. It touches on a kind of spiritual practice that teaches you how to stay in touch with being the best artist you can be and supporting yourself.
One of the things it makes you do is go on artist dates with yourself. An artist date could be going to get a box of berries because you love the way they smell and how they taste or keeping a spray around that incites a happy memory from childhood. Or, putting little tiny unicorn figures on your desk if that's what makes you feel happy and silly. Just finding those small things that make you feel happy and silly is where I draw a lot of inspiration when designing.
With the imminent return of live music, have you brainstormed any new ideas for future shows?
Oh totally yea. I went and stayed with Soph and Tuck for a month. I got into their bubble which was a long process, but I got in. Sophie had just gotten the new DJS-1000 which is Pioneer gear that connects to the CDJs, but it's sort of a sampler/looper/audio toy. I always tour with a piano so I DJ and play piano, but this thing I've now set up so that…well, I saw Sophie do it and of course I wanted to do it.
So I got one myself, and I run my keyboard through it so I can live loop and record live piano loops and mess with them in the sampler. So I'm adding that which I love. I work with Moog a lot. They're my favorite synthesizer company. I'll probably be adding a few of their toys into my set when shows return. At least for the bigger non-club sets. So definitely starting to build around those.
Finally, what personal goals do you have for 2021? Are there any exciting new releases or other fresh projects you are currently working on?
Ooo yea, I'm working on some tunes with Born Dirty that I absolutely love and cannot wait for them to come out. Some of my goals for 2021, so like, I was touring about 9 months out of the year before all this happened. And, although I wouldn't trade any of those memories I wasn't really being good at being a full human. I would play a show then go to an after-party and play another show. Then get back to my bunk on the tour bus and send e-mails until 2 in the morning. Then wake up at 7 AM and have a studio session.
I was kind of an obsessive type-A worker and lost sight of reading a book for pleasure. So when the pandemic hit I had no internal resources to pull from. I was very tapped out. For 2021 and going into 2022 when shows start returning I will be finding a better work/life balance. Making sure I refuel myself so I have creative wells to pull from. That balance is getting harder and harder as my career and FEMME HOUSE starts to take off. It has definitely challenged me, but I've started to go on daily walks just to look around me and have more presentness and awareness.
---
Follow LP Giobbi on Social Media:
Website | Facebook | Twitter | Instagram | SoundCloud | YouTube | Twitch