Electric Hawk is bringing the community together with their latest compilation, In Unity, which is a beautiful reminder that music connects us all.
---
Earlier this week, some mysterious "In Unity" billboards began appearing on Twitter that directed everyone to a website with a countdown, leading people to wonder what was going on. Well the cat, or rather the hawk, is out of the bag, as the team behind this plan is none other than Electric Hawk. Out now across all platforms, In Unity is a follow-up compilation to 2019's In Harmony, and features artists spanning a number of genres including wave, funk, DnB, and dubstep.
Listening to each track on In Unity is sure to make you smile or make a serious stank face, and it's some of their best work yet. The compilation is filled to the brim with 14 new tracks from artists like Mythm, FRQ NCY, NotLö x Sky Suite, Redrum, ENiGMA Dubz, Deadcrow, and more. It truly makes you appreciate all the different soundscapes that are out there to explore.
Electric Hawk consistently shows love to the scene and always brings people together to enjoy what they love, and In Unity is a beautiful reminder of that. We do not know what 2021 has in store, but knowing that we all have each other and the music that connects us is certainly going to help push us forward. Hopefully, the music from In Unity will make you feel a little bit of happiness in these uncertain times.
Stream In Unity on Spotify or your preferred platform and read on for an in-depth review of the latest compilation from Electric Hawk.
Stream Electric Hawk – In Unity on Spotify:
---
Starting things off on In Unity is Redrum and hear latest track "Fluid," and soon after that you will "Fade Away" with Slowpalace.
Short but oh so sweet, Redrum is blessing ears with "Fluid." Listening to this made me feel like I was turning into a puddle and floating down a stream. She is so talented and really knows how to capture you with her sounds. I can promise if you are ever feeling down, just close your eyes and listen to this tune, and your soul will feel so at ease.
Keeping those emotions high is Slowpalace's "Fade Away." I love when a song can have these loud yet beautiful sounds intertwined into them and this song will build up and drop you into a mess of emotions (in the best possible way). Halfway through it lets you catch your breath before dropping right back into a rollercoaster of feels.
Next up is a track from the legend, Enigma Dubz. He is going to have listeners souls floating away with "Blue Moon."
Enigma Dubz is such a master at his craft. Whether he is putting out nasty bangers, liquid drum and bass, or tunes that make you feel overwhelmed with emotions, his music is always incredible and hits on a different level. "Blue Moon" had my eyes almost filled with tears, it is such a beautiful and emotional arrangement of sounds. Listening to it made me feel like I was floating on a cloud, with pink and blue skies surrounding me. As much as I love his filthy stuff, Enigma Dubz's mellow tunes like this make me feel so at peace.
Drum and bass fans are going to go bonkers for NIK P's "Crescent" and Rohaan's "Limewire."
"Crescent" is the perfect tune to skank to. I felt like NIK P turned me into an instant noodle when that drop hit, my appreciation grew deeper for drum and bass – especially when they have that deep, gritty undertone to it. The same goes for Rohaan with "Limewire," as it rolls over each sound like a snowball falling down a mountain side. I don't think anyone who hears these tracks will be able to resist getting up and moving to it.
NotLö and Skysuite have created one booty shaking banger with their collaboration "Dismantle."
I don't know if NotLö and Skysuite were trying to dismantle brains with this one, but my mind felt like it was being taken apart piece by piece and put back together like a game of Tetris. Hearing "Dismantle" almost made me feel like I was at a Slugwife set. These two really showed off how versatile they can be with their sound designs, and I really hope we get more projects like this from the two of them. This one is definitely getting added to my playlists.
Talk about some big ol' tunas! Mythm, Sup Yao and DJ Ride, and Deadcrow came in swinging with each of their tracks on In Unity.
Mythm was one of our artists to watch this year and after listening to "Lockjaw" it is very clear why. His sound design is immense and you can feel the energy he pours into his production. He has become one of my favorite producers and never fails to blow me away with what he puts out. "Lockjaw" reminded me why I fell in love with his music and all I could think about was hearing it rinsed on a fat rig, getting down with a bunch of dubstep loving humans.
Switching up the vibe is Sup Yao and DJ Ride's "UNDRG." The track is full of distorted and static sounds. You know when you rub a balloon on your arm and all your hairs stand up and feel a tickle like sensation? That is how I felt listening to this track and there are major G Jones vibes coming from this one. These two did a superb job on this collaboration.
Deadcrow is another artist that brings those deep, dark, and seriously dank sounds. I love dubstep that makes you grab at the air and shake your head cause you cannot believe how filthy it is. "Predator" had me craving more, as the kick drums and bassline all were so clean and perfectly arranged. I was bobbing my head and throwing my finger guns in the air while it played. Tunes like this and Mythm's, deserve to be played out on a proper system, they'll make bodies vibrate from the bass.
I certainly felt like a boiled egg listening to Farrah's "Boiling" and Tek Genesis's "Holographix" and FRQ NCY is right behind them with his tune "Epiphany."
Hot damn, "Boiling" is one hell of a fiery tune. There are so many different sounds in it and they are all the perfect recipe for one booty-shaking piece of music. This was my first time listening to Farrah and I am a HUGE fan now! From start to finish this track had me guessing what was coming next, and each time I was blown away with what I heard. Then, my jaw dropped and I shouted "oh my god" when I heard Tek Genesis's "Holographix." The distorted sounds had me ooh-ing and ahh-ing, and fans of those angry and glitchy noises are sure to love this one.
FRQ NCY changes things up with "Epiphany." Giving fans a very sweet treat with this feel-good tune. I could imagine myself driving through the redwoods while this was playing in the background. This is a different style than what I usually think of when I think of FRQ NCY, but not in a bad way at all. He is a great producer and is showing his ability to change up what he creates.
A mysterious, yet groovy, "Monolith" appears on In Unity from Capshun, Eyezic, and Spuke before Muzzy Bear delivers the finishing blow.
"Monolith" is a wonderful mix of beautiful sounds from Capshun, Eyezic, and Spuke. You know, the ones that will make you want to shuffle around, close your eyes, and smile. The drumline that tickles your ears throughout the track and sweet untz untz's blended perfectly together. My cheeks honestly started to hurt from cheesing so hard when listening to it because the tune made me feel so much bliss and I felt at peace.
Muzzy Bear is going to have you getting groovy on the dancefloor to "More and More." This was the perfect way to bring Unity to an end. It reminds me of a song you would hear playing at the end of an old movie when everyone is just happy-go-lucky. The trumpet and glistening bells just added that extra little something. Bring in the old school, catchy vocals and you have one impeccable track. It just made me want to come back for more and more.
---
Electric Hawk – In Unity – Tracklist:
Redrum – Fluid
Slowpalace – Fade Away
Enigma Dubz – Blue Moon
Rohaan – Limewire
Nik P – Crescent
NotLo x Sky Suite – Dismantle
MYTHM – Lockjaw
DJ Ride x Subp Yao – UNDRG
Farrah – Boiling
Deadcrow – Predator
Tek Genesis – Holographix
FRQ NCY – Epiphany
Capshun x Eyezic x Spuke – Monolith
Muzzy Bearr – Keep Comin Back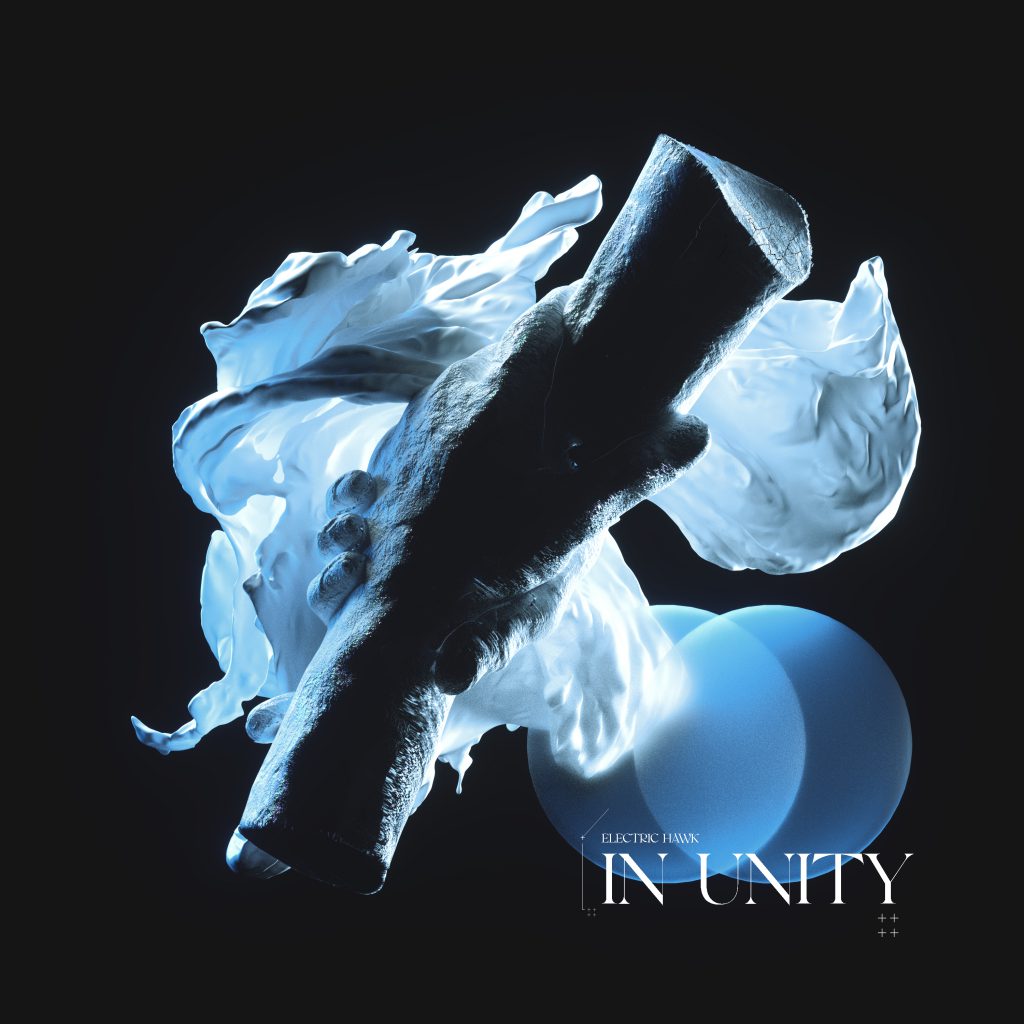 ---
Follow Electric Hawk on Social Media:
Website | Facebook | Twitter | Instagram | SoundCloud | YouTube | Twitch