Anna Morgan, JEANIE, Fransis Derelle, and more are taking the virtual stage during Electric Hawk's In Harmony In Solidarity Livestream!
---
There's no doubt that Electric Hawk has been one of the most dominating forces in the livestreaming realm during the COVID-19 pandemic. Since the debut edition of Harmony Festival, they've continued to bring some serious heat to the virtual stage with each passing edition. Now, they're refocusing their efforts with a new streaming event dubbed In Harmony In Solidarity.
Set to take place on Friday, June 12, Electric Hawk's In Harmony In Solidarity is bringing fantastic artists to the stage to dominate your eardrums. The stacked lineup features everyone from Anna Morgan and A Hundred Drums to Fransis Derelle and Floret Loret. And with the schedule that dropped today, they added even more power to the show with JEANIE and LAXCITY joining the bill.
Related: Looking for some beats to get your hyped for the show this weekend? Check out REBIRTH to get your body energized and ready to go!
While their other livestreams have raised funds that go directly to the artists playing, this special edition will see 100% of the donations going to the Black Visions Collective organization. So not only will there be amazing beats when you tune in but an opportunity to give back to a great cause as well.
RSVP now so you can stay in the know the moment your favorite artists take the virtual stage on Friday and let us know who you're most stoked to catch in the comments below.
Tune in to the Electric Hawk TV on Twitch:
---
Electric Hawk Presents In Harmony In Solidarity – Schedule:
Please note that the set times below are in the Central Time Zone, so adjust your schedules accordingly!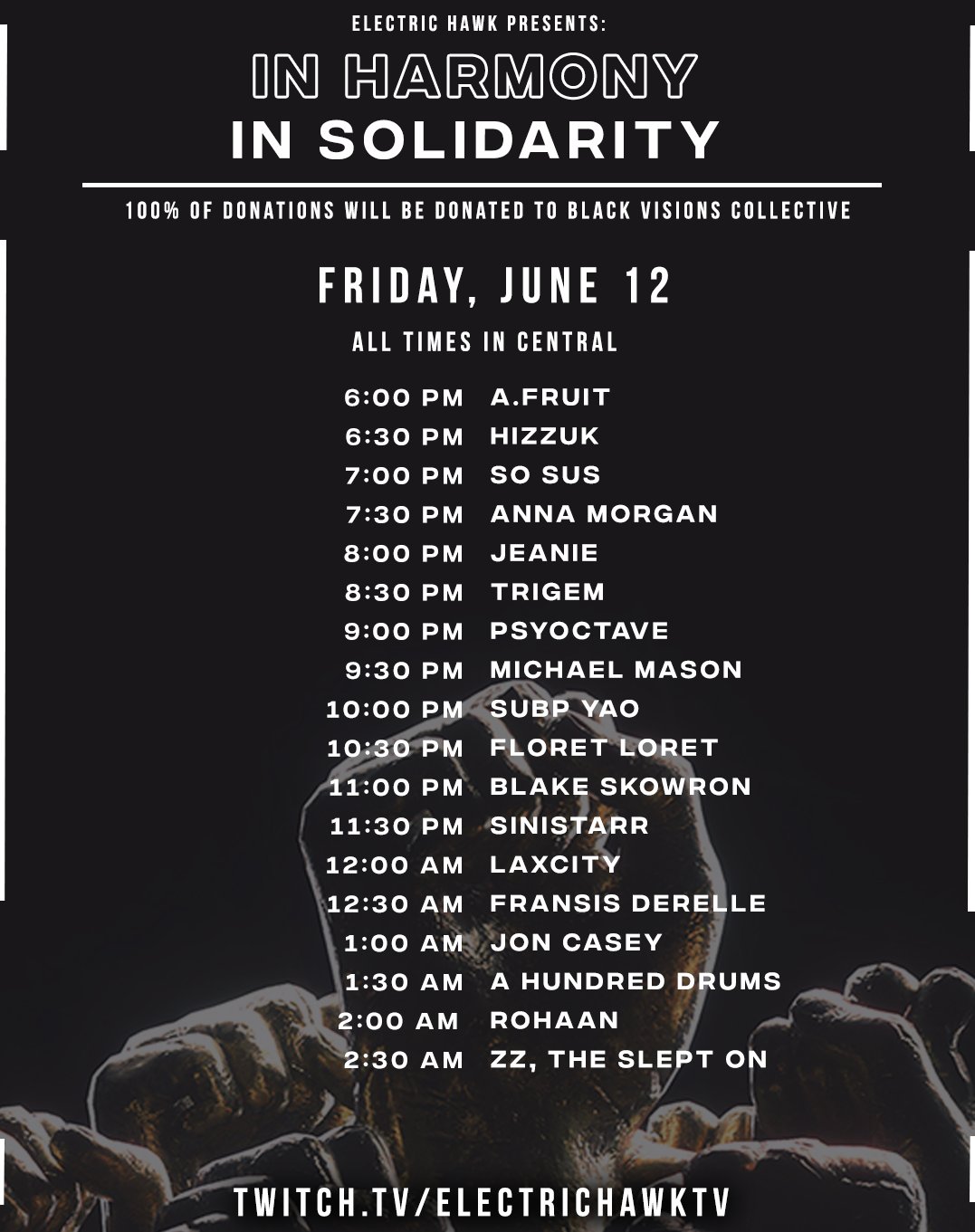 ---
Follow Electric Hawk on Social Media:
Website | Facebook | Twitter | Instagram | SoundCloud | YouTube