The BPM Festival Costa Rica has pushed its upcoming edition in Tamarindo from March 2021 to early January 2022.
---
Late last year, The BPM Festival announced dates for their upcoming edition in Costa Rica and delivered an initial lineup filled with some of the house and techno scene's top artists. Although the hype was building a sense of uncertainty still remained as the COVID-19 pandemic continued to dominate the world, and now they've announced that they've pushed the festival from their March 2021 dates to early January 2022.
Posting the news to social media accounts, The BPM Festival organizers stated that they had been working in collaboration with the Costa Rican government to get the festival up and running. But due to complete clarity on restrictions being unattainable, they wouldn't be able to deliver the experience that fans have come to expect from the organizers and are therefore pushing the festival to its new dates on January 12-18, 2022.
"We would like to underscore that the postponement is by no means a result of outbreaks within the country or failure to obtain BPM-related permits or clearances," the statement reads. "Our main priority is and always has been to provide our guests with the most enjoyable experience in the safest environment possible. Unfortunately, with the continued uncertainty surrounding COVID-19, this proved to be an unattainable goal."
Those who had purchased tickets for the upcoming edition in Costa Rica have two options. If they roll over their passes to 2022, all 5-day passes will be converted to 7-day passes, with eight additional showcases as well as BPM merch as a thank you. The second option is to refund via Xtixs, which will be available until January 25, 2021.
Stay tuned for more information about other cancellations and postponements from around the world as we continue to follow the impact that the coronavirus has on the festival season this year.
Read the full statement from The BPM Festival: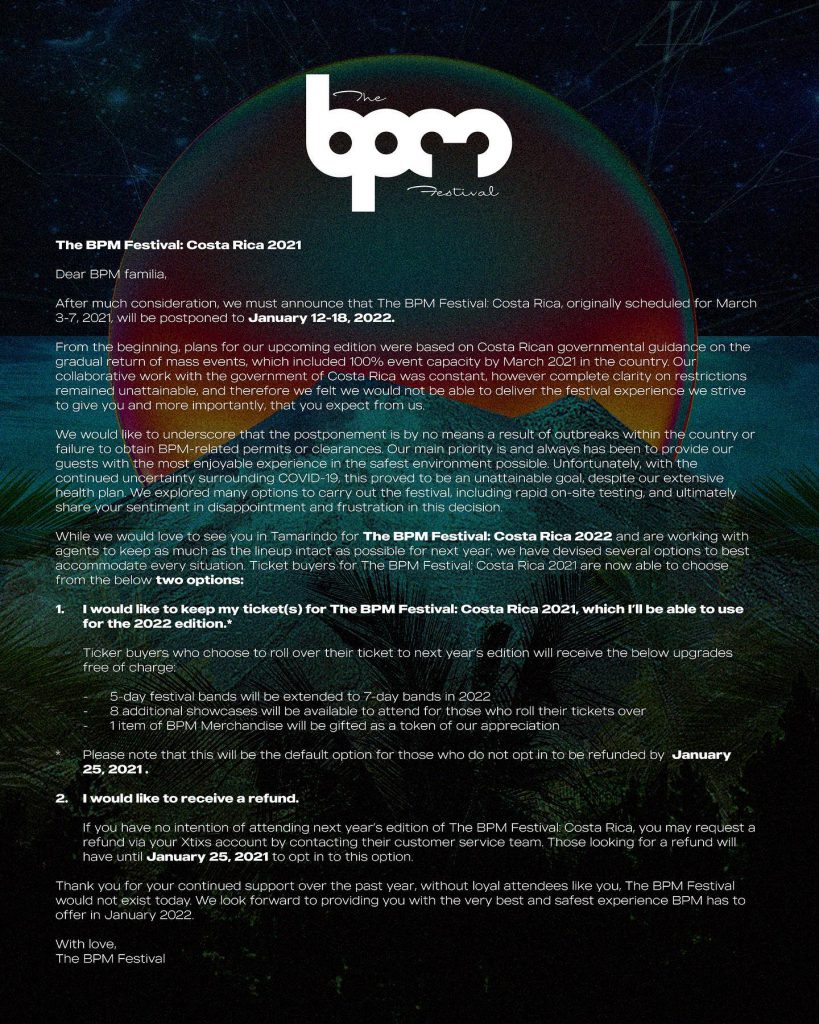 ---
Connect with The BPM Festival on Social Media:
Website | Facebook | Twitter | Instagram | SoundCloud