The Graydient Collective has announced the artists who will be taking the stage in December during the Gallery Sessions series on Twitch!
---
This year, Julian Gray and members of the Graydient Collective have shown that even in the face of uncertainty music can offer an escape from the madness. Proving this through their own livestream performances, the release of Colors, Vol. 2, or their Gallery Live showcase that put the spotlight on rising artists in the scene, the collective has gone the extra mile to help further grow the scene.
The latest concept to come from the brilliant minds behind the Graydient Collective is the Gallery Sessions series that had a rocking debut run of performances in November. Now, the series will continue on into December to keep us all warm from the cold weather and satiate our cravings for unique performances with an intimate atmosphere. (Trust us, you'll want to be in the chat as some surprise guests always show up to support.)
Hosted every Sunday at 3pm PT, the lineup for December is sublime. German electronic artist NoVinum will kick things off in style with a set that will showcase his immersive soundscapes on December 6, while Guna takes over the decks the following week on December 13 with some house to vibe out with.
The Holiday Special will be a treat for anyone who has fallen in love with the Graydient Collective this year on December 20 as each artist featured during the stream has delivered fantastic mixes. BlindSpider and Porth Nole have wowed with their releases while 28mm left us impressed with his own flurry of tunes. Of course, Julian Gray has led the charge for Graydient Collective as they continue their rise with his own stunners as well. And just before the end of the year on December 27, Canadian artist LUNR will help us say goodbye to 2020 and welcome the new year in with open arms with an offering of melodic beats.
Make sure to follow Graydient Collective on Facebook and Twitch so you know the moment they go live, tune in to each episode below, and stay tuned for more from this fantastic group of artists in the coming months!
Tune in to Graydient Collective's Gallery Sessions series on Twitch:
---
Graydient Sessions – December 2020 Schedule: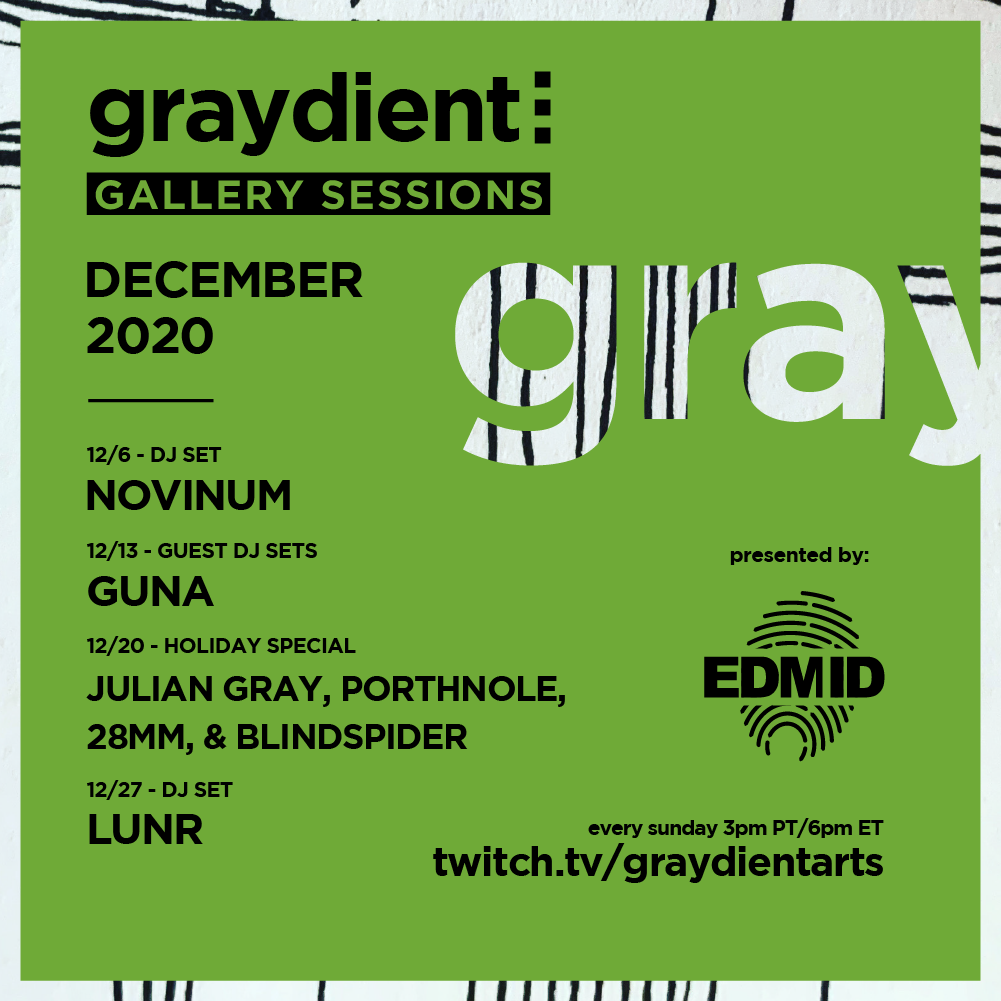 ---
Follow Graydient Collective on Social Media:
Website | Facebook | Twitter | Instagram | SoundCloud | YouTube | Twitch