Julian Gray and the Graydient Collective will be keeping dance music lovers satiated this fall with their new Gallery Sessions series on Twitch!
---
The pandemic might have thrown a wrench in everyone's plans this year, but that hasn't kept Julian Gray and the Graydient Collective from continuing to press on with their mission of bringing forth forward-thinking sounds and unique styles to speakers near and far. Now, they're looking to showcase the rising stars who share that common goal with their latest announcement, the Gallery Sessions livestream series.
This past summer, Graydient Collective left a lasting impression with their Gallery Live showcase on Twitch that brought a diverse range of electronic beats with a touch of poetry to the platform. Hosted as a preview of what was to come on the second volume of their Colors compilation series, it featured a jam-packed lineup of artists including ASHE, monstergetdown, 28mm, porth nole, and Julian Gray… to name a few.
After that massive showcase and the release of their well-received compilation, Julian Gray and the Graydient Collective began to search for new ways to continue to put talented artists on display. The result? Gallery Sessions – a weekly series on their Twitch channel that will feature an array of artists you simply won't want to miss.
Hosted every Sunday at 3pm PT, the lineup for November is sublime with sounds coming from porth nole (Nov. 1), Janpaul (Nov. 8), Ghost Data (Nov. 15), Zach Meyers (Nov. 22), and Rhett (Nov. 29). Each performance will give those who tune in fresh beats to vibe out to that will surely help subside the Sunday Scaries, so make sure to tune in to catch the latest artists on the rise.
Make sure to follow Graydient Collective on Facebook and Twitch so you know the moment they go live, tune in to each episode below, and stay tuned for more from this fantastic group of artists in the coming months!
Tune in to Graydient Collective's Gallery Sessions series on Twitch:
---
Graydient Sessions – November 2020 Schedule: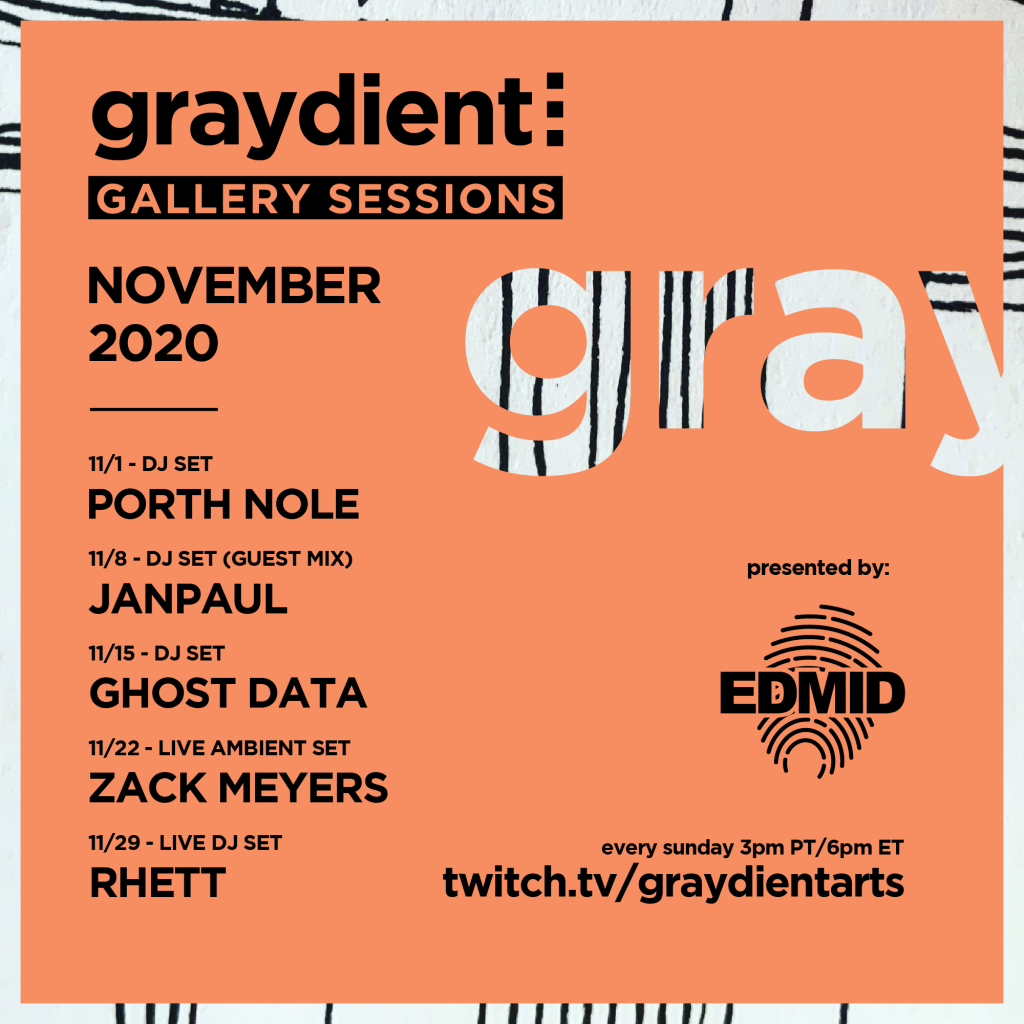 ---
Follow Graydient Collective on Social Media:
Website | Facebook | Twitter | Instagram | SoundCloud | YouTube | Twitch