ford. solidifies his lo-fi legacy with his second full-length album, The Color of Nothing that's out now on Foreign Family Collective.
---
A stunning sunset, a lazy Sunday morning, a quiet moment of reflection… all these blissful moments are the epitome of ford.'s music. Since being sought out by Foreign Family Collective in 2018, Luc Bradford (a.k.a. ford.) has become a cornerstone of the lo-fi electronic music scene. Dubbed a prodigy by many, and rightfully so, we love to see the young producer continue to share his gift of emotive music with the world. Now, he's fully delivered on those dreamy vibes once again with his sophomore album, The Color of Nothing.
Although his music tends to deeply affect people's emotions, ford. says he doesn't focus on any one emotion when creating most of his tracks. It's more of a stream of consciousness, based on tangent after tangent stemming from a certain sound or beat. He says he wants the listener to extrapolate the meanings for themselves, basically taking whatever we need at the time. In doing so, the songs can evolve and adapt in your life, growing and changing with you. So let's take a journey, and see where this album take us.
Listen to The Color of Nothing on Spotify or your preferred platform, and read on for my take on this magical release from ford. along with the album's tracklist!
Stream ford. – The Color of Nothing on Spotify:
---
The Color of Nothing  features exciting collaborations with Ayelle, Lani Rose, Verzache, and Barrie.
On his new album, ford. works with some incredible talent throughout. Each artist has a bit of a different vibe, yet all the vocals still perfectly complement his signature sound. "Hold on" was one of the tracks released a few months back with R&B starlet, Ayelle, who's voice is just as heavenly as ford.'s soothing chords. This song explores the feeling of holding onto something when you know it might be better to let it go. It's deeply emotional, all packaged in a symphony of beautiful sounds.
Further proving the versatility of his sound, ford. works with multi-genre vocalist Lani Rose in "Pay No Mind." Lani Rose is making a name for himself with his pensive lyrics and super-relatable singles. He wants to inspire and instill courage in his listeners, and keeps things real by talking about heartbreak in "Pay No Mind." 
"In My Eyes" sees ford. and Verzache collaborate to create an uplifting track that inspires hope in anyone who may be going through a tough time. It conveys the feeling of finding someone who finally sees you and understands you, after feeling lonely and isolated for a long time. It's like a journey out of the darkness and into the light, and now in being fully understood by someone, the "sun is in his eyes."
The final collaboration on 'The Color of Nothing' is "4:38am" with Barrie, my favorite track of the entire album. You know that feeling when you stay up all night talking with someone, and you don't even care how late it is, or that the sun is rising… you're just so entranced by them that you don't even want to sleep? This song is the embodiment of that blissed-out buzz. Since ford.'s music is often what I listen to in the wee hours of the night, this song really resonates with me, and I can't wait to make some memories while listening to it.  
Throughout The Color of Nothing, ford. sticks to his gentle, calming sounds for many of the tracks, and includes a few pattern-interrupts in between. 
I would be the last person to put ford.'s talents in a box. He has a distinct sound, unlike anything I've heard before. But he's also versatile and surprising, and clearly not afraid to step outside the lines and challenge himself. Songs like "Canvas" and "Headspace" have those pensive vibes that make you want to reflect on your life and who you've become. "Fruit&Sun" and "Living, Breathing" are more upbeat and will make you want to smile and take a long drive with the windows rolled down, appreciating the beauty of life.
There's a little something for every mood in this album, so you can find a new soundtrack for a long drive, a cherished moment with a loved one, or a journey of self-reflection — all in the same place. 
---
ford. – The Color of Nothing – Tracklist:
The Color of Nothing
Hold On (Ayelle)
Fruit&Sun
Headspace
Pay No Mind (feat. Lani Rose)
Canvas
Grounding (Interlude)
Living, Breathing
In My Eyes (feat. Verzache)
Talk
4:38am (feat. Barrie)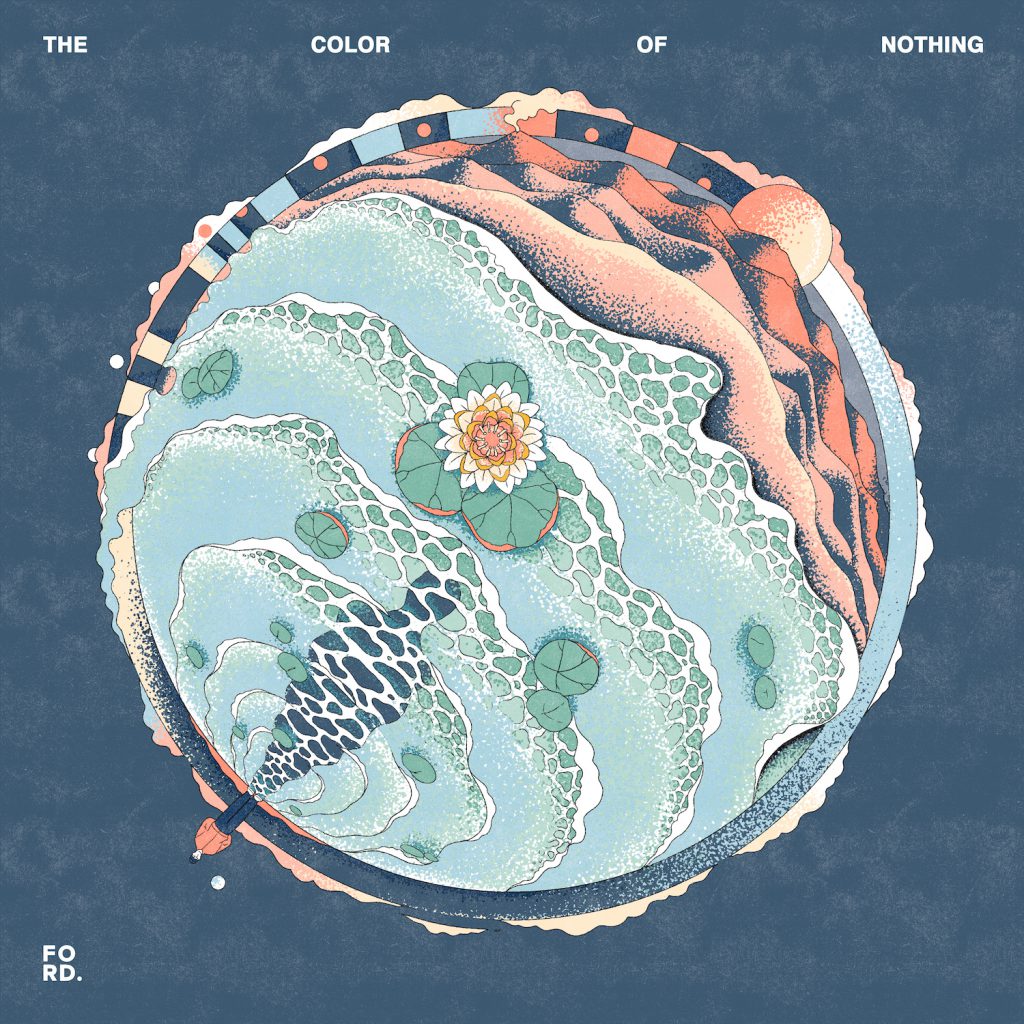 ---
Follow ford. on Social Media:
Website | Facebook | Twitter | Instagram | SoundCloud