ford. gives us a taste of his sophomore album, The Color of Nothing, by releasing the dreamy title track, along with a little backstory.
---
When it comes to lo-fi, nobody does it quite like ford. Listening to his music is like being wrapped in a fuzzy blanket on a cold night. The second I heard his new album was on the horizon, my heart jumped out of my chest. Since joining ODESZA's prestigious Foreign Family Collective in 2018, the 20-year-old producer has been making waves in the lo-fi scene with his signature soft sounds and comforting melodies.
During this time, ford. found a unique way to translate feelings into sound. No matter where your head is at, his tracks can whisk you away to a better place. It's as close to magic as music gets. Ahead of the release of his second full-length album, ford. builds up our anticipation by releasing the title track of the album, "The Color of Nothing," which already has us craving more.
Listen to "The Color of Nothing" on Spotify or your preferred platform, and read on for my take on this magical release from ford. along with the album's tracklist!
Stream ford. – The Color of Nothing on Spotify:
---
ford.'s global upbringing and knowledge of self contribute to his musical perspective, which makes him a master of communicating universal emotions through music. 
ford. has a true gift for translating thoughts and feelings into the universal language of music. Being born in Paris, and raised in Switzerland and Singapore, he has been exposed to all kinds of cultures, landscapes, languages, and people. This may be why we can feel his experiences so deeply through his songs. He began writing "The Color of Nothing" in the winter of 2018, a few months into his first (and last) semester at university in Utah. Since it was also his first full winter in the state, he says he spent a lot of his time holed up in his room, working on music consistently.
With so much changing in his life at the time, he says he was able to come back to his center through music — and at the same time, venture deeper into his own craft and his own self. And now, because he chose to pour his soul into his craft, we can experience and enjoy those same feelings — diving into the unknown and finding the way back to our own centers — through his music. "Grateful" doesn't even begin to sum up how that makes us feel. 
"The Color of Nothing," offers a restorative, uplifting escape for the listener, anchored by grounding beats. 
"The Color of Nothing" starts off with a meditative melody that instantly grounds you. It's the kind of simple melody that can make everything around you melt away. ford. layers in some dreamy sounds to set the tone for the track before introducing a comforting, consistent beat that almost sounds like a heartbeat.
Then you hear it: the signature "ford. chords" that hit softly and slowly fade away, like sand slipping through your fingertips. The sounds are so pure and sweet, they conjure up memories and dreams of simple pleasures, and remind you that those little moments of bliss are really what makes your life memorable and special. Halfway through the song, the beat picks up and the sounds get even more euphoric. It makes your heart soar, like you're taking in a breathtaking view from on top of a mountain, or staring into your lover's eyes, until it gently fades away. 
We can't wait to float away on whatever dream boat ford. brings to us next. The full album is slated to drop on October 16th, so be sure to mark your calendar, pre-order, and keep your eyes peeled. Until then, "The Color of Nothing" will be the soundtrack to every beautiful sunset or sweet moment spent with loved ones — and we're okay with that. 
---
ford. – The Color of Nothing – Tracklist:
The Color of Nothing
Hold On (feat. Ayelle)
Fruit&Sun
Headspace
Pay No Mind (feat. Lani Rose)
Canvas
Grounding (Interlude)
Living, Breathing
In My Eyes (feat. Verzache)
Talk
4:38am (feat. Barrie)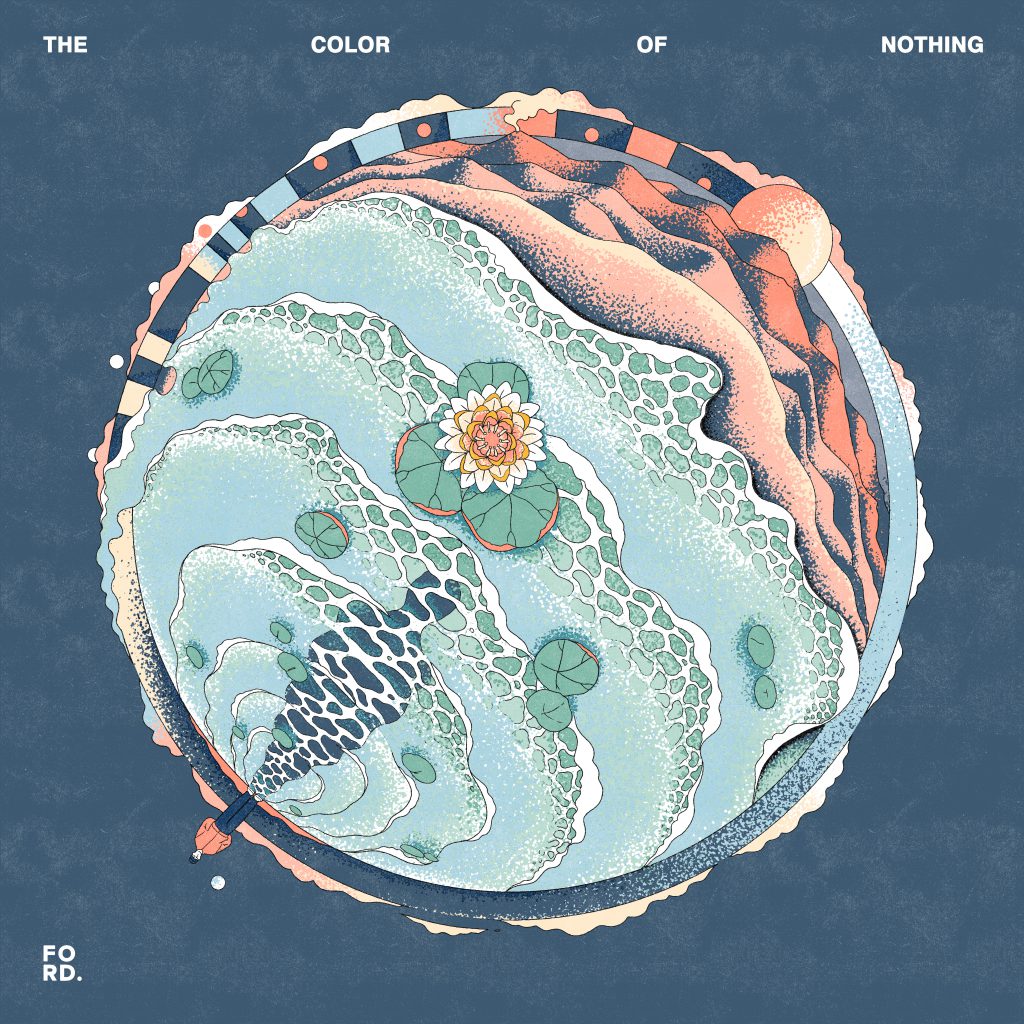 ---
Follow ford. on Social Media:
Website | Facebook | Twitter | Instagram | SoundCloud