Get to know one of the biggest artists in psytrance, Blastoyz, as he talks about life during COVID-19, working with Ranji, and more!
---
Psytrance continues to flourish in the electronic scene year by year. It's a genre that started in the underground and now making its way to the mainstage. One of the leading artists within this electrifying, psychedelic genre is Kobi Nigreker aka Blastoyz, who started developing his love of electronic music at 16 while hosting parties with Ranji, another fellow psytrance artist.
In 1999, he found Goa music as he started listening to Holyman and Astral Projection. From then on, he began developing his love of psytrance into a career. Today, he's released several songs that ended up on Beatport's Top 100 such as "Mandala" and "Paravati Valley," while also gracing the lineups of major music festivals worldwide such as Tomorrowland, Electric Daisy Carnival, Dreamstate, and Transmission.
Those who have seen Blastoyz perform live know he brings unbridled energy into his sets full of hypnotic psytrance tunes. He has some of the most unique psytrance edits of massive tunes from genres like future bass and rock, and the infectious energy he brings wakes up crowds and has them dancing in a frenzy.
Looking to gain some insight into the mind of this prolific artist, we jumped at the chance to chat with Blastoyz. He takes time to talk about adjusting to not playing shows, his newly launched Blastoyz in Between vlogs on YouTube, collaborations, and more. Let's jump into the interview!
Check out Blastoyz and Ranji's remix of Illenium's "Take You Down" on Spotify:
---
Let's start off with the question of the year, how have you been holding up during the pandemic, and what has been the most difficult part for you during these times?
I've been holding up well so far. In the beginning, it was really hard to accept that all the upcoming shows around the world have been cancelled, but then you realize that the whole world is holding up together and there is no way around it.
The time off at home was needed since I was flying every weekend around the world, a lot of stress between shows and you don't even realize that your body needs a rest. I was thinking about taking a break, or a long vacation but the pandemic made it for me and I learned to live with it now and accept the time off and take it to a good place of resting, being with friends and family, a lot of studio time, and making the best out of it.
The most difficult part for me is not being on stage and feeling the energy of the crowd. I realized it when I started to do online live streams. It will never be the same without the real energy, the smiles and the screaming of the audience, I really miss that feeling of connecting with the crowd on stage, It fills me up with adrenaline and there is no better feeling than that.
You spun a set during Seven Lions' Visions 3 livestream. As an artist who has taken the stage at some of the world's largest festivals and intimate clubs, does it feel significantly different to play to a crowd on the internet?
As I mentioned before, the energy of the crowd is totally missing. Online streams are fun because it makes you feel that you can make people happy during this crazy time when no one can go to a real party, but physically playing in front of a camera instead of a real crowd, is like a difference between heaven and earth.
You started a new series on YouTube called Blastoyz In Between that gives fans a look at the world that goes on behind the scenes. What do you hope to accomplish with the series and when can we expect the next episode?
I always loved showing my crowd a bit more than just myself on the stage, since the very beginning I always loved filming and producing videos. I find that videos are really useful to connect with music, which nowadays videos have a big part in social media as well. Also, I felt like this is the right time after so many years of traveling to start a well-produced series with videographers that travel with me around the world to show the other parts of traveling, backstage, fun with artists, friends and also difficulties on the road which sometimes people think that being a DJ is an easy life, so it's nice to document and show all the aspects of being an artist.
The next episode (Episode 5) will come out very soon, It's from my 30th birthday during the pandemic, It was a really great evening with all my family, friends and DJ friends which is super RARE to catch everyone available at home to come together, I felt it was the right time to celebrate with everyone because the last years of my birthdays I found myself around in hotel rooms traveling between shows and not always with my friends, so it was the best timing of celebrating together and getting into chapter three of my life (age 30). It will all be on the upcoming episode.
Back in May, you collaborated with Ranji for a remix of Illenium's "Take You Down" and have teamed up with him in the past as well. What do you enjoy about working with Ranji ?
Ranji is a really good friend and he was there since the beginning of my career. I started the project, Blastoyz, in 2006. We used to book his other project "Dapanji" to play in our parties in high-school. I always played Blastoyz after them, also in Underground nature parties. Since then our friendship has gotten stronger. We produced many tracks together with other projects as well (at least six tracks together to date). Over the years, we started to play in events around the world too. He's a super great person before his huge talent and I love working with him and it just comes naturally.
Speaking of collaborations, you have also worked on tracks with artists like Skazi, Seven Lions, and David Gravell to name a few. What has that process been like working with so many different artists? Do you approach collaborations entirely different from your standard production flow?
I find it really fun to collaborate with different artists even if we do different kinds of music, I like to blend styles and try to produce a unique sound. On a collaboration, each artist brings his own color to the track and the results are always exciting.
Production flow of collaborations is usually different than producing a track alone, because each artist brings his idea and then working a 'ping-pong' style where the project comes to me and vice versa, or sometimes just online and adding stuff together with a shared screen.
Something else that's really stood out in your mixes are edits of tracks like Above & Beyond's "Sun & Moon" and Linkin Park's "In The End." How do you decide which tracks you look to put your signature twist on?
I really love classic songs that get into me over the years, these are usually songs I like to listen to sometimes on long car drives, or just on flights with my headphones, I decided to remix or edit songs that really get to me and excite me. I can tell that when I play 'In The End' in my shows I usually have tears in my eyes on the stage. It's really exciting to bring my touch into a song that I love and play it in my shows.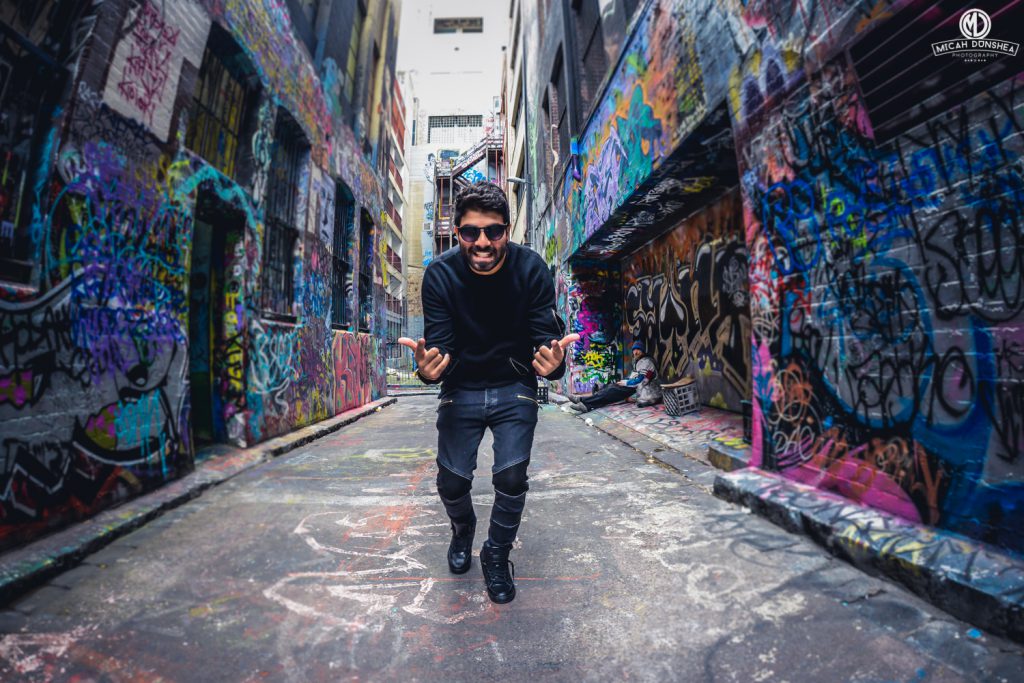 Turning back the clock really quick to the turn of the millennium when you were first beginning your journey into trance. Who were some of the most influential artists from that era that helped shape your style as an artist today?
It started more from Goa music, in 1999 I was listening to Holyman, Astral Projection, and shortly after I found Infected Mushroom, GMS, Yahel, Skazi, Astrix which got me dreaming of producing Psytrance.
What have been some of the biggest changes to the scene that you've experienced over the years? Is there anything you'd like to see from past eras return?
I was a witness in seeing psytrance music developed in the last 20 years from almost when it started until today. It's insane and amazing to listen to music from the 2000s and today, It's a long road of change in sound, techniques, and now there are so many different styles that came out of it. There is something in Trance I used to listen to when I was a kid that was very honest and innocent also, it has a big impact on my life until today even outside of music.
Many artists have begun to incorporate psytrance elements into other genres such as big room, trance, and even bass music. Do you think it benefits psytrance to cross over into other genres and why?
I am very happy that finally, Psytrance gets the recognition it deserves around the other genres. We have so many talented artists in psytrance that also can hold a great mainstage no different than other artists. Psytrance tells a powerful dancefloor musical story and I'm sure if people who normally don't listen to psytrance will give it a chance it can catch their ears.
As a long time fan of psytrance, what are your thoughts on the current state of the genre and where do you see it going in the future?
The current state of our genre is really good, a lot better than the past. We get to play on stages that psytrance has never touched before. New crowds are getting into it more and more. A lot of other artists outside the genre are using psytrance elements in their songs and its good for the genre to grow. I really hope to see someday psytrance artists in the future coming together at the mainstage for a big festival such as Tomorrowland, EDC, or Ultra.
Finally, if you could share an uplifting message with your fans around the world during these uncertain times, what would it be?
Stay positive, Spread love and patience to the people around you, we are in a historical time that everyone will speak of in the future.
Keep on supporting and listening to the music of your favorite artists at home. I'm sure we will be back soon raving together around the world. Sending you all Love & Power.
---
Follow Blastoyz on Social Media:
Website | Facebook | Twitter | Instagram | SoundCloud | YouTube | Twitch