For the latest edition of his Visions livestream series, Seven Lions has a special night planned for trance lovers that will blow your mind!
---
Earlier this month, Seven Lions had planned a fantastic showcase of trance artists to play his Visions livestream series with a stacked list of artists to take trance family members on quite a journey. Unfortunately, this show was postponed due to a nasty fall that saw him get hospitalized for a brief time. But now, after recovering and getting back into the groove, the show is back on with the original lineup intact.
While his normal livestreams have dominated Twitch, the third edition of Visions will see Seven Lions put down his melodic dubstep crown and instead explore the reaches of classic trance tunes. And to add even more power to the mix, he's enlisted the help of iconic duo Gabriel & Dresden along with ilan Bluestone, Blastoyz, and Gem & Tauri for a night that the Ophelia family who tunes in to the broadcast.
Now kicking off at 5pm PDT, the third installment of Visions will have the tone of the night set with a performance by Gabriel & Dresden who have carved out their own space in the Twitch landscape with Club Quarantine. Gem & Tauri take the reins next to keep everyone dancing to the beat before Blastoyz arrives to pick up the energy and set the stage for the rest of the night.
Anjuna Family members will definitely want to tune in for ilan Bluestone's set as he's teased that he'll be dropping some new tunes. And then, the man of the hour will take the virtual stage to take fans to a bliss-like state as Seven Lions explores trance classics that inspire him to this day, you won't want to miss it!
We can't wait to see where Seven Lions takes his fervent fanbase on the upcoming edition of Visions. Let us know in the comments if you will be tuning in, we will see you there, virtually!
Tune in to the Seven Lions Presents Visions 3 Livestream on Twitch:
---
Seven Lions Presents Visions 3 Livestream Schedule: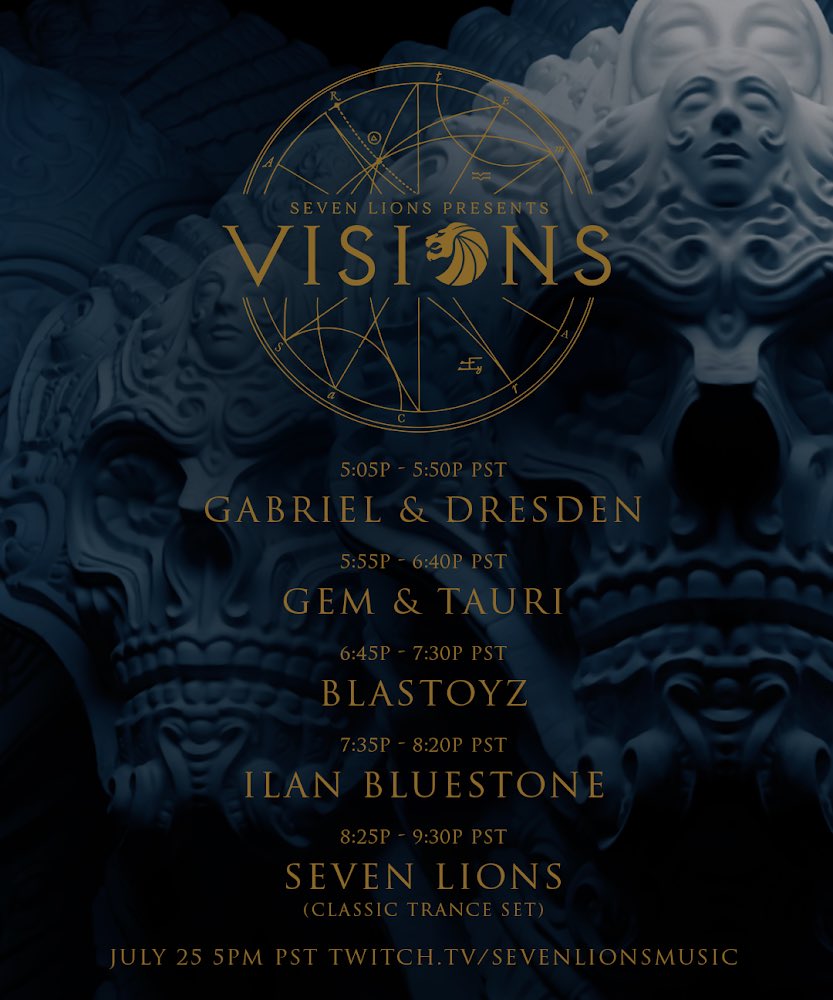 ---
Follow Seven Lions on Social Media:
Website | Facebook | Twitter | Instagram | SoundCloud | YouTube | Twitch