Danielle Sanders sat down with us to talk about trance, how she got into the scene, and her thoughts on the music industry.
---
When we talk about strong and passionate trance lovers in Southern California, it's clear to see that Danielle Sanders hits that mark. She discovered her love of dance music early in her life and save for a brief hiatus, has been listening to those beats ever since.
One of the most impressive things about Danielle Sanders is her ability to wear multiple hats in the scene. Not only does she write about electronic music, host meetups for Trance Family LA, and put together meet and greets for Dreamstate SoCal, but she is also an artist manager for acts such as Ganesh, Vangar, RJ Van Xetten, and Carlos Arteaga!
Looking to learn more about the multiple roles she plays in the music industry, we sat down with Danielle Sanders to talk about trance, how she got into electronic music, and the music industry. Read ahead for insight into one of the most prolific members of the trance community.
---
Hi Danielle! Thank you for taking the time to talk to us today. Let's kick it off by exploring your roots in dance music. How did you get started listening to electronic music and how did you enter the scene?
I am happy to sit with you guys. Grant has asked me in the past a few times and I dodged this because I am still not comfortable talking about myself, but now is a good time I think. I started listening in 1993. My stepfather at the time would train and do a version of Tae-Bo conditioning. He was always looking for upbeat dance music to play and I would copy the CD or tapes so I could listen in my room. Then I joined my middle school drill team, and we often danced our routines to house or techno music. Jock Jams was a big introduction for me and it just went from there for the music.
As for the scene, a quick version is, I have always been a party girl. I was in party crews in high school, going and throwing flyer parties every weekend, and cruising Whittier Blvd looking for the next event. I took a decade off from parties/raves when I turned 21, though I would still do clubs, especially in Las Vegas, and loved the gay party scene.
My best friend, Nessa, and I returned to the rave scene in 2014 officially at EDC Las Vegas. It was supposed to be one last hurrah since we were both 31 at that point. We walked through the tunnels, looked at each other, and knew that was a lie. The rest is modern history.
You wear many different hats in the scene from being an artist manager to a writer. How would you describe your role, and what made you want to step on the other side and go from a fan to part of the industry?
I don't really have a way to describe what I do. I do what I love. Most of everything I do has been a result of being in the right place at the right time and being available. That also came with building trust with those who gave me the opportunities. I will always be a fan first, but even in high school, I was more than just a party girl. I always was involved in some capacity so it felt natural being a part of the industry now.
What advice do you have for someone who wants to build up their own collective or go into artist management?
Stay out of the drama. No one wants to work with you if you are surrounded by drama. Trust, reputation, character are huge factors. Also, don't get into the industry for money but because you really care about the scene.
For the second year in a row, you put together the Dreamstate SoCal meet and greet which, once again, had such a massive turnout. How much time goes into prepping for that and what all does that entail?
Actually last year was our 3rd year, Andrew Lockhart and I started this in 2017. Each year we have grown and made it smoother. I am blown away by the success of the event each year. Prepping starts as soon as dates are announced for Dreamstate. Most of this time is just communicating with agents, managers, and the artist themselves as well as working with Dreamstate to make sure we are good. It doesn't get crazy hectic till about October when we start getting all the travel plans and confirmations.
Thankfully everyone we have worked with has been amazing and communication is really good. We get volunteers to help us each year, and without them, we would be in trouble. I'm hoping to be able to do this again this year.
Can you tell us about how TranceFamilyLA works as a conduit for bringing fans together?
I always say TranceFamilyLA is where trance fans, become friends, who become family. I think it has been a constant for fans, especially in Los Angeles. Though it has evolved and grown, our members are from around the world, we try to keep it about the members. The past year we have been really focused on doing more pre-event meetups so people can actually connect. I am always trying to find new ways for fans and artists to connect, whether it be through contests, meet and greets, dinners, etc.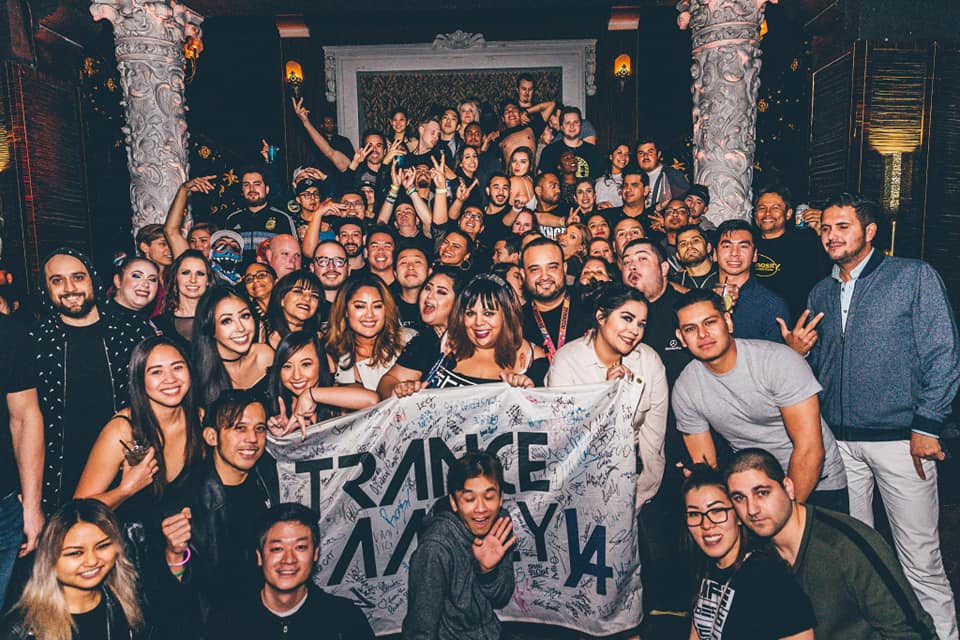 How has the coronavirus affected what you do and your scene? What changes did you have to make?
Besides the obvious, no events and no traveling. It definitely messed up my plans, but overall not that bad. I miss being out there with TFLA and hearing live music. I miss being tired at work on Monday, I miss checking in at the airport. But I am healthy and alive and that is what matters.
The biggest change, well challenge, I faced immediately was how to keep a group built on live events active. I am not technology savvy, so after seeing a couple of Facebook streams get cut off left and right I reached out to Brad Hildom and David Karey, and in a matter of 48 hours we put together what is now the weekly TranceFamilyLA Twitch live streams.
Since then we have brought on a few more hands to assist and have gained a lot of insight from people who are very familiar with Twitch and gaming. Basically learning as we go, but using insights from multiple areas we have been able to keep it going and honestly, I would have gone mad without it.
You've been in the scene for many years, how has it changed over time for the better and for the worse?
There are things that are for the better, worse, and changing. When I first started going to raves and the party scene, it was where you went to get away and be accepted for who you were. You weren't conforming, you weren't being made fun of, and it was a subculture to mainstream.
I would show up to events in cargo pants, comfortable shoes, and would dance my ass off for hours. I would leave events soaking wet and I didn't care who was playing or where it was. I walked through the dirtiest alleys, stepped over used needles, walked into some of the sketchiest venues because it was a party. All I wanted to do was party. I would have no idea who was DJing and didn't care as the music was what was the most important part. Half the time you couldn't see the DJ; it was about the dance floor.
A lot of this changed during my sabbatical from the rave scene. Seeing the differences first hand in Las Vegas party scene. The clubs went from massive dance floors to bottle service preferred. Vegas was always a party city, but the clubs stopped focusing on GA and pushed bottle service. I started buying bottle service in 2006 and never looked back because of this. Vegas started pushing more and more headlining DJs, having the night club focus go from the club to a DJ. I remember going opening weekend to Body English for DJ AM and after that, the strip and scene changed.
I miss not caring who the DJ was or where the party was. I miss the DJ not being the main
focus, but the music. I wish I could still dance like I used to, but I am not trying to blow out my knees and back, but I really do miss dancing the most. I definitely love that I feel so much safer than I did in high school. Looking back at some places I ended, I am glad I am not a statistic. I am also really happy camera phones were not around back then.
How would you compare the trance scene in the United States to the trance scene in Europe?
It is really hard to compare. I love the US trance scene and I love the European trance scene. Europe has many advantages such as events tend to be cheaper because the DJs live there and the numerous events keep the prices down. But the bitching of the scene is in both Europe and the US. There are purists and elitists on both sides, but there are some absolute gems of people on both sides. The comparison between Europe and the US is actually funny because both places are amazing and get great events but in my honest opinion, Mexico has the best energy hands down.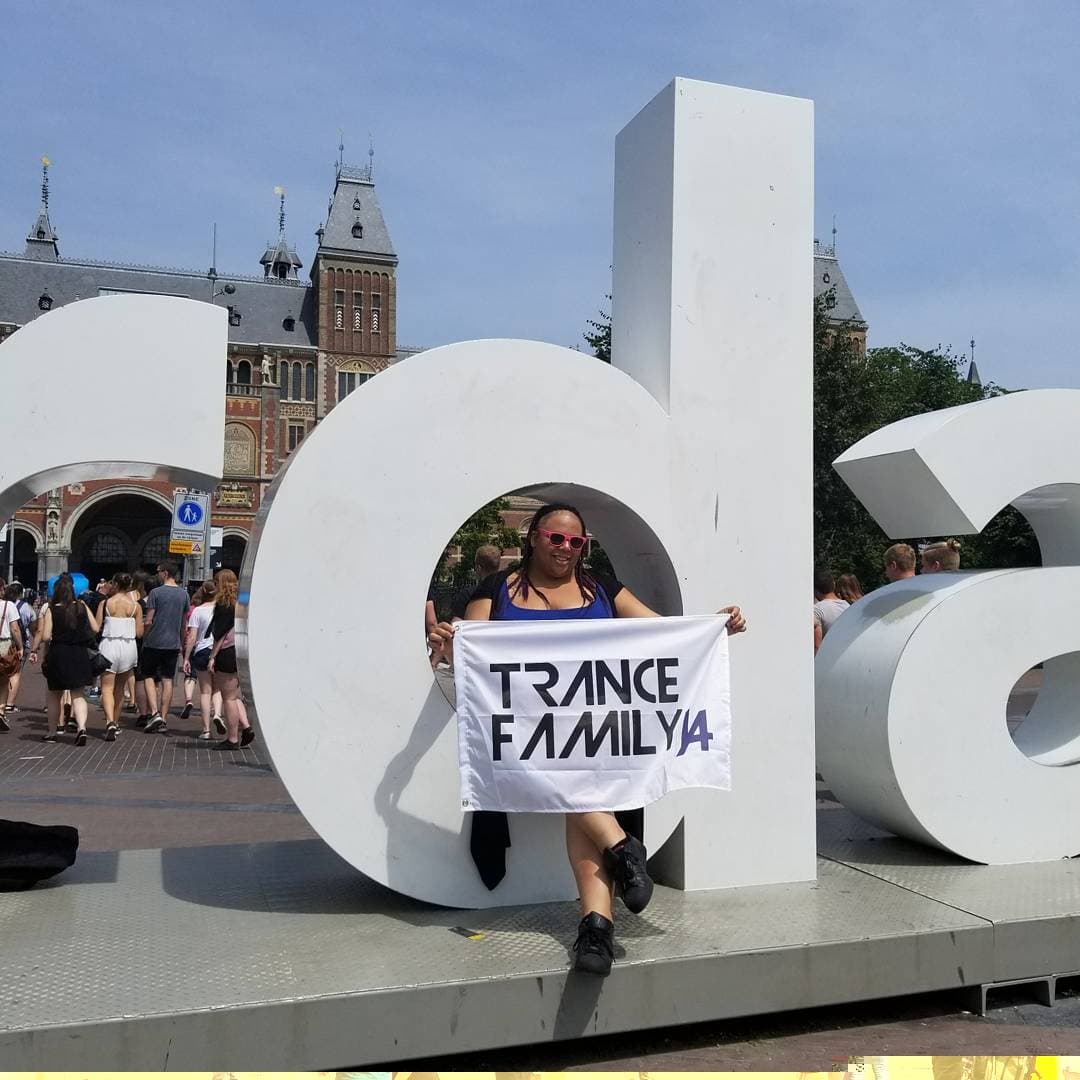 Some in the local trance scene have shared their frustrations with what they feel is lack of support on the local level as compared to the support given international artists. What are your thoughts on the level of support locals are getting from fans and major brands?
This is one of my biggest frustrations. The overall US fan base does not support locals at the same degree as international artists, and this is more than just trance. The value of being a European DJ is insane. A great example of this is Sean Tyas who is American but many fans actually think he is European. [Laughs]
You studied sociology in university, so from a sociopolitical lens, what are your thoughts about what is going on in the current landscape?
I wrote a very long paragraph, aka rant, and then deleted it all. If you are friends with me on Facebook then you know my stance. We are on the cusp of major change in this country and now it is a matter of what side of history will you be on.
With everything going on in the United States, many fans are looking at their favorite scenes and genres and questioning the (lack of) diversity whether it be gender or race. Trance is one such genre that is not diverse, what do you think can be done to diversify this scene?
The reality is, the scene is really diverse, but it goes back to the question of supporting locals and up and coming DJs. Supporting DJs from the US, Central, and South America, Africa, India, etc. It is frustrating when you see a lineup and it is 100% male or only one female out of 100 DJs. It is frustrating when you see a lineup and it is zero diversity.
I think Dreamstate and Intricacy (I work with these two the most, so focusing on these two) do a fair job of bringing diversity. Dreamstate last year had five women, which doesn't seem like a lot, but that is a lot for the scene. Dreamstate and Intricacy have booked people of color from Mexico when other promoters won't.
But it is not just on the promoters. You can't say book these people, then don't show up.
Promoters will be more adventurous to not booking the same 10 DJs over and over again if fans showed up. As well, there are some fans that really need to be checked. I have seen the comments that women DJs get and the ugliness towards people of color in the scene. Now I do not tolerate it and have on more than one occasion blocked them, but that mentality has no room in our scene, and people need to speak up against it.
Finally, what would you like to achieve over the next five years?
I just want to be happy, and I will do what I need to do to be happy. I am very selfish because I will always put my mask on first before I help others. But I learned from an early age, you have to take care of yourself first. Mentally, emotionally, and physically.
Part of my sabbatical was dealing with the mental and emotional part, and it took me a good 10 years to be at a place where I felt confident enough to go back. So whatever happens, will happen, I just know I will still be happy five years from today.
---
Connect with Danielle Sanders on Social Media: