Artists including ZHU, Carl Craig, Skream, MK, Galantis, Above & Beyond, A-Trak, and more are set to play Electric Blockaloo!
---
Update June 22: There were a number of updates sent out today via email by Rave Family in regards to Electric Blockaloo. First, was that the event has been postponed to July due to an update in Minecraft that coincides with the original dates of the festival this weekend. The new dates are now July 9 – 13.
Additionally, Rave Family also has changed the name of the event as Electric Blockaloo was too close to a similar name used by a hate group. The event's name is now Rave Family Block Fest, with updated socials and website as well.
Read the full update below: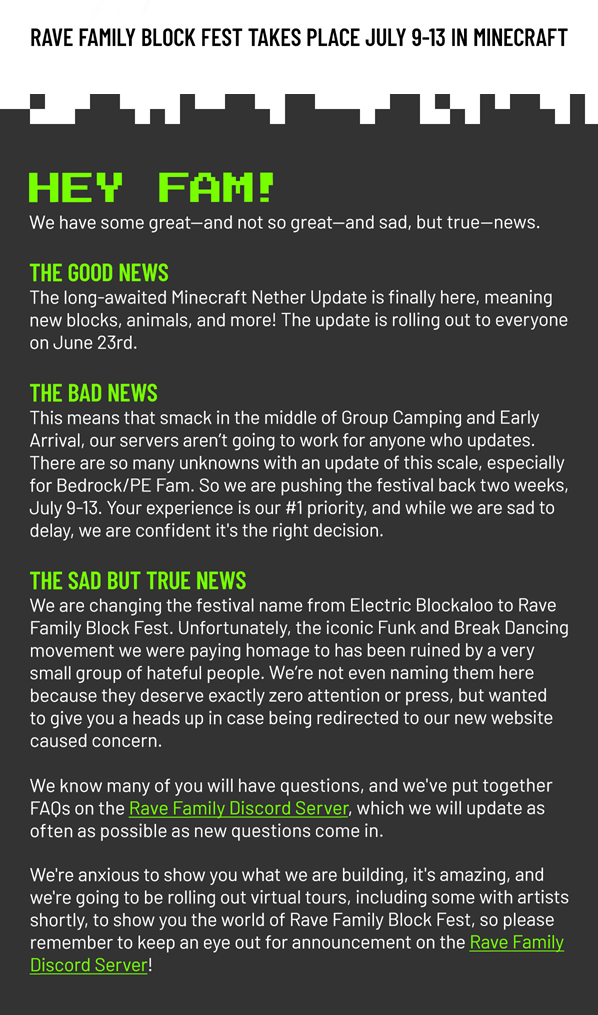 ---
Previously: Virtual Festivals have become all the rage during the coronavirus pandemic as the industry shifts away from live events. While many have taken place in the realm of Twitch and YouTube, Electric Blockaloo looks to shake things up even more with a massive festival in a world of their own creation inside Minecraft.
From Friday, June 25 to Sunday, June 28, Electric Blockaloo is set to dominate the Minecraft landscape with some fantastic electronic beats. After their previously announced stage lineups that indicated we'd be getting some of the absolute best in the business, today's news of the full lineup has boosted the hype even further.
While many could guess some of the bigger names like Above & Beyond, A-Trak, Claptone, ZHU, and Claude VonStroke would be on the bill due to their curated stages, the full lineup that was just unveiled is an absolute behemoth. Joining in the mix are legends like Kevin Saunderson, Felix da Housecat, and DJ Sneak along with some of the scene's finest including Skream, Maya Jane Coles, and Treasure Fingers.
RELATED: Want to get a taste of the experience each stage host will be providing? Use our livestream tracker to check out their upcoming streams as we get closer to the event!
In fact, the Electric Blockaloo lineup is just teeming with talent when you take a closer look at the flyer. There are rising stars in the scene like OCULA, Mitch Dodge, and Rinzen, bass music's finest like Flux Pavilion, FuntCase, and Jauz, and house music maestros like Sacha Robotti, Purple Disco Machine, and Solardo.
Additionally, there will be a number of charitable organizations for attendees to donate to during the virtual event that range from Black Lives Matter to Bye Bye Plastic. Electric Blockaloo has also partnered with Mixcloud to ensure that all rights holders are paid for the use of their music in the festival.
Tickets for Electric Blockaloo will be available to purchase through individual artist and stage links. Prices start at $10 and include access to the festival for the debut weekend, as well as three special encore weekends for those fans who can't see all 65 stages in one. VIP Add-ons start at $15 and include access to exclusive worlds, stages, and artist sets.
RSVP on their website for the latest updates from the Rave Family, download the lineup graphic below because the font was clearly made for ants, and let us know who you're most excited to catch in the comments!
---
Electirc Blockaloo 2020 Artist Lineup: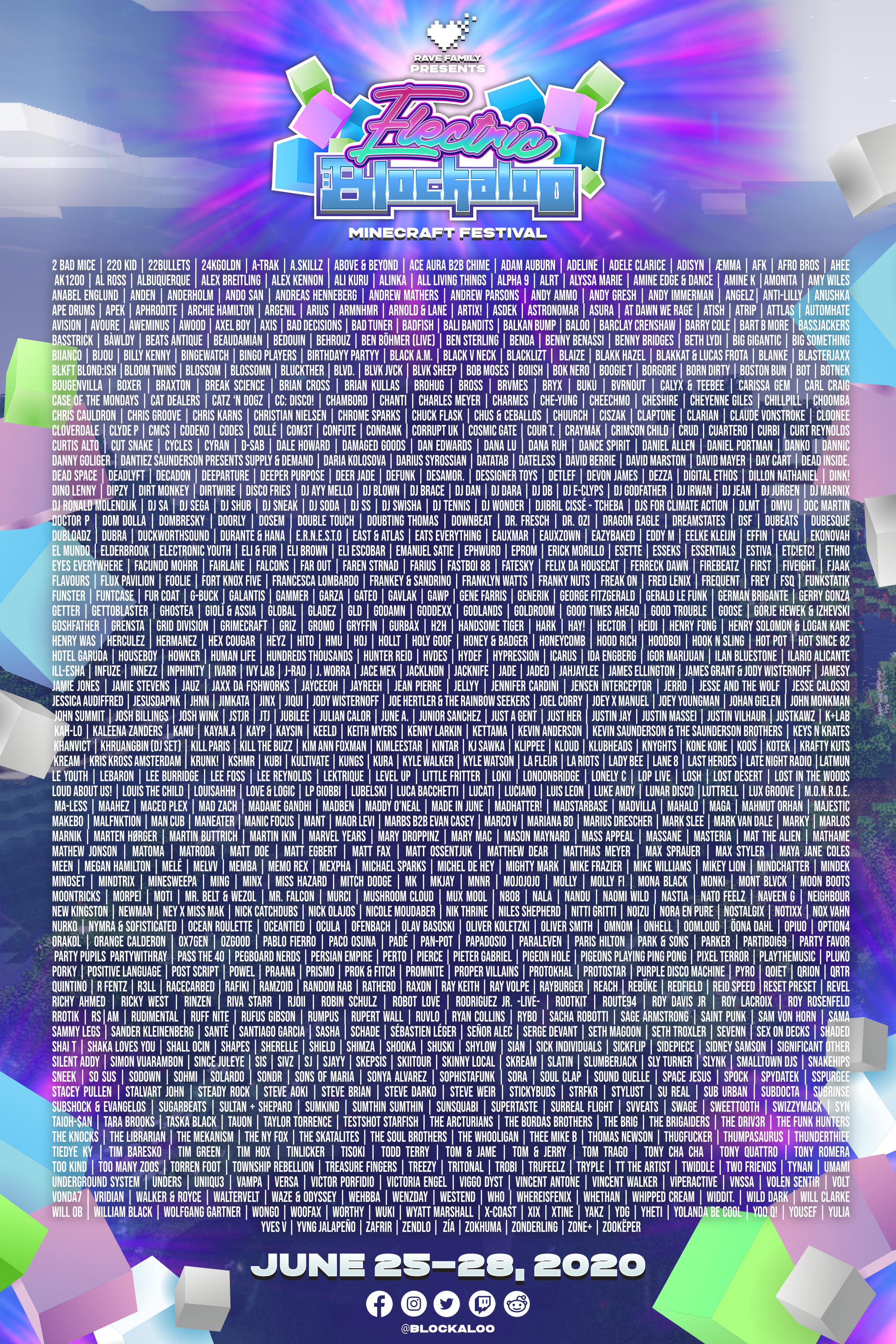 ---
Electric Blockaloo 2020 Additional Stage Hosts: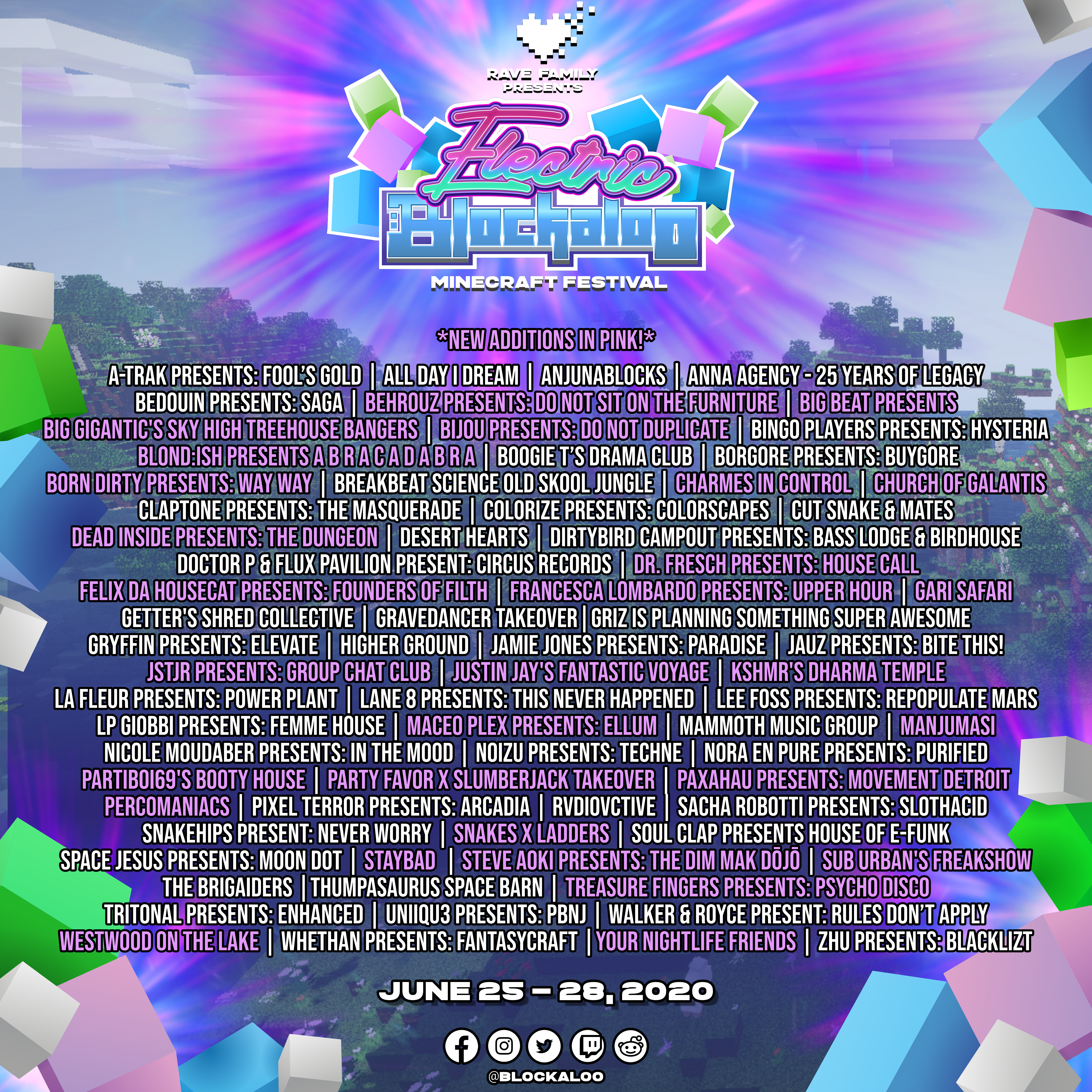 ---
Follow the Rave Family on Social Media: