We sat down with Ganesh to talk about his upcoming Dreamstate SF set, his return to the scene, his love of the harder styles, and more!
---
Talk about a blast from the past but if you were raving in the warehouse and the underground in Los Angeles during the late 90s/early 2000s then Ganesh is a familiar name. As a well-known and respected force in the Los Angeles scene, Ganesh's name graced numerous flier, headlined multiple events and played alongside LA legend Thee-O and Mr. Dreamstate himself, Jeff Ryan.
After spending the last few years focusing on his family, Ganesh is back in the scene and taking it by storm. This year alone he has already played the quantumVALLEY stage at EDC Las Vegas and will be dominating the decks at Dreamstate SF. I personally love that his EDC set still had that grimy warehouse feel that brought me back and has me wondering how he will incorporate the old sound with the newer styles we are hearing today.
We sat down with Ganesh ahead of Dreamstate San Francisco to talk about his upcoming set, his journey as an artist, his thoughts on the current scene, and more. Listen to his set from EDC Las Vegas this year and read on for our full chat with him!
Stream Ganesh's EDC Las Vegas 2018 Set on SoundCloud:
---
After taking a hiatus from playing publicly so you could focus on your family, you've taken 2018 by storm! There's been a resurgence in you producing mixes and you're finding your name on massive Insomniac line-ups such as EDC and Dreamstate 2018. What specifically about 2018 clicked for you and inspired you to return to the scene in this capacity?
It's been indescribable. The timing had a lot to do with my son graduating high school (still can't get my head around that), that freed up a lot of my time, and just staying in touch with my friends from the old school. Having a network and being able to get the whole thing started again was very challenging but at the same time surprisingly easy. Getting a logo, press photos, wristbands, stickers, social platforms, etc… I have a fantastic group of people supporting me.
Some from 20 years ago some from five years ago and some I've just been introduced to. All of whom have had a hand in this relaunch, if you will. I have the generous Jeff Ryan to thank, mostly. That guy can make things happen. He and I go way back, we've even done a 2×4 together.
You were a main player in the Los Angeles scene in the late 90s/early 2000s. Now that you have returned, what is your take on how the scene, trance or electronic music as a whole, in Los Angeles has changed, for better or for worse?
The trance scene specifically is unbelievable. The international nature of it is amazing. Argentinian Tech Trance from Heatbeat? Mexican Psy Trance from Interactive Noise? A thriving Los Angeles group of producers? Europe had the electronic scene on lockdown for so long. It's incredible to see it spreading across the globe and just exploding in Los Angeles.
A lot has obviously changed since you played in the late 90s/early 2000s from the way fans access events to how artist brand themselves. What have you found to be difficult or challenging since returning to the scene and what kind of advice would you give a colleague who also desired to return after a hiatus?
The most challenging thing to me is being unique. I tend to avoid the top tunes and look for the stuff that speaks to me. With the DJ medium of choice switching from vinyl to digital, everyone has access to the same music, for the most part. It's become more of a contest based not so much on what you are playing but if you can play it first. Vinyl had the distinction of being collectible. Picture discs and colored vinyl, etc. were such cool finds.
The half-life of a tune is shorter now that it ever was and with digital being a fraction of the cost it's much more accessible. The upside now, though is that you don't need a vinyl press to get your track out there. As for advice to a DJ looking to return? You stumped me with that one.
What is one thing that you would wish you could bring back from your earlier years in the scene?
I loved the intimate nature of the rave scene. Promoters selectivity handing out flyers. The small underground parties that had a better than 50/50 chance of getting shut down. Hearing an amazing track that you might never hear again. I miss that feeling.
Festivals are incredible but it's hard to get that same intimacy with a crowd as you do when you are both right there, on the dance floor. When the DJ and the dancers are just vibing off of each other, the results are incredible.
You enjoy much of the harder side of trance and dance music, which as we stated earlier, is much rarer to find in the US today. What attracts you that particular brand of dark, fast and hard sound?
I've always just had an affinity for the harder stuff. It's a weird concept but you never really control your interests. You can attempt to guide them but I've always followed my ears whether its hard, tech, acid, psy, whatever. If I like it I'll play it but, more often than not, it tends to be a little bit harder and a little bit faster.
There was a question posted recently online asking which artists were the most underrated in the US. Yourself and many others noted that hard trance artists haven't quite gotten the same amount of love in the US as melodic, tech or psy. What do you think contributes to the fact that this particular area has yet to be as accessible in the US as the others?
I wish I had an answer to that question. Hardstyle seems to be more popular than Hard Trance ever was in the States, and it's a "harder" sound than Hard Trance. I think it might be that it's just a little too much in the middle. Maybe a little too hard for the trance scene and not hard enough for the Hardstyle scene? Your guess is as good as mine.
I do get the sense that the sound is making a comeback, though. I'm hearing a harder trance style evolving. You really have to dig for it but it's out there. Everything goes in cycles. We might be on the verge of a resurgence of the style. There have been a slew of the genre's icons making a come back. Lab-4, K-90, Baby Doc, all of them have made some incredible new music. Evolving the sound by incorporating modern elements and fusing them into their own signature sounds. I'm really excited for the future of trance. #MakeHardTranceGreatAgain!
That being said, who are some hard trance artists you would recommend for those that would like to familiarize themselves with that scene?
The most obvious would have to be Scot Project; he is a true legend. Also, the ever amazing Lab-4. More modern producers would be Luca Antolini, Andrea Montorsi, Costa Pantazis, Mindflux, Renegade System. I could go on and on.
Label-wise, I think Hyper Realty and HTE are doing the best to bring a mix of the cutting edge and classic sounds. Costa Pantazis has just relaunched Impact Recordings, which was one of my favorites. Their back catalog is fantastic.
You played your first EDC this year, which was met with much positive response! How was your experience playing at such a massive event? What can fans expect for your Dreamstate SF set?
That was surreal. It was the first time I had ever been to an EDC in any capacity. I had no idea what to expect and no one could have prepared me for what I experienced. Insomniac treated my and my crew so well. It was really an incredible experience. To think that all of those stages, props and carnival rides get assembled in the middle of the desert is so mind-blowing.
As for Dreamstate SF? That is going to be really interesting because I'm playing a psytrance set, which is kind of new territory for me while at the same time going back to my roots since I really started getting gigs in L.A. with goa trance. So this will be a really fun set. Add to that the insane production of Dreamstate and it will be an experience, for sure.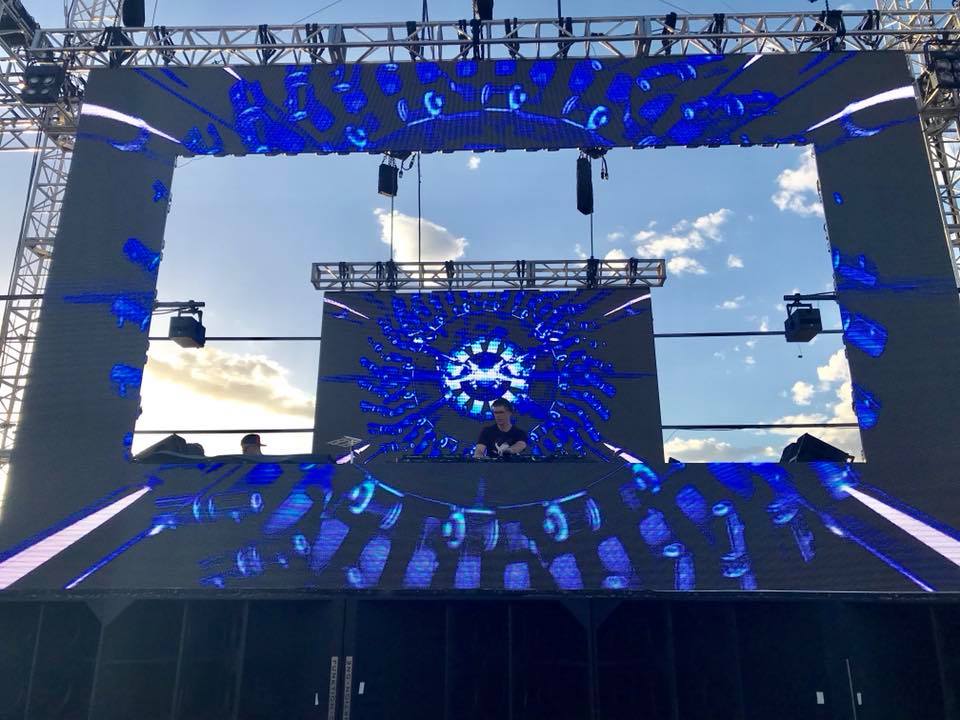 The younger generation knows you for your acid, tech and hard trance style, while the older generation knows you for the aforementioned genres as well as UK hard house and Nu-NRG/ In some of your recent mixes I've heard some hints of hard house, but would you consider bringing back that unique Nu-NRG style?
Honestly, I'd love to do a set of that. Hard 150 bpm bangers! I've been adding some new hard dance into a SoundCloud mix, not hardstyle but more in that hard house/NRG style. I'd love to play a Wasteland event. Their stages and energy are out of control. Maybe if they introduce a hard trance stage like Defqon.1 did in Amsterdam? That would be awesome. Hey Wasteland (hint, hint)!
With more than half the year gone by, what can we expect from Ganesh in the rest of 2018?
More gigs and one more big festival but my focus is really on production! I'm in the middle of producing my first track with RJ Van Xeeten. He is giving me a crash course in production, as well as helping me get the sounds in my head a reality. It's been a lot of trial and error but it's coming together really nicely. It's been a really fun experience. I tend to go back to my roots for my inspiration and RJ is always dragging me back to the future. The result has been a really awesome hybrid of sounds. It'll be ready pretty soon so be on the lookout.
---
Connect with Ganesh on Social Media:
Website | Facebook | Twitter | Instagram | SoundCloud | YouTube