To Affection Jon, music is all about creating emotions and his venue in Brooklyn, Eris, provides a showcase to put that on display.
---
Affection Jon is a DJ, civil rights advocate, tech entrepreneur, world explorer, and self-proclaimed professional troublemaker. He's also someone that loves music and arts; especially local talent trying to find their break-out moment. So as he and others couldn't find reasonable places to perform, he went and opened his own space in Brooklyn called Eris.
Eris is not your typical dance club. It's intimate and friendly, rarely overcrowded, and hosts a range of events covering everything a music and art lover can imagine. Asking about what was missing and why they opened, Jon said he "opened Eris after several years of producing music events in New York City. Finding mid-size venues with good sound, reasonable terms, and availability was always a challenge. I thought I could do something better."
Eris often hosts free or cheap events when you'd least expect them, but also when you need them the most.
For example, on the Wednesday night before Thanksgiving, Eris hosted a free "Trance-Giving" event for all of us orphaned from our families for the holiday. What better than to spend time with our Trance Family when not visiting with our given family?
Eris nightlife focuses on trance because, in Jon's words, "Trance is a constant flow. Every song is a building block in one or more emotional directions, and by the end of an epic set, the audience is left both overwhelmed and craving more." And something else worth noting – New Yorkers can afford the drinks at the bar!
I was also at Eris for a Burner camp hosted Disco & Cuddle Party from 5 AM till Noon on New Year's Day. For me, this was strategically wedged in between my NYE rave with Above & Beyond and my daylight party on NYD with Cityfox Odyssey. The disco vibes were fantastic, and so was the cuddle party; a perfect way to recharge during my 25-hour NYE to NYD party plan.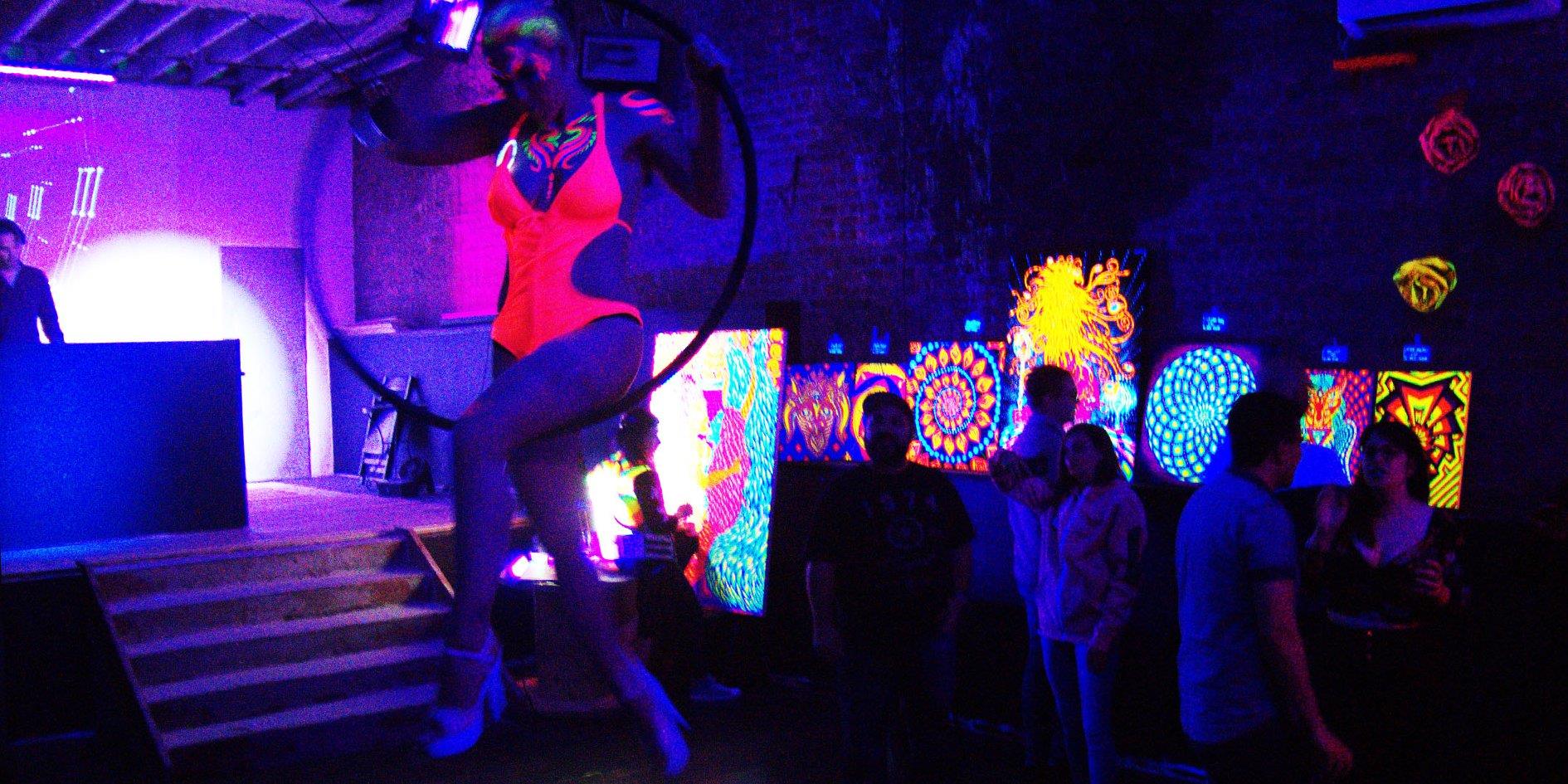 My last experience at the nightclub for the foreseeable future was right before the COVID-19 pandemic fully dominated NYC.
As the COVID-19 pandemic was taking hold, Eris hosted a free Open Decks night on virtually the last night allowed in NYC. This turned out to be the last night before forced shutdowns and the situation was (and still is) very fluid.
No one really knew what we should, or shouldn't, do at that moment, but having that one last dance before going into isolation was very meaningful for those of us there that night. Jon shared his thoughts about this, stating that he and his team "continued to monitor the directions from the Mayor, the Governor, and other public health authorities. We're not public health experts, so all we could do was follow instructions and make sure we sanitized every surface on the regular."
That night there was a limited ban on large gatherings – none larger than 250 or 500 depending on when you base your information. Eris holds less than this, so for the 50 or so of us that were there, we maintained social distancing and partied like there was no tomorrow.
The desire to keep some sense of normalcy at the time was very important to many that night at Eris.
"Many of our customers told us that it was important for them to continue living life as much as possible. Music, dancing, and yes, alcohol, are outlets for many to enjoy — or cope with — life." Jon went on to say "This virus is no joke, but the order on Saturday was that gatherings under 500 persons were permitted. I'm not deaf to the calls from some that businesses that opened that weekend were irresponsible, but again, we're not public health experts." 
For now, the next time dance music lovers can flock to Eris remains uncertain as the coronavirus pandemic continues to ravage NYC.
Speaking on their final night for the foreseeable future, Jon said "Those who came out had a great time, and several expressed gratitude to me personally for having a place to go. What more could we ask for?"
Their doors remain closed as the order for all bars to close on-premise services is still in place, but we're already anticipating our return to a new favorite spot to dance the night away at once the ban is lifted. Affection Jon and his team will be waiting for that green light, so until then keep on grooving in the digital realm with some livestreams!
---
Connect with Eris on Social Media: