Do It Big is an electro-infused bass house duo based out of Belarus that has already begun to make a name for themselves.
---
Do It Big has been carving out their space in the dance music scene with a unique blend of heavy electro and bass house beats. Based out of Belarus, they've gained some major momentum in the scene after Black Tiger Sex Machine supported one of their first singles at EDC Las Vegas back in 2018.
Since then, the duo has released on some of dance music's biggest labels like Kannibalen, Dim Mak, Showtek's SKINK Records, Dharma, and Generation HEX. Their 2019 track "To The End", which is a collaboration with Asketa & Natam Chaim, was supported by the likes of Nicky Romero, Morgan Page, and Swanky Tunes. Most recently Do It Big released their single "Flames" on Metanoia Music in February and it fully showcases their one-of-a-kind sound.
Looking to gain more insight on that release, their on-stage costumes, production techniques, and more, we caught up with the duo for a quality chat. Read on as they reveal valuable information and listen to their exclusive guest mix below.
Stream EDMID Guest Mix 212 || Do It Big on SoundCloud:
---
Hey Do It Big, thanks for chatting with us today! Let's start off by introducing yourselves to our readers. Can you tell us about the inspiration behind your brand and the futuristic world that you've created?
Hey there, everyone! Do It Big here. By the way, our real names are Alex and Andrew. We both really love watching sci-fi, cyberpunk and all kind of futuristic movies like Interstellar, Terminator, Edge of Tomorrow, Blade Runner, and Upgrade.
When we teamed up to create the Do It Big project, we decided that it would be cool to come up with some alien costumes and create characters who live in a futuristic world inspired by these movies.
Your music combines influences from several genres including bass house, g-house, and trap. How did you eventually find your sound?
Andrew was a more of a techno and tech house lover and I [Alex] was a fan of heavy bass genres like dubstep, riddim, and trap. So when we started working on our first Do It Big tracks together, we tried to combine our tastes. Specifically, the groove and minimalism of techno with some aggressive leads and basses from bass music.
Our first successful experiment was a track called "Damn," which was played by Black Tiger Sex Machine at EDC Las Vegas and also supported by many other DJ's in their radio shows. That was that exact moment when we realized our style was working on big dance floors and we decided to keep developing it.
Do It Big has gained the support of many prominent labels in the dance music scene including Kannibalen, Dim Mak, Dharma, and more. What's your secret to getting your tracks noticed?

The secret nowadays is in finding your unique style and developing it. And remember that any big success is achieved step-by-step. First of all, if you are a newcomer in this industry, you should start by releasing your tracks on small labels which can provide you with some decent promo.
Then take a look at which DJ's are supporting your tracks, and if they have a label, try to reach out to them and offer to release some new music. Then, slowly but surely, you will get noticed by bigger labels and DJs. 
Take us through the production process of your newest track "Flames". What are some of the plugins or techniques that you use in this track and others?
First of all, we are using tons of saturation from Fabfilter Saturn. It can be used almost on every channel, and saturation usually works better than compression. For breaks, we love using Diva / Omnisphere for some basses, pads and plucks, and Kontakt libraries for some orchestral drums, instruments like flutes, strings, etc.
Main drop basses and leads are made in Serum, but from time to time we are using Spire, Sylenth, and Avenger. Our main approach in terms of mixing and mastering is to have a reference track inside your project and to make A/B comparison using analyzers like SPAN+ and s(M)exoscope. Just A/B and you'll always understand if you need to EQ some frequencies or to make your compressor work harder or saturate more.
You recently wrapped up your tour across China at the end of last year. What was it like to go on tour in the country? Did it differ from other places?
It was a really great adventure! The music scene in China differs completely from Europe and America. We found they love harder genres like hardstyle, dubstep, riddim, and anything around 150-170 BPM. If you have some electro/bass house tunes around 128 BPM your DJ set should be like a roller coaster from 128 BPM to 170 BPM and back in order to keep their attention. And they don't like to listen to one track for too long – we played around 70 tracks during our one hour DJ set.
Minsk, Belarus is your hometown. Can you describe what the scene is like there and in the rest of Eastern Europe?
DJ's in clubs and bars here in Belarus mostly play house-oriented genres like tech house, deep house, and techno. And maybe 2-3 times a year there are some events with bass music and once a year we have a big festival with a capacity of 20,000+ people which is called Viva Braslav. We played there on the main stage with W&W, Asketa & Natan Chaim, Going Deeper, and Vigel. The EDM scene in Eastern Europe is only starting to develop. The scene in Russia, Ukraine, and Poland is developing a bit faster than in Belarus.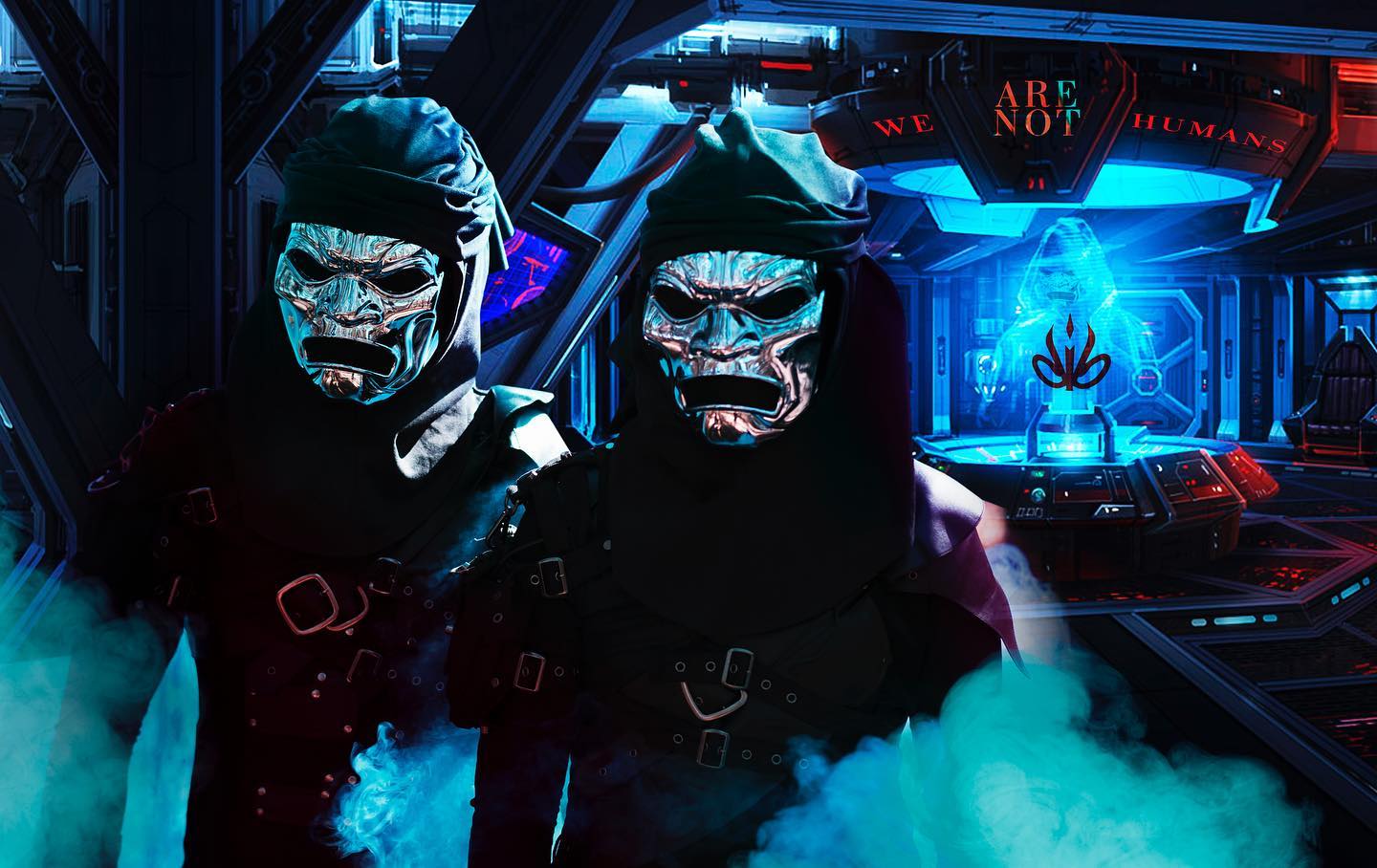 Will there be more releases from Do It Big this year? What are some of your plans for 2020?
We'll definitely release a lot of new stuff this year! We had big plans to go on tour in Asia, Europe, and the US, but everything is closed now because of the coronavirus and we'll lock ourselves in the studio and make lots of new bangers for sure! We advise everyone to take this virus seriously, follow all necessary rules to prevent it from spreading and soon we'll get back to raving at big events. Be healthy!
Looking towards the future, what are some of the top festivals or other events that you hope to play at one day?
Tomorrowland, EDC Las Vegas, and Ultra Music Festival. That's really our goal to play there one day. And for sure if we play there, we will support some undiscovered talents, because this can greatly increase their faith in themselves and become a good motivator to continue making new music.
Lastly, what's some advice you'd have for upcoming producers?
Try to find your own unique style and focus on yourself rather than on other artist's success stories. Don't try to copy anyone, find what defines you as an individual and try to express it in your music.
Be ready to work hard without big notice from labels and DJ's for years. Be prepared financially if you decide to leave your day job for music because at the start you won't be able to pay your bills and your music project will need some investments.
---
Connect with Do It Big on Social Media:
Facebook | Twitter | Instagram | SoundCloud