After a whirlwind 2019, which saw Eric Luttrell release his acclaimed debut solo album, he wastes no time getting to his lovely sophomore release, Lucky Ones.
---
Luttrell has both a unique look and sound; you cannot miss his mustached face or his round glasses any more than you can ignore his incredibly soothing and uplifting tunes. And if having an identifiable look and sound wasn't enough, he's also an amazingly down to earth person who loves the scene and his fans. I'll never forget seeing him dancing in the crowd on the Anjunadeep Boat Cruise NYC in 2017. I casually asked him, "Whatcha doing out here?" And, of course, he responded, "Enjoying the music and dancing just like everyone else." 😎
First breaking into electronic music as part of The M Machine, Eric launched his solo project in 2016 with the widely supported Need You EP, while Anjunadeep catalog favorites Generate EP and Intergalactic Plastic followed in quick succession. Now with his highly-praised debut album Into Clouds under his belt, Luttrell's unique brand of quirky melodic house and techno has cemented his name as one of the scenes most hotly tipped talents.
Whereas Into Clouds examined the transitional periods of life, and was reflective of Eric's mindset at the time of recording, Lucky Ones is a celebration.
Anchored in themes of gratitude, the LP is a collection of 11 meticulously crafted cuts which see him draw from a deep pool of personal influences, including the likes of The Smashing Pumpkins, Nirvana and The Prodigy, his love for San Francisco and Burning Man, time spent as a student in Berlin, climbing Mount Kilimanjaro, and even winning the US TV game show, The Price Is Right. (Wait, what?!? Eric was on The Price is Right?!?)
Luttrell already released "Some Other Time" and "My Friend the Sun" from the new LP and they are beautiful introductions to this album. Now with the entirety of Lucky Ones released into the wild, we can finally dive deep into Eric's follow up.
Take a listen to Lucky Ones on Spotify or order the album now, including a limited edition 2″x12" Vinyl with Luttrell motif die-cut slipcase, and read on for the full review!
Stream Luttrell – Lucky Ones on Spotify:
---
The album opens with the simply named "Intro" – a swooning melodic tune that sets the mood for the tracks that follow.
After the soothing and drawn out tune that opens with the sounds of nature, the mood quickly shifts to something that will make you get up and dance, "What Do You Feel?" This is a pretty classic Luttrell sound – one that isn't easily categorized but is immediately recognizable.
When the ethereal whispers of "what do you feel in your soul" are heard midway through the track, we can't help but ponder this question while continuing to dance. Eric's strategic placement of limited lyrics is always thought-provoking without disrupting the vibe… and often adding to it!
We continue with the title track, "Lucky Ones," and we are reminded that, as fans of Luttrell, we truly are the lucky ones. Heard previously during his live sets and on the weekly ABGT broadcast, fans will enjoy the deep bass and rhythm that carry into more ethereal vocals and a break that takes us into clouds (to reference his previous release).
"Universal Theory" is a unique track for Luttrell, highlight some of his techno roots that aren't as evident in his recent releases. 
At least that's how the track opens and then he magically transforms this into another melodic dance track with limited but luscious vocals. Then, as if the opening of this track was a teaser, we're tossed headlong into "My Friend The Sun" where techno comes back and the beat drives our continued movement.
This leads into the keystone track on the album, "Synergy 2000," which has so many different elements throughout its 6-minute journey that I don't even know where to begin. I guess the most important observation of this song is that it's uplifting, it's playful, and it's even a little dark. Bringing all this together in one track is the Luttrell magic I know and love.
Next up we've got "Find Me," a pretty classic Luttrell sound to me. Yet while it's "so very Eric" on the surface, when I look deeper into the track and listen with a critical ear, I can almost identify the evolution and progression of his music as his career matures. This is what makes or breaks a producer's career – can they evolve while being true to their roots? There's no doubt that Luttrell is doing just that!
"Albanian Summer" is already familiar to Luttrell fans, and especially those that heard this live in Prague at ABGT350.
The back end of the album continues with "Dipper," a truly emotive tune. This is that moment at the club where I'm trying to keep dancing, but I'm also trying to hug my crew as my love for everything in the scene bubbles up. I'm just a sucker for a deep, dark bassline layer with playful melodies. More than likely, when I hear this one live, I'll dance my tears away rather than becoming an emotional puddle with my crew.
The same cannot be said of "Some Other Time". While, again, an emotive tune with layers of darkness and light, this one will likely put me over the edge. It certainly has a driving beat, but the breaks are just so lofty and full, I'll be arm-in-arm with my crew hugging and swaying till the end.
The album wraps with "No Pressure," a song that feels like it's meant to tie up your emotions in a bow and send you out into the world with no worries (or pressure). It's a light, easy track that helps ground the emotional journey that was just taken through the rest of the album.
So what do you think? Are we fans not truly the Lucky Ones to have Luttrell and this album on the scene? Let us know your thoughts in the comments below!
---
Luttrell – Lucky Ones – Tracklist:
Intro
What Do You Feel?
Lucky Ones
Universal Theory
My Friend The Sun
Synergy 2000
Find Me
Albanian Summer
Dipper
Some Other Time
No Pressure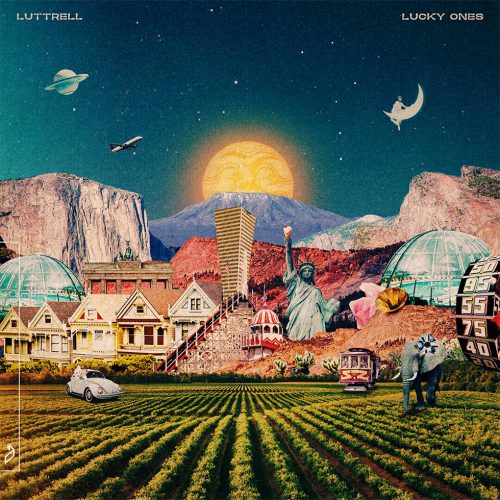 ---
Connect with Luttrell on Social Media:
Facebook | Twitter | Instagram | SoundCloud