Luttrell will be making everyone move on the dancefloor in all the right ways this year with his forthcoming album Lucky Ones that is due out in March on Anjunadeep!
---
San Francisco-based artist Luttrell has been quickly making a name for himself in the house music scene over the past few years. In fact, the buzz surrounding him has grown larger by the day with performances that have left crowds in a bliss-like state and releases like his album Into Clouds that have fans simply can't get enough of. Now, he's unveiled his plans for the new decade with the news of a new album dubbed Lucky Ones and a tour taking him across North America as well.
Returning to Anjunadeep for the release that's due up on March 13, Lucky Ones is sure to feature some of Luttrell's signature soundscapes that are dripping with emotion. While we may have gotten a taste of what's in store on the album with previously released tunes like "Albanian Summer," he's given us even more reason to dance with a fresh single dubbed "My Friend The Sun" to feast our ears on.
Take a listen to "My Friend The Sun" on Spotify or your favorite platform, check out the full tracklist for Lucky Ones below, pre-order the album now, and read on for details about his forthcoming tour!
Stream Luttrell – My Friend The Sun on Spotify:
Luttrell – Lucky Ones – Tracklist:
Intro
What Do You Feel?
Lucky One
Universal Theory
My Friend The Sun
Synergy 2000
Find Me
Albanian Summer
Dipper
Some Other Time
No Pressure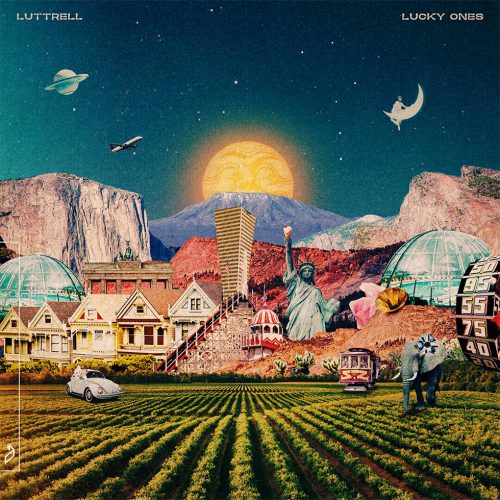 ---
Luttrell won't just be winning our hearts over this spring with the release of this new album, as he'll be taking the stage on tour as well.
That's right, Luttrell is doubling down on the release of Lucky Ones with the news of a fresh tour that will take him across North America. He'll kick things off on April 2 in Salt Lake City before performing in cities like Denver, Dallas, San Francisco, and Toronto. Additionally, he's been announced on the lineups for festivals like Coachella and Hangout for sets that you simply need to be at.
Check out the full list of dates for the tour below and grab tickets via the Anjunadeep website!
---
Lucky Ones North American Tour 2020 – Dates:
April 2 – Urban Lounge, Salt Lake City, Utah
April 3 – Effex Night Club, Albuquerque, New Mexico
April 4 – Bluebird Theater, Denver, Colorado
April 9 – 45 East, Portland, Oregon
April 10 – The Showbox, Seattle, Washington
April 11 – Celebrities Nightclub, Vancouver, British Columbia
April 12 – Coachella, Indio Polo Fields, California
April 16 – The Mohawk, Austin, Texas
April 17 – Stereo Live Houston, Houston, Texas
April 18 – Stereo Live Dallas, Dallas, Texas
April 19 – Coachella, Indio Polo Fields, California
April 23 – Miramar Theatre, Milwaukee, Wisconsin
April 24 – Concord Music Hall, Chicago, Illinois
April 25 – Exchange Nightclub, Minneapolis, Minnesota
May 1 – 1015 Folsom, San Francisco, California
May 2 – Shady Park, Tempe, AZ
May 7 – Magic Stick, Detroit, Michigan
May 8 – L'Astral, Montreal, Quebec
May 9 – CODA, Toronto, Ontario
May 14 – The Sinclair, Cambridge, Massachusetts
May 15 – Music Hall of Williamsburg, Brooklyn, New York
May 16 – 9:30 Club, Washington, District of Columbia
May 17 – Hangout Fest, Gulf Shores, Alabama
---
Connect with Luttrell on Social Media:
Facebook | Twitter | Instagram | SoundCloud