Luttrell's album Lucky Ones is due out in March on Anjunadeep, and now he's teasing our taste buds with the next single "Some Other Time."
---
Fresh on the heels of his Lucky Ones album announcement, Luttrell has now released the second single, "Some Other Time," to keep our excitement heightened for March. This fresh single is another beautiful example of his unique deep sound that evokes both an emotional response and a need to get up and dance.
Unlike "My Friend The Sun" which is a dance track from beginning to end, "Some Other Time" opens with a classic Luttrell sound that is deep and emotional; it hugs at your heart. While giving in to that tug and possibly swaying along with the melody, the dance beat comes in and will carry you through more and more movement.
"To me, this is what dance music is all about – so evocative, transcendent. It's just beautiful," said Phil Taggart of BBC Radio 1, and I couldn't agree more with that statement. Then again, I may be biased having gone on record to say that if Trance is my religion, then Anjunadeep is my church and Luttrell is my pastor. Whether you agree with me or not, it's hard to deny that he has a unique and addicting sound provides a bit of something for everyone.
Take a listen to "Some Other Time" on Spotify or your favorite platform, check out the full tracklist for Lucky Ones below, pre-order the album now, and read on for details about his forthcoming tour!
Stream Luttrell – Some Other Time on Spotify:
Luttrell – Lucky Ones – Tracklist:
Intro
What Do You Feel?
Lucky One
Universal Theory
My Friend The Sun
Synergy 2000
Find Me
Albanian Summer
Dipper
Some Other Time
No Pressure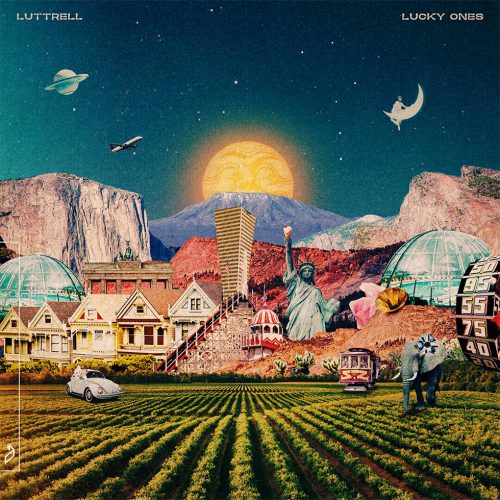 ---
If just listening to these tunes in isolation isn't enough for you, there will be plenty of opportunities to dance with Anjunafamily during the Lucky Ones tour!
Kicking things off April 2 in Salt Lake City he'll continue across North America. In addition to the self-titled tour, he's also on the lineup at festivals like Coachella and Hangout where many of us will already be in attendance. It doesn't matter where you catch his sets, it just matters that you DO!
Check out the full list of dates for the tour below and grab tickets via the Anjunadeep website!
---
Lucky Ones North American Tour 2020 – Dates:
April 2 – Urban Lounge, Salt Lake City, Utah
April 3 – Effex Night Club, Albuquerque, New Mexico
April 4 – Bluebird Theater, Denver, Colorado
April 9 – 45 East, Portland, Oregon
April 10 – The Showbox, Seattle, Washington
April 11 – Celebrities Nightclub, Vancouver, British Columbia
April 12 – Coachella, Indio Polo Fields, California
April 16 – The Mohawk, Austin, Texas
April 17 – Stereo Live Houston, Houston, Texas
April 18 – Stereo Live Dallas, Dallas, Texas
April 19 – Coachella, Indio Polo Fields, California
April 23 – Miramar Theatre, Milwaukee, Wisconsin
April 24 – Concord Music Hall, Chicago, Illinois
April 25 – Exchange Nightclub, Minneapolis, Minnesota
May 1 – 1015 Folsom, San Francisco, California
May 2 – Shady Park, Tempe, AZ
May 7 – Magic Stick, Detroit, Michigan
May 8 – L'Astral, Montreal, Quebec
May 9 – CODA, Toronto, Ontario
May 14 – The Sinclair, Cambridge, Massachusetts
May 15 – Music Hall of Williamsburg, Brooklyn, New York
May 16 – 9:30 Club, Washington, District of Columbia
May 17 – Hangout Fest, Gulf Shores, Alabama
---
Connect with Luttrell on Social Media:
Facebook | Twitter | Instagram | SoundCloud