Enter to win a One box set, copy of Altered State and a pair of tickets to see Solarstone and The Thrillseekers with Unity Events in Atlanta!
---
Unity Events has always been the go-to trance promotion in the great city of Atlanta, fueling our nightlife with some incredible acts in the realm of trance. Many of us were shocked and saddened when they decided that it was time for a break, but after a short hiatus to regroup and revamp the company is back in action and ready to shoot you straight off into the cosmos! First up on their agenda… Solarstone & The Thrillseekers present Hydra at District Atlanta!
For one spectacular night on Saturday, March 21, District will spark to life under North America's only Orbis-Fly LED Ceiling with the pure sounds of the beloved Solarstone along with the ethereal drive of The Thrillseekers who is prepared to unleash Hydra in A-Town! Imagine the intense melodies that will wrap you in a warm cloak of emotion as the crowd lifts their hands straight to the heavens, fueled by the tracklist of angels.
Read on for some details on the artists playing the show, grab your tickets now, and be sure to enter the contest for a chance to win a Solarstone One box set, the Hydra CD Altered State and a pair of passes for you and a friend to attend!
Enter the contest for your chance to win!
Win Tickets and Merch for Solarstone & The Thrillseekers Present Hydra at District Atlanta

---
For Solarstone & The Thrillseekers, 2019 brought about extraordinary milestones that took their craft to the next level!
Last year, Solarstone continued on his quest to bring the Pure Trance movement further into the future with the release of One. With three albums rolled into one magnificent package, it can be considered nothing short of a masterpiece that took four years to complete.
On the flip side, we have The Thrillseekers and his alter ego, Hydra. While The Thrillseekers (Steve Helstrip) has been making his mark on the trance scene since "Synaesthesia" back in 1999, Hydra is an act that has shifted our gaze out into the celestial horizons for almost two decades, even furthermore since the 2019 release of Altered State.
In addition to our headliners, Unity Events welcomes Grey Machine to heat up the decks!
Grey Machine is an Atlanta native who has had a direct hand in helping to get Unity Events back on the scene. He has graced the decks in LA, New York, and Miami and it is always a pleasure to watch him stretch his musical prowess in the city he calls home. His musical selections will be packed with power and grace, reminding us that the local talent of Atlanta is something we should continue to keep our eyes on.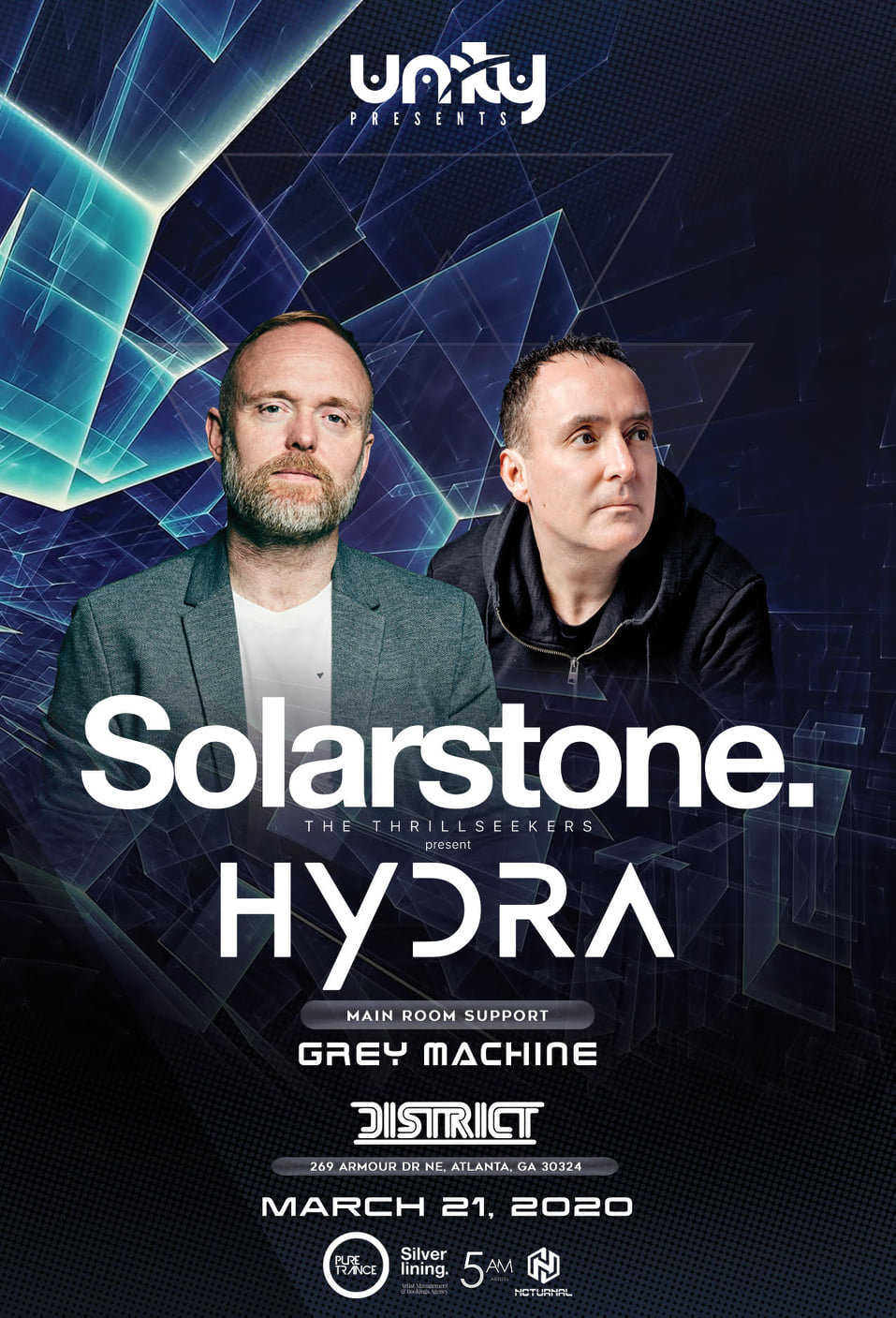 ---
Essential Info:
Date: Saturday, March 21, 2020
Ages: 18+
Hours: 9 PM – 3 AM
Venue Address: District Atlanta, 269 Armour Drive NE, Atlanta, GA, 30324
Tickets: Purchase HERE
Facebook Event Page: RSVP HERE
---
Connect with Unity Events on Social Media:
Facebook | Twitter | Instagram | SoundCloud