Are you ready to dive into the world of Beyond Wonderland SoCal? Insomniac just released the new map for this year that expands its footprint on the venue!
---
Since its debut edition, Beyond Wonderland SoCal has truly become one of the most beloved festivals hosted by Insomniac each year. Consistently bringing some of the best artists to the stage on its jampacked lineups while also immersing attendees in a magical world of their own creation, it's no wonder that it has found its way into the hearts of many.
Now, after building some serious buzz early this year with another massive lineup, Insomniac has added even more excitement with the release of the map today. Why? Well aside from the standard offerings of art cars and rides to explore, they've announced that they'll be expanding deeper into the NOS Events Center. That's right, Beyond Wonderland SoCal will feature a never-before-used-area at the venue for this year's edition!
The new area will feature the reimagined Mad Hatter's Castle stage and set in the speedway area of the venue, which hasn't been utilized by Insomniac for this festival, ever. This stage will play host to both Insomniac Records and Dreamstate, so expect some quality sets to catch. Additionally, Insomniac has announced that the megastructure will remain at the venue for the upcoming edition to become the Queen's Domain.
The Caterpillar's Garden will have its home inside the mini-megastructure and bring along the sounds of Bassrush and Audiotistic. Meanwhile, the Wide Awake and Beyond Wench Art Cars will be floating back to the festival this year as well for some special performances you won't want to miss and they've also reimagined the stages throughout the venue.
And what about those immersive areas of the festival? Well, they've added even more to the mix this year!
The Mushroom Marsh will be a fresh grassy area to frolic with your friend across while grooving to the sounds from the Wide Awake Art Car. The Rabbit Hole is set to return with a hidden bar and more surprises in store as well, so stay tuned for details on that.
The festival will also feature a massive Ferris Wheel for the first time dubbed the Wonder Wheel. And there will also be photo ops in the newly designed pathways: Chessboard Walk, Cheshire Trail, Imagination Street, Wonder Lane, and Kaleidoscope Corridor!
Two-day GA, GA+, and VIP tickets are available now at Tier 2 pricing until 11:59 p.m. PT on Friday, February 7 via their website. Tier 3 pricing will begin at $159.99 for GA, $199.99 for GA+, and $259.99 for VIP, all plus taxes and fees.
Beyond Wonderland SoCal 2020 Map: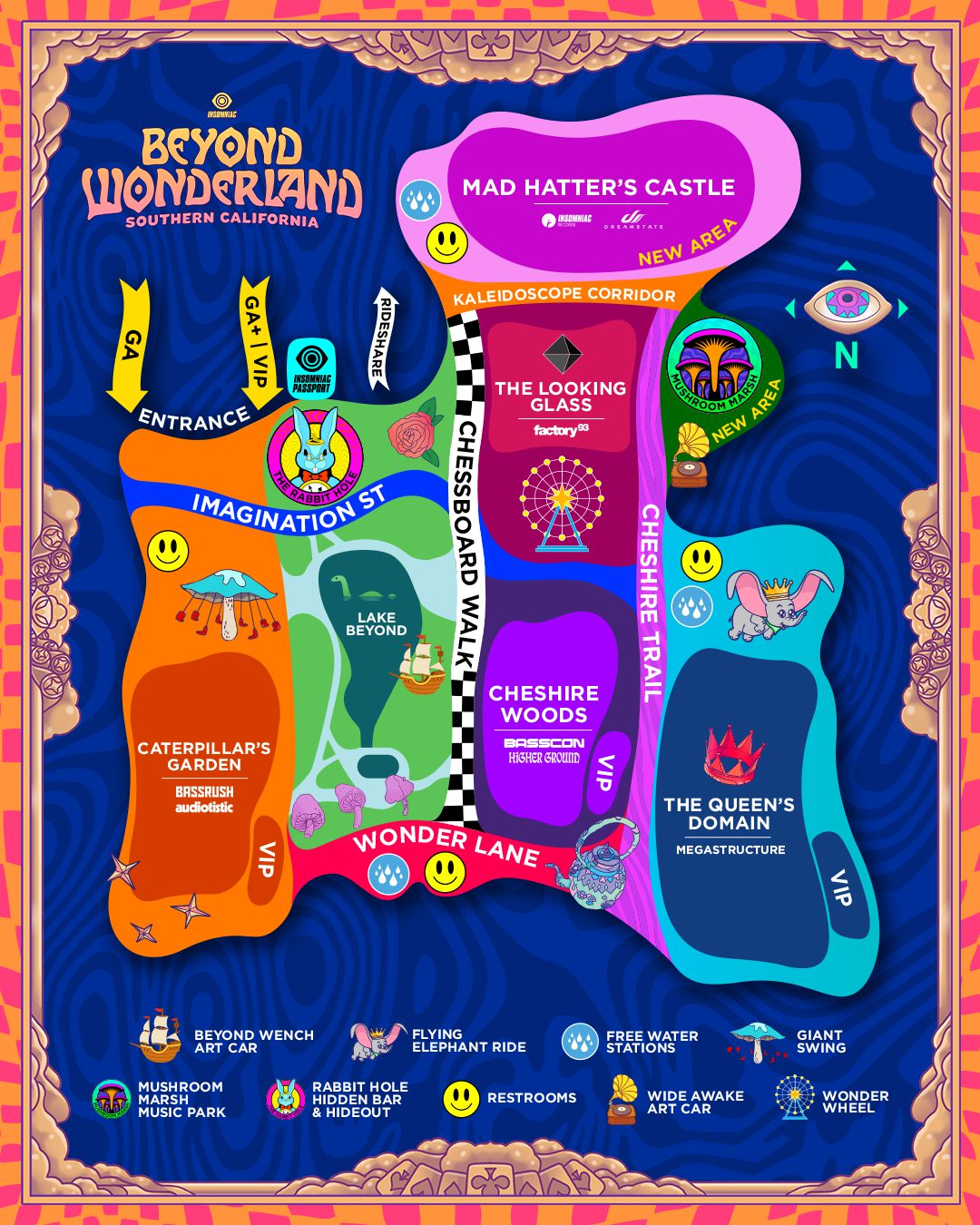 ---
Follow Beyond Wonderland SoCal on Social Media: