Feel the heartbeat of the underground with 19 tracks that speak to the colorful souls of the counterculture on Desert Hearts Family & Friends Volume 4!
---
Now reaching its fourth edition, the Desert Hearts Family & Friends compilation series has helped to lift us out of our winter funk using the sounds of techno and house as a catalyst to get us pumped for the road ahead. While last year's compilation pulled from the glowing inspiration of their live events, Desert Hearts Family & Friends Volume 4 welcomes us to dive even deeper into the heart of the brand, featuring talent from the home front as well as from foreign lands speckled across our spinning rock in the cosmos.
So, cast your eardrums towards the thump of the bassline kick and give into the illustrious vibe as 19 head-turning tracks from forward-thinking solo artists and mind-melting collaborative acts make Desert Hearts more vivid and revered than ever before. And while you take your leap into the furthest reaches of our festive subterranean realm, make sure to continue on for my thoughts about Desert Hearts Family & Friends Volume 4!
Grab your own copy of Desert Hearts Family & Friends Volume 4 on Beatport!
Stream Desert Hearts Family & Friends Volume 4 on SoundCloud:
---
I hope you are ready for this one, as Desert Hearts has poured everything into piecing together the soundtrack that will take us into the 2020 season!
In order to get our juices flowing, we begin with "ACID" by Tini Gessler, a cool acid house groove session that pulls me straight out of my winter hibernation. I would call this the tone-setter, and I find myself more than pleased as "ACID" crescendos, spins, and swells with a fast-paced rhythm brought to life by a light-hearted festive character. But, while this was certainly a great way to welcome us home, the first true standout lies just beyond the opening track.
Some of the best musical experiences can be born through nostalgia and I really love the narrative story told by Dan Diamond in "City Sleeps" by Eyes Everywhere & Steve Gerard. It reminds me of the insanely popular track by Fatboy Slim "Eat, Sleep, Rave, Repeat". On "City Sleeps" we are invited on a journey that leads us through the heart of the club culture. While it is a bit less silly than the narrative told in "Eat, Sleep, Rave, Repeat," what I adore about is the sleepy stoner quality in the vocal tone that brings blurry visions of a night out at our favorite underground hot spot.
What I am looking for at this point is something to bump up the energy and take me far outside myself.
As if the Desert Hearts crew was in my own head, they present us with Jesse Perez who provides all the electrified excitement I need with "The Groove Is Taking Over." This track could not have been gifted a more perfect name as the funky vibes take me to my happy place, full of unpretentious fun and flair. It is fairly consistent from beginning to end and I appreciate the simple yet effective journey that sets the stage for a slew of creative mood shifters that keep me on my toes.
From the guttural bassline power of FreedomB's "Bassline Boy," through the crooked haunting soundwaves of Beth Lydi's "Disappointment" and the no-nonsense drive of Kevin Anderson's "Personality," I am starting to realize that the Desert Hearts community can never be trapped inside a box of regularity. The first half of this compilation makes an impact, not through any consistent build or focused musical inspiration, but instead, it displays each artist in their most unique and engaging form. It shows us all that Desert Hearts can be appreciated by any type of music lover.
That begin said, as we reach the meat and potatoes section of our 19 track expedition I begin to kick back and relax while the music works its magic. As "Dew It" by Lex & Wood and Return Of The Jaded take me to a pure state of euphoria, my brain is knocked square across the room with the choppy sound dynamics of Jax D's "I've Been Waiting For So Long." What I love the most about this track is the reverberating swirls of synth that peel away to balance the tune, ultimately leading into laser-like sound bytes that appear towards the end of the track.
While the first group of tracks was placed with no clear build in mind (and that is totally fine), we come to a section that takes us on a clear cut path to pleasure soaked insanity!
It is just about that time where we are ready to enter the wormhole and "Modern Talking" by Alan Nieves acts as our final respite before we engage in an absolute mind-boggling soul trip. Once we move into "Got It Bad For You" by Little Fritter, there is no turning back. As the hollow lyrics float among a sea of crystal clear house kicks and a brooding bassline I begin to feel the chills radiate up and down my back.
Lex Luca clearly wants in on some of the sideways action and with "Drop It Low" we reach a fork in the wormhole where we enter a twisted carnival. "Drop It Low" might be my favorite track so far as it reminds me of the wild and wacky shenanigans that can be seen and felt on the dance floor once the music takes hold of the psyche. From here, "Al" by Ekoboy continues to pull us even further into the cosmos with an edgy blend of sexy vocal clips and peak hour prowess that I can't wait to hear on the live front.
Funneling us down even deeper, the following tracks fill the airwaves with a sexy urban vibe. 
When it comes to Shuski's "Ito En," Memo Rex & Joe Pea's "Refreshing Conversations For The Mind," and jUANITO's "Take A Trip," there are a few things that come to mind. Raw urban sex appeal that comes to life through low octave basslines, eyebrow-raising synth dynamics, and too cool for school lyrical clips that get my booty twerking and my feet shuffling in excess.
Suddenly my unbridled dance session morphs into a moment where I have to sit back and focus hard on a new sound flooding through my speakers. "The 88" is unlike anything I have heard up to this point, and it is honestly quite intriguing, to say the least. It's part alien, part demonic, and incredibly engaging. It's tracks like this one that makes me want to study an artist more closely and while Cristhian Balcazar is someone who I am unfamiliar with, it is "The 88" that has inspired me to circle back and dig deep into his discography.
We are nearing the end of what I would call a grand slam for the Desert Hearts team of music makers! 
But first, the Desert Hearts crew has made room for yet another shapeshift, as Sly Turner and Shuski pull us out of the trenches with the classic meets future-forward sounds of "Wrappin'." It's incredibly interesting to hear soulful lyrical inspiration that eventually finds itself weaving within techy sound blips paired with a playful bounce that is to die for.
Of course, Desert Hearts would not let us go without upping the ante just a wee bit more and so, we turn to Papa Lu and his bold representation of what it feels like to be the "King." This track is fierce and beautiful in all the right ways, with just enough swagger to make anyone feel like they can take on the world. I am obsessed with the quick-hitting drum details that play off of the underlying rhythm, helping me to bust out some very unique dance moves.
As I envision taking my place on the throne of my own imagination we are left with one final track in the form of Mitch Dodge and Ocean Roulette's "Ocotillo." For this offering, they keep it cool and tribal using the hollow sounds of the drums as a focal point. The perfect track to soak in the morning vibes as you reminisce with your friends at camp after a long night of self-expression and interpersonal connection.
Now, if you are like me then I know that after listening to this multifaceted compilation you are primed and ready to lose it all with the family at the next Desert Hearts extravaganza!
Calling out to all who are in it for the love of music and to those who live for the chance to forge new family bonds, you are in for a treat as Desert Hearts has already announced the dates for Desert Hearts Festival 2020.
If you adore this compilation and want to see what the label has in store for you on the dance floor, then make sure to grab your tickets Friday, January 31 via their website!
---
Desert Hearts Family & Friends Volume 4 Tracklist:
Tini Gessler – ACID
Eyes Everywhere & Steve Gerard – City Sleeps feat. Dan Diamond
Jesse Perez – Groove Is Taking Over
FreedomB – Bassline Boy
Beth Lydi – Disappointment
Kevin Anderson – Personality
Lex & Wood, Return Of The Jaded – Dew It
Jax D – I've Been Waiting For So Long
Alan Nieves – Modern Talking
Little Fritter – Got It Bad For You
Lex Luca – Drop It Low
Ekoboy – Al
Shuski – Ito En
Memo Rex, Joe Pea – Refreshing Conversation For The Mind
jUANITO – Take A Trip
Cristhian Balcazar – The 88
Sly Turner, Shuski – Wrappin'
Papa Lu – King
Mitch Dodge, Ocean Roulette – Ocotillo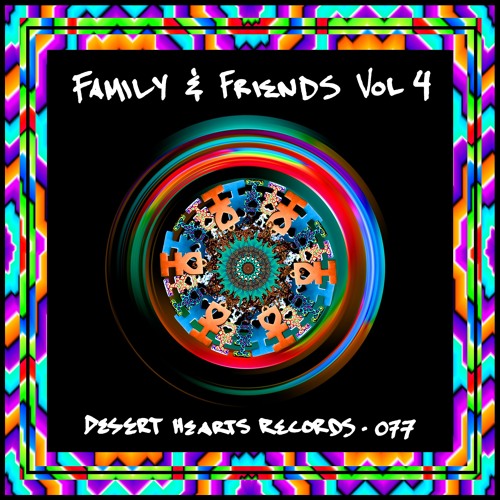 ---
Connect with Desert Hearts on Social Media:
Website | Facebook | Twitter | Instagram | SoundCloud | YouTube