Departure is an event series in Atlanta that lifts local talent up and brings the dance community together for an honest celebration of family bonds!
---
When looking back at my years chasing the trance melodies in the great city of Atlanta, Georgia, I have come to realize that we are now in a bit of a downswing. Whether it be due to the high price booking fees for major headliners or the intense popularity growth of other genres like bass and house, there seems to be a lack of trance events popping up these days. But a small group of passionate dance music fans, DJs and promoters have answered the call to fill ALL of our desires, unleashing upon us one hell of a club series called Departure!
Before we get into the experience I had at my first Departure event on November 30, let's first talk about the vision for the blossoming brand. Established as an outlet for up and coming talent to express their creativity and openly speak about their ideas, Departure was born. While the inaugural event was certainly centered on trance, it is important to note that many forms of music will be accepted and promoted, laying out a foundation for future parties free from the confines of genre specification.
we started Departure to host and promote events as Atlanta's home for like minded dance music enthusiasts. There's a passionate fan base here for Techno, Progressive, and Trance and, like ourselves, most people aren't a fan of JUST one of these genres. Another big focus for us is intimate and unique events with a crowd and community like no other. While we do hope to bring established headliners soon, these events will always feature diverse up and coming talent first and foremost.

– Chris Orosco aka Reliquary
---
Tucked deep below Believe Music Hall, the home of Iris Presents, lies a venue known as Wish Lounge.
This would be the space I would call home for my five-hour trance escapade and as I entered I was quite pleased with how the room was laid out. Tons of room to dance, our own bathrooms hidden from the chaos of the main event above, and a well-stocked bar placed behind all of the action to keep the flow of traffic away from the dance floor.
Nhexis was already behind the decks and instantly I was blown away by the quality of sound that blasted through the speakers. That was one of my concerns going down into the venue as a sold-out bass event was gearing up in the main room above. Acts like Peekaboo, Ployd, and Exit 9 pulled out a crowd that was ready to rage harder than I have ever seen before and I wondered how that would translate to the party below.
My concerns were swept away fairly quickly as I realized a little bit of bass vibration was not enough to temper the pulse-pounding rhythms that Nhexis had in store for us all. I personally adored what he was laying down as his set shifted between trance and techno, delivering the thunder with tracks like Jerome Isma-Ae's Extended Remix of Jam & Spoon's "Follow Me," Umek's "Vibrancy," and Estiva's "Morpho".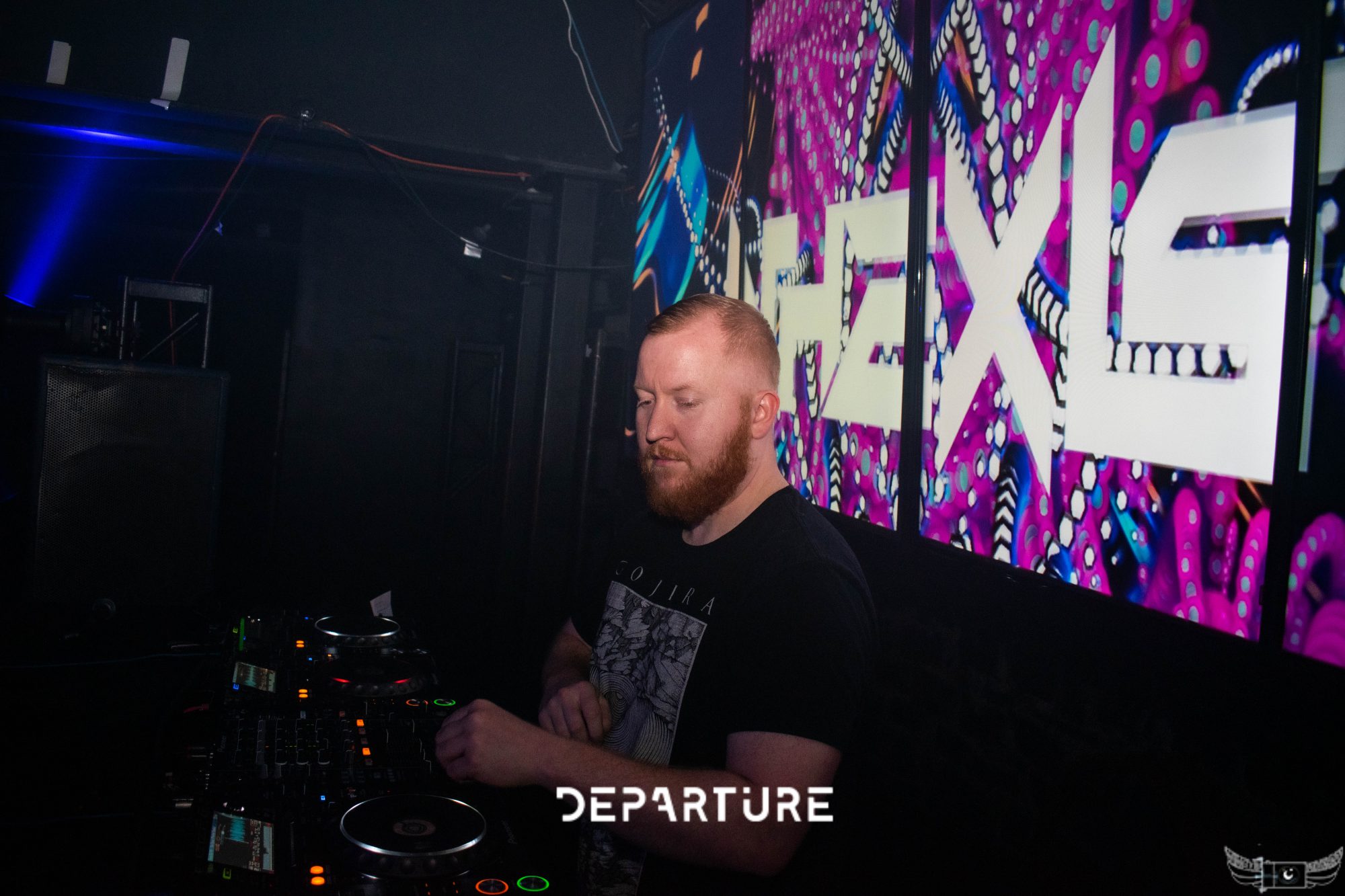 One thing I love about events like these is that all who play are considered the headliners.
There is no warming up and no holding back. Nhexis proved that tenfold as the energy swelled, electrifying every corner of the room. I found it impossible to pull myself away from the magic happening on that stage and I would proceed to bust out every dance move in my arsenal with my dear friend Shewang close by my side! Next up was Lumina and just like Nhexis, he was ready to lay his heart out for our listening pleasure.
What I loved most about Lumina's set is that it was packed with a whole lot of uplifting soul.
It was the kind of set that inspired my hands to reach high to the sky as the sweet yet dominating melodies had me all choked up. For a moment I began to reminisce about my trance journey that has gone through a bit of a shift as of late. While I don't go to trance events as often as I used to, Lumina reminded me that there is no other genre that can provide the same beautiful soundscapes as trance. And when he dropped "Shivers," I thought my heart was going to fall out of my chest!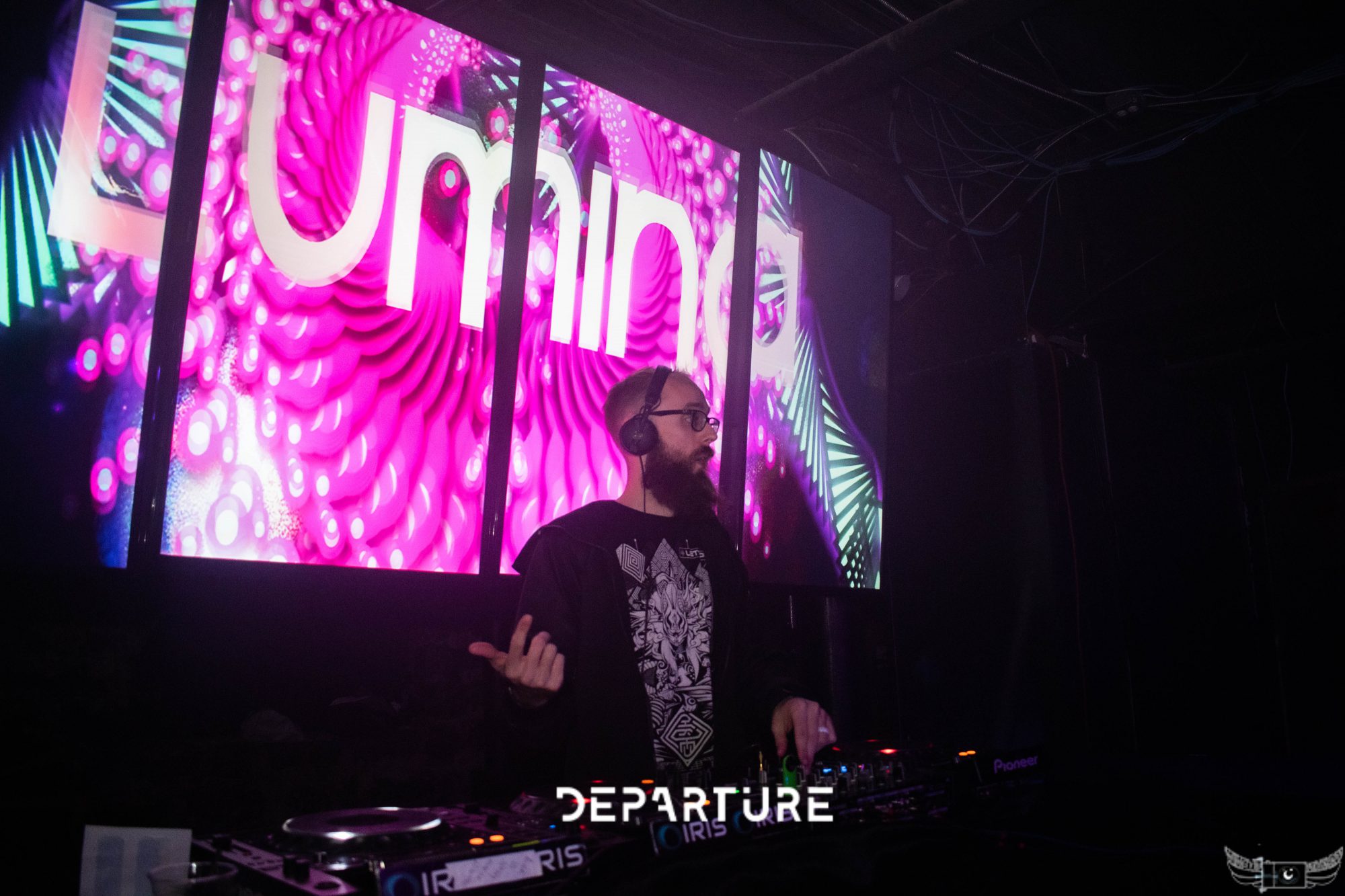 We had hit the halfway point of the night and while Peekaboo was burning the house down upstairs, Reliquary kept our attention set on raw trance mania.
Reliquary is an artist that I have become quite fond of since first seeing him at TomorrowWorld 2014. He always knows exactly what his crowd wants and is never afraid to dig deep to deliver a vast array of fan-favorite tunes and forward-thinking melodies. On this night, Reliquary would begin with Nhato's remix of Yoji's "Surrender" and I knew from that very moment that this was going to be one of his most creative sets to date.
I was not let down for even one second as Reliquary lit the club on fire with David Forbes' Rework of "Godd" by Marco V, "Bebop" by Heatbeat, and "w5 (waiting for)" by Scot Project. Every choice he made lifted us further into the cosmos, knocking us straight out of our senses with his dynamic tech-trance approach.
Nearing the end of this brain warping Reliquary experience the crowd from the Peekaboo event began to make their way into the underground. It was then that something magical began to materialize before my very eyes. The bass family seemed to really connect with the sounds pummeling through the room and many began to linger as the final artist of the night took to the stage.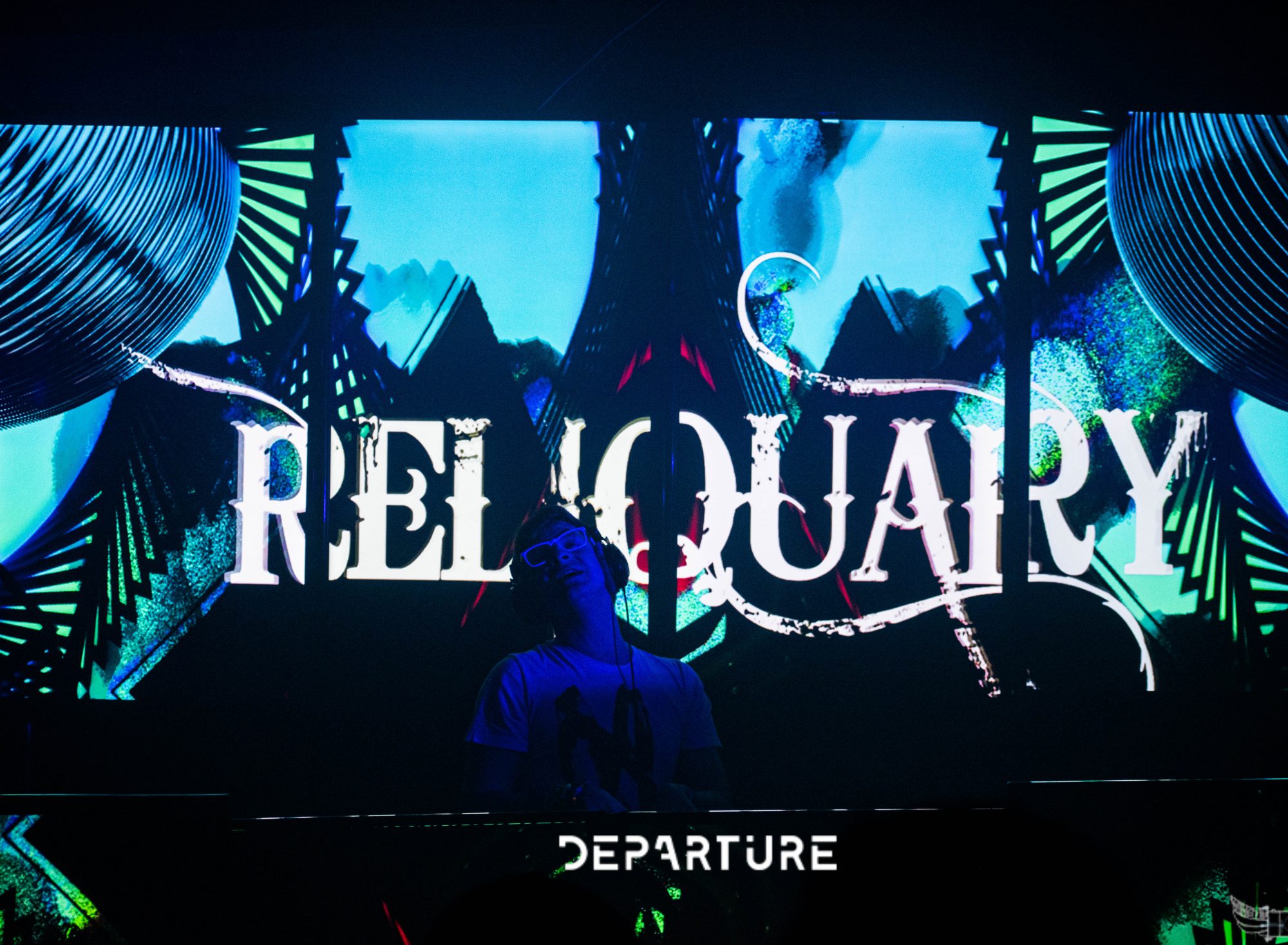 Life is made of small moments like this.
If you've been to a trance show you'll more than likely be familiar with those words. A quote that has spread like wildfire since it was unleashed on the masses from the incomparable Above & Beyond. As Dromer began to flex his creative edge behind the decks, that very saying began to play over and over in my head. The room was now full and as I looked around all I could see was bass fans mixing and mingling with trance fans, turning up the energy another ten notches and inspiring a community bond more beautiful than words can express.
Dromer was ready to reciprocate to the newfound influx of bodies and what he laid out was absolutely epic. It's all about getting your music out there for the crowd to fall in love with and he came with a slew of personal ID's as well as some righteous remixes from the likes of Talla 2XLC and Cold Blue, First State, Arty, and Myon. I would like to say that Dromer took his next step on his quest to stardom as the crowd response was absolutely massive!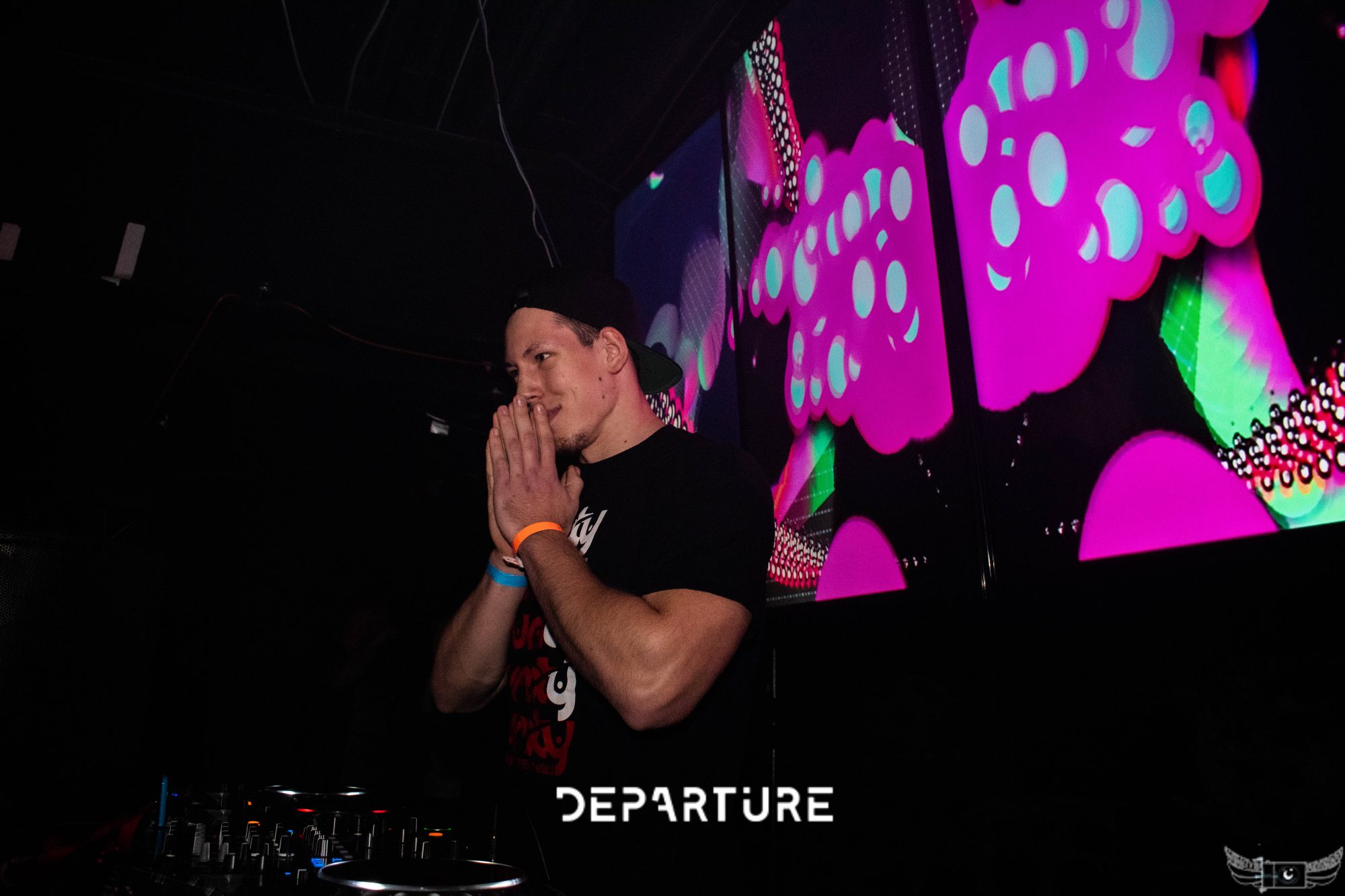 It was incredibly refreshing to hear some fresh new tunes and all of his unreleased productions had the crowd cheering, jumping, embracing, and in complete awe.
The party got so hype that Dromer invited Nhexis to join him for the final minutes of the evening as the cherry on top of an incredibly impressive set. With Giuseppe Ottaviani's "Panama" and another ID of his bidding us ado, all I could do at that point was take a deep breath and peal my heart off of that dance floor.
For the collective of artists who turned Departure into a reality… thank you.
Thank you for re-shifting our focus on what really matters: giving each other a voice, respecting creativity, and showing us all that Atlanta has some of the most engaging and passionate local talent in the scene. Also, for reminding us that some of the best memories can be made in small basement venues. I can't wait to see where you go from here!
---
Connect with Nhexis on Social Media:
Facebook | Twitter | SoundCloud
Connect with Lumina on Social Media:
Facebook | Twitter | SoundCloud
Connect with Reliquary on Social Media:
Facebook | Twitter | SoundCloud
Connect with Dromer on Social Media: